Guatemala Travel Guide
If you buy something through the links on this page, you're helping me pay for my next adventure—thank you for clicking! Learn more.
Guatemala has a rich culture and incredible natural beauty but it's often overlooked by tourists. You can explore ancient ruins, shop in colorful markets, get up close and personal with an active volcano, and swim in a volcanic lake.
I put together this handy Guatemala travel guide to help you make the most of your trip to this lively little country in Central America.
¡Vamo!
Best of Guatemala: Quick Links
Guatemala Travel Guide
Top Guatemala destinations
Guatemala City
Tikal National Park
Flores
Chichicastenango
UNESCO World Heritage Sites in Guatemala
Antigua Guatemala (1979)
Archaeological Park and Ruins of Quirigua (1981)
Tikal National Park (1979)
Source: UNESCO
Things to Do in Guatemala
Climb volcanoes like Pacaya, Acatenango, and Chicabal.
Explore Mayan the ruins of Tikal.
Go swimming in Semuc Champey's cascading waterfalls and pools.
Relax in natural hot springs in Fuentes Georginas.
Explore the towns around Lake Atitlán.
Experience traditional Guatemalan dishes like pepian and kak'ik.
Shop for incredible arts, crafts, and jewelry made of Jade.
Go to a cacao ceremony.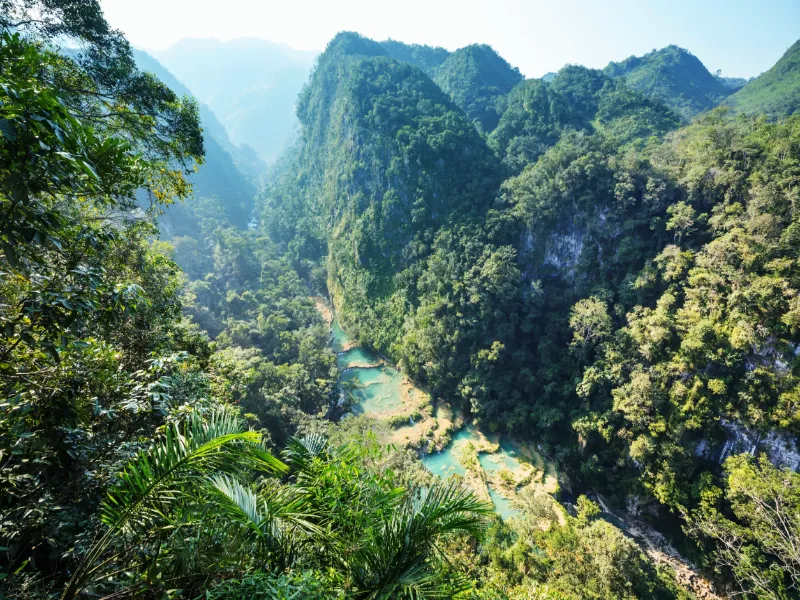 Know Before You Go: Guatemala Tips
Best time to visit
Best time to visit Guatemala is from November to April. It's the dry season so temperatures are milder and it doesn't rain as much. It's also when most of the festivals happen.
Festivals and celebrations
February: Carnival
February: Coffee Harvest Festival
March/April: Semana Santa, Palm Sunday and Good Friday
May: Jueves de Ascencion
July: Fiesta de Santiago in Antigua
July: Festival Folklórico Nacional de Cobán
August: Fiesta de la Virgen de la Asunción
September: Dia de la Independencia
November: Skach Koyl Festival (Drunken Horse Racing)
November: Dia de los Santos
Nobember: National Day of the Garifuna
December: Fiesta de Santo Tomas (Chichicastenango Fair)
December: Noche Buena (Christmas Eve)
December: Vispera de Año Nuevo
How to get around
Local chicken buses and tuk-tuks are inexpensive ways to get around town. For going one city to another, private (and air-conditioned!) tourist shuttles are very inexpensive.
Where to stay
Guatemala has a lot of hotel, hostel, and private homes that you can rent for your stay. The best part is that they're all very affordable—even the higher end hotels are relatively cheap, compared to other countries.
In Antigua there are a few places I recommend. For solid hotel options, stay at Hotel Casa Santo Domingo or Good Hotel Antigua. On the budget side, Maya Papaya or Selina Antigua, which is a cute hotel with a mix of private suites, rooms with shared bathrooms, and dorms. In Xela, I recommend Casa Seibel and Kasa Kiwi Hostel.
The best place to find great places to stay in Guatemala is Booking.com. Be sure to read the reviews and look at the map to see where the hotel is located in relation to the town's points of interest, restaurants, etc.
Hotels are really cheap in Guatemala but if you're planning to stay for an extended period of time, say to learn Spanish, you can rent some pretty awesome villas and apartments on VRBO.
Safety and crime
Don't wear anything flashy, keep an eye on your valuables, and don't walk alone at night seem like sensible advice to give anyone visiting anywhere. But whenever traveling to South and Central America as a solo female traveler, you should exercise more caution, particularly in the bigger cities.
While I did see pickpockets, I found that the popular tourist destinations such as Lake Atitlán, Semuc Champey, and Antigua were relatively safe.
Just stay alert. And always keep your safety in mind while exploring the country.
What to eat
Pepian de Indio
Kak'ik
Caldo de Res
Jocon de Pollo
Tostadas Guatemaltecas
Hilachas
Tamales
Mole de Plantano
Atol de Elote
Where to learn Spanish
Plan your trip to Guatemala
✈️ Find your flight with Skyscanner.
🛎 Get your hotel with Booking.com or hostel with Hostelworld.
🏠 Rent a unique home or apartment with Plum Guide and VRBO.
🚘 Rent a car with Discover Cars.
🏰 Book tours and excursions with Get Your Guide or Viator.
☂️ Get travel insurance from SafetyWing.
📱 Avoid roaming fees with eSIM card from Airalo.
🌋 Go on an adventure with G Adventures.