Where to Eat in Antigua, Guatemala
This post is all about where to eat in Antigua, Guatemala!
I spent a month living in Antigua and taking Spanish classes. These are some of my personal favorite places to eat while I was there. You won't find and traditional Guatemalan food on this list – but if you're looking for that, go to Rincon Tipico or Los Tres Tiempos.
Here are the restaurants and cafes I enjoyed the most in Antigua:
Restaurants
Cafe Sky
Cafe Sky is on the pricier side (for Antigua at least) but it definitely has one of the best rooftops in the city. This is one of the best spots to watch the sunset. And once it gets dark, you can catch Volcan Fuego erupting glowing red lava every thirty minutes or so.
The quesadillas and nachos are good. They also have a 2-for-1 breakfast special on Sunday.
Once Once
This is a tasty restaurant with lots of vegetarian/vegan options and a nice, relaxing outdoor garden. I recommend their chilaquiles. Great for brunch or lunch.
Luna de Miel
If you want crepes, this is the place to come! It's owned by a French guy, and they have all kind of really inventive crepes. Also delicious smoothies and milkshakes!
There's a rooftop, and although the view isn't great, it's still a nice place to sit and eat.
Cactus
If you're looking for tacos or burritos, this is the place to come! Great for a casual, delicious dinner.
La Bruja
Another restaurant with lots of good vegetarian/vegan options is La Bruja. They also have great smoothies! The outdoor garden is really nice and relaxing too.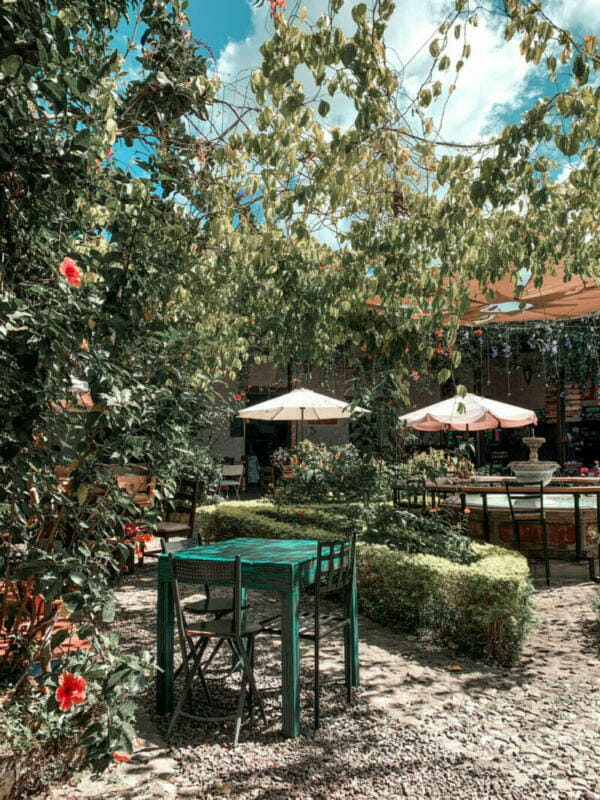 Monoloco
This is a super touristy spot with a sports bar vibe, but they're famous for their enormous nachos! You definitely have to try these nachos once when you're in Antigua.
Cafes
Bella Vista Coffee
This was my favorite spot in Antigua and I probably went there three times a week! It has such a nice rooftop that's perfect for working or studying, good smoothies, and good sandwiches. I'm not a coffee drinker but my friends assured me the coffee is good too.
Cafe Boheme
Another good place for coffee, pastries, etc. There's a cool loft place to sit, or you can sit on rooftop (not much of a view but still a relaxing place to enjoy your coffee.)
Union Cafe
This is another coffeeshop in Antigua (where I didn't try the coffee, but can confirm the smoothies are good!) I like this place because it has a cozy garden and indoor seating too.
Sweets
Canela
One of the best bakeries in Antigua. Delicious cookies and cinnamon rolls!
Glacy
Nothing super fancy, but this is a great little spot for ice cream in Antigua.
Doña Luisa
This place is famous for its amazing banana bread! It's an Antigua institution that has been around for nearly 50 years. You definitely need to get a loaf of fresh banana bread from here.
Ay Carmela
Ay Carmela hopped on the crazy shakes trend, so you will find all sorts of milkshake creations here.
They also have decent food for lunch, but the highlight is definitely the milkshakes! There's only outdoor seating here, making it the perfect place to go on a sunny afternoon.
So those are my favorite places to eat in Antigua!
Honorable mention goes out to the McDonald's in Antigua, which has to be the fanciest McDonald's I've ever seen (complete with a fountain and a colonial-style courtyard.)
Jokes aside, Antigua is full of great places to eat, and you can't beat the ambience of a rooftop or garden which almost every place in the city seems to have!
More Guatemala Travel Tips
Looking for more posts about traveling in Antigua and the rest of Guatemala?
You may be interested in the following posts…
Save it to Pinterest: