What's It Like to Study Spanish in Antigua, Guatemala?
If you buy something through the links on this page, you're helping me pay for my next adventure—thank you for clicking! Learn more.

Taking Spanish Classes in Antigua, Guatemala
This post is all about what it's like to study Spanish in Antigua, Guatemala.
So you want to learn to speak Spanish?
Antigua, Guatemala is one of the most popular places in Central America to study Spanish!
There are about a dozen different Spanish language schools to choose from that offer inexpensive one-to-one Spanish language classes for all ages and abilities. So there's no shortage of reasons to go learn Spanish in Guatemala.
Here's everything you need to know about what it's like to study Spanish in Antigua, Guatemala!
My Experience
I took four weeks of Spanish classes at Antigueña Academy. I had taken five years of Spanish in school, but I hadn't actively studied or practiced Spanish in about seven years.
So my Spanish skills were definitely a little rusty to say the least…
However, so much came back to me thanks to my classes, and I gained much more confidence in speaking Spanish aloud as opposed to just reading/writing it.
Antigua is a great city and the perfect place to live while you take Spanish classes. There's so much to do, it's very safe and comfortable, and the weather is nice all year long.
How Much Do Classes Cost?
My Spanish classes were $120 a week at the time. This price included four hours of one-on-one Spanish classes (with a thirty minute break) every day Monday through Friday. 
Apparently, classes are normally more expensive at Antigueña Academy (around $160 per week) but since I was there during COVID they were discounted. Normally, afternoon activities for students like walking tours, cooking classes, and dance lessons are included, hence the higher price. But as of January 2021 those activities had unfortunately not yet returned.
You can also take more hours of classes each day, with the price increasing for additional hours.
What's a Typical Class Like?
My class would begin at eight in the morning. My teacher and I would spend ten to fifteen minutes just chatting in Spanish to warm up, before going into grammar practice.
It was mainly oral practice, which is really helpful because it gets you comfortable with actually speaking conversational Spanish. Whereas in the five years I took Spanish in school, I was mainly reading/writing it and didn't get as much practice speaking out loud.
At ten we would have a thirty minute break. During this time I'd usually go get a snack and something to drink from one of the stores nearby, then go up to the school's rooftop to relax for a bit and talk with the other students who were on their break too.
Class resumed at ten-thirty and went until noon. In the last hour of class, we would usually play a game (like Go Fish or Categories) to practice vocabulary.
Honestly, the classes went by so quickly for me! I was shocked at how fast the time would pass.
My teacher would assign me homework (usually just an exercise that would take about 20 minutes) but it's optional and you can let them know if you don't want homework.
You can also choose what time you want to start classes. I did eight to twelve each day, but some other students did nine to one, ten to two, etc. It's up to you!
Where Are Classes Held?
Most of the Spanish schools in Antigua have a large outdoor courtyard where classes are normally held. This is the case at Antigueña Academy too, but for the first two weeks when I was there in January 2021, the courtyard was not open. (This was due to the fact that there were not as many students at the school because of COVID, and the rent for the courtyard was too high.)
So classes were held in the indoor classrooms instead. The indoor classrooms were honestly kind of austere (basically just plain rooms with a plastic table and two wooden chairs) but I loved the rooftop of the building, where I always hung out on my break!
After two weeks, more students arrived at the school, so we were able to have classes in the courtyard. I loved the courtyard a lot more than the indoor classrooms!
Do I Need to Know Spanish?
No, you don't need to know any Spanish. Students of all abilities can be accommodated.
Your teacher will assess your Spanish knowledge and tailor your classes specifically to your needs, whether you're a beginner or advanced. If you want to focus on a particular topic (like Spanish for business or Spanish for medical work) you can do that too!
What If I Don't Like My Teacher?
I was very lucky and got a teacher that was super great! But some students might not click with the Spanish teacher they are assigned, and that's okay.
At most of the Spanish schools, you can just let them know after your first day that you would like to try a different teacher and they will switch you to someone else without any issue.
How Long Should You Stay?
I would recommend a minimum of one week of Spanish classes (the schools usually charge you more if you're staying for less than one week.) Of course, the more weeks you stay, the better!
After my first week, so much of what I had learned in my five years of Spanish classes in school had come back to me. I also gained a lot of confidence in speaking Spanish aloud with others.
For a total beginner, you can cover the basics and learn essential words for traveling in a week or two. But if your goal is to be able to speak conversationally or become fluent, you'll need a lot more time! I met some students at my Spanish school who had been there for months.
Where Should I Take Lessons?
I really liked Antigueña Academy and it's one of the top rated and longest running Spanish schools in Antigua. It also seems to have some of the most affordable options.
Aside from Antigueña Academy, some of the other schools I looked into were:
These are a few of the most popular options, but there are others out there too!
Doing a Homestay
Most of the Spanish schools in Antigua, including Antigueña Academy, include the option to do a homestay. You stay with a local family who lives near the school, and they cook all your meals for you. This is a great way to practice your Spanish and really immerse yourself.
I personally didn't do a homestay, but I know other students who did, and they all really enjoyed it!
There are different homestay options available (from basic to more luxurious accommodations) and you can easily arrange them with your school. They're typically pretty affordable.
What's Antigua Like?
Antigua is the perfect place to take Spanish classes. It's a very beautiful colonial town about one hour away from the capital Guatemala City. Antigua is a safe, walkable, and pretty town with lots of things to do. Everywhere you go, you'll catch stunning views of the multiple volcanoes that surround the town. With its high elevation, Antigua enjoys a milder climate for most of the year.
There are many things to do in and around Antigua such as…
Exploring the many church and convent ruins
Chilling out for a few days at Lake Atitlan
Trying great restaurants, cafes, and rooftop bars
Hiking the Acatenango volcano
Taking a weekend beach trip to El Paredon
Guatemala gets a bad reputation for being dangerous, but I never once felt unsafe in Antigua as a solo female traveler. In fact, I felt safe everywhere I went in over two months in Guatemala!
Related: Is Antigua, Guatemala Safe?
Final Thoughts
Overall, Antigua is one of the best places you can go to learn Spanish!
Whether you're a complete beginner or you just want to brush up on your Spanish skills, Antigua is a beautiful, comfortable, and safe city that's the perfect place to base yourself while studying Spanish.
With close to a dozen Spanish schools to choose from, this is one of the best destinations to go in the Spanish-speaking world if you want to learn how to speak Spanish in an immersive environment.
Other Places to Study Spanish in Guatemala
In addition to Antigua, I took Spanish lessons in Xela (Quetzaltenango) too.
This is a city that's less touristic than Antigua and a great place to go if you want to really immerse yourself in Spanish, since hardly anyone here speaks English.
I took lessons at Utatlan Spanish School in Xela, which I would also highly recommend to others.
You can also learn Spanish at Lake Atitlan. While I did not take lessons there, there are many Spanish schools in the backpacker town of San Pedro that offer one-on-one lessons against the stunning backdrop of the lake and volcanoes.
More Guatemala Travel Tips
This post showed you what it's like to study Spanish in Antigua, Guatemala.
Looking for more information about traveling in Guatemala? Be sure to check out these posts:
Save it to Pinterest: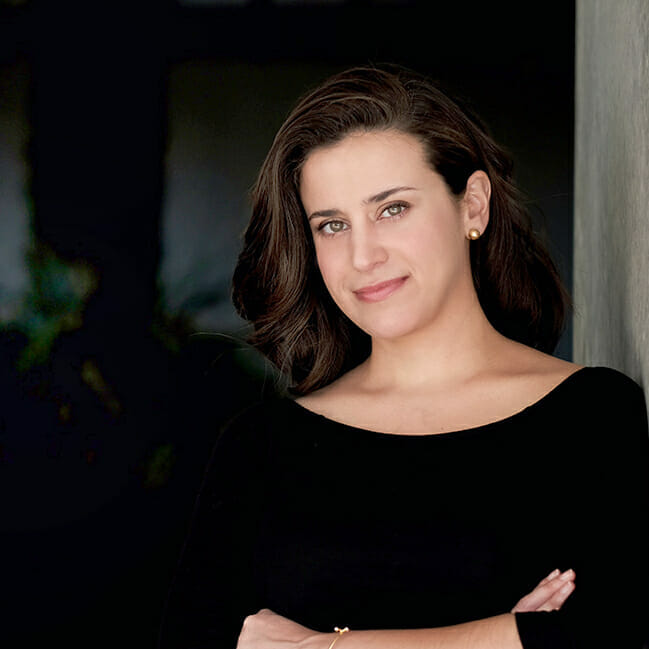 About Denise Cruz
Denise is a marketing executive who escaped corporate to travel the world… twice. A Brazilian native living in the U.S., she's lived in 4 countries and visited 35+ others. After side-hustling her way to financial independence, she curates solo destination guides, slow travel tips, and travel blogging advice on Wander Her Way. When she's not on the road, you can find her in Miami with her dog Finnegan.