Is Antigua, Guatemala Safe?
Antigua is one of the most popular destinations in Guatemala. This beautiful colonial town is located a little over an hour away from the capital of Guatemala City. There's so much to do and see, from visiting stunning church ruins to hiking a volcano to enjoying delicious meals.
But is Antigua, Guatemala a safe place to visit?
In a word: Yes.
Many people hear "Guatemala" and instantly think of crime and violence. While it's true that the capital of Guatemala City is a fairly dangerous place, that does not apply to the rest of the country.
I felt very safe everywhere I went as a solo female traveler in Guatemala, and that especially includes Antigua (where I spent over five weeks total.)
Here's everything you need to know about safety in Antigua, Guatemala!
What to Know About Antigua
Antigua is a town located about a little over an hour west of Guatemala City. It has a population of over 30,000. The entire town is a UNESCO World Heritage Site because of its immaculately preserved colorful colonial buildings and cobblestone streets.
No trip to Guatemala is complete with spending a couple days (or more!) in Antigua.
Antigua is also known for its Spanish language schools. I spent four weeks living in Antigua and taking Spanish classes. It's one of the best places in Central America to go to learn Spanish.
Being that Antigua receives the most tourists in Guatemala (both local and foreign tourists) it has lots of fun things to do and you will find an abundance of delicious restaurants, cute cafes, unique boutiques, and lovely hotels. Overall, it's a very easy and enjoyable place to travel.
Crime in Antigua
Let's talk about crime in Antigua.
Despite the negative reputation Guatemala has for crime, Antigua is very safe.
The biggest risk you'll face in Antigua is petty crime like pickpocketing and theft.
While I wrote this post about avoiding pickpockets in Europe specifically, the advice in that post applies to anywhere in the world, including Antigua.
As long as you take basic precautions against pickpockets (like closely watching your bag, not flashing your valuables around, being extra vigilant in crowded areas, etc.) you should be fine.
Be especially careful in crowded places like the markets, or touristy areas around Parque Central. These are the places in Antigua where you would be most likely to be pickpocketed.
Safety Tips for Antigua
One of the main safety tips I heard for Antigua (including from many locals) is to avoid walking around late at night, especially if you are a woman by yourself.
While some bars/clubs may be open late, the majority of businesses in Antigua close relatively early and the streets can become desolate at night.
You should also avoid going up to Cerro de la Cruz (viewpoint on the hill) after sunset.
If you are out late, it's always safer to take a taxi or tuk-tuk (both of which are very cheap) to get back to where you're staying instead of walking.
When it comes to walking around Antigua during the daytime, you should be 100% fine. Of course, it's always smart to be vigilant (don't walk around staring down at your smartphone) and keep an eye on your personal belongings, especially if you're in a crowded place.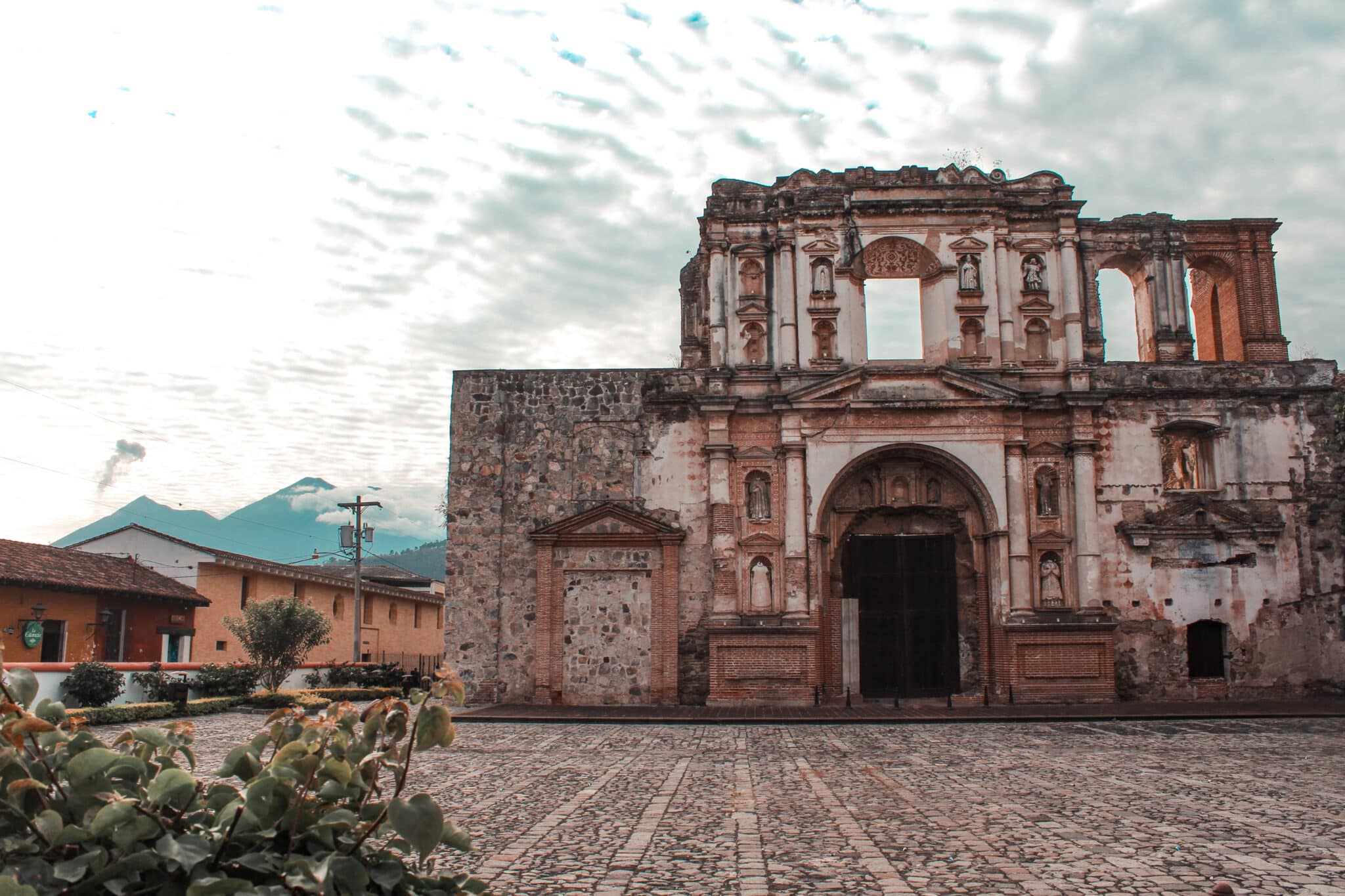 Is Antigua Safe for Solo Female Travelers?
I traveled alone to Antigua and felt perfectly safe the entire time I was there!
Granted, I never actually walked around alone late at night, so I can't comment on the safety of the streets at that time, but during the morning/afternoon/evening I always felt very safe.
Street harassment is not too bad of a problem in Antigua. I actually found street harassment to be a much bigger issue in Europe, especially big cities like Paris or Rome.
Despite the warm weather, I always wore long pants and long sleeves in Antigua. No one except tourists wears shorts in Antigua, so you will definitely draw more attention if you do. However, it won't necessarily be negative attention – it's just that it will be more obvious that you're a foreigner.
Harassment in Antigua
One thing I really liked about Antigua (and the rest of Guatemala) was that I experienced little to no street harassment from local men, especially men of Mayan heritage.
This is not the case in other Central American countries I've visited like Costa Rica and Panama, where you definitely will get catcalled and harassed by men on the streets more.
So the lack of harassment in Antigua (and Guatemala as a whole) contributed to my feeling of safety.
Language in Antigua
While Spanish is the most widely-spoken language in Guatemala, many people in Antigua (especially in hospitality, tourism, and restaurants) speak English. It's really only in the rural areas and less touristy cities that you might have trouble finding someone who speaks any English.
So it's no problem to get around in Antigua without knowing Spanish.
However, I do recommend at least learning the basics to be polite and make traveling in Guatemala easier. Antigua is also a great place for affordable one-on-one Spanish lessons if you want to improve your skills. (Here are the top reasons to learn Spanish in Guatemala.)
Where to Stay in Antigua
If you are looking for a safe place to stay on your trip to Antigua, then I would highly recommend the Airbnb I stayed in during my four weeks in Antigua.
It is located in a very safe gated neighborhood in Antigua, just a ten-minute walk to the center of town. There are four villas around a private pool and hot tub, and you can rent an entire villa (great for families or groups) or a single room in one of the villas (which is what I did.)
(If you've never used Airbnb before, you can get $40 off your first booking using that link.)
Here are a few other great places to stay in Antigua…
Good Hotel Antigua: For a great mid-range option that is still luxurious, this stylish boutique hotel with a sustainable focus is one of the best places to stay in Antigua.
Hotel Casa Santo Domingo: This is a luxury hotel located in a former convent featuring a pool, spa, and incredible views. If you want to splurge, this is the place to stay. I loved it here!
Maya Papaya: If you're looking for a more budget-friendly option, Maya Papaya is a hip hostel offering both dorms and private rooms that has a central location in Antigua.
Safety in Antigua, Guatemala
Overall, I felt very safe in Antigua (and everywhere else I went in Guatemala, for that matter.)
Guatemala is a country that has a bad reputation with many foreigners, and while it's true that the capital city isn't very safe depending on the area you visit, that shouldn't dissuade you from going to Antigua or traveling around the rest of the country as a whole!
The majority of Guatemala, especially areas on the tourist trail, is very safe.
I think Guatemala is a very special, very underrated country.
Antigua is a fantastic destination that you shouldn't miss while in Guatemala!
More Guatemala Travel Tips
Looking for more information about traveling in Guatemala?
Here are some of my most popular posts…
Save it to Pinterest: