Hi, I'm Denise, a reformed corporate marketer, personal finance geek, proud dog mom, and avid world explorer.
A few years ago, I left the security of a career to spend a year studying and traveling abroad while building a profitable business.
​I share my personal journey on Wander Her Way to inspire women around the world to travel more and live richer lives doing what they love without sacrificing their financial future.​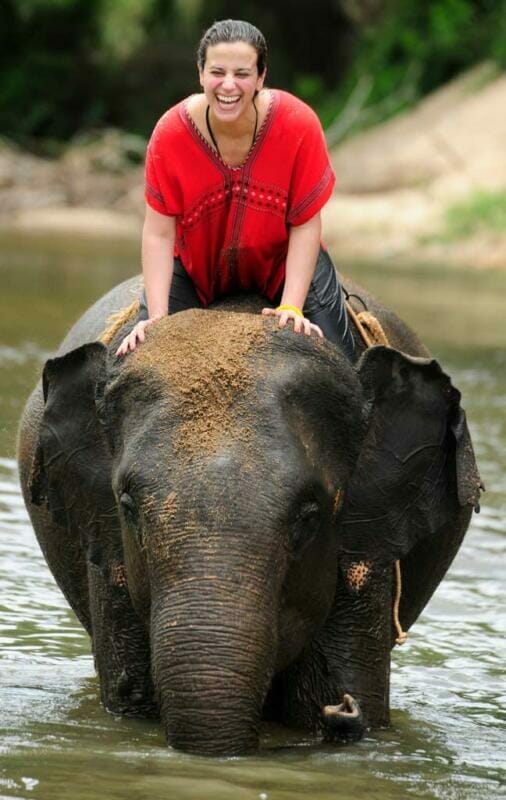 Finding Elephants
In 2015, I left my corporate job in marketing to hit the reset button in my life.
Back then, I thought I was doing all of the "right things." I was making decent money and advancing in my career, but I felt unfulfilled and unhappy.
So when a co-worker asked if I wanted to join her and her friends on a trip to Thailand, Laos, and Cambodia, I didn't hesitate.
It was the first proper vacation I had taken in several years and I was determined to live in that moment and enjoy every second.
And so I did.
It was at an elephant sanctuary in Chiang Mai that I decided to quit my job. And no kidding: the photo above captured the exact moment that I made that decision.
It became clear to me that my life needed more elephant moments like that. So I set out on a journey to find more elephants…
One Year of Cheers
I didn't have a plan but within three months of returning from vacation, I quit my job, sold my car, moved out of my apartment, put my stuff in storage, and got on a plane to Europe.
I spent the next twelve months studying (and drinking wine) in France, traveling around Europe, attending a wedding in Australia, visiting the Emirates, and learning about coffee in Brazil. That year, I also flipped a house and started a marketing consulting business.
That experience changed the way I approached every aspect of my life.
A Funny Thing Happened
When I tell people about my #oneyearofcheers, the most common reaction is something along the lines of "I wish I could do that" or "oh, I could never afford to do that."
Well, I didn't think I could either!
It is true that having savings did make my decision to quit a lot easier but I didn't spend a penny of my savings in those twelve months.
A funny thing happened when I changed my mindset and had a lot of time in my hands all of a sudden: I was able to think clearly and be creative.
Without missing a beat, I started freelancing. Soon enough, small one-off gigs turned into monthly retainers, which then turned into annual consulting engagements.
During those twelve months, I chose to work just enough to offset my expenses and in the year after that, I made more money working for myself than in the job I walked away from.
The best part? I walked and practiced yoga every morning, painted every Friday, and took on new projects and clients when I chose to.
After a couple of years working on my own, I got a great offer to rejoin corporate life. And I did.
As a reformed corporate marketer, I approach my job in a much different way—and make plenty of time for the things that make me happy.
Now, even on my most ordinary days, I am able to find elephants.
And so can you!
Something to Blog About
Through Wander Her Way, I share my life and adventures hoping to inspire others.
I write about how I was able to:
Visit more than 35 countries, most while holding a full-time office job
Quit a promising (yet unfulfilling) corporate career without fear
Take a sabbatical and spend a year studying and traveling abroad
Replaced my full-time income during my first year as a solopreneur
Generate significant passive income blogging
When I'm not geeking out on blogging strategies and personal finance podcasts, you can find me sipping wine with friends, exploring new destinations, or hanging out with my dog Finnegan.
Destinations
Australia
Austria
Canada
Bahamas
Brazil
Cambodia
Canada
Caribbean Netherlands (Bonaire)
Czech Republic
Dominican Republic
Laos
Liechtenstein
Mexico
Monaco
Netherlands
Nicaragua
Poland
Portugal
Slovakia
Switzerland
Thailand
United Arab Emirates
Vatican City
Wales