Two Week Italy Itinerary
After writing my popular One Week Italy Itinerary I decided to expand on it to create the perfect two week Italy itinerary for you also!
If you are a first-time visitor and you have two weeks to explore Italy, this is a great introduction to the country covering a lot of highlights.
This Italy itinerary is heavily focused on northern Italy because that is my favorite region and the area I'm most familiar with, but you could alter this itinerary to fit in southern destinations like the Amalfi Coast if you prefer.
To do this you would need to cut out Milan and Lake Como or Cinque Terre, and plan to fly out of Naples at the end of your trip instead of Rome.
Without further ado, here is my ultimate two week Italy itinerary!
Day 1-2: Venice
Start your trip in Venice, one of my favorite cities on Earth. This haunting and beautiful city is composed of more than 100 small islands connected by over 400 canals and bridges.
Fly into Marco Polo Airport and take a water taxi (expensive option) or vaporetto (cheap public water bus) to your hotel.
Where to stay: Grand Hotel dei Dogi, part of the Marriott Autograph Collection. This gorgeous hotel is in a less touristy area of Venice and provides a free water taxi to St. Mark's Square.
What to do in Venice:
Walk to St. Mark's Square, trying not to get lost in the maze of canals and bridges
Visit the Doge Palace and St. Mark's Basilica (buy your tickets online in advance, because the lines get up to two hours long!)
Go to the top of St. Mark's Campanile for a breathtaking view (buy tickets in advance)
Splash out for a gondola ride or take a shorter ride for just two euros
Visit the island of Murano, home of the famous Murano glass (the Hotel Dei Dogi offers a free private tour)
Visit the extremely colorful island of Burano
Spend some time wandering around and getting lost in the canals
Related: 6 Essential Venice Travel Tips from a Local
Day 3: Milan
After Venice, take the train to Milan, just a short 2.5 hours away.
Milan is a cool city, but you really don't need more than one day here. For this reason, I recommend staying near the train station so you can easily arrive and depart the next day.
Where to stay: Spice Hotel Milano. Right by the train station and subway, clean and affordable.
What to do in Milan:
See the famous painting The Last Supper by Leonardo da Vinci (book tickets online in advance, because they sell out fast!)
Admire the beautiful Duomo di Milano
Try panzerotti (Italian street food that is kind of like a calzone) at Luini
Do some shopping in this Italian fashion capital!
Day 4-6: Lake Como
After a day in Milan, it's time to head to one of my absolute favorite regions of Italy: Lake Como!
This gorgeous Alpine lake is situated in northern Italy tucked away in the foothills of the Alps. Quaint, colorful villages and stunning private villas dot the shores of this glassy blue lake, which is the ultimate luxurious getaway.
Where to stay: Hotel Regina in Gravedona. This family-run hotel is beautiful, affordable, and located in the sleepy town of Gravedona away from all the crowds.
What to do in Lake Como:
Take the ferry for day trip to Bellagio in the center of the lake
Ride the funicular in the village of Brunate for a panoramic view of the lake
Visit the stunning Villa del Balbionella and Villa Carlota
Relax lakeside at the pool or go for a stroll along the lakefront promenades
Related: What to Do in Lake Como
Day 7-9: Cinque Terre
After a few days in Lake Como, head the Cinque Terre for a very different scene.
Cinque Terre, meaning Five Lands, are five colorful fishing villages built into the rocky cliffs of Italy's Ligurian Coast. Everywhere you turn in Cinque Terre, you will be faced with a postcard-perfect view.
The only way to get from Lake Como to Cinque Terre is to go back through Milan. The train journey should take about 4.5 hours.
Where to stay: Ca' d'Andrean in Manarola. Affordable, clean, and great location.
What to do in Cinque Terre:
Visit all five villages by train – purchase the Cinque Terre Train Card for unlimited train and hiking trail access. The villages are just a few minutes from each other by train and 1-3 hours away when you hike.
Enjoy a meal with a view at Nessun Dorma in Manarola
Spend a day on the beach in Monterosso, the only village with a proper sandy beach
Go swimming or rock jumping in the harbors of Manarola and Vernazza
Related: The Complete Guide to Cinque Terre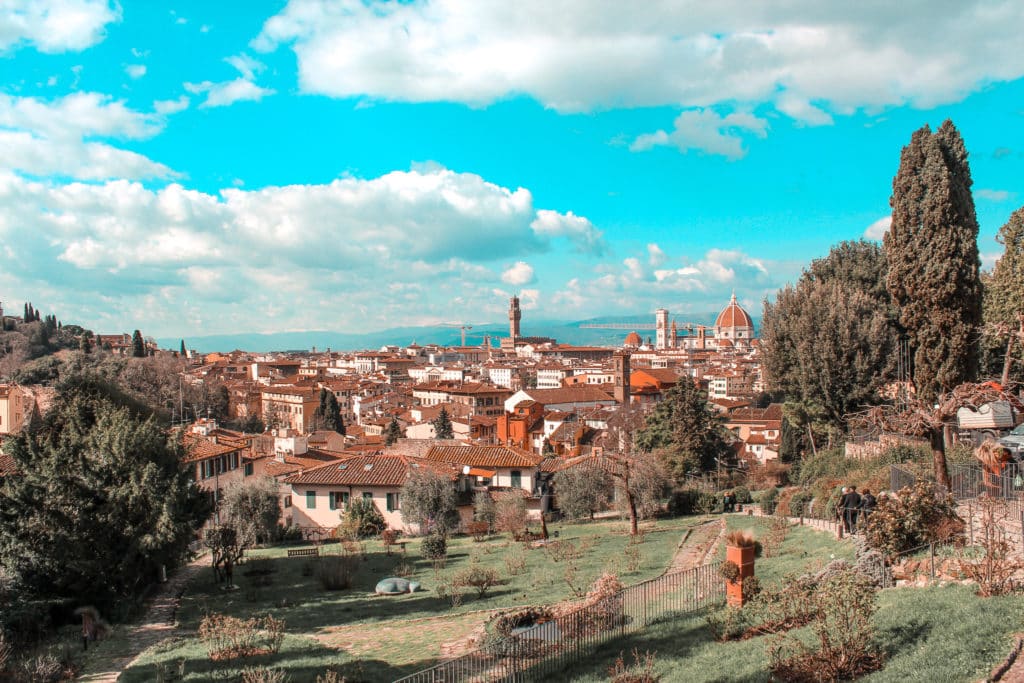 Day 10-11: Florence
After a few magical days in Cinque Terre, head south to Florence, the Rennaissance capital of Italy.
You can get there in less than 3 hours by train.
If you love art, shopping, and food, then Florence is the city for you!
Where to stay: The Westin Excelsior, Florence. Amazing hotel and great location in central Florence.
What to do in Florence:
See the famous David sculpture by Michelangelo at the Accademia Gallery (buy tickets online in advance to avoid waiting in a long line!)
Admire the beautiful Duomo cathedral with its magnificent Rennaissance dome
Check out famous Rennaissance art at the Uffizi Gallery
Visit the beautiful Pitti Palace and Boboli Gardens
Watch the sun set over the Tuscan hills from the breathtaking viewpoint of the Piazzale Michelangelo with a panoramic view of Florence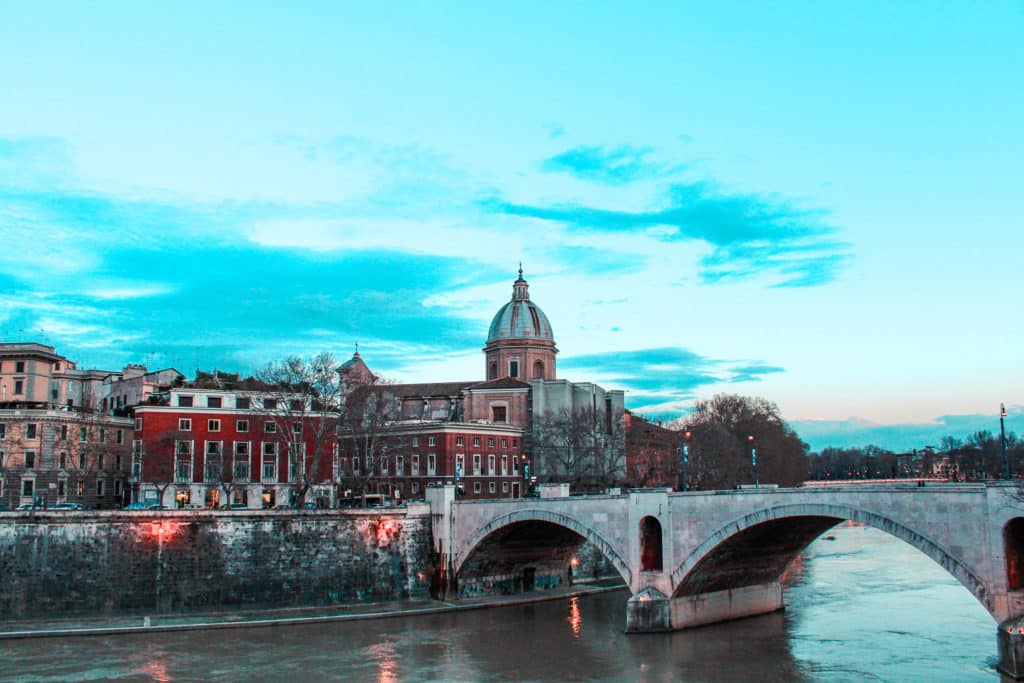 Day 12-14: Rome
Finally, end your two weeks in Italy in the Eternal City, Rome.
Located just 1.5 hours away from Florence by train, Rome is an enchanting city packed with so much history. You will never run out of things to do in this incredible city.
Where to stay: Palazza Naiadi, part of the Marriott Autograph Collection. This is an elegant hotel close to the train station and within walking distance to many of Rome's most popular sights.
What to do in Rome:
Visit the Colosseum (book your tickets and tour ahead of time to skip the line!)
Head over to the Roman Forum and Palatine Hill ruins to see what life used to be like for the Romans (this is included with many Colosseum tours)
Throw a coin into the Trevi Fountain – legend has it that if you do this, it means you will return to Rome one day
Visit the beautiful Pantheon (head inside to cool down on a hot day!)
Sit on the Spanish Steps to rest your feet and do some people-watching
Tour the Vatican City Museum and see the famous Sistine Chapel
Spend some time exploring the hip Trastevere neighborhood and have dinner there
When it's time to go, you can fly out of Rome's Fiumcino Airport.
Have a little more time on your hands and want to extend your Italian trip? Head further south to the Amalfi Coast and visit Positano and Capri for a few days, then fly out of Naples!
I hope you enjoyed this two-week Italy itinerary!
For more travel planning tips and tricks, be sure to read these posts:
Save it to Pinterest: