11 Amazing Things to Do in Venice, Italy
If you buy something through the links on this page, you're helping me pay for my next adventure—thank you for clicking! Learn more.

11 Amazing Things to Do in Venice, Italy
This post is all about the best things to do in Venice, Italy.
Venice is one of my favorite cities in Europe. There are very few cities in the world with a quite as fascinating history, architecture or way of life.
I've visited Venice multiple times now, and I never get tired of it!
Something about the city is just so mysterious and intriguing. You will truly feel like you've entered a different world when you arrive in Venice.
Here are my top 11 ideas for things to do in Venice!
1. Venice Free Walking Tour
Taking a walking tour is a great activity for your first day in Venice. Venice is a city best explored by foot (after all, there are no roads or cars!) and a walking tour will help you get your bearings in this confusing, maze-like city.
I have done two walking tours with Venice Free Walking Tour, and had a great experience both times.
While the tours are free, you should always tip your guide at the end because they work solely off tips. The guides at Venice Free Walking Tour are very knowledgeable and some are even Venice natives who can offer unique insight into the city.
2. St. Mark's Square
St. Mark's Square, or Piazza San Marco, is the busiest and most popular square in the city.
This is the main tourist hub and it's also home to some of the most stunning attractions in Venice, including St. Mark's Basilica, Doge's Palace, and St. Mark's Campanile.
While the square and its attractions are a must-see, try to come here early in the morning or later in the evening to avoid the worst of the crowds. And don't stop for a meal or gelato at any of the restaurants and cafes surrounding the square unless you want to pay double the normal price!
3. St. Mark's Basilica
By far the most famous church in Venice, St. Mark's Basilica is one of the highlights of the city.
Completed in 1092, this stunning church is one of the few surviving examples of Italian Byzantine architecture. A symbol of Venetian wealth, the basilica's opulent design and solid gold mosaics have led to the nickname Chiesa d'Oro (Church of Gold.)
As with all tourist attractions in Venice, I recommend reserving tickets online so you can skip the line.
✅ Book this guided tour of Doge Palace and St. Mark's Basilica to skip the line and visit two of the most popular spots.
4. St. Mark's Campanile
St. Mark's Campanile towers high above the square, and climbing to the top of the 323-foot-tall structure offers the best view of Venice.
I say "climbing" but really, you take an elevator—no stairs to worry about here!
This is another attraction where you will want to get tickets online in advance because the general line can get extremely long.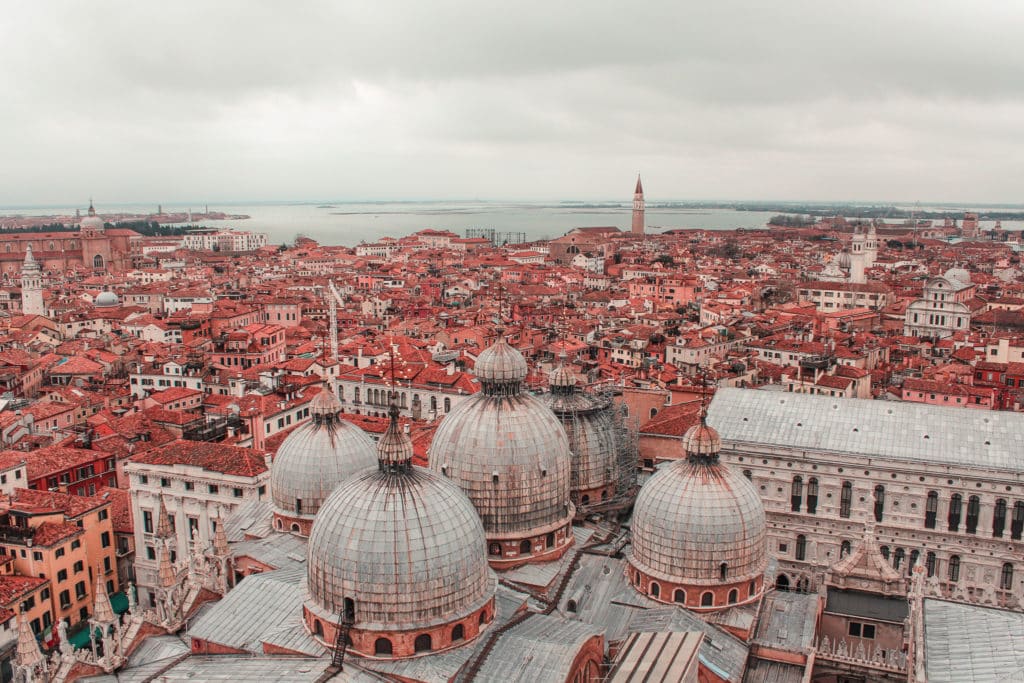 5. Doge's Palace
While you're in St. Mark's Square, another must-see site is the Doge's Palace or Palazzo Ducale.
This opulent pale pink palace was built in 1340 and served as the home to the Doge of Venice, the ruler of the former Venetian Republic. It symbolized the wealth and power of Venice with its imposing and grand Venetian Gothic style.
The Doge's Palace is one attraction where you will absolutely want to purchase tickets online ahead of time because the line for tickets can easily reach two hours long during peak season!
It's also worth taking a guided tour of the Doge's Palace to fully understand its fascinating history.
✅ Book this guided tour of Doge Palace and St. Mark's Basilica to skip the line and visit two of the most popular spots.
6. Bridge of Sighs
Make sure to check out the famous Bridge of Sighs before you leave St. Mark's Square.
This bridge connects the Doge's Palace to the old Venetian prison.
Legend has it that prisoners were taken across this bridge as they were being led from their trial at the palace to prison. As they caught one last glimpse of Venice and the free world through the windows, they would sigh, hence the name of the bridge.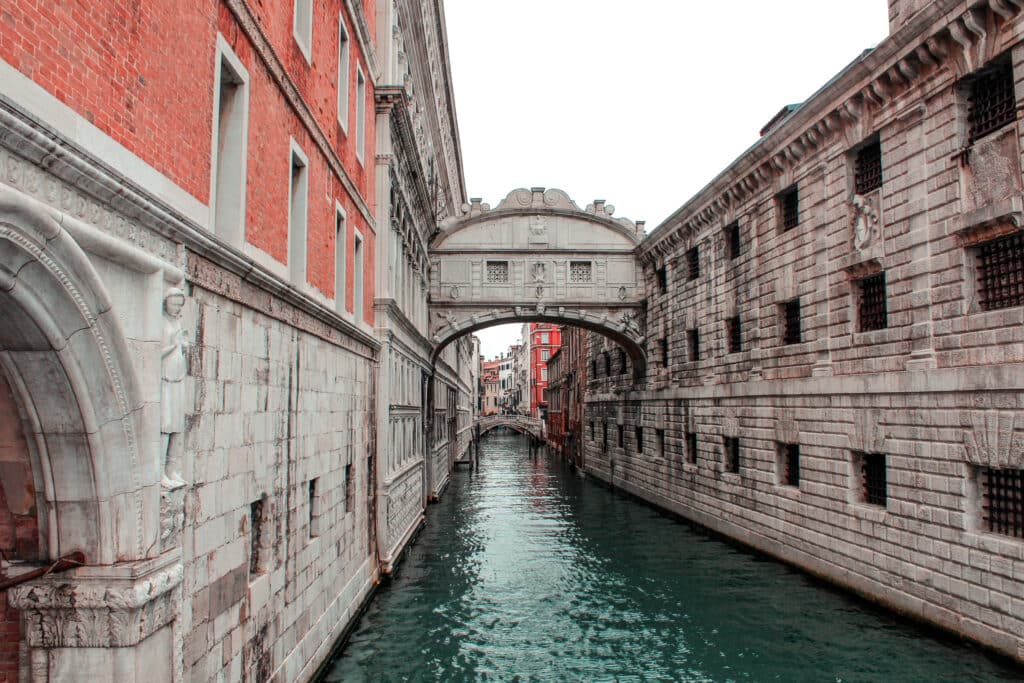 7. Gondola Ride
Perhaps one of the most iconic images of Venice is a gondolier in a striped shirt and straw hat, rowing his gondola through the canals.
Taking a gondola ride is one of the coolest experiences you can have in Venice.
Just make sure not to get ripped off. Know that the set rate for a thirty-minute gondola ride is 80 euros during the day, and 100 euros at night from sunset until eight in the morning.
That's for the whole boat, NOT per person, and up to six people can share a gondola.
If a traditional gondola ride is out of your budget, there's a little-known hack you can use to get a gondola ride for just two euros instead.
✅ Book your gondola ride in advance here. It will cost a bit more, but it could save you time trying to figure out where to go and facing long lines.
8. Gallerie dell'Accademia
Art lovers will not want to miss the Gallerie dell'Accademia, an impressive art museum situated along Venice's Grand Canal.
The museum houses a collection of 13th-century to 18th-century Italian art, with many Renaissance masterpieces from Venetian school artists like Titian and Tintoretto.
9. Murano
Murano is an island just a short boat ride away from Venice. It's the home of Murano glass, a beautiful, colorful type of glass that has been made on the island for over 1,500 years.
You can visit Murano for free with Venice Free Walking Tours. Many hotels offer free excursions to Murano as well. in Murano, you can tour a glass factory and see this glassmaking tradition in action. There's a showroom at the end if you'd like to purchase any Murano glass souvenirs.
10. Burano
Burano is one of my biggest Venice oversights, and it's at the top of my list for my next trip.
This tiny Venetian island is located about 45 minutes by boat from the main city. There's a large express ferry that will take you directly there from a stop near St. Mark's Square.
The little island of Burano has become famous for its cute, brightly colored fishermen's houses. The rainbow-colored houses are perfect for photos, and the island itself is a nice play to spend the afternoon having lunch and strolling around.
🔥 Book this boat tour of the islands of Murano and Burano, which includes a Murano glass-blowing demonstration at an artisan's workshop.
11. Get Lost
The number one thing to do in Venice is to get lost.
It's not hard, considering how maze-like the city is. You can get from a crowded square or touristy shopping street to an absolutely deserted plaza or picturesque canal in just a few wrong turns.
There's nothing like going for an evening stroll through the city and just seeing where you end up!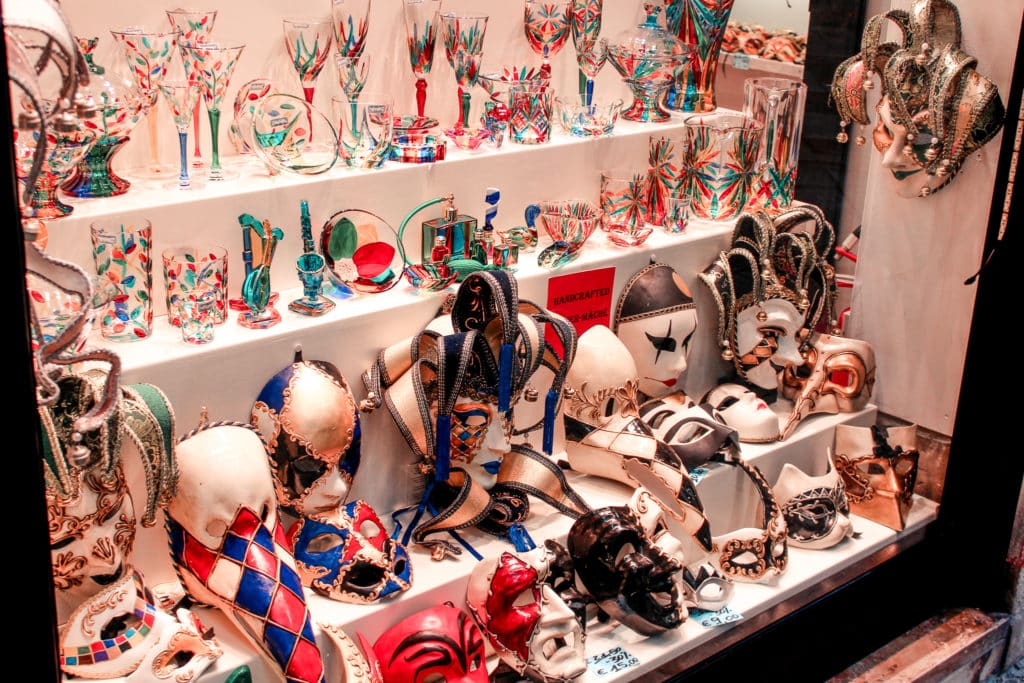 Where to Stay in Venice
More Venice Travel Tips
For more tips for your trip to Venice, be sure to read 6 Essential Venice Travel Tips from a Local.
🩷 Where to next? Check out my complete travel guide to Italy.
Save it to Pinterest: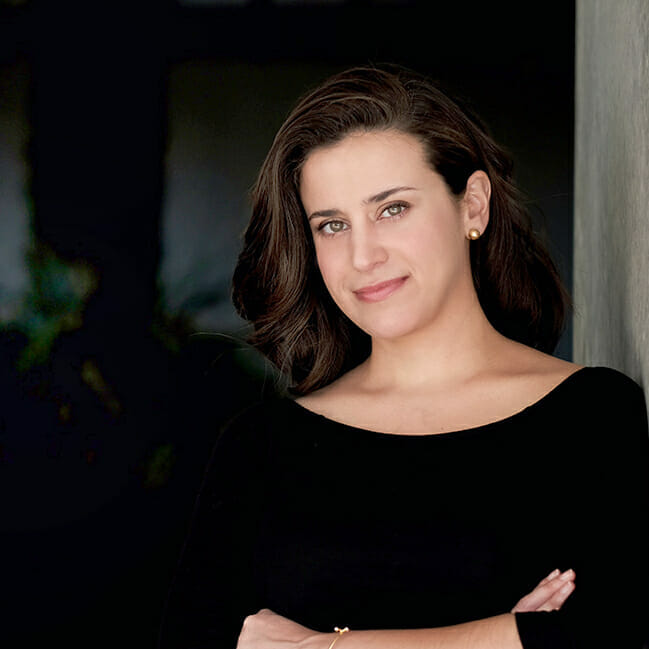 About Denise Cruz
Denise is a marketing executive who escaped corporate to travel the world… twice. A Brazilian native living in the U.S., she's lived in 4 countries and visited 35+ others. After side-hustling her way to financial independence, she curates solo destination guides, slow travel tips, and travel blogging advice on Wander Her Way. When she's not on the road, you can find her in Miami with her dog Finnegan.