6 Essential Venice Travel Tips from a Local
If you buy something through the links on this page, you're helping me pay for my next adventure—thank you for clicking! Learn more.

Venice Travel Tips (from a Local Venetian Guide)
This post is all about the best Venice travel tips from a true Venetian local!
The last time I was there, I took an amazing walking tour in Venice, Italy. The guide was a native to Venice, which is quite rare! More than 20 million tourists visit Venice every year, and only about 55,000 people live in the historic city nowadays.
Hearing from a local guide was very enlightening, and he had a bunch of wisdom for our group.
Here are six great Venice travel tips he shared with my group that will help you maximize your experience in La Serenissima.
6 Essential Venice Travel Tips from a Local
1. Taking a gondola ride
To avoid getting ripped off by a gondolier, make sure you know the standard rates for a thirty-minute gondola ride: 80 euros during the day and 100 euros at night, from sunset until eight AM.
This is for the ENTIRE boat, not per person! And up to six people can ride in a gondola and split it.
Before you board the gondola, ask for the price. If the gondolier tries to tell you the price is going to be more for any reason, they are not telling the truth. Politely but firmly let them know that you know that the rates are set.
Discuss the route with the gondolier before you leave, and do not pay them in advance! Pay them at the end after it's been thirty minutes, and they have taken you on the promised route.
Make sure to pay with exact change, or else they just might try to keep your extra money as a "tip" without giving you any change back.
Fun fact: Venice gondoliers make upwards of $150,000 a year. Don't feel bad for them—and don't let them rip you off!
💡 Tip: You can book a gondola ride in advance here. It will cost a bit more, but it could save you time trying to figure out where to go and facing long lines. Just beware the tips above still apply to the pre-booked tours. The quality of your gondola ride will rely 100% on the Gondolier you end up with.
2. How to find the best gelato
Real fruit gelato always tastes better than gelato made with artificial flavoring. So are you ready for the most delicious of the Venice travel tips?
To spot the best gelato, just take a look at the coloring. If it's brightly colored—think bright green for pistachio gelato or hot pink for strawberry gelato—then it's probably made with artificial flavoring.
Real gelato has more of a muted tone. So if you see pastel colors, it's more likely to be authentic, fresh, and delicious Italian gelato.
It should go without saying to look for gelato shops on side streets and not in the main tourist areas. You'll probably save yourself a euro or two and find much better gelato!
📌 Book this Venice street food tour with a local guide
3. A gondola ride for two euros
If you don't want to spend 80 or 100 euros on a gondola ride, you can still have the experience for a much cheaper price: just two euros.
How? Hop on a gondola crossing the Grand Canal. It's called a traghetto.
Traghetto means "ferry ride" in Italian. It's not a fancy ride, and the journey only takes a minute or two, but it's enough time to snap a quick photo of yourself and get an incredible view of the Grand Canal from a traditional gondola.
Taking a traghetto ride is an authentic and affordable way to experience Venice. One of the most reliable traghetto crossings is at the small wooden dock right beside the Rialto fish market.
📌 Want to know the secret to the 2€ gondola ride? Read my complete guide to riding the traghetto.
4. Don't get ripped off buying Carnevale masks
One of the most popular souvenirs you can buy in Venice is your very own colorful Carnevale mask.
Almost every souvenir shop you pass will be selling masks. However, to avoid buying an overpriced fake, make sure to take note that someone is inside the shop making the masks.
Real Carnevale masks are made inside the shop. If you walk in and don't see anybody making masks, they are probably selling cheap, mass-produced masks instead.
The best place to find great authentic masks is the San Polo neighborhood of Venice.
5. Don't get scammed buying Murano glass
The second most popular Venice souvenir is colorful Murano glass. Almost every souvenir shop you pass will be selling plates, ornaments, and tumblers made of this pretty, colorful glass.
To avoid getting ripped off by a cheap fake, your best bet is to buy your souvenir from the island of Murano itself. It's a short water bus ride away from Venice.
However, if you're buying from a shop in Venice, make sure to check that the glass says "Made in Murano" or "Made in Venice" on it. NOT "Made in Italy" or "Made in China" or anything else.
Real Murano glass will also not be too brightly colored, and it won't be extremely cheap. Those are a couple more of the sure signs that you're getting a fake.
📌 I recommend this boat tour of the islands of Murano and Burano, which includes a Murano glass-blowing demonstration at an artisan's workshop.
6. Get lost!
The number one Venice travel tip I got from my local Venice tour guide was to get lost in Venice! Literally.
Wander off the main streets into the city's narrow alleys and spend a few hours walking around without looking at a map. You will feel like you're in a completely different city once you move away from the chaos and crowds of touristy areas like St. Mark's Square and Rialto Bridge.
One of my favorite neighborhoods for wandering around is Cannaregio. Located on the northern side of Venice, this quiet neighborhood has a more local and less touristy feel to it.
If you're afraid to get really lost, remember that Venice is an island so you won't go very far!
Cannaregio is the perfect place to stroll around at sunset and stop for dinner somewhere along one of the canals. This is also where I've stayed the last few times I've been to Venice.
My favorite Venice hotel is the Grand Hotel dei Dogi and I would recommend it for anyone looking for a great location, exceptional service, and a totally unique experience.
Where to Stay in Venice
Here are some of the best places to stay on your trip to Venice:
Most Unique Hotel: Grand Hotel Palazzo dei Dogi — as I mentioned, I have stayed here multiple times now and think it's one of the best hotels in the world!
Best Luxury Hotel: The Gritti Palace — This is by far the most luxurious hotel in all of Venice, so it's no surprise it's at a great location. While I've never stayed there, it's on my bucket list for sure!
Most Convenient: AC Hotel Venezia — I stayed here for one night and enjoyed it. It's really close to the train station and cruise terminal, making it a very convenient location for getting in and out of the city.
Best Budget Hotel: Hotel Olimpia is a great affordable option in the heart of Venice.
True Venetian Stay: For a real authentic experience, you can rent this gorgeous apartment during your stay in Venice. Local apartments can be a great way to save money in Venice because many are cheaper than hotels, and you will typically have access to a kitchen where you can cook some of your own meals.
More Amazing Things to Do in Venice
Before you go, check out these amazing things to do in Venice:
Admire Michelangelo's famous David at Gallerie dell'Accademia di Venezia
Take a guided walking tour of Venice
Visit the colorful—and often overlooked—island of Burano
I hope these Venice travel tips will help you on your trip as much as they helped me!
🩷 Where to next? Check out my travel guide to Italy.
For more tips on visiting Italy, be sure to read the following:
Save it to Pinterest: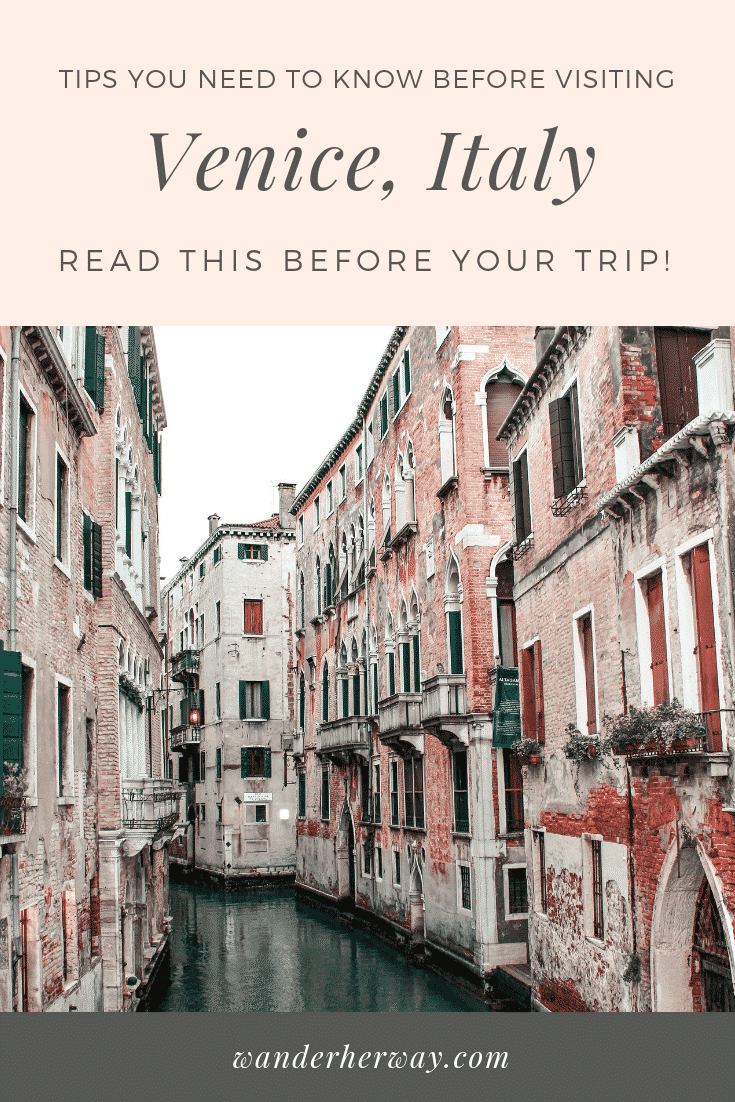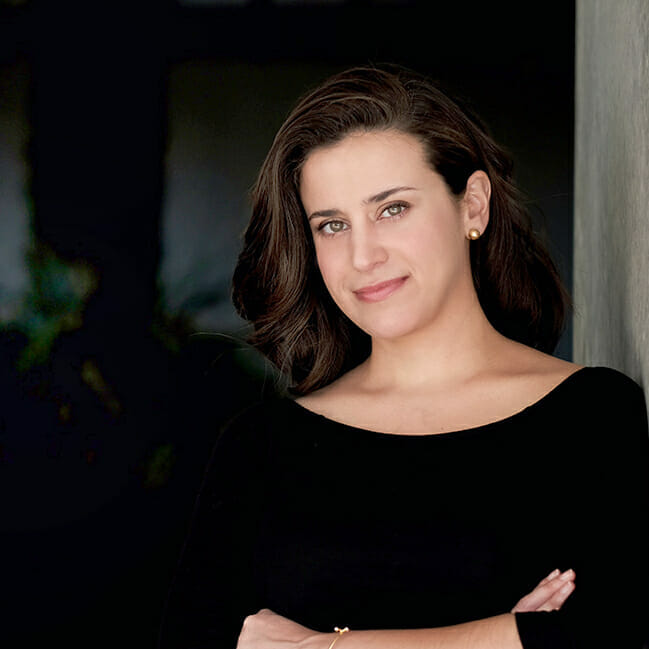 About Denise Cruz
Denise is a marketing executive who escaped corporate to travel the world… twice. A Brazilian native living in the U.S., she's lived in 4 countries and visited 35+ others. After side-hustling her way to financial independence, she curates solo destination guides, slow travel tips, and travel blogging advice on Wander Her Way. When she's not on the road, you can find her in Miami with her dog Finnegan.