The Complete Guide to Cinque Terre
If you buy something through the links on this page, you're helping me pay for my next adventure—thank you for clicking! Learn more.

The Complete Guide to Cinque Terre, Italy
Cinque Terre is one of the most beautiful areas in all of Italy. Translated from Italian, Cinque Terre means Five Lands. It is comprised of five colorful cliffside villages—Monterosso al Mare, Vernazza, Corniglia, Manarola, and Riomaggiore—on Italy's gorgeous Ligurian Coast.
When you visit Cinque Terre, you'll find breathtaking, postcard-perfect views, a slow and relaxed pace of life, and charming villages that remain untouched for hundreds of years.
This beautiful gem of a destination is worth more than just a day trip and deserves a spot on any Italian itinerary.
In this article, I'll tell you everything you need to know about visiting Cinque Terre.
Where is Cinque Terre
Cinque Terre is about 81 miles (130 kilometers) south of Genoa, the largest city in the Linguria region, and about 124 miles (200 kilometers) north of Florence.
These five picturesque villages, situated between the mountains and the Mediterranean sea, are without a doubt one of the most stunning spots on the Italian Riviera.
How to Get to Cinque Terre
There are a few different ways to get to Cinque Terre:
By train
If you're already in Italy, you can get to Cinque Terre by train. Just buy a ticket to La Spezia or Levanto. From these two towns, you will be able to buy a Cinque Terre Train Card and go between all five Cinque Terre villages. More on that in a minute.
By plane
The closest airports to Cinque Terre are Pisa and Genoa. Pisa is roughly two hours by car and about an hour and a half by train, and Genoa is about an hour and a half by car and two and a half hours by train.
However, Pisa and Genoa have small airports serving mostly Italy and Europe. The closest big international airports are Milan and Florence. From there it's only a couple of hours' drive to Cinque Terre or, the fastest trains will take about three hours.
By car
You can't actually drive through the villages, but if you must arrive by car, I recommend Discover Cars to get the best deals on your rental. When you get to Cinque Terre, you can park in La Spezia or Levanto and use the Cinque Terre Train Card to get around the five villages.
Getting Around Cinque Terre
Cinque Terre is made up of five small villages. From north to south, they are Monterosso, Vernazza, Corniglia, Manarola, and Riomaggiore.
The easiest way to get between the villages is the train. It's only a five-minute ride between each village, and the trains run frequently throughout the day.
Once you are in La Spezia or Levanto, you can purchase a Cinque Terre Train Card to get around the villages.
This card entitles you to:
Unlimited train travel on the Levanto – Cinque Terre – La Spezia route
Unlimited use of the Cinque Terre buses
Access to all of the Cinque Terre hiking paths
WiFi connection in all the stations
You can check prices for the Cinque Terre Train Card and get more details here. The most expensive option, a three-day pass, will cost you €41 during the high season.
When to Visit Cinque Terre
You might be wondering what the best time of year to visit Cinque Terre is. Like many places in Italy and Europe, I would prefer to visit Cinque Terre during the low season to avoid crowds.
I visited in late May, and it was already extremely crowded, which you may be able to notice from my pictures. It was also pretty hot, with temperatures hitting 80° F some days.
Cinque Terre's high season runs from May to September, so for the best combination of low crowds and mild weather, visit in March, April, or October.
Even if you visit during the high season, you can still have an enjoyable, crowd-free experience before and after the day trippers and cruise tourists leave each day.
How Long to Stay in Cinque Terre
While many people just come to Cinque Terre for one day, I really recommend staying for longer unless you just absolutely don't have the time in your itinerary.
I stayed for three days and two nights and found this to be the perfect amount. It gives you enough time to visit all five villages in a leisurely manner and go back to your favorites.
Where to Stay in Cinque Terre
I stayed in a B&B in Manarola, but you really can't go wrong with any of the villages, except maybe Corniglia. I say this because it's the hardest village to reach—you have to climb 400 stairs from the train station to reach the town— and it's the only one without a waterfront.
There aren't any big chain hotels in Cinque Terre, but there are many small boutique hotels, B&Bs, and homes you can rent on Airbnb, VRBO, and if you really want to live it up, Plum Guide.
Best hotels in Cinque Terre
What to Do in Cinque Terre
There isn't much to "do" in Cinque Terre in terms of museums, churches, ruins, etc. In that sense, it's actually a nice break from the rest of Italy!
Some of the best moments you can have in Cinque Terre are just walking around, relaxing on the beach, or snapping photos of the incredible views around you.
Best Things to do in Cinque Terre
Here are some of the best things to do while in Cinque Terre:
Go hiking.
There are dozens of hiking trails around Cinque Terre, and I did enjoy walking around the trail above Manarola early in the morning. If you're the adventurous type, sign up for this 3-hour hiking tour from Manarola to Corniglia.
Bear in mind that some of the more popular hiking trails may be closed when you visit, and the routes that are open can be strenuous hikes that take a few hours.
Go to the beach.
If you want a beach day in Cinque Terre, head to Monterosso and grab a spot under one of the orange and green striped umbrellas on the sand. Monterosso is the only village that has a true beach; the rest are harbors.
Swim in the harbors.
Swimming in the clear blue harbors of Vernazza and Manarola is also really popular. If you're feeling really brave, you can jump off the big rocks around the harbor.
Go on a boat ride.
The Cinque Terre coastline is quite a sight, and you will have incredible views from the ocean. There are tons of boat and sailing tours in Cinque Terre. They're anywhere from an hour and a half to a whole day, so even if you don't have much time, you can find a way to sail along the coast.
Try Wine tasting.
Walking is definitely the best way to experience Cinque Terre, but you know what makes it even better? Italian wine, of course. If you're a foodie like me, I highly recommend this wine-tasting and walking tour.
Take an Italian cooking class.
Take a cooking class and learn how to make an authentic Pesto with all fresh ingredients.
Enjoy a meal with a view.
My favorite place to eat in Cinque Terre was Nessun Dorma in Manarola. This scenic spot serves delicious desserts and Ligurian favorites like pesto with an incredible view.
Tips for Visiting Cinque Terre
Bring a refillable water bottle and fill it up in the water fountains in each village. The water in Italy is extremely clean and safe to drink!
Be mindful of how much waste you produce, and always clean up after yourself. Cinque Terre suffers from over-tourism, and a negative impact of this is a lot of trash everywhere.
Visit during the off-season to avoid crowds and hot summer temperatures.
Try to eat at places away from the main touristy road in each village. You won't pay as high of prices, and the food will probably taste better too!
Wake up early to enjoy the villages before the crowds of day trippers, and cruise tourists arrive.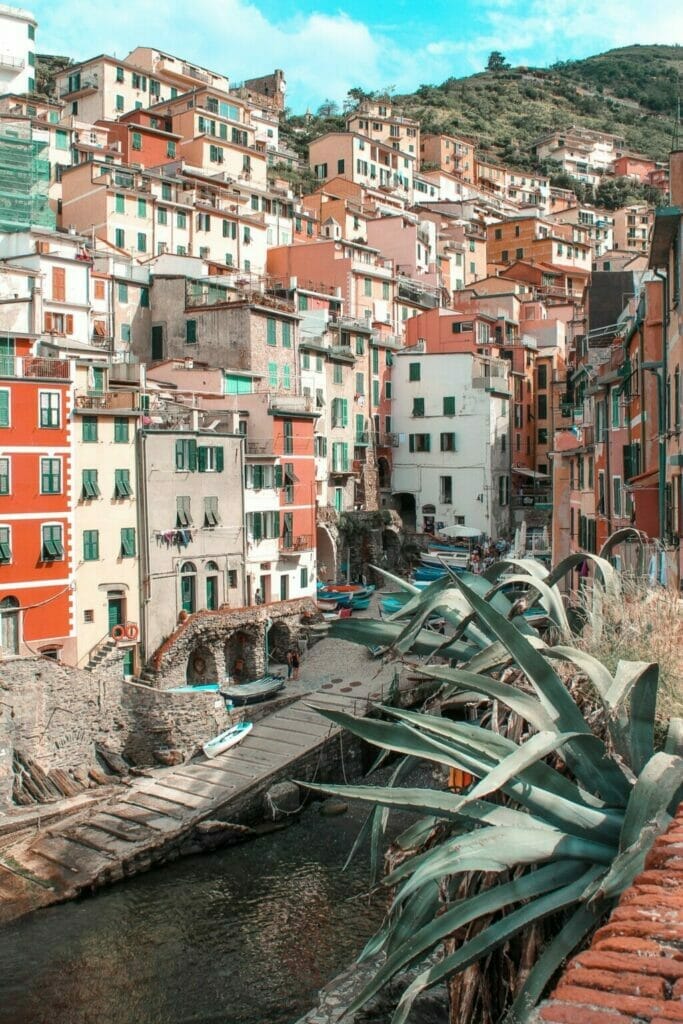 Visiting Cinque Terre: Q&A
How long does it take to walk the 5 villages of Cinque Terre?
Hiking across all five villages of Cinque Terre would take you around 5 to 6 hours, depending on your pace and which route you take. It's about 7.5 miles (12 kilometers) of scenic terrain with some steep climbs and descents along the way.
Why is Cinque Terre so famous?
Cinque Terre is famous for its stunning scenery, colorful picturesque villages, and scenic hiking trails. The five villages, Monterosso al Mare, Vernazza, Corniglia, Manarola, and Riomaggiore, are each unique and charming, with breathtaking views of the sea. Also, UNESCO recognized Cinque Terre as a World Heritage Site in 1997.
I hope you found this guide to Cinque Terre helpful. Enjoy your trip!
🩷 Where to next? Check out my travel guide to Italy.
For more Italy travel tips, be sure to read the following:
Save it to Pinterest: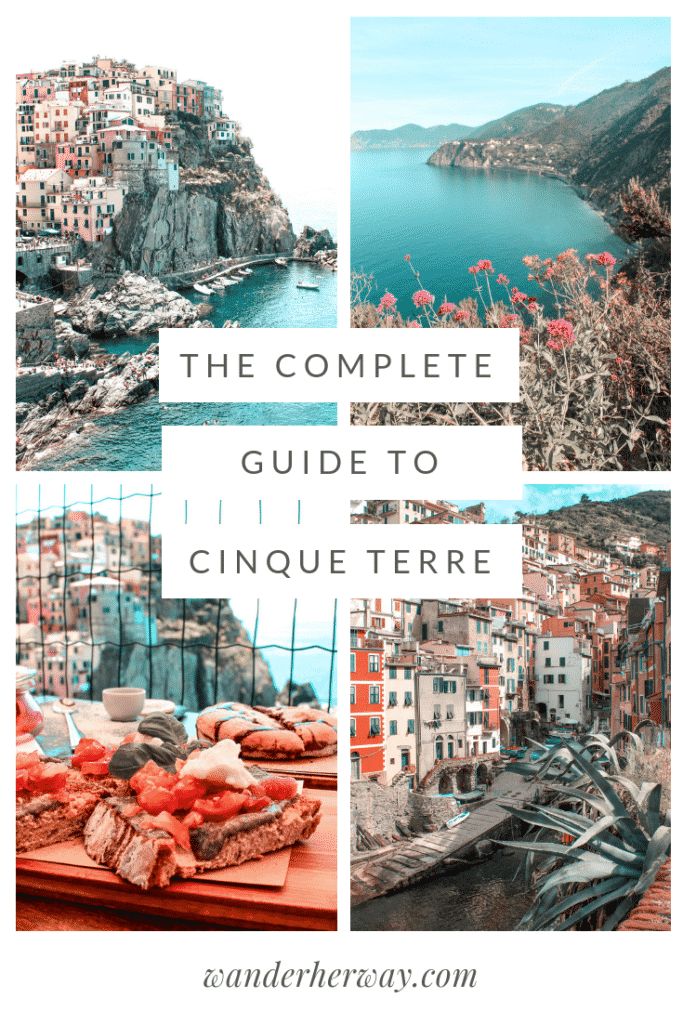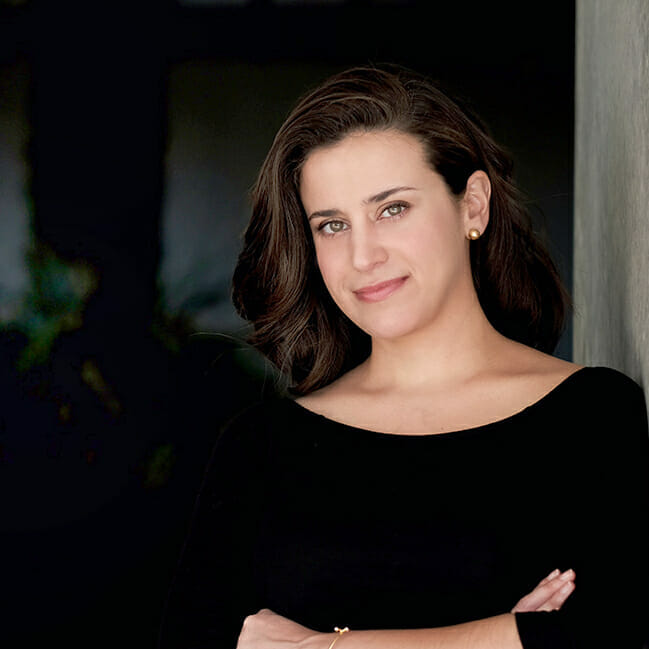 About Denise Cruz
Denise is a marketing executive who escaped corporate to travel the world… twice. A Brazilian native living in the U.S., she's lived in 4 countries and visited 35+ others. After side-hustling her way to financial independence, she curates solo destination guides, slow travel tips, and travel blogging advice on Wander Her Way. When she's not on the road, you can find her in Miami with her dog Finnegan.