5 Tips for New York at Christmas
This post contains my best tips for New York at Christmas!
For many, visiting New York at Christmas is a once-in-a-lifetime dream trip. It's a magical experience for sure, and I consider Christmas one of the best times of year to visit New York.
To help you have the most magical time possible, here are some essential tips to know before you go to New York at Christmas! (As told by an NYC native!)
If you're looking for the best things to do in New York at Christmas, be sure to check out this post: 15 Magical Things to Do in New York at Christmas
Also, check out my post about general New York tourist mistakes to avoid before your trip!
Without further ado, here are my tips for visiting New York at Christmas:
1. Prepare for crowds.
Christmas is one of the most crowded times of year in New York. From the week of Thanksgiving until New Year's Day, the crowd levels in New York are extremely high.
Around popular tourist attractions (like Rockefeller Center) you might literally experience shoulder-to-shoulder crowds that you basically have to shove your way through.
The best time to go to New York if you want to avoid crowds, but still experience the Christmas season, would be the first week in January after New Year's Day or the week before Thanksgiving. Also, weekdays tend to be less crowded than weekends.
However, even with the intense crowds, you can still have a good time! Just know what to expect and prepare yourself for crowds, long lines, traffic, etc. so it won't surprise you.
2. Don't overdo it.
One big reason people don't end up having a great time in New York is because they try overdo it with a jam-packed itinerary and end up getting burnt out from everything.
Trust me, the constant movement and crowds will take their toll on you!
If you only have a few days in New York, I can understand the temptation to cram in as many activities and experiences as possible, but you'll enjoy yourself more if you build in some downtime.
Going to see a matinee Broadway show or holiday performance (like the Radio City Rockettes or the New York City Ballet's The Nutcracker) is a great way to build a relaxing break into the middle of your day. Or plan for a stroll through Central Park or get reservations for a nice meal!
3. Dress for the weather.
New York typically has pretty mild winter temperatures in late November and December. Usually it's in the 40s or 50s and doesn't get super cold until January and February.
However, you should still check the weather before you go because sometimes it does end up being colder around Christmas! And there's nothing worse than being unprepared for the weather.
It's also important to note that you'll probably be spending a LOT of time outside. I recommend dressing in layers and making sure you have comfortable walking shoes.
Check out my winter in New York packing list for a full list of essentials.
Here are just a few overlooked things I recommend bringing:
You might also like: Festive Things to Do in Miami at Christmas
4. Get the New York Pass.
If you want to do a lot of tourist attractions and activities while in New York, then the New York Pass is definitely going to be worth it and will save you a ton of time and money!
Basically, the New York Pass gives you skip-the-line admission to more than 100 attractions and activities in New York. The price varies based on how many days you get the pass for, but it's almost always worth it if you plan to do at least a few of the attractions and activities each day.
Not only is the New York Pass a good value for money, it also saves you a lot of time. You don't have to wait in long lines to buy tickets for things like observation decks or museums, because you get skip-the-line access included with your New York Pass.
Click here to read my complete review of the New York Pass.
You can also see a full list of what's included in the New York pass right here.
5. Go off the beaten path.
I often hear tourists say "I love visiting New York, but I could never live there!" This is always funny to me because the people who actually do live in New York do NONE of the same things tourists do!
I wouldn't want to live in the city if I spent all my time in Times Square and Midtown either. While I do think you should go out and enjoy all the tourist attractions that New York has to offer, it's also fun to explore beyond these areas (and even get out of the borough of Manhattan!)
Check out the Dyker Heights Christmas lights in Brooklyn (definitely not "off the beaten path" in terms of crowds, because lots of locals go, but not as many tourists), the Met Cloisters in far uptown Manhattan, or the New York Botanical Gardens in the Bronx.
All of these will definitely be a unique and memorable experience on your trip.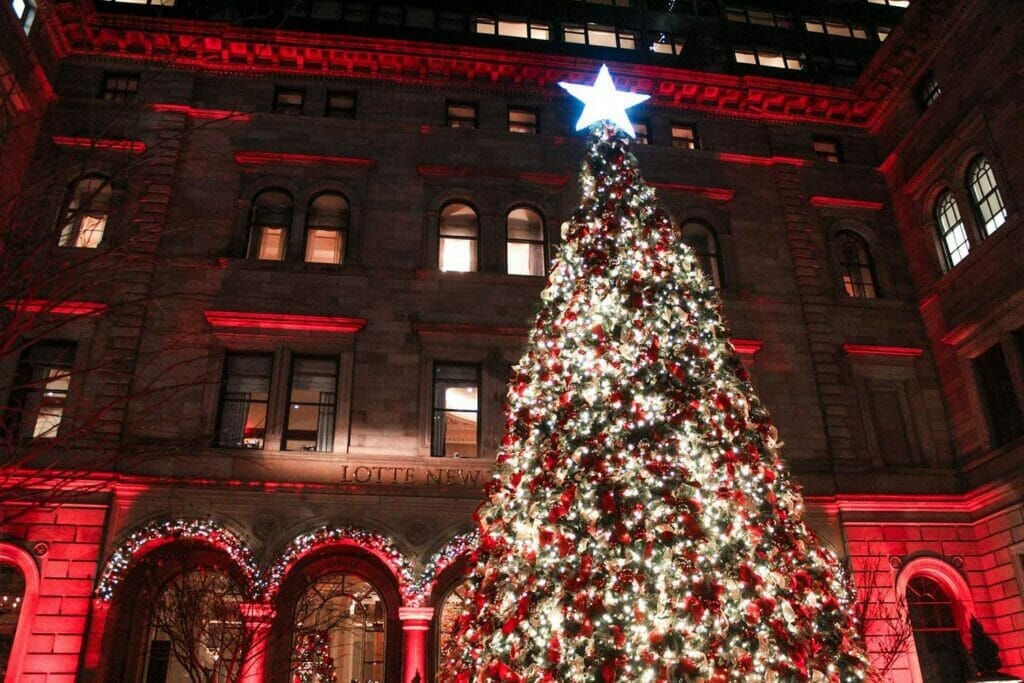 Where to Stay in New York at Christmas
As I mentioned at the beginning of this post, Christmas in New York is a bucket list adventure for many people. If you want to have the most magical
The Plaza Hotel: One of New York's most iconic hotels with absolutely beautiful Christmas decorations! It's also the setting of family favorite Christmas movies like Home Alone 2 and Eloise at Christmastime. The location of the Plaza cannot be beat – you're right on the corner of Fifth Avenue and Central Park South which is perfect for Christmastime!
The New York Palace: Fans of Gossip Girl will recognize this hotel as the home of Serena van der Woodsen. It's also home to one of the most beautiful Christmas trees in the city and conveniently located to many popular Christmas attractions like Rockefeller Center.
The Standard East Village: Get out of Midtown Manhattan and see a different side of the city at the trendy Standard Hotel in the East Village. Not only is this hotel located in one of the coolest neighborhoods in Manhattan that's close to everything, The Standard also gets decked out for the holidays with heated alpine yurts and even a mini Christmas tree farm!
For the best boutique hotel options in New York, check out this post.
Another option for your trip to New York at Christmas is staying in an Airbnb.
More Tips for Winter in New York
I hope you found these tips for New York at Christmas helpful!
Looking for more ideas to make your Christmas trip to New York perfect?
You may be interested in the following posts:
Save it to Pinterest: