The Best Winter Rooftop Bars in NYC
If you buy something through the links on this page, you're helping me pay for my next adventure—thank you for clicking! Learn more.
The Best Winter Rooftop Bars in NYC
This post is all about the best winter rooftop bars in NYC!
Just because it's winter now doesn't mean you have to give up rooftop bars. Some of the most popular rooftop bars in New York transform every winter in warm and cozy winter wonderlands.
Heat lamps, retractable roofs, and cozy blankets allow you to still enjoy the best views of the city while escaping the winter chill.
Here are nine of the best winter rooftop bars in NYC to add to your winter bucket list:
1. 230 Fifth Avenue
No list of winter rooftop bars in NYC would be complete without mentioning 230 Fifth Avenue!
Every winter since 2014, this rooftop bar has transformed into an igloo-filled wonderland. Most of the igloos are first-come, first-served but there are also reservation packages available.
230 Fifth Avenue is the perfect place to enjoy sweeping views of the city in a fun and festive setting. They have food and drinks in the evening and a weekend brunch buffet as well.
More Details: 230 Fifth Avenue
2. Refinery Rooftop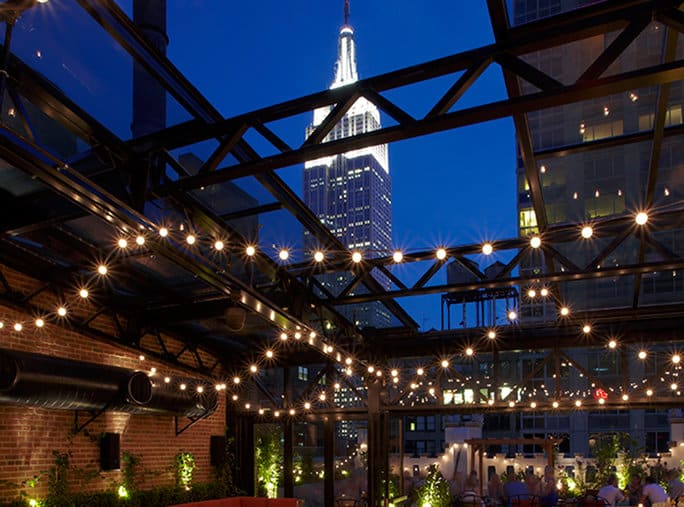 Located at Refinery Hotel in the Garment District, Refinery Rooftop offers incredible views of Midtown Manhattan and the Empire State Building.
During the winter months, the retractable roof, twinkling lights, and roaring fireplace make this rooftop bar the perfect place to spend a cold evening.
They serve brunch, lunch, dinner, and cocktails.
More Details: Refinery Rooftop
3. SERRA ALPINA by Birreria
The rooftop of Eataly in the Flatiron District is home to a popular restaurant that enjoys a seasonal makeover every few months.
This year's winter restaurant theme is called SERRA ALPINA (meaning greenhouse in Italian.) The space has been transformed into a greenhouse-inspired cozy winter oasis.
Seasonal, rustic Italian fare is on the menu at SERRA ALPINA, along with holiday cocktails. Reservations are recommended for lunch and dinner.
More Details: SERRA ALPINA by Birreria
4. Mr. Purple
In the summer, the rooftop pool at Mr. Purple on the Lower East Side is the place to be.
But come winter, this rooftop bar transforms into a warm, igloo-like winter retreat known as the "Clicquot Chalet" (as in Veueve Clicquot champagne.)
Inspired by a cozy ski lodge, you can enjoy seasonal cocktails, a champagne bar, and fondue at the Clicquot Chalet while taking in the panoramic views of Manhattan from inside the igloo.
Reservations are required.
More Details: Mr. Purple
5. Ophelia Lounge

Ophelia Lounge, the stylish and elegant rooftop bar atop Beekman Tower in Midtown East, has received a wintry makeover with its "Snowglobe in the Sky" installation.
Serving dinner and drinks every night from five until midnight, you can enjoy sweeping views of the city and the East River from this chic rooftop lounge.
More Details: Ophelia Lounge
6. The Lodge at STK Downtown
STK Downtown is the Meatpacking District outpost of the popular steakhouse chain STK.
But head upstairs to the rooftop and you will find yourself at The Lodge by STK, a wintry ski lodge-inspired rooftop bar with great views of the city.
You can enjoy brunch or dinner at The Lodge, and the dinner menu includes all the steaks from the downstairs restaurant as well.
More Details: The Lodge by STK
7. Haven Rooftop
During the winter months, Haven Rooftop is transformed into a warm and inviting winter wonderland.
This rooftop bar is located at the top of Sanctuary Hotel right in the middle of Times Square.
But you can escape the hustle and bustle of Times Square and enjoy the view from above at Haven Rooftop, while having dinner and drinks underneath the twinkling Christmas lights.
More Details: Haven Rooftop
8. PHD Terrace
PHD Terrace is one of the coolest winter rooftop bars in NYC, with a million twinkly lights adorning the ceiling and breathtaking views of Midtown Manhattan.
Located on top of the Dream Midtown design hotel, PHD Terrace offers food and drinks, including a special seasonal "Midwinter Night's Dream" menu.
More Details: PHD Terrace
9. Magic Hour Rooftop
Last but not least on this list of winter rooftops bars in NYC is Magic Hour.
Located on the rooftop of the Moxy Hotel in Times Square, Magic Hour is a cool rooftop bar with amazing views of the Empire State Building.
It's also home to a fun "adult amusement park" on the rooftop, complete with a miniature putt-putt course and rotating carousel seating.
More details: Magic Hour Rooftop Bar & Lounge
📌 Before you go, check out my complete New York travel guide.
You may also enjoy…
Save it to Pinterest: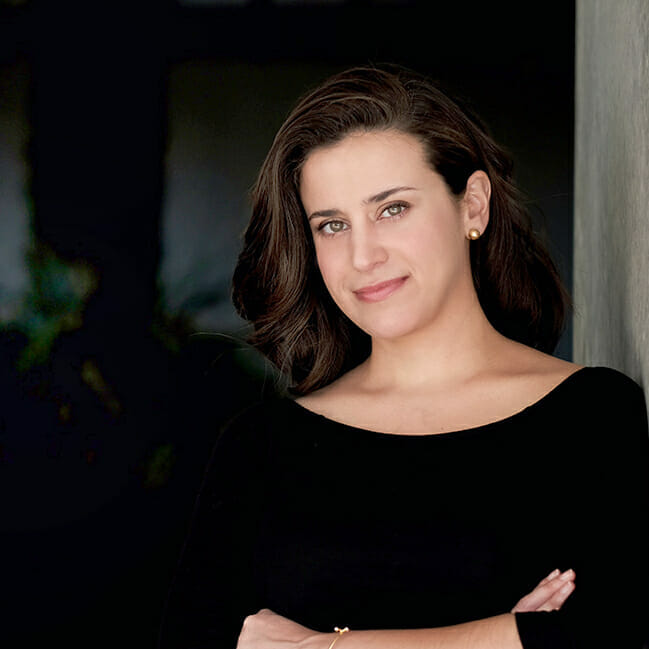 About Denise Cruz
Denise is a marketing executive who escaped corporate to travel the world… twice. A Brazilian native living in the U.S., she's lived in 4 countries and visited 35+ others. After side-hustling her way to financial independence, she curates solo destination guides, slow travel tips, and travel blogging advice on Wander Her Way. When she's not on the road, you can find her in Miami with her dog Finnegan.