This post may contain affiliate links. Learn what that means for me and for you.

18 Magical Things to Do in New York at Christmas
Christmas in New York really is the most magical time of the year.
As a New Yorker, I always look forward to Christmas in New York because I think it's when the city is at its prettiest. No place in the world does Christmas quite like New York.
Here are 18 of my favorites things to do in New York at Christmas, from the best decorations to the best places to eat to the must-do holiday traditions!
Sale alert: The New York Pass is currently on sale for up to $140 off! This pass gives you access to 100+ museums and attractions in New York for a huge discount. If you're visiting New York this winter, the New York Pass can be an amazing way to save money on museums and attractions.
Where to Stay in New York at Christmas
Here are my top recommendations for the most Christmas-y places to stay on your trip:
The Plaza Hotel: One of New York's most iconic hotels with absolutely beautiful Christmas decorations! It's also the setting of family favorite Christmas movies like Home Alone 2 and Eloise at Christmastime. The location of the Plaza cannot be beat – you're right on the corner of Fifth Avenue and Central Park South which is perfect for Christmastime!
The New York Palace: Fans of Gossip Girl will recognize this hotel as the home of Serena van der Woodsen. It's also home to one of the most beautiful Christmas trees in the city and conveniently located to many popular Christmas attractions like Rockefeller Center.
The Standard East Village: Get out of Midtown Manhattan and see a different side of the city at the trendy Standard Hotel in the East Village. Not only is this hotel located in one of the coolest neighborhoods in Manhattan that's close to everything, The Standard also gets decked out for the holidays with heated alpine yurts and even a mini Christmas tree farm!
Airbnb: If you're on a tighter budget, you can almost always find good deals on Airbnb and stay in an apartment that is much nicer than a budget hotel in the same price range.
More ideas for where to stay: 18 Best Boutique Hotels in New York City
Don't forget to pack these items!
If you're visiting New York around Christmas, make sure you remember to pack these commonly forgotten winter essentials for the city:
For more packing tips be sure to check out The Essential New York Winter Packing List.
Without further ado, here are the top 18 things to do in New York at Christmas!
1. Ice skating in Central Park
Ice skating in Central Park is a fun way to celebrate the holiday season in New York, especially after it has snowed and turned the park into a winter wonderland! The famous Wollman Rink at Central Park can get crowded, so make sure to go early in the day to avoid crowds.
Other places to go ice skating in NYC:
Lasker Rink: Located on the northern end of Central Park, it's much less touristy than Wollman Rink on the southern end of the park.
Rockefeller Center: Skate beneath the twinkling lights of the Rockefeller tree.
Bryant Park Winter Village: A great rink with FREE skating (only if you bring your own skates… otherwise, their rental prices are high!)
Winterland at Pier 17: This rooftop rink located downtown at South Street Seaport offers great views of the Brooklyn Bridge and more.
2. See the Rockettes at Radio City Musical Hall
There is nothing quite like the Radio City Christmas Spectacular featuring the Rockettes. This festive dance show is a New York City tradition and a must-do if you're visiting around the holidays.
One thing to keep in mind is that you can get cheaper tickets the earlier you go in the season (i.e. the first week of December is much cheaper than the week before Christmas.)
3. Admire the holiday window displays
All along Fifth Avenue, storefronts are transformed into magical Christmas displays. Some of the best displays can be found at Saks, Bergdorf Goodman, and Barneys. The Tiffany and Cartier stores on Fifth Avenue are always decked out as well.
Perhaps the most extravagant holiday lights display is outside Saks Fifth Avenue, directly across from the Rockefeller Center Christmas tree. You can catch the five-minute light show every evening during the holiday season, occurring every ten minutes.
4. Sixth Avenue Christmas decorations
Heading west from Fifth Avenue and Rockefeller Center, you'll come out onto Sixth Avenue.
On Sixth Avenue, you can find all sorts of fun, oversized Christmas decorations, including giant Christmas ornaments, Christmas lights, and toy nutcrackers.
5. Go sledding in Central Park
Central Park is a true winter wonderland after it snows, and what better way to enjoy it than by sledding in the park? The two best hills for sledding are Pilgrim Hill and Cedar Hill.
6. See The Nutcracker at Lincoln Center
George Balanchine's The Nutcracker is a holiday classic, and it wouldn't be Christmas in New York without it! There is nothing quite like dressing up to go see this ballet at Christmas.
7. Have a frozen hot chocolate at Serendipity
Serendipity has all sorts of delicious treats and desserts, but they are especially famous for their giant frozen hot chocolate! Just make sure to bring someone with you to help you finish this tasty treat because you probably won't be able to finish it all on your own. 🙂
The food at Serendipity is just okay and overpriced for what you get, which is why I don't recommend it for lunch or dinner. This is a place to come just to grab a delicious dessert!
Serendipity 3 is located on E 60th Street and 3rd Avenue, close to Bloomingdale's. It's a short walk (about 10 minutes) from Central Park or Rockefeller Center.
8. Check out the Bryant Park Winter Village
Every Christmas, Bryant Park transforms into a magical Winter Village complete with an ice skating rink, food hall, and vendors selling all kinds of handmade goods. This is the closest thing you can get to a European Christmas market in New York!
I love wandering around here at night with everything lit up. This is also a great place to come do some Christmas shopping! There are some incredible vendors to check out.
9. Try a chimney cake
These mouth-watering holiday treats can be found at The Stackery, inside the food hall at Bryant Park Winter Village. Originating in Hungary, chimney cakes are a popular dessert with a crisp exterior and soft interior. Yes, they taste as good as they look.
This is a treat you probably won't be able to finish on your own without going into sugar overload! Myself and three of my work friends all split one of these at lunch one day – they're massive!
10. See the New York Public Library tree
Right next to the Bryant Park Winter Village is the New York Public Library's flagship branch.
While you're in the area, be sure to step inside the impressive Astor Hall to catch a glimpse of what is, in my opinion, one of the prettiest Christmas trees in the city.
11. Check out the Union Square Holiday Market
There's another really great Christmas market located at Union Square with amazing vendors selling unique, handmade gifts. It's the perfect place to go for all your holiday gift shopping.
12. Go to Brooklyn's Dyker Heights
While Manhattan is famous for its Christmas decorations, Brooklyn has the magical Dyker Heights lights display that is a must-see during the holidays! The residents of this Brooklyn neighborhood go all out decorating their homes for the holiday season. The best lights are on 11th to 13th Avenue between 83rd and 86th Street.
13. Do some holiday shopping at Macy's
There's no better place to do some holiday shopping than at Macy's in Herald Square – that is, if you can brave the extreme holiday crowds. (I personally can't handle them!) If you have kids then make sure to bring them to Santaland at Macy's to meet Santa and his elves.
14. Have a cookie and milk shot at Dominique Ansel
Get into the holiday spirit with a reimagined version of Santa's favorite treat. The cookie and milk shots at Dominique Ansel's bakery in Soho are absolutely delicious! (But be prepared to wait in line to get inside the bakery, especially on the weekends.)
15. Check out the holiday decor at famous hotels
Some of New York's most famous hotels get a lovely holiday makeover every year. You can channel your inner Kevin McCallister in the lobby of The Plaza Hotel, or admire the beautiful tree in the courtyard of the New York Palace (Gossip Girl fans will recognize this hotel!)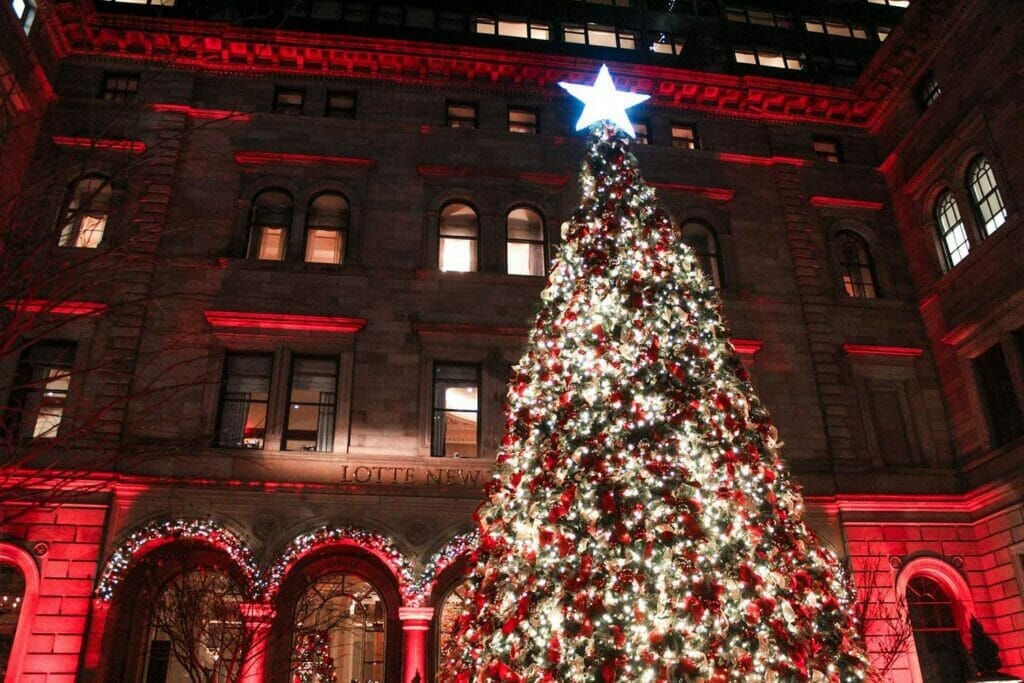 16. Enjoy a rooftop dinner
Rooftop dining probably isn't the first thing to cross your mind when you think "winter in New York." But during the holiday season, some of the city's rooftop bars and restaurants are converted into cozy indoor, heated winter wonderlands. Some of the best ones to check out are Birreria at Eataly, 230 Fifth (they have heated igloos!) and Refinery Rooftop.
For more ideas, be sure to read The Best Winter Rooftop Bars in NYC.
17. Admire the Upper East Side townhouses
The Upper East Side is one of my favorite neighborhoods in New York (probably because I live here!)
If you're visiting any museums like the Met or the Guggenheim then you'll already be on the Upper East Side. I highly recommend spending some additional time wandering the streets in the East 80s, especially the blocks between Fifth and Park.
Many townhouse owners put up stunning holiday decorations.
It's fun just to wander around admiring the decorated townhouses, and if you're anything like me, imagining what it would be like to live inside one!
18. See the world's most spectacular Christmas tree
Between the beautiful decorations, ice skating rink, and enormous Christmas tree decked out in thousands of colorful twinkling lights, there is nothing quite like Rockefeller Center at Christmas!
This is THE spot to go in New York at Christmas, so just be warned that the crowds can be insane!
The best time to visit the Rockefeller Center Christmas tree for minimal crowds is late at night (the tree typically stays lit up until 11:30 PM) on a weekday.
So these are the best things to do in New York at Christmas!
For more New York travel tips, be sure to read the following posts:
And if you haven't booked your trip to New York yet for Christmas, I recommend checking Skyscanner to find the best deals on flights!
Enjoy your trip to New York!
Save it to Pinterest: