The Prettiest Villages in England
This post is all about the prettiest villages in England.
While many people go to England and only visit London, there is so much more to discover outside the big city. England is full of gorgeous villages, historic sites, and beautiful national parks.
Taking a trip to a region like the Cotswolds, Lake District, or Dorset is a great way to see more of what England has to offer, especially by way of charming towns and villages.
Related: Top 10 Best Day Trips from London
This past summer, I took a road trip through England and fell in love with all the small villages that I visited throughout the countryside!
Here are 18 of the prettiest villages in England to add to your travel bucket list:
1. Painswick, England
The Cotswolds region is known for being filled with some of the prettiest villages in England, but Painswick stands out as being one of the best. This charming, picturesque hillside village is home to narrow winding lanes and beautiful stone houses.
2. Upper Swell, England
Another Cotswold village, Upper Swell is incredibly picturesque, with many walking and cycling paths nearby. Making this village even more quaint is the small babbling river running through it.
3. Stanton, England
Stanton is a small 16th century village in the Cotswolds that is filled to the brim with charm. Most of the houses in Stanton are made from the same local yellow limestone, giving it a pretty and uniform look as you wander down the winding streets.
4. Snowshill, England

Snowshill is most famous for its nearby lavender fields, which come into bloom during mid-June and July every year. The village itself is quiet and quaint, set in the rolling hills of the Cotswolds.
5. Rye, England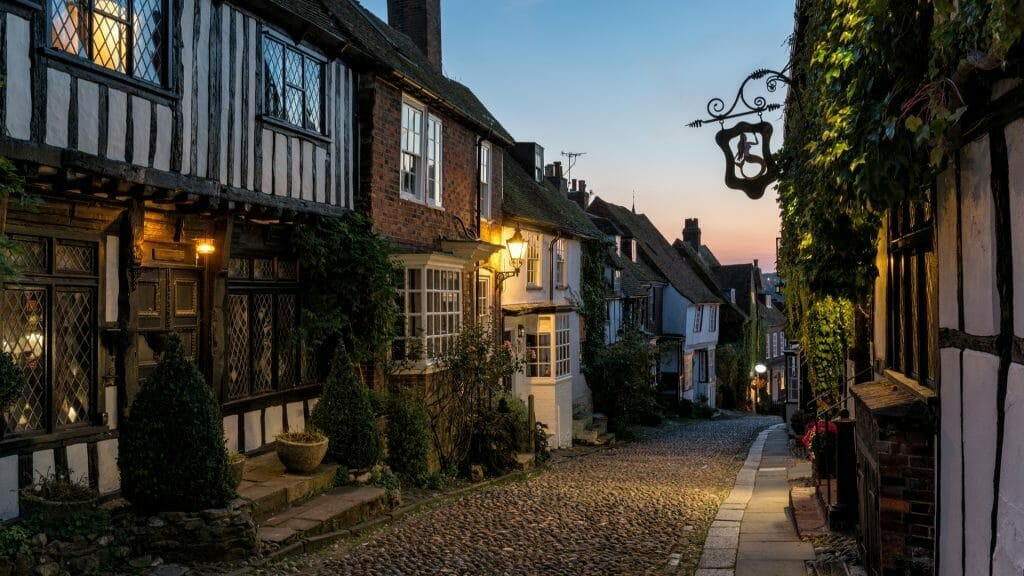 Rye, with its mixture of classic Tudor and medieval homes, is an enchanting English village that will make you feel like you've gone back in time as you wander down its cobblestone streets.
6. Polperro, England
Heading down to the English coast at Cornwall, you will find the charming seaside village of Polperro. This former fishing village is now a popular holiday spot with its pretty whitewashed houses and peaceful harbor. Perfect for a calming coastal getaway.
7. Ombersley, England

Ombersley is a pretty little village located in Worcestershire. Its main highlights are its beautiful preserved black and white half-timbered buildings dating back to the Elizabethan era.
8. Minster Lovell, England

Minster Lovell is a tiny and beautiful village in the Cotswolds with a timeless, peaceful feeling to it. Interestingly, it is also reportedly to most haunted village in the Cotswolds…
9. Kingham, England
This charming Cotswold village was named "England's Favorite Village" and it isn't hard to see why. With pretty stone and thatch houses and a large open green, Kingham is one of the prettiest villages in England and the perfect place to spend a sunny afternoon.
10. Kettlewell, England
Kettlewell, located in Yorkshire, is a great base for exploring the nearby Yorkshire Dales National Park. The village itself is also a lovely place filled with quaint stone houses.
11. Hope Cove, England
Located in the southwestern region of Devon, Hope Cove is a beautiful coastal village you will love. With clear blue waters, sandy beaches, and a pretty town, this is the perfect summer destination.
12. Hawkshead, England
Hawkhead is a must-see village if you are in England's famous Lake District. This quaint town dates back to the 12th century and is home to the Beatrix Potter museum.
13. Castle Combe, England
Castle Combe in Wiltshire has long been considered one of the prettiest villages in the Cotswolds. With its charming old stone buildings situated along a meandering river, it's not hard to see why this scenic little village is so popular with tourists visiting the region.
14. Broadway, England
Another beautiful Cotswolds village, Broadway makes a name for itself with its popular art scene and numerous local art galleries. The old yellow limestone buildings give this village a lovely appeal.
15. Broad Campden, England
Broad Campden is a teeny-tiny village in the Cotswolds, and the perfect place to stop to get away from the crowds in the more popular villages. Although the town is made up of little more than a church and a pub, there are many beautiful walking trails nearby.
16. Bibury, England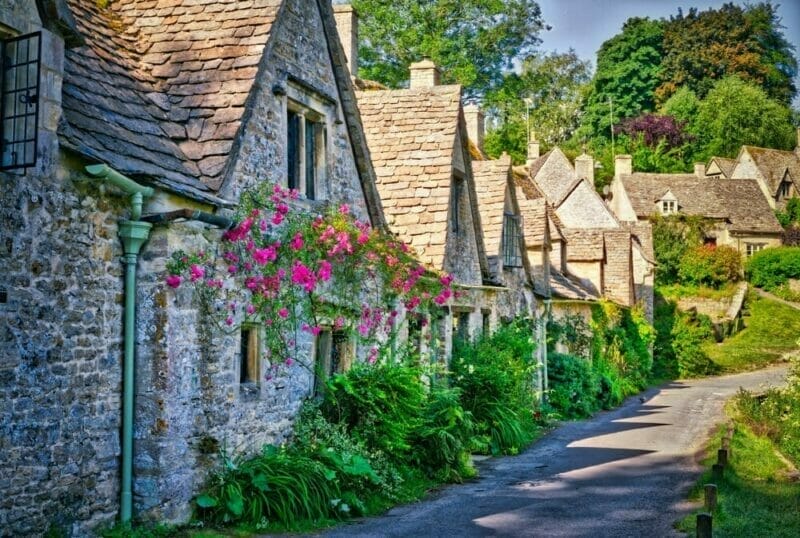 Another contender for one of the prettiest villages in England is Bibury. This bucolic village is nestled in the rolling hills of the beautiful Cotswolds region and is most famous for its often-photographed ancient weavers' cottages dating back to the 14th century.
17. Muker, England
Located in the Yorkshire Dales, Muker is a small hillside village filled with pretty slate-roofed stone buildings. It's a popular stop for walkers, with multiple walking paths passing through the village.
18. Beesands, England
Little more than a tiny fishing village, Beesands is located on the seaside in Devon, England. This village is home to a beautiful shingle beach and plenty of fresh seafood, mainly lobster and crab.
Prettiest Villages in England
Which of these prettiest villages in England would you like to visit?
Two of my favorite stops along my English countryside road trip were definitely Castle Combe and Bibury, both of which I wrote detailed visitor's guides to.
You might also be interested in…
Save it to Pinterest: