The Complete Guide to Bibury, England
British poet William Morris called Bibury "the most beautiful village in England" and I am inclined to agree with him.
On my four-day trip to the Cotswolds, I stayed in the village of Bibury, which was the perfect base for exploring the rest of the region.
Here's my complete guide to Bibury, whether you are just visiting for a few hours on a day trip or are basing yourself here for your trip to the Cotswolds.
About Bibury
Bibury is a tiny village with a population of just 627 located in the middle of the Cotswolds region, an AONB (Area of Outstanding National Beauty) in England.
Although it's a very small village, it gets packed during the summer months with tourists, most of whom are visiting for a day trip either independently or on a coach bus tour.
The main draw to Bibury is the historic cottages of Arlington Row (easily the most photographed sight in the Cotswolds) but there are a few other lovely attractions as well.
How to Get There
Bibury is a village in the Cotswolds, a region located about two hours from London by car.
Driving is by far the best way to get to Bibury, and you will need a car if you want to explore other villages in the Cotswolds.
There are no train stations in most of the Cotswolds villages, and buses are infrequent and slow.
Where to Stay
Since Bibury is such a small place, there are only a couple options for accommodations:
The Swan Hotel: This is the only hotel in the village of Bibury. Housed in a beautiful ivy-covered 17th century coaching inn, The Swan Hotel offers luxurious guest rooms, a bar, a brasserie, waterfront views, and landscaped gardens. Click here for rates.
Airbnb: Another option is staying in an Airbnb. This is what I did and I had a great experience staying in this cottage. It was nice to have a kitchen because we were able to buy groceries and have breakfast and some other meals at the cottage every day.
There are a few other bed and breakfasts and holiday cottages you can rent, but I found it easiest and cheapest just to book through Airbnb.
Where to Eat
Like with where to stay, there are not many options for where to eat in Bibury since it's so tiny!
The Catherine Wheel: This is the village pub and we ended up eating here two nights during our stay in Bibury. It's just a classic British pub with good food and friendly service.
The Swan Hotel: The Swan serves breakfast, lunch, and dinner in elegant surroundings. You can eat in either the bar or the brasserie. (The bar is cheaper.) Great ambience and good food.
The Trout Farm: This is not so much a restaurant as it is a working trout farm with a little cafe attached! I didn't go here on my trip to Bibury because I'm a vegetarian, but if you want to sample some local trout, this is the place. The cafe serves fresh trout, sandwiches, and desserts.
There are no grocery stores in Bibury, so you will need to go to Cirencester (about twenty minutes away) to buy groceries.
What to Do
Admire Arlington Row: This is the most famous little street in Bibury, and probably all of the Cotswolds. Tourists come from all over the world to see this charming, idyllic row of 14th century weaver's cottages. If you're visiting Bibury during the high season, be sure to go early in the morning to photograph the houses without any people in the background.
Take a tour of the Trout Farm: It only costs a few pounds to go inside the Bibury Trout Farm, which is one of England's oldest trout farms. You can even fish for your own trout and have it for dinner.
See St. Mary's Church: Wander along the River Coln past Arlington Row and you'll end up at St. Mary's Church, the main village church in Bibury. This church has been around since the 11th century and is quite beautiful with lots of roses planted outside.
Go for a walk: If you have a few extra hours in Bibury, why not take a walk around the beautiful countryside? This 3.5 mile circular walk will take you along the river, through pastures filled with cows and sheep, through a forest, and past an ancient Roman road. It's the perfect way to spend a summer afternoon in the Cotswolds!
More Posts About The Cotswolds
Enjoy your trip to Bibury and the Cotswolds!
Save it to Pinterest: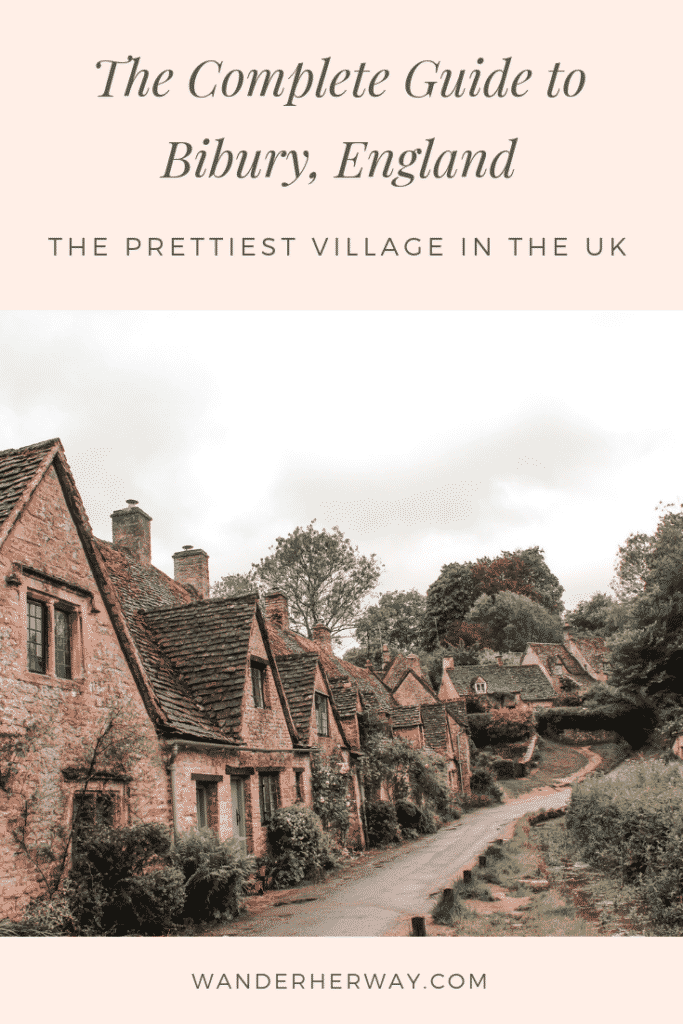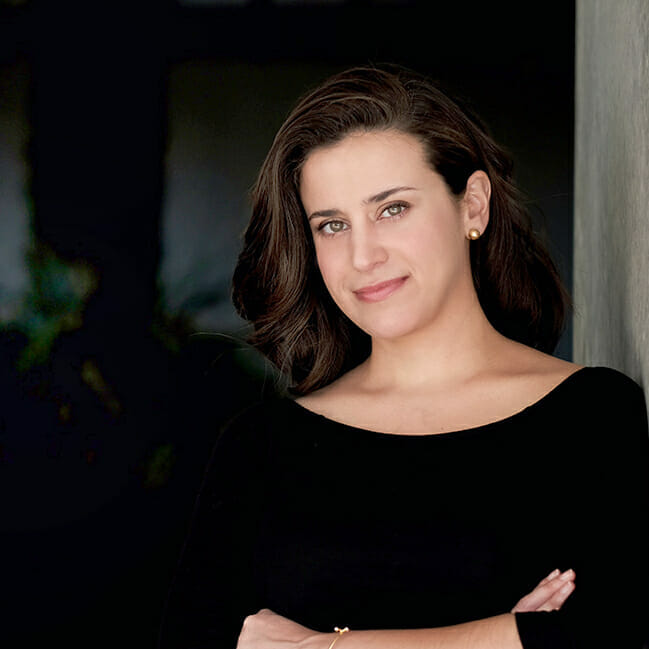 About Denise Cruz
Denise is a marketing executive who escaped corporate to travel the world… twice. A Brazilian native living in the U.S., she's lived in 4 countries and visited 35+ others. After side-hustling her way to financial independence, she curates solo destination guides, slow travel tips, and travel blogging advice on Wander Her Way. When she's not on the road, you can find her in Miami with her dog Finnegan.