21 Magical Fairytale Towns in Europe
If you buy something through the links on this page, you're helping me pay for my next adventure—thank you for clicking! Learn more.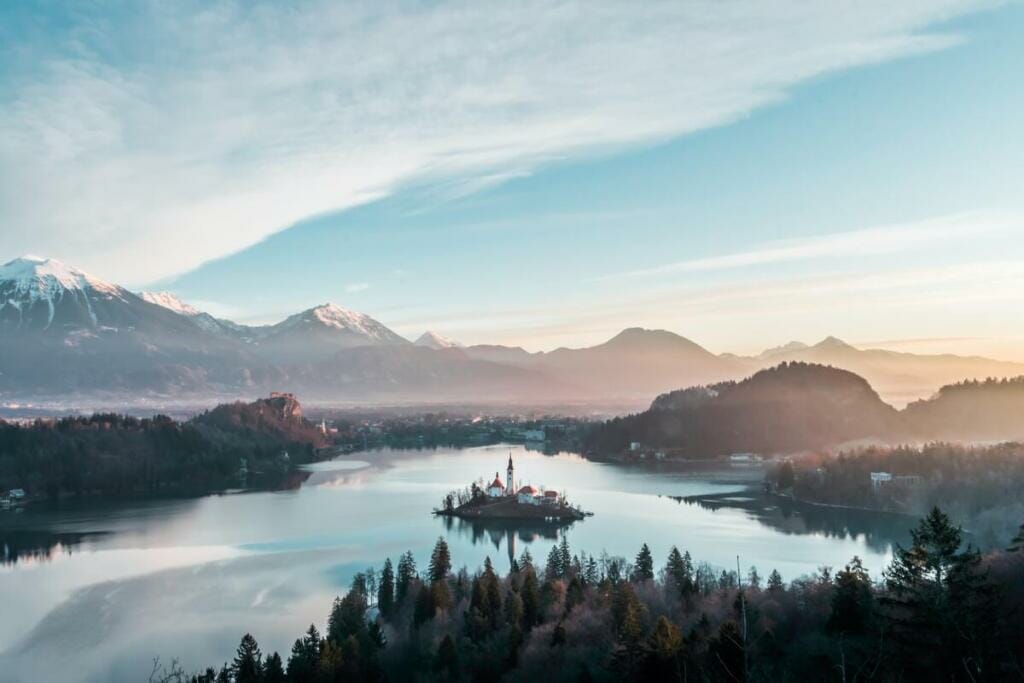 Magical Fairytale Towns & Villages in Europe
Looking for a postcard-perfect European town to visit?
I've put together a list of the most magical fairytale towns in Europe that you need to add to your bucket list!
From charming Alpine villages to half-timbered medieval towns to colorful fishing villages perched on the edge of cliffs, the fairytale destinations in Europe will make you feel like you have stepped into a Disney princess movie!
What is a fairytale Destination?
A fairytale destination is a place that seems to be straight out of a storybook. They are so picturesque, magical, and enchanting that they don't seem to be real.
There are fairytale destinations all over the world but it's no surprice that so many of them are in Europe. What makes these places special is that they usually feature stunning natural landscapes, unique architecture, historic landmarks, and vibrant cultures.
These fairytale destinations will capture your imagination and, hopefully, inspire you to embrace the magic of travel and adventure!
Before you Go
But before you venture off to any of these adorable European fairytale destinations, keep in mind that many of these destinations are so small that they don't have a large tourism infrastructure, easy access to airports, or the presence of well-known chain hotels.
And that is THE reason these beautiful European vilages are so enchanting!
Where to Stay
Even if there are big hotels, I highly recommend staying at an local hotel, bed and breakfast, or private accommodation so you get to live like a local in the town.
If you have the chance to stay in any of these fairytale towns, Booking.com and VRBO both offer many unique places to stay.
Getting There
If you're coming by plane, you'll likely have to fly to a nearby city or a small airport. If you have flexible dates, Skyscanner let's you see the cheapest dates to fly. And if you're flexible on the destination, you can use the "everywhere" search feature to find the cheapest flights to anywhere in the world from your city!
From there you can rent a car with Discover Cars or take a train to appreacite the scenery. You'll find that the journey to get to your fairytale village is just as magical!
Day Trips and Tours
Many of the fairytale destinations I included on this list also make for great day trips from other popular destinations. I've included recommendations of tours by Get Your Guide with each of these magical villages and towns.
Fairytale Villages and Towns in Europe
1. Hallstatt, Austria
Hallstatt—a tiny Alpine hamlet of just 860 residents—is perched on the edge of a crystal-clear lake, with breathtaking mountains forming a dramatic backdrop.
This beautiful town is located just a short train ride and a ferry trip away from Salzburg. There are also fantastic half day and full day tours from Vienna to Hallstatt.
On a visit to Hallstatt, you can enjoy wandering around the tiny village and its pretty church or take a tour of the world's oldest salt mine, located nearby the town.
2. Bled, Slovenia
Lake Bled is one of those places that looks straight out of a storybook. This small Slovenian town is perfect for nature lovers. It has lots of opportunities for hiking, boating, and camping nearby.
3. Colmar, France
Colmar, nestled in the Alsace region of France on the border with Germany, looks like it's straight out of a fairytale with its colorful half-timbered houses, cobblestone streets, and little canals.
4. Dinan, France
This quaint medieval city in northwestern France is the perfect place to visit if you want to experience the unique culture of the Brittany region.
Many locals in this riverfront town speak Breton, a Celtic language brought over from Britain in the middle ages, and it's not uncommon to hear Celtic music playing in the shops!
5. Reine, Norway
Reine is a tiny, isolated fishing village on the edge of the Arctic Circle in Norway.
If you're looking to get away from it all and go off the beaten path, this is the place to go. Reine may be a bit out of the way, but the stunning natural landscape, outdoor activities like hiking and kayaking, and breathtaking views of the Northern Lights make this Scandinavian gem worth it.
6. Gruyères, Switzerland
You've heard of Gruyère cheese, but do you know where it comes from?
Gruyères is a tranquil, picture-perfect medieval hamlet nestled in the foothills of the Swiss Alps. Come here to enjoy the charming cobblestone streets, the impressive 12th-century castle, and of course, some of the famous Gruyère cheese.
7. Ceský Krumlov, Czech Republic
Just a couple of hours away from Prague by train or bus lies this enchanting red-roofed Czech town.
Ceský Krumlov is the perfect European small town and an ideal place to spend a few days wandering the cobblestone streets and exploring the medieval castle.
8. Sibiu, Romania
Sibiu, Romania, is off the tourist path for many, but it's a lovely hidden gem not to be missed! This Transylvanian town has quaint, Germanic architecture and a laid-back bohemian vibe.
9. Eguisheim, France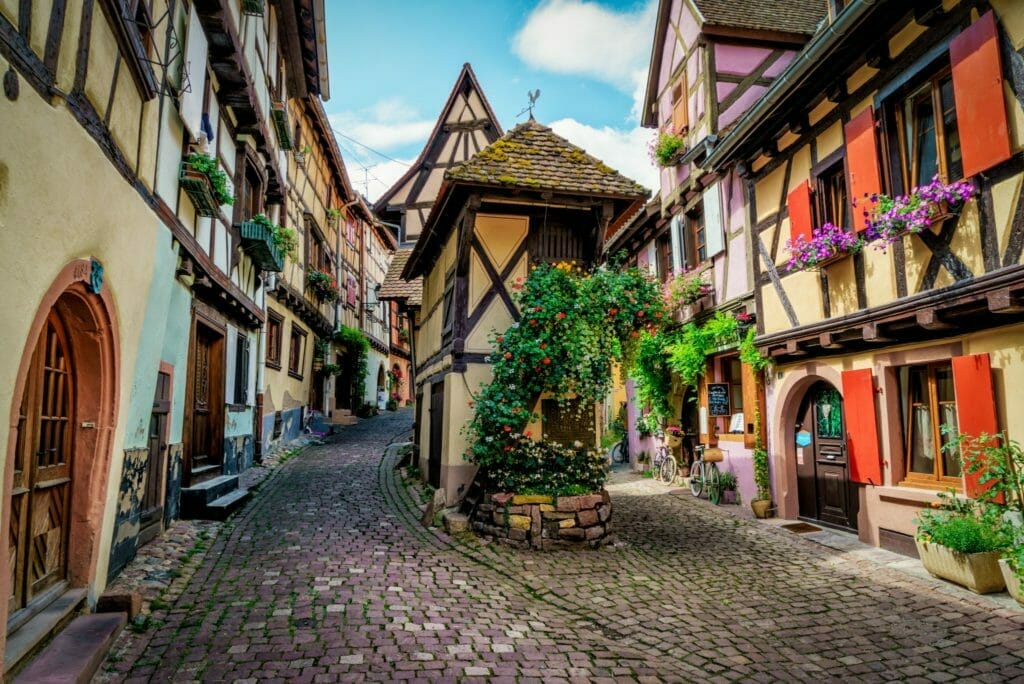 The half-timbered houses and medieval charm of Eguisheim, nestled in Alsace right on the border with Germany, make this tiny French village look like it came right out of a Grimm Brothers fairytale.
10. Chipping Campden, England
Located in the picturesque Cotswolds in England, Chipping Campden is the perfect destination for someone who wants to enjoy a slower pace of life. Surrounded by rolling hills and green meadows, Chipping Campden makes a great base for exploring the Cotswold region.
11. Castle Combe, England
This sleepy town nestled on the southern end of the Cotswolds is another British gem. While there isn't much to do in this town, it's the perfect place to stop and take things slow while enjoying the lovely village shops and quaint streets.
12. Mostar, Bosnia and Herzegovina
The charming 16th-century Bosnian town of Mostar is most famous for its picture-perfect Stari Most bridge. However, venture further, and you can find a beautiful blend of Balkan and Islamic architecture within the city streets.
13. Rocamadour, France
Rocamadour, France, is a stunning village built into the side of a cliff in southern France. Aside from its dramatic scenery, Rocamadour is known for being a pilgrimage site for those seeking its shrine to the Blessed Virgin Mary.
Stroll down the single street of Rocamadour and admire the ancient monastic buildings sprinkled in between restaurants and shops.
14. Giethoorn, The Netherlands
Giethoorn is a tiny village most famous for not having any roads! Canals are the only way to travel through this quaint Dutch village home to just 2,620 residents.
If you want to visit Giethoorn, you won't be able to come by car. The only way to travel around is by boat or via footpaths. (There are more than 180 bridges in Giethoorn.)
15. Cinque Terre, Italy
Cinque Terre (literally "Five Lands") is actually a series of five ancient fishing villages perched precariously along Italy's Ligurian coast. Pictured above is the village of Manarola.
While Cinque Terre sees its fair share of tourists, the villages have retained their rustic charm and you'll feel as if you've been transported back in time when you visit.
I wrote a complete travel guide to Cinque Terre to give you everything you need to make the best of your vist!
16. Bibury, England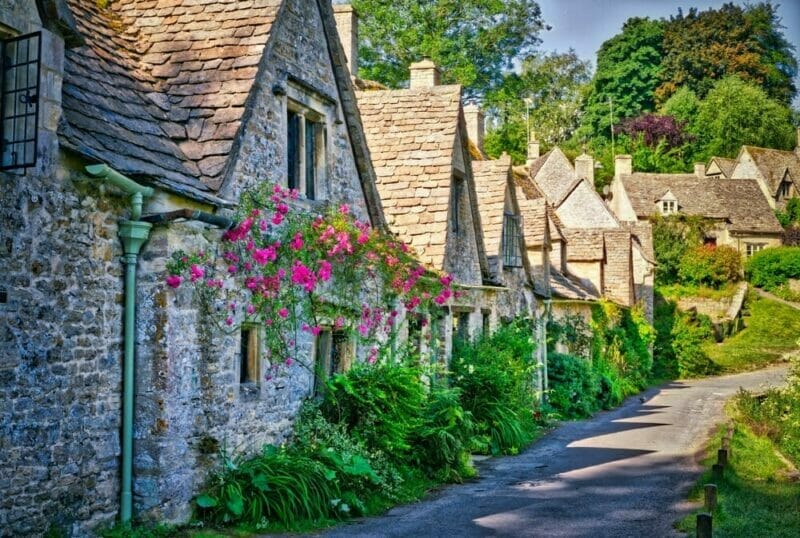 Bibury is one more charming Cotswolds village on this list, and possibly the prettiest of all!
Bibury will make you feel as if you've been transported back in time. Spend your time here walking along the plentiful footpaths past ancient stone cottages and lovely gardens.
17. Tellaro, Italy
Tellaro is a picturesque fishing village nestled along the rocky coast of Italy's Ligurian region.
The narrow winding streets, colorful houses, and stunning views of the turquoise sea give Tellaro a real fairytale-like atmosphere. Take a walk along the promenade, stop by one of the many charming local shops and cafes, and soak up the serenity of this hidden gem.
Tellaro is often overshadowed by the more popular Cinque Terre nearby. But if you want to escape the crowds at Cinque Terre, visit this seaside haven instead!
18. Bruges, Belgium
Bruges, known as "Venice of the North," is home to scenic canals and stunning medieval architecture. The Bruges historic center, with winding cobbled streets and charming buildings, is also a UNESCO World Heritage Site.
This town, located just over an hour from Brussels by train, has a lot to offer. I would go as far even say to skip Brussels and come straight to Bruges!
When in Bruges, take a boat tour through the canals, and don't forget to indulge in the famous Belgian chocolate and Belgian waffles!
19. Mittenwald, Germany
Mittenwald, Germany, looks like it could be the village of Hansel and Gretel.
For real, this fairytale-like village looks straight out of a storybook with its colorful houses and picturesque streets surrounded by stunning mountains.
Nestled in the Bavarian Alps, Mittenwalk is famous for its violin-making history. You can explore local workshops and museums dedicated to the instrument.
20. Positano, Italy
Positano is the jewel of Italy's Amalfi coast. Located just a short train ride away from Naples, Positano is a breathtaking cliffside town dotted with pastel houses, winding little streets, and countless restaurants and shops. It's the perfect place for an idyllic beach getaway!
I first fell in love with Positano in the movie Only You, with Marisa Tomei and Robert Downey Jr. — the movie is worth watching just for Italian photography!
21. Èze, France
Last but not least, Èze. This charming hilltop village on the French Riviera is known for its enchanting medieval architecture, narrow cobblestone streets, and stunning panoramic views of the Mediterranean.
Perched on a rocky cliff overlooking the coast, Èze has incredibly narrow streets lined with colorful flower pots, charming little cafes, and artisan shops.
When I studied in France, I had the pleasure of spending some time at the Château de La Chèvre d'Or (Castle of the Golden Goat), which was awarded Best Hotel Resort in France by the Travel & Leisure World's Best Awards in 2020.
They essentially converted a section of the Èze village into a 5-star hotel with unique, individually decorated rooms—and a two Michelin-star restaurant. If you can afford it, I highly recommend staying at La Chèvre d'Or.
Map of fairytale Towns in Europe
Final Thoughts
Europe is home to many magical fairytale towns and villages and this list gives you just a taste.
From charming Alpine villages to medieval towns to colorful fishing villages magically perched on the edge of cliffs, any of these charming places bring you a unique experience outside the hustle and bustle of the bigger cities and more popular destinations.
Whether you're looking for outdoor activities, historical sites, or just a slower pace of life, there's a fairytale town in Europe waiting to be explored!
Which of these fairytale towns is at the top of your travel bucket list? Let me know in the comments below.
More fairytale towns for you to explore:
Save it to Pinterest: