25 Smart Ways to Save Money on Travel
This post is all about the best ways to save money on travel!
Traveling can be expensive. If you've been saving up for a vacation for a while, you probably want your money to go as far as possible so you can experience everything you want to.
I can't stand paying more when I don't have to, and I am always looking for creative ways to save money while traveling. Here are my top ways to save money on travel that will help you save on flights, transportation, accommodation, food, attractions, and more!
I've been using the tips on this list for years, including now as I am traveling the world for a year, in order to stretch my money and make it go further!
1. Travel in the off season.
One of my favorite ways to save money traveling is to visit a destination during the off season. Flights and hotels are much cheaper, and you won't have to deal with high season crowds.
Some of my favorite travel experiences have been visiting popular destinations like Italy during the off season (March and April) and saving SO much money.
2. Book flights in advance.
Booking flight in advance can help you save money. The best time to book an international flight is three to six months out, while the best time to book a domestic flight is one to two months out.
3. Travel on less popular days.
Flights are usually cheapest on Tuesday and Wednesdays. Avoid traveling on or around major holidays when fares will be the most expensive.
I always use Skyscanner to find the cheapest days to fly.
4. Use Skyscanner to find cheap flights.
Let's talk about Skyscanner!
Skyscanner is one of my favorite travel tools for finding cheap flights. You can search for the cheapest flights on specific dates, or anytime during a whole month if you have more flexibility. Don't have a particular destination in mind? You can use Skyscanner's "Everywhere" search feature to find the cheapest flights from your city to anywhere in the world.
5. Travel slowly.
It's a lot cheaper to spend more time in fewer places than to try and fit a bunch of destinations into a whirlwind trip full of constant planes, trains, and buses.
Traveling slowly will not only help you save money on transportation costs, but it also lets you get to know a destination better. You can also typically get discounts booking long-term stays on websites like Airbnb, if you have a week or more to spare in one destination.
6. Stay in Airbnbs.
Airbnbs are a great way to save money while traveling if you don't want to splurge on a nice hotel but don't want to stay somewhere super cheap like a hostel.
In many cities, Airbnbs are actually much cheaper than hotels. You will save even more money if you rent a room in someone's home as opposed to a private apartment, and as an added bonus it's a great way to immerse yourself in the culture of a new destination.
I've stayed in tons of Airbnbs since quitting my job to travel for a year, and they've all been great. You also get a lot more space than you would in a hotel room!
Related: My Airbnb Experience
7. Stay in hostels.
Obviously, one of the absolute best ways to save money on accommodation while traveling is hostels. If the image you have in your head is crazy party hostels and that's not your style, don't be alarmed because many cities have nicer, quieter hostels as well – even "luxury" hostels. You can find a list of affordable luxury hostels around the world right here.
I've personally stayed in private rooms in several hostels (I need my own space too much to handle a shared dorm!) and it's been a good way to save money.
8. Book the nonrefundable rate for hotels.
If you are 100% sure that your travel plans won't change, booking the nonrefundable rate for hotels can be a great way to save some money. (Of course, if you do end up needing to cancel, it will actually cost you a lot more than if you had booked a more expensive flexible rate so be careful!)
9. Book hotels with free breakfast.
One thing I've noticed while traveling is that many luxury hotels charge extra for breakfast, while more budget accommodations offer free breakfast. Check and see before you book a hotel whether they have free breakfast. This can save a lot on going out to breakfast during your trip!
10. Don't buy snacks on the go.
No one enjoys spending five dollars on a tiny bag of chips at the airport. Prepare in advance and bring some snacks with you before heading to the airport, train station, etc. to avoid wasting money on overpriced food while you're in transit.
Related: The Best Airplane Snacks for Long Flights
11. Limit going out to eat.
Going out for every meal can eat into your travel budget (pun intended) very fast. Plan ahead and limit how often you will go out to eat while on vacation, whether this means going out for just one meal a day or only a couple times on your whole trip.
12. Go grocery shopping.
Stopping into a local grocery store or market on the first day of your trip to pick up some snacks is a great way to save money. Buying snacks at the grocery store is usually much cheaper than anywhere else, and it'll help you cut down on going out to eat.
13. Eat where the locals eat.
Don't get caught in the trap of sitting down to dinner at an overpriced restaurant on the main tourist street in the city you're visiting. Do a little research beforehand on where locals eat, whether it's street food or a little hole-in-the-wall café. Not only will it be cheaper than the tourist trap restaurants, but it will also probably be a million times tastier too!
Related: How to Avoid Tourist Traps in Europe
14. Take public transportation.
Taking public transportation will save you a ton of money while traveling, especially going to and from the airport. Figuring out a new city's public transportation can be a hassle at first, but it's worth it for the huge amount of money you will save in the end!
15. Rent a bike.
Another great way to get around on the cheap is by renting a bicycle. Most major cities have inexpensive bike rental programs that only cost a few dollars.
16. Better yet, walk everywhere.
If you're staying somewhere walkable, then let your own two feet take you everywhere you need to go. I try to walk as much as I can when I travel, because in addition to being free, it's also a great way to get some exercise and see more of a destination.
17. Order water only.
I never spend money at restaurants on sodas or other beverages when I'm traveling. The costs can add up fast! Instead, I always order tap water at restaurants and bring a refillable water bottle with me everywhere. If you're visiting a place that doesn't have drinkable tap water, I highly recommend bringing a filtering water bottle like this one.
If you want to buy drinks other than water, get them from a corner store and don't order them at a restaurant where they're going to be triple the price or more!
18. Take free tours.
Did you know that most major cities across the world offer free walking tours? Strawberry Tours has a listing of dozens of free walking tours around the world. Before I go somewhere new, I always check to see if there's a free walking tour I can go on. Free walking tours aren't totally free, because the guides work for tips, but it's still a cheaper option than many of the paid tours out there!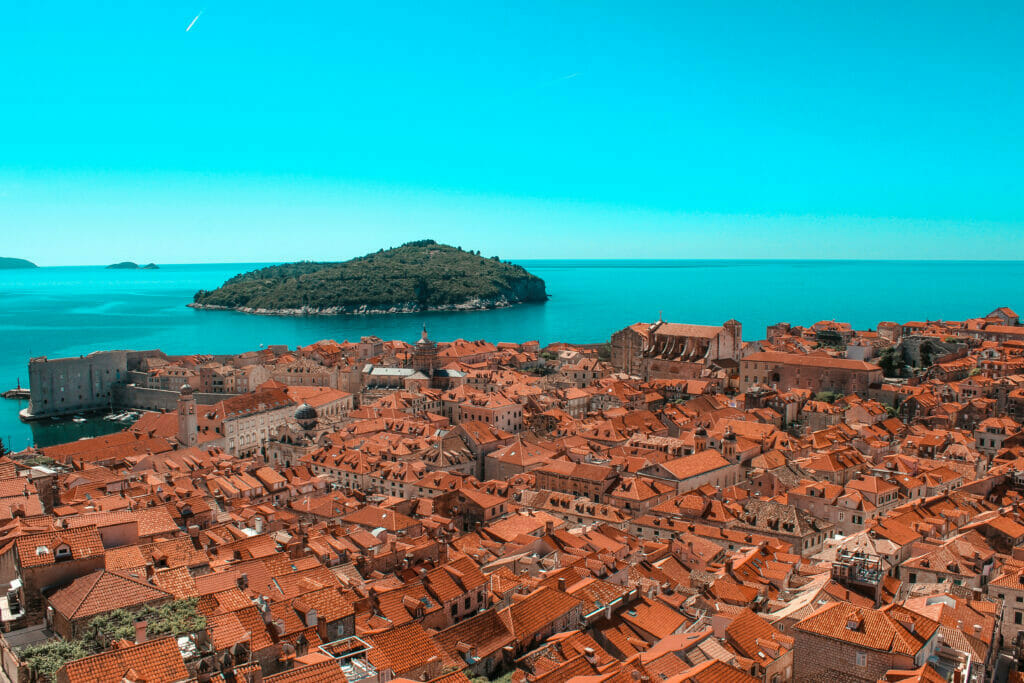 19. Skip the souvenirs.
Souvenirs can be a huge expense while traveling, whether you are buying them for yourself or friends and family back home. Instead of buying souvenirs from a destination, consider sending postcards instead. Postcard are a fun, unique travel memento and much cheaper than souvenirs!
20. Bargain.
In many destinations, bargaining in local shops or markets is perfectly acceptable and even expected. Don't be afraid to haggle for a better price if it's common in the destination you're visiting.
21. Get a card with no foreign transaction fees.
I LOVE my Charles Schwab debit card because I can use it anywhere in the world with no foreign transaction fees. I can also get money from any ATM in the world and Charles Schwab refunds any ATM fees to me at the end of the month!
Click here to sign up for a Charles Schwab checking account and get $100 free!
19. Use museum free days.
Another way to save on attractions is to visit museums on their free days. Most museums have at least one day a month where admission is free.
Related: All the NYC Museum Free Days You Need to Know About
23. Get a local SIM card.
My American phone carrier charges $10 a day for me to use my cellphone plan abroad. It's usually much cheaper for me to buy a local SIM card instead, and get access to plenty of data, text messages, and phone calls for a lower price.
24. Pack an umbrella.
It's embarrassing how many times I have gone on a trip, forgotten my umbrella, gotten caught in the rain, and then wasted ten bucks on a cheap umbrella that breaks the next day.
If you have a small, lightweight travel umbrella, make sure to pack it wherever you go. If you don't have one, it's a great travel investment to make!
25. Make sure to pack carry-on safe items.
Another way I've wasted money before is by packing things like a too-large container of shampoo, toothpaste, or hairspray in my carry-on bag. These items got confiscated at security, and then I had to spend money buying new toiletries once I got to my destination. Avoid my mistakes and be sure to pack travel-sized products in your carry-on luggage!
So those are my top 25 tips for how to save money on travel!
I hope these tips will help you save more money on your next trip!
For more travel tips, be sure to read the following:
Save it to Pinterest: