How to Start a Travel Savings Account
Do you want to start a travel savings account to save up for your dream trip?
Here's everything you need to know about starting a travel fund and reaching your goals!
Saving money for travel doesn't have to be hard. It can actually be a lot of fun!
I'm currently saving up to quit my job and travel. I've set a lofty goal for myself to save $30,000 in ten months so I can travel around the world for a year.
Update: I achieved this goal!
Whether you're saving up for long-term travel or just a one week vacation, here are seven simple steps you can follow to start a travel savings account and hit your savings goal:
Step 1: Start a dedicated savings account.
Step one is creating a dedicated travel savings account to hold your travel fund.
You need a designated place to keep your travel money, and ideally this will be totally separate from your regular checking and savings accounts. (This will help you avoid the temptation of dipping into your travel fund for non-travel expenditures.)
Some banks allow you to start a separate account in addition to the checking and savings accounts you may already have with them. This is one easy way to create a separate travel savings account.
Another option is opening an account at a new bank for your travel savings account.
This is what I did. I opened an Investor Checking Account with Charles Schwab that I use as my travel savings account. This account is PERFECT for a travel savings account for a few reasons:
There are no international transaction fees when you use your debit card abroad.
You can use your card to withdraw your money from any ATM in the world and Schwab will refund any and all ATM fees at the end of each month.
You get $100 when you open an account. Free money to boost your travel savings!
I have had my Charles Schwab account for a few years now and it's been great to use when traveling. It only makes sense to use it as my travel savings account now that I'm saving for a long-term trip.
If you're interested in opening a Charles Schwab Investor Checking Account, you can sign up through my referral link and receive $100 free when you open your account.
Step 2: Figure out how much you need to save.
Once you have opened your travel savings account, it's time to figure out how much money you need to save in order to reach your travel goals.
For a shorter trip, you can easily calculate the cost of things like your flight, hotel, food, activities, transportation, and souvenirs to come up with a total cost.
If you're traveling long-term, you may want to figure out a rough monthly budget. For example, if you want to backpack Southeast Asia on the cheap for six months, you could probably spend $1,000 a month for a total of $6,000 (not including flights or gear.)
Personally, I am budgeting $2,500 a month for twelve months. This amount might end up being way more than I need, but I'd rather have leftover money than be on an extremely tight budget.
Once you have determined how much you need to save, you should build in an extra cushion just in case. (Think $500-$1,000 depending on the length of your trip.)
Step 3: Determine your departure date.
Once you know how much money you need to save, the next step is determining your departure date for your trip. This will let you know how much time you have to reach your savings goal.
For example, if you want to save $10,000 for a multi-month backpacking trip and you want to depart exactly one year from now, that means you need to save $833 a month.
It's a good idea to give yourself at least six months to prepare and save for your trip. The more time you have, the easier it will be to reach your savings goals.
Step 4: Automate your savings.
Now it's time to actually start saving!
Automating your savings is the best thing you can do to grow your travel fund quickly.
I have my direct deposit at work set up to deposit a specific percentage of each paycheck directly into my travel savings account with Charles Schwab.
The rest goes into my checking account like usual, but I never see the portion that goes into my travel savings account. It eliminates the need to manually transfer money out of my account, and the temptation to use that money for anything other than travel.
Ideally, you want to automatically reroute enough money each month into your travel savings account to reach your savings goal. But I know this may not always be possible.
Even if you can't automatically transfer a huge amount from each paycheck, you can find a number that works for you (even if it's just $50 or $100) to contribute.
Step 5: Transfer extra money to your account.
In addition to automatic transfers, consider throwing any extra money you receive directly into your travel savings account instead of spending it.
This could be things like income tax refunds, bonuses at work, income from side jobs, or even just coins you collect and stash in your piggy bank!
Throwing all extra money into your travel savings account will help you reach your goal faster.
Here are some ideas for earning extra money to contribute to your travel fund:
Start a travel blog and monetize it like I did!
Get a weekend job like bartending or waiting tables
Teach English online with a company like VIPKid
Start driving for a rideshare app like Lyft or Uber
Offer babysitting services on evenings and weekends
Do freelance work like writing or transcription
Become a pet-sitter or dog walker
Sell your old stuff online or have a garage sale
These are just a few ways you can save up some extra money for travel! If you're willing to get creative, there are many more things you can do to earn extra money.
Step 6: Track your progress.
One effective way to keep yourself accountable towards reaching your goals is by tracking your progress. A fun way to do this is marking your progress visually with a travel savings tracker.
For some ideas, check out these creative travel bullet journal ideas.
Personally, I created a travel savings tracker on a page in my planner. For every $1,000 I save, I color in a block on my tracker. This is a great visual reminder for me to see how much I've saved and how much I left, and it's very motivating to see it every time it increases.
Step 7: Visualize and inspire yourself!
Studies have shown that there are incredibly easy things you can do to have a better chance of achieving your goals. One of those things is simply writing down your goals (which can be accomplished through the step above by creating a visual savings tracker.)
Another thing you can try is visualizing your goals.
Literally just taking the time to visualize your travel goals for a couple minutes a day (whether that's relaxing in a hammock on the beach in Thailand or staying at a five-star hotel in Paris) can help you get closer to making those dreams a reality.
You can also create a Pinterest board with images of your dream trip to inspire you.
Starting a Travel Savings Account
And that's all there is to it! Hopefully these seven easy tips will help you start your own travel savings account and save up for your travel goals!
More money-saving travel tips you may enjoy: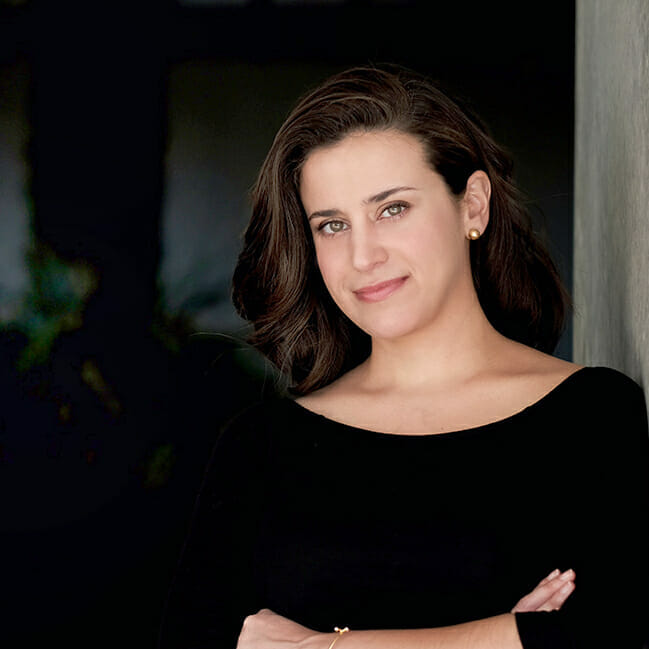 About Denise Cruz
Denise is a marketing executive who escaped corporate to travel the world… twice. A Brazilian native living in the U.S., she's lived in 4 countries and visited 35+ others. After side-hustling her way to financial independence, she curates solo destination guides, slow travel tips, and travel blogging advice on Wander Her Way. When she's not on the road, you can find her in Miami with her dog Finnegan.