When I lived in Paris, I make a big effort to explore the city in great detail and discovered plenty of hidden gems like 17th century townhouses with secret courtyards that turned out to be some of the boutique hotels in Paris!
Paris has so many charming boutique hotels that are guaranteed to make your stay truly special. Some are on the luxury end, while others are more affordable than staying a typical chain hotel—with the added bonus of being a much more elegant and authentic experience!
Best Boutique Hotels in Paris
Here are 11 of the best boutique hotels that I recommend to anyone visiting Paris:
1. Relais Christine
Relais Christine is a small boutique hotel set in a 16th century mansion in Saint-Germain-des-Près, my favorite neighborhood in Paris. This luxurious hotel is steps away from the Seine and a short walk away from famous places like Notre Dame Cathedral and the Louvre Museum.
If you don't feel like walking, you can borrow the hotel's convertible Fiat 500 S to check out the French capital—there's an extra fee for that but it's still one of the things that make this 5-star hotel really special.
🛎 Check rates and book Relais Christine.
2. Hotel D'Aubusson
This is another super charming boutique hotel located in Saint-Germain-des-Près that is dripping with Left Bank charm. The Hotel d'Aubusson is located in a stunning 17th century mansion and also offers a spa and large indoor swimming pool, a rarity for boutique hotels in Paris.
🛎 Check rates and book Hotel d'Aubusson.
3. Le Narcisse Blanc
Le Narcisse Blanc is a boutique luxury hotel located in elegant Invalides neighborhood of central Paris. What I love about this hotel is its color scheme: everything is decorated in shades of pink, cream, and gold, and some of the guest rooms offer incredible views of the Eiffel Tower.
🛎 Check rates and book Le Narcisse Blanc.
4. Maison Armance
Housed in a 19th century mansion that was once home to the French writer Stendhal, Maison Armance is a charming boutique hotel located int he glamorous 1st arrondissement in central Paris. Here you are within walking distance to many places of interest like the Place Vendôme, Jardins des Tuileries, Champs-Elyseés, and the Louvre Museum.
This small hotel is in a prime location and, if you're planning to be in Paris for a little while, it's a great place for a longer stay.
🛎 Check rates and book Maison Armance.
5. Le Pavillon de la Reine
Located in the heart of Le Marais, Le Pavillon de la Reine is a stately boutique hotel housed in an ivy-covered mansion. You are extremely close to some of the best shopping and dining in Paris in this neighborhood. The hotel itself is located right across the street from Place des Vosges, the oldest (and one of the most beautiful!) squares in Paris.
This is one of the best hotels on this list and if you can afford it, you won't be disappointed.
🛎 Check rates and Book Le Pavillon de la Reine.
6. Hotel des Grands Boulevards
Hotel des Grands Boulevards is a chic design hotel housed in a building dating back to shortly before the French Revolution began. The hotel's decor is a subtle nod to the Louis XVI style. Located in the 2nd arrondissement and steps away from a Metro station, this hotel is the perfect, centrally-located home base for exploring all of Paris.
Guests are treated to a great buffet breakfast every morning, and the hotel restaurant and bar are also worth checking out. However, it is the rooftop terrace that does it for me.
🛎 Check rates and book Hotel des Grands Boulevards.
7. Hotel & Spa La Belle Juliette
Tucked away on a quiet street near the border of the 6th and 7th arrondissement, Hotel & Spa La Belle Juliette is a quiet hideaway with a lovely spa—and an indoor pool. You're also not too far from the hustle and bustle of the Montparnasse area in the 6th arrondissement.
Another unique feature of the La Belle Juliette that's worth mentioning, is that hotel rooms come equipped with an iMac and free wifi for guest to use.
🛎 Check rates and book Hotel & Spa La Belle Juliette.
8. Hotel Grand Powers
Hotel Grand Powers is an elegant hotel with high ceilings and large windows that are perfect to soak in the City of Light. The 5-star hotel is located in the famed Golden Triangle of the 8th arrondissement in the heart of Paris.
The Golden Triangle got its name because the area is bordered by three of the most famous avenues in Paris: Champs-Élysées, Montaigne, and George V. If that's not enough, some of the hotel rooms also enjoy Eiffel Tower views.
🛎 Check rates and book Hotel Grand Powers.
9. Hotel Caron de Beaumarchais
In the heart of Le Marais, you will recognize the charming Hotel Caron de Beaumarchais by its pretty blue facade out front. Inside, the decor of the hotel is inspired by 18th century France. This charming boutique hotel is known for its floral wallpapers, small air-conditioned rooms, and best of all, affordable rates.
🛎 Check rates and book Hotel Caron de Beaumarchais.
10. Hotel Monge
One of my favorite neighborhoods in Paris after Saint-Germain-des-Près is the adjacent Latin Quarter, and that's where you will find the Hotel Monge. You're just a short stroll away from famous places like the Panthéon, Notre Dame, and Shakespeare & Company bookstore at this gem of a hotel.
🛎 Check rates and book Hotel Monge.
11. Hotel da Vinci & Spa
To round out this list, the Hotel da Vinci & Spa is a beautiful and charming boutique hotel with the coolest spa ever located in one of my favorite parts of Saint-Germain-des-Près. It's also another hotel on the list with a small pool indoors on the ground floor.
🛎 Check rates and book Hotel da Vinci & Spa.
Wrap-up: Best Boutique Hotels in Paris
So there you have it: the best boutique hotels in Paris. These charming hotels are perfect if you enjoy a more personalized experience. I find that boutique hotels have a charm, character, and concierge-style service that the big brand hotels lack.
Many of these boutique Parisian hotels are located in historic building but offer all the modern amenities you'd expect from a new hotel: air-conditioned rooms, flat screen TV, fitness centers, and even indoor swimming pools!
But the best part is most of these boutique hotels are usually centrally located in some of the best neighborhoods of Paris, just a steps from all the action.
So why not add a touch of elegance and sophistication to your trip and book a stay at one of these charming hotels?
Bon voyage!
More Blogs about Paris?
Now that you know all about the Paris hotel scene be sure to read the following:
Save it to Pinterest: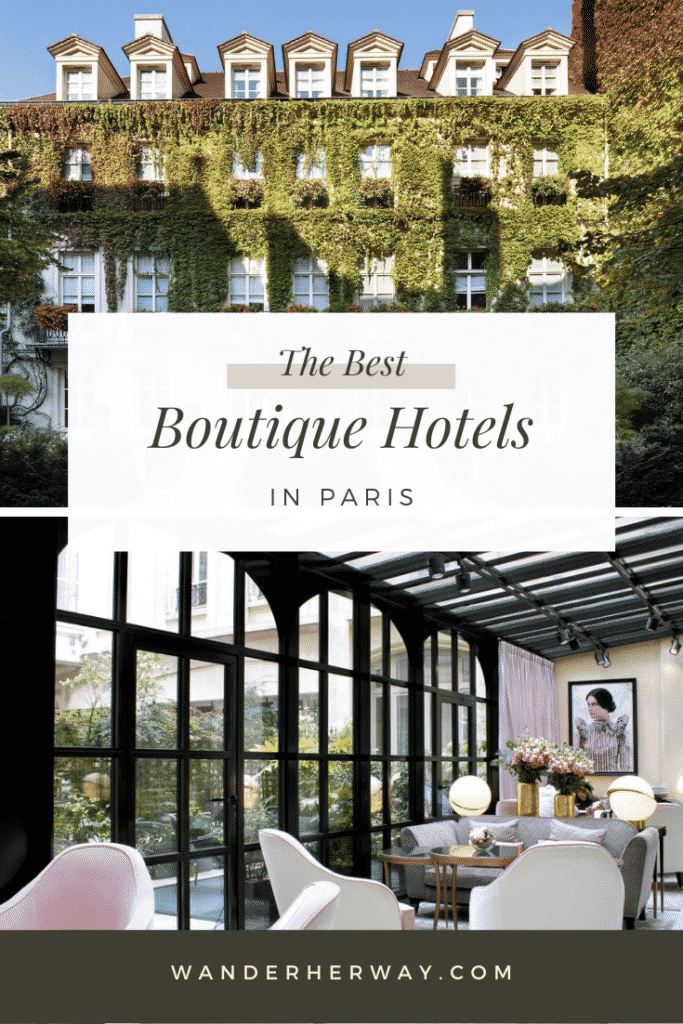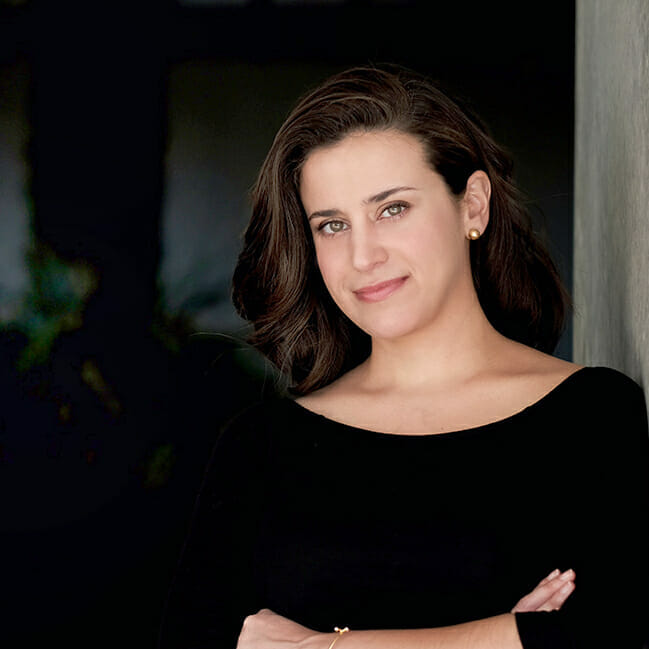 About Denise Cruz
Denise is a marketing executive who escaped corporate to travel the world… twice. A Brazilian native living in the U.S., she's lived in 4 countries and visited 35+ others. After side-hustling her way to financial independence, she curates solo destination guides, slow travel tips, and travel blogging advice on Wander Her Way. When she's not on the road, you can find her in Miami with her dog Finnegan.