7 Unique U.S. Towns That Look Like Europe
Skip the long haul flight to Europe and stay close to home instead to explore these unique U.S. towns that look like they could be in Europe!
Some of these towns have a fascinating history involving European immigrants who came and settled here during the 19th century.
Others got a European makeover in more recent years as a way to attract more tourists!
Either way, these quirky U.S. towns will make you feel as though you've been transported directly to Europe (well, maybe if you squint and suspend your disbelief!)
1. Leavenworth, Washington
Leavenworth is a quaint town nestled within the Cascade Mountains of Washington State, but walking down the main street you might feel like you've stumbled into the Bavarian Alps.
Once a flourishing logging town, Leavenworth started to struggled in the 1960s. The German makeover was an idea to revitalize the town, and it worked. Now Leavenworth draws thousands of tourists every year who come for for the town's Oktoberfest celebration and Christmas decorations.
2. Solvang, California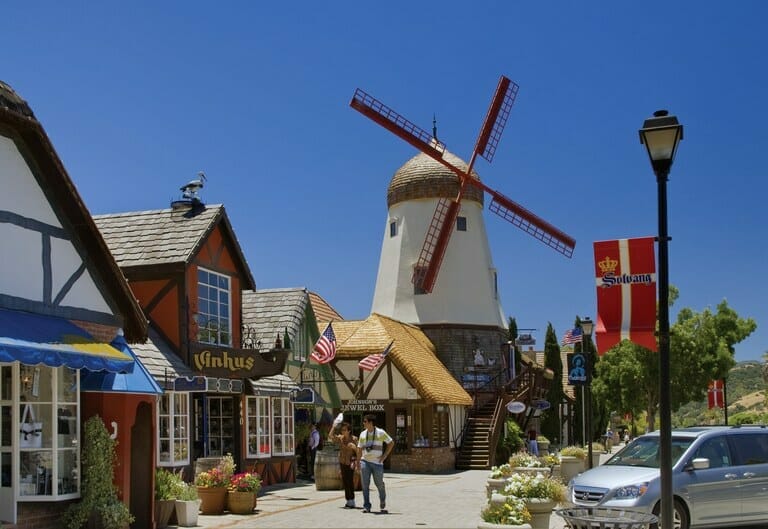 In the heart of sunny Southern California, there's a tiny Danish town called Solvang.
Established by Danish immigrants in 1911, Solvang is designed to mimic Danish architecture. The "Danish Village" concept grew in popularity, making Solvang a popular tourist attraction.
The Danish windmill, half-timbered houses, and replicas of The Little Mermaid statue and Round Toiwer found in Copenhagen draw over one million tourists to the little town of Solvang each year.
3. Holland, Michigan
Aptly named Holland, Michigan was founded by Dutch settlers in 1847. This picturesque city located on the shores of Lake Michigan retains much of its Dutch influence through its architecture, Dutch food served in local eateries, and festivals and events.
Every year, Holland fills with colorful blooms during the Tulip Time Festival. The festival, held every year for a week in May, is the largest of its kind in the United States.
4. New Glarus, Wisconsin
The small village of New Glaurus, Wisconsion was founded by Swiss immigrants in the mid 1800s. They left Switzerland due to a difficult financial situation and a lack of job prospects, hoping to make a better life in America.
In Wisconsin, they named their settlement New Glaurus after their hometown of Glaurus in Switzerland. Now, New Glaurus is known for being "Little Switzerland" in the United States and they keep their Swiss cultural heritage alive by celebrating numerous Swiss events every year.
5. Helen, Georgia
When you find yourself in the town of Helen in the mountain of North Georgia, you just might wonder if you've actually stumbled into Bavaria instead.
Helen doesn't actually have any German history. Much like number one Leavenworth on this list, Helen was a logging town that fell into decline in the 1960s. As a way to bring the city back to life, it got a quaint Bavarian makeover.
Now, this faux Alpine village is home to water activities like tubing in the summer, a big Oktoberfest celebration in the fall, and a Christmas market in the winter.
6. Frankenmuth, Michigan
Known as "Little Bavaria", Frankenmuth is another German town in the United States.
This small town in Michigan was settled by Lutheran immigrants from Germany in the mid 1800s. Today, Frankenmuth's German heritage is preserved through traditional Bavarian architecture and annual celebrations like a Bavarian heritage festival and Oktoberfest.
Feel like you're cruising on the Danube as you take a boat ride down the river that runs through Frankenmuth (complete with a covered bridge that looks straight out of the Black Forest!)
7. Pella, Iowa
Pella is a Dutch town not too far from Des Moines, Iowa. Founded in 1847 by immigrants from the Netherlands, Pella is proud of its Dutch heritage.
You can see the town's Dutch influence through its architecture, including a large windmill called the Vermeer Mill in the center of town. Pella also celebrates the Tulip Time Festival every May, and has set the world record for the most people dancing in wooden shoes (over 2,600!)
Which of these U.S. towns that look like Europe do you want to visit?
I've been to Helen, but I'd love to visit a few more on this list!
If this post made you want to visit actual Europe, then be sure to check out these posts to inspire your wanderlust:
Save it to Pinterest: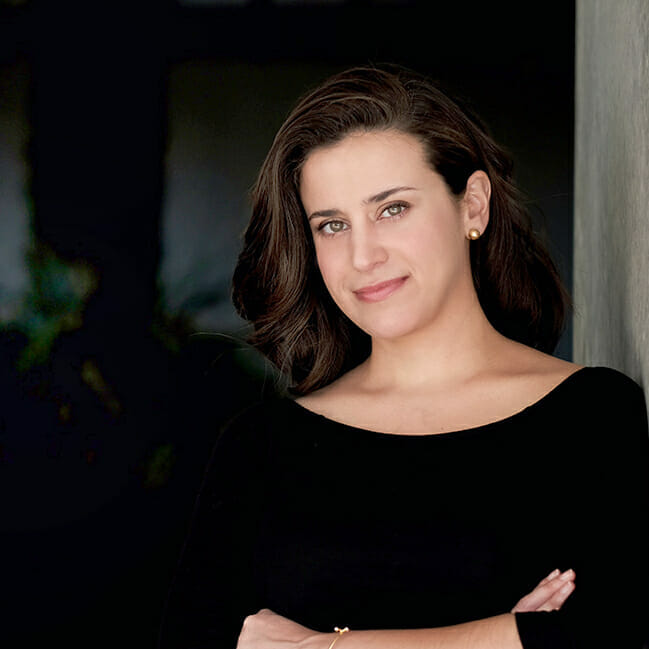 About Denise Cruz
Denise is a marketing executive who escaped corporate to travel the world… twice. A Brazilian native living in the U.S., she's lived in 4 countries and visited 35+ others. After side-hustling her way to financial independence, she curates solo destination guides, slow travel tips, and travel blogging advice on Wander Her Way. When she's not on the road, you can find her in Miami with her dog Finnegan.