15 Creative Travel Bullet Journal Ideas
If you buy something through the links on this page, you're helping me pay for my next adventure—thank you for clicking! Learn more.

Travel Bullet Journal Ideas
This post is all about the best travel bullet journal ideas to help you plan your travels, stay organized, and inspire your wanderlust!
Bullet journaling is a simple and super popular method of keeping your life organized. While travel can be spontaneous sometimes, there are also certain things where you NEED to be organized… like your budget, transportation itinerary, packing list, etc.
These creative travel bullet journal spreads are a great way to stay organized and prepare for your upcoming travels. As a bonus they look super pretty too!
Best bullet journal supplies:
Ready to start organizing your travels with a bullet journal?
Here are 15 beautiful travel bullet journal ideas and layouts that will inspire you!
You might also like:
52 Travel Journal Prompts That Will Inspire You
37 Beautiful January Bullet Journal Ideas to Inspire You
1. Savings Tracker
Source: Little Coffee Fox
If you're saving up for a big trip, this tracker is the perfect idea to keep you accountable! It's a fun visual way to track your travel savings and see the progress you are making.
2. Things to Do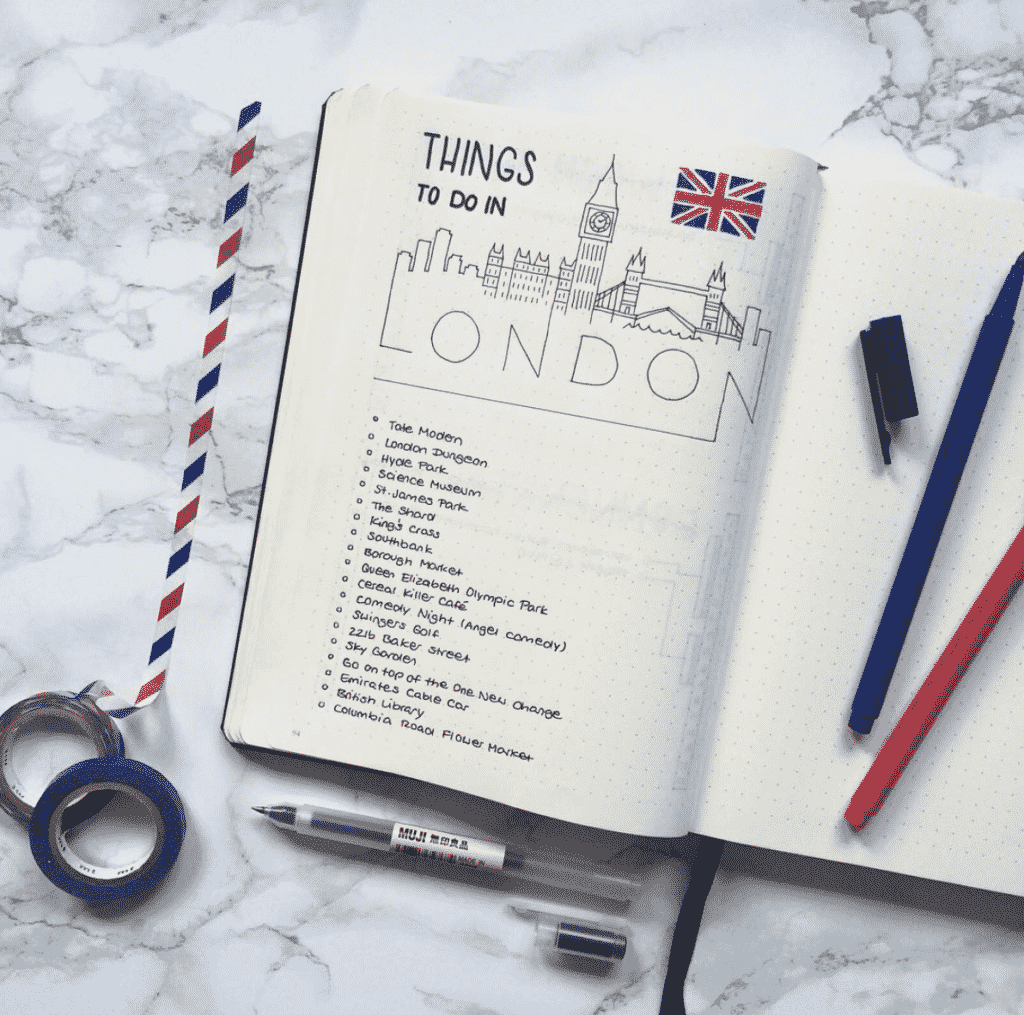 Source: Journalspiration
One of my favorite travel bullet journal ideas is to make a checklist of all the things to do on your trip so you don't miss anything!
3. Packing List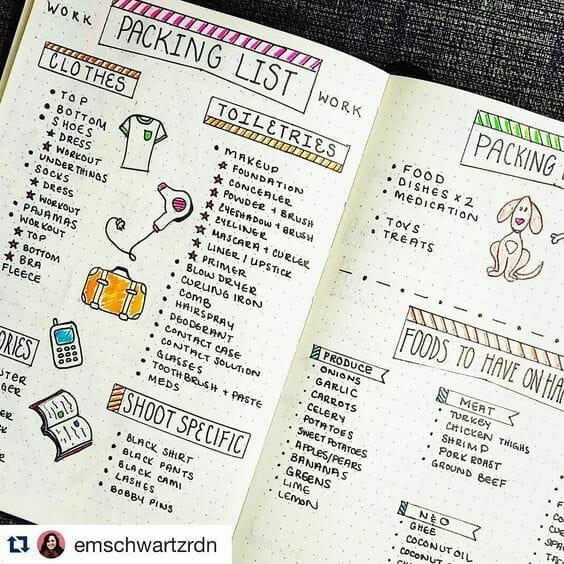 Source: Emily Schwartz
Another one of the best travel bullet journal ideas is to create your packing lists. I love this cute packing list layout to make sure you don't forget anything. Dividing it up by packing categories is also a really smart idea.
4. Vacation Countdown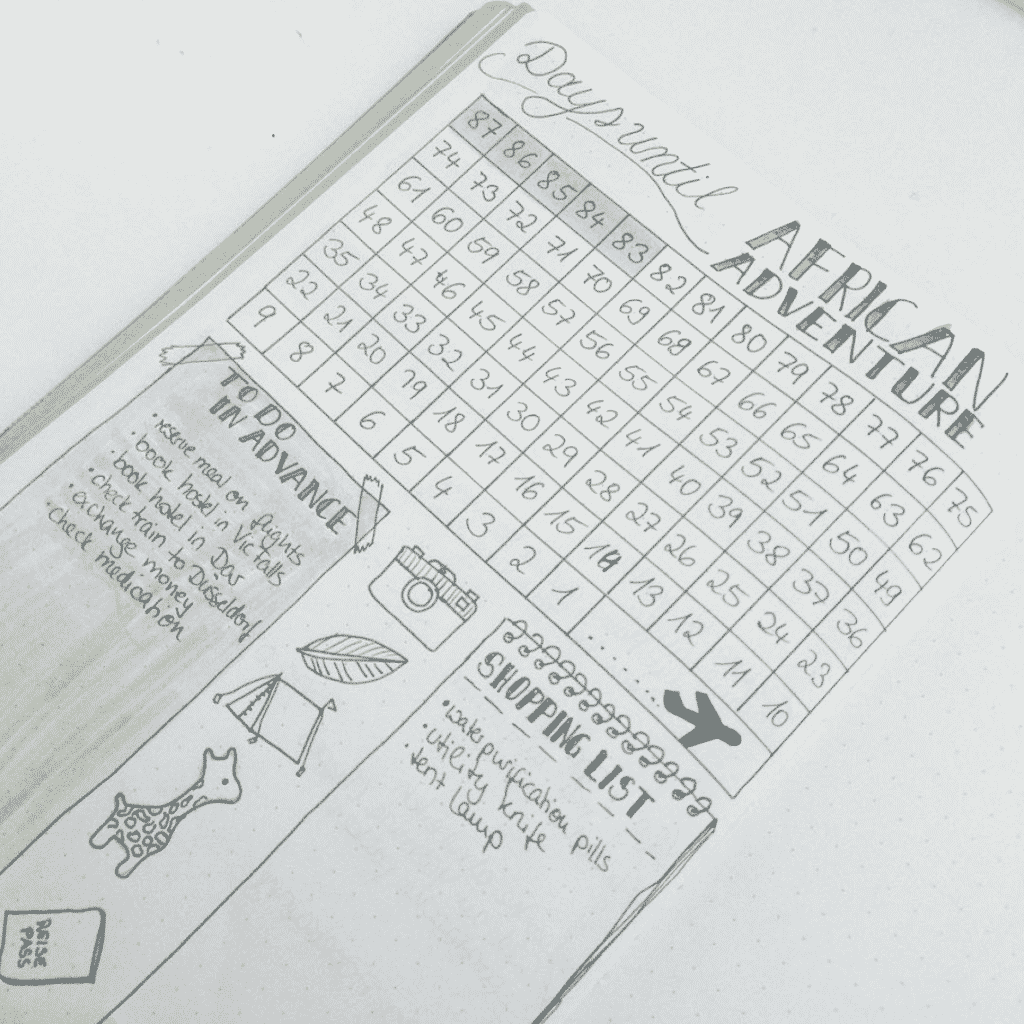 Source: Katrin Rausch
If you're so excited for a trip that you just can't stop thinking about it, a vacation countdown tracker will give you some satisfaction each day as you count down the days…
5. Itinerary and Packing Checklist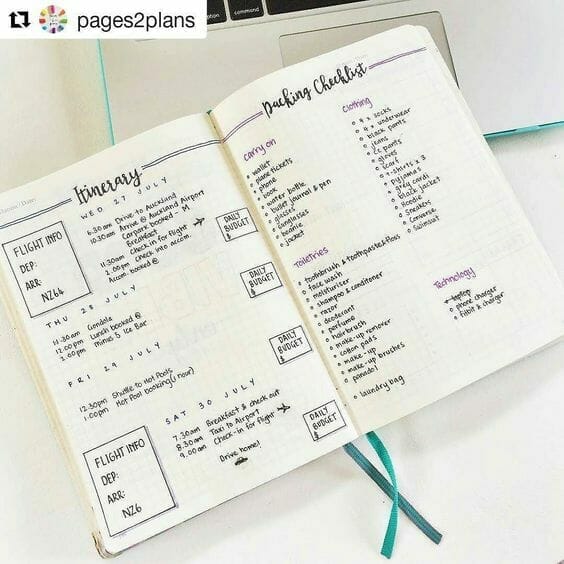 Source: Pages2Plans
This travel bullet journal layout is simple yet effective for jotting down your itinerary, important travel details, and packing list!
6. Trip Plan Layout
Source: Unknown
Plan every aspect of your trip with a helpful layout like this one. I really like the color coded map idea for breaking down your trip itinerary.
7. Adventure Planner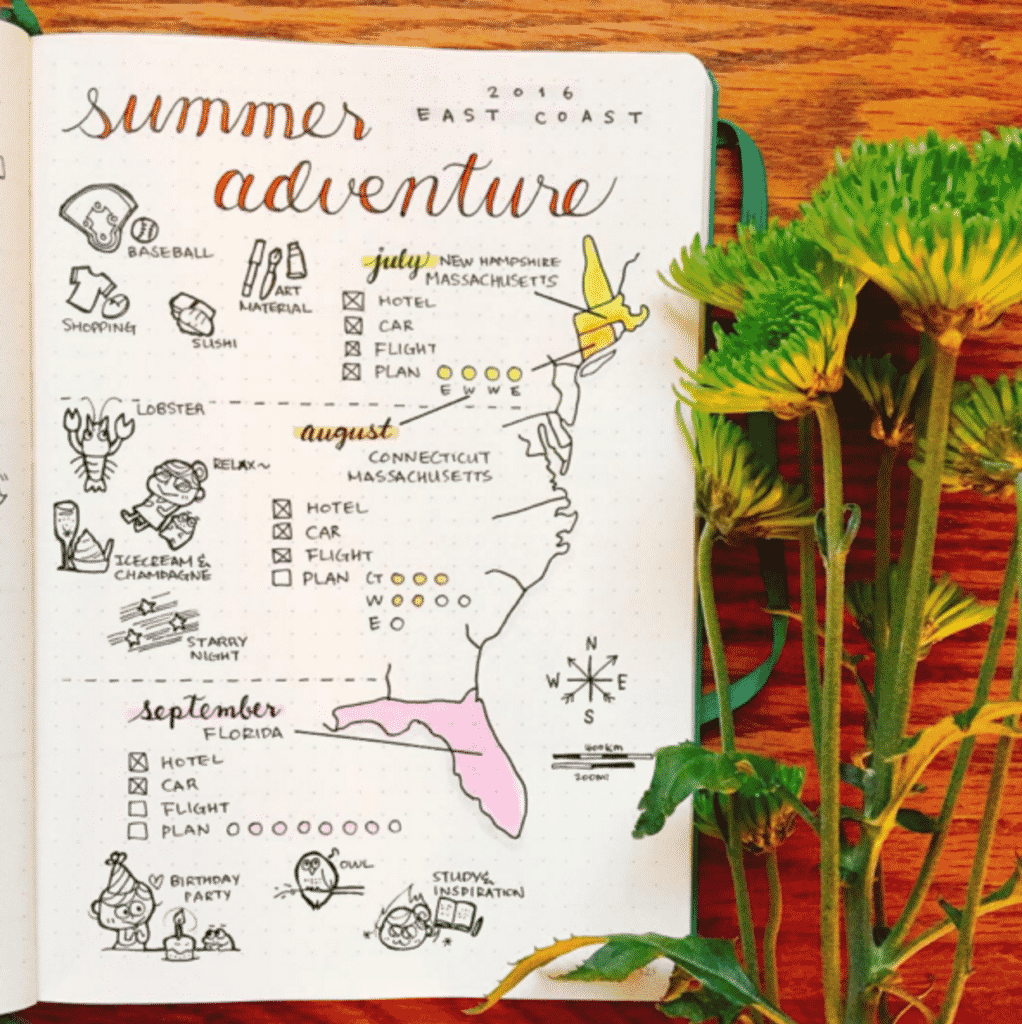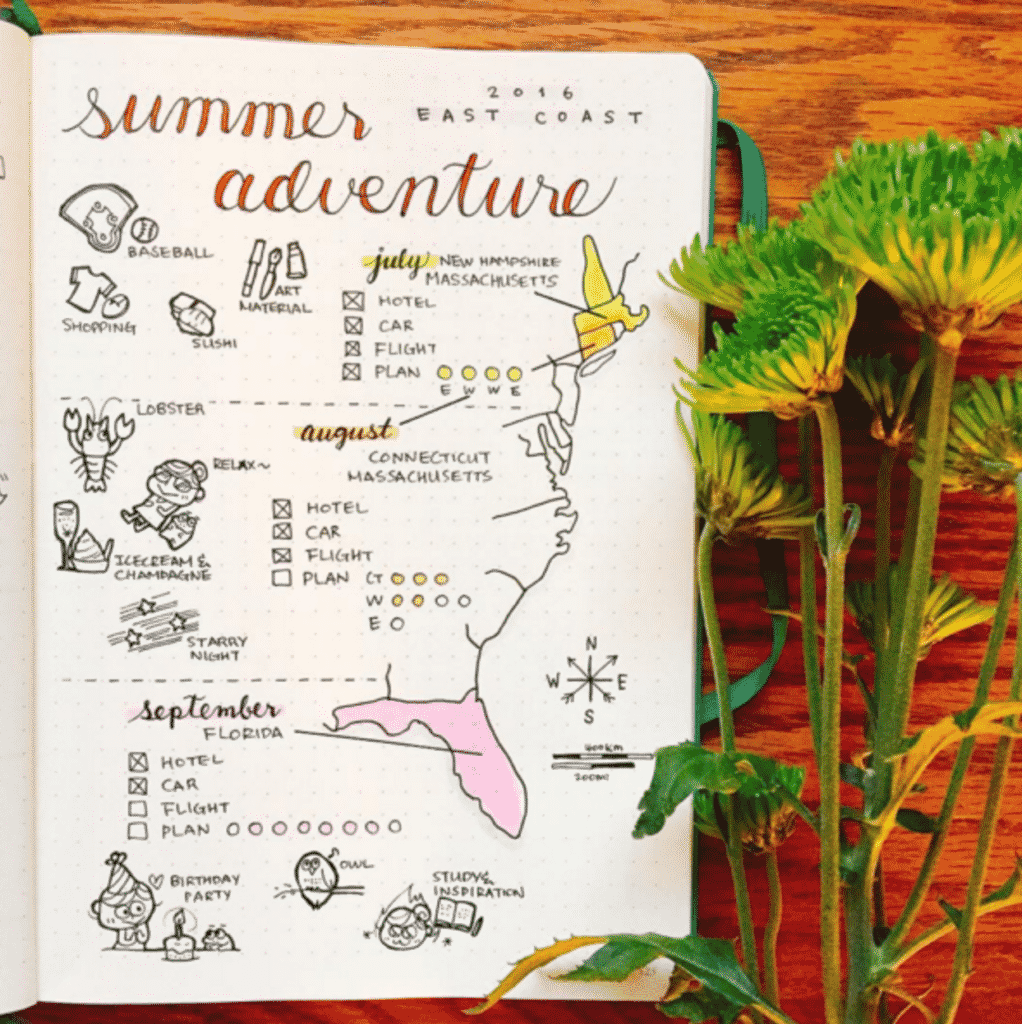 Source: Honey Owl
This travel bullet journal layout is perfect for planning a summer full of adventures!
8. Travel Diary
Source: Unknown
This travel diary spread is a great way to keep track of the places you have been.
9. Trip Itinerary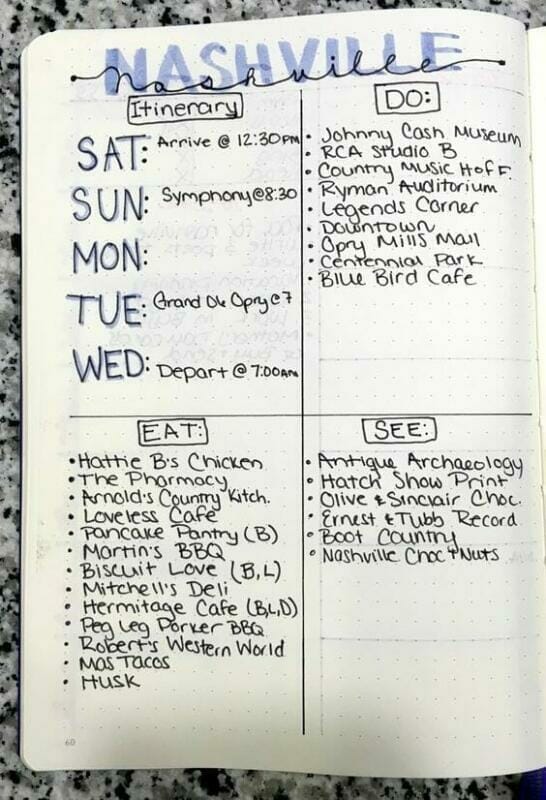 Source: Productive and Pretty
A comprehensive trip itinerary page to keep you organized and make sure you don't miss anything.
10. Travel Wish List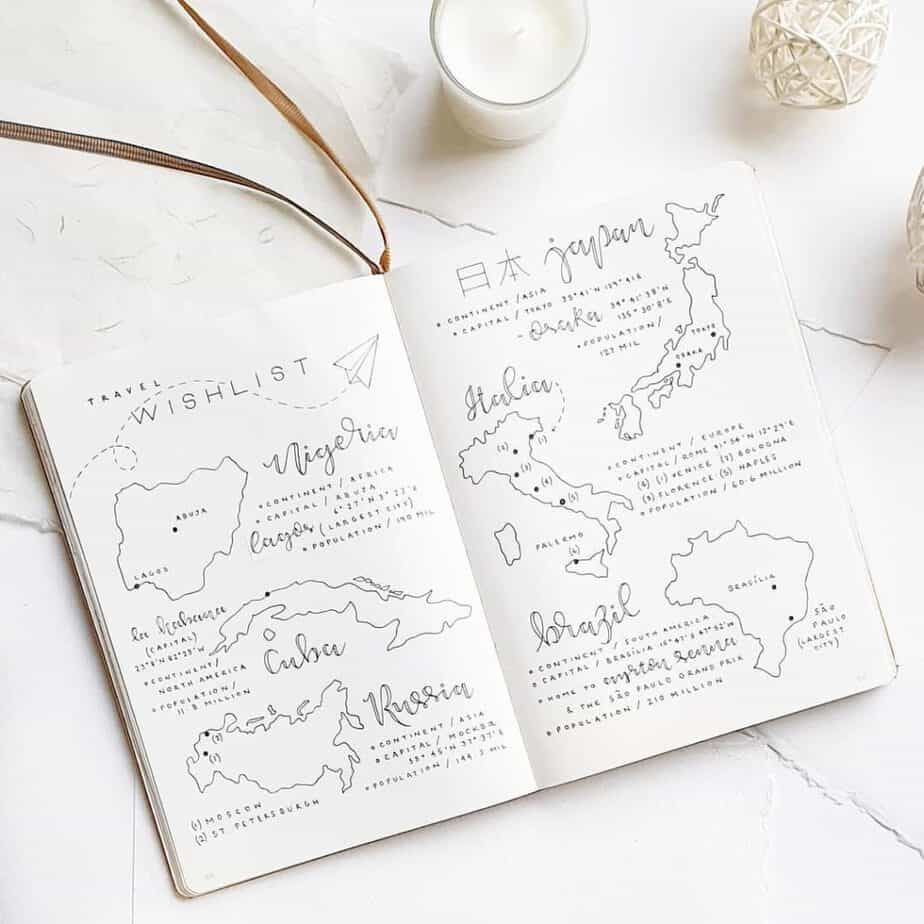 Source: A Journal by Annie
Not all travel bullet journal ideas are about your upcoming trip. If you're dreaming of traveling to faraway places, creating a travel wish list page like this will inspire your wanderlust and have you on your way in no time!
11. Packing List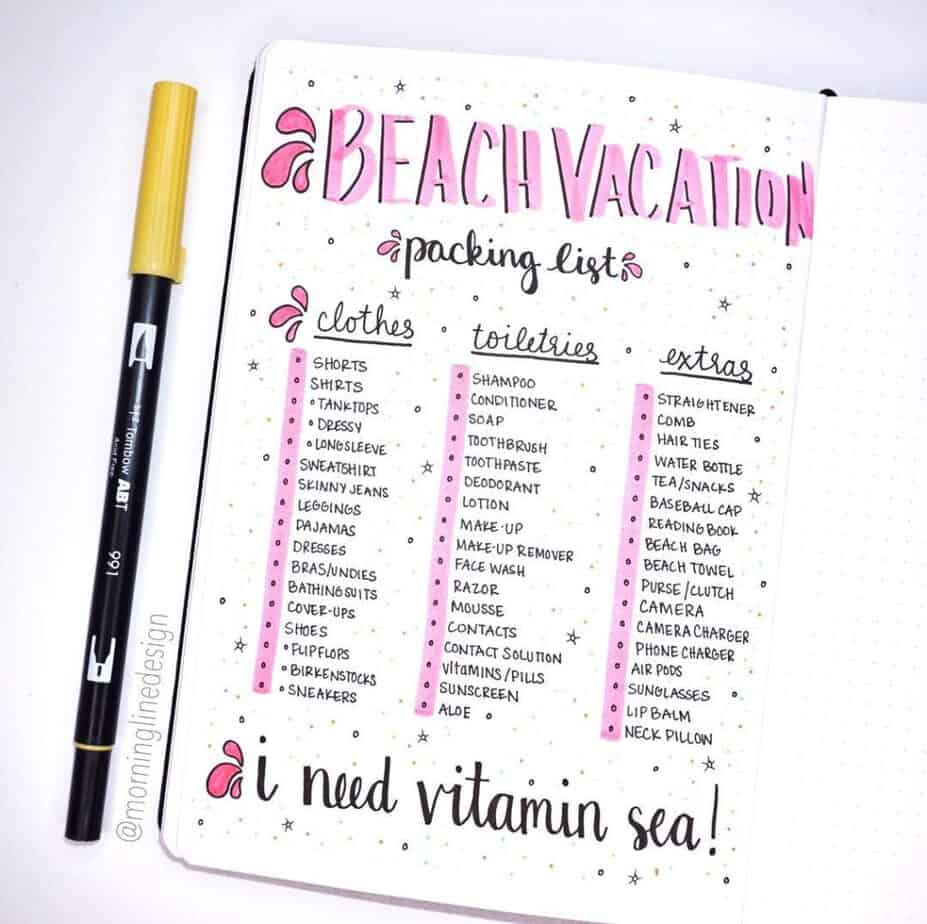 Source: Morning Line Design
I love this simple yet cute packing list bullet journal layout.
12. Trip Countdown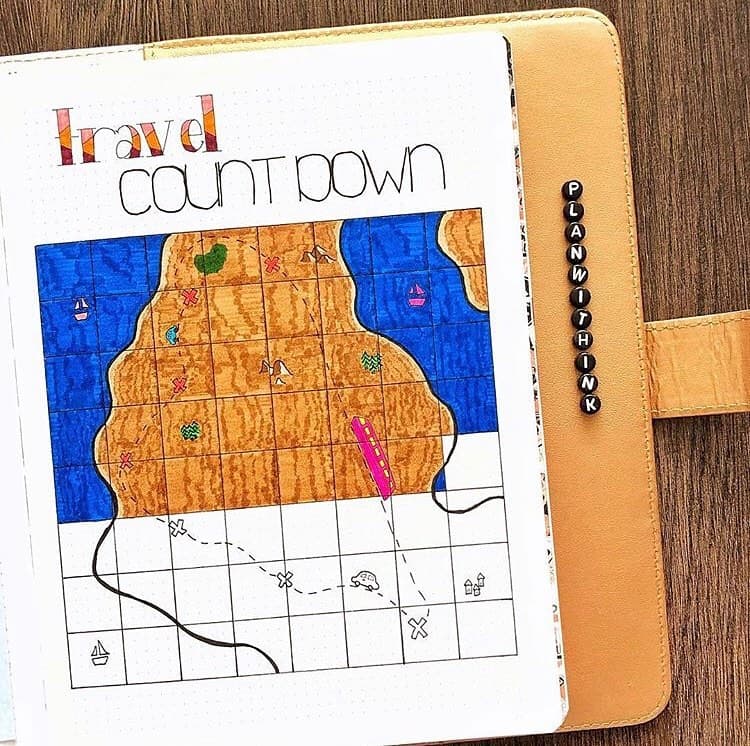 Source: Plan With Ink
A creative spin on a typical travel countdown… color in a new square each day! This is one of the most fun travel bullet journal ideas on this list.
13. Travel Plans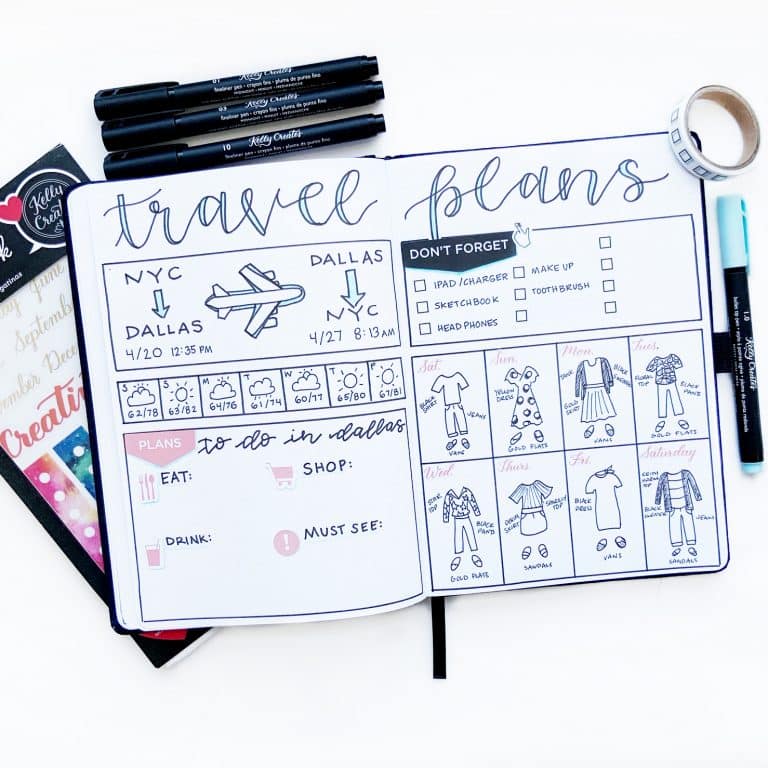 Source: Kelly Creates
Make sure your trip runs smoothly with an organized travel plans page like this.
14. Trip Itinerary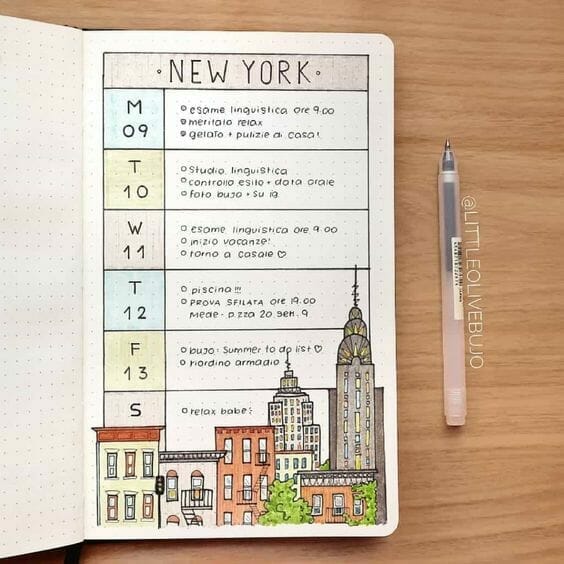 Source: Little Olive Bujo
Plan your perfect itinerary with this pretty layout idea.
15. Where I've Been Map
Source: Unknown
I LOVE this travel bullet journal spread… color in the countries as you visit them to have a beautiful visual reminder of where you've been and where you still have left to explore.
I hope you enjoyed these travel bullet journal ideas!
For more travel tips, be sure to read the following posts:
Save it to Pinterest: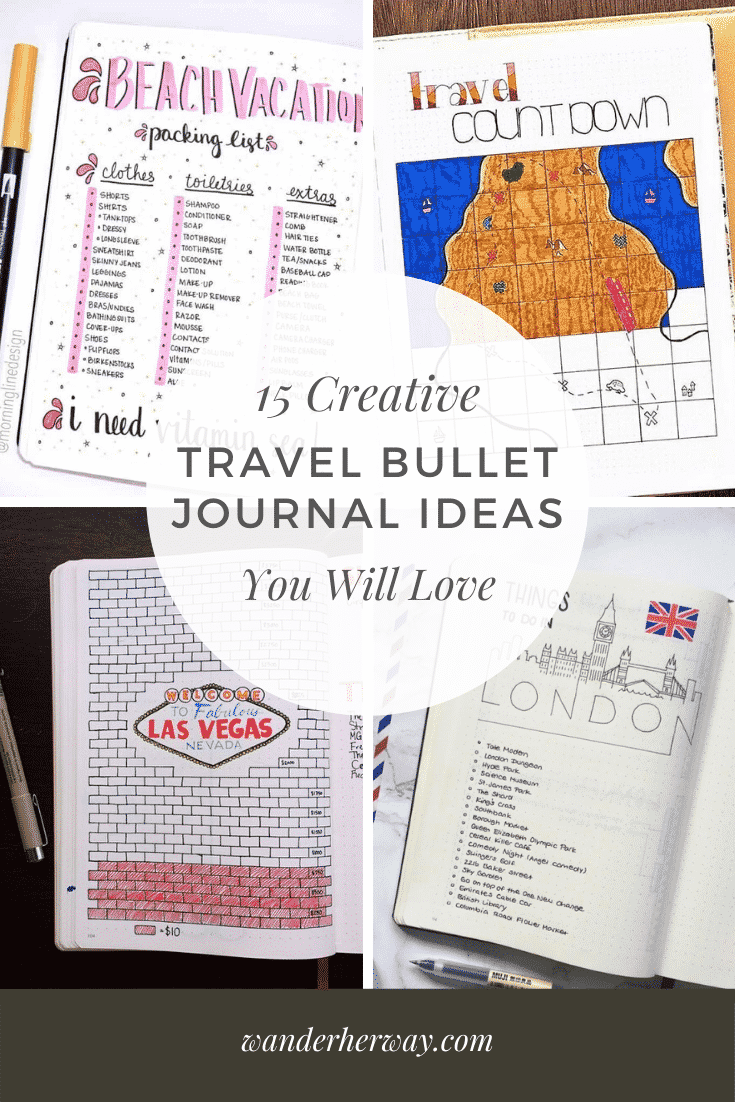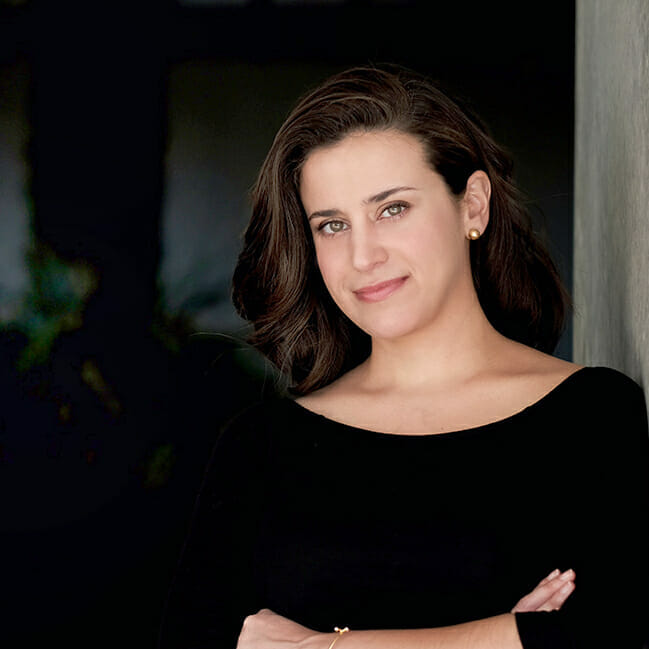 About Denise Cruz
Denise is a marketing executive who escaped corporate to travel the world… twice. A Brazilian native living in the U.S., she's lived in 4 countries and visited 35+ others. After side-hustling her way to financial independence, she curates solo destination guides, slow travel tips, and travel blogging advice on Wander Her Way. When she's not on the road, you can find her in Miami with her dog Finnegan.