Visiting Star Wars: Galaxy's Edge at Disney World
Star Wars: Galaxy's Edge (or "Star Wars Land" as some visitors call it) is the newest land to open at both Disneyland in California and Disney World in Florida.
This guide focuses on the Star Wars: Galaxy's Edge land at Disney World.
Being a huge Star Wars fan, I was naturally incredibly excited about visiting this new themed land, and I can happily report that it does not disappoint!
Whether you're a die-hard or casual fan, you are guaranteed to have a great time visiting Galaxy's Edge. However, there are a few things you should know to ensure you have a good experience.
Read on for everything you need to know about visiting Star Wars: Galaxy's Edge, including what to do, where to eat, and my best tips for visiting!
Read also: Disney Packing List: Don't Forget These Items!
Where Is It?
Star Wars: Galaxy's Edge is part of Disney World's Hollywood Studios theme park.
The premise of the Galaxy's Edge land is that you're in the Star Wars universe on a far-flung planet called Batuu, in a settlement called Black Spire Outpost.
Star Wars: Galaxy's Edge is located in the back left corner of Hollywood Studios and has two entrances: through Toy Story Land and through the Grand Avenue area of the park.
The Rides
There are two rides in this land: Star Wars: Rise of the Resistance and Millennium Falcon: Smuggler's Run. Both of them are definitely a must do on your visit!
Rise of the Resistance: This is considered one of Disney World's most ambitious attractions ever. You get to experience being captured by the First Order and escaping with the Resistance.
Smuggler's Run: The other ride in Star Wars: Galaxy's Edge is Smuggler's Run, which is a really fun simulator ride that lets you experience flying the famed Millennium Falcon.
Note: Since it opened in December 2019, Rise of the Resistance has utilized a "boarding pass" virtual queue system. You must arrive at the park right when it opens to secure a boarding pass from the My Disney Experience app. You will then be called with your "boarding group" when it's time for you to ride (you'll have a one-hour return window to do this).
Once boarding passes run out for the day, you will not have the opportunity to ride Rise of the Resistance because there is no standby line. This is why it's important to get to the park right when it opens if you want to ride, because boarding groups fill up almost immediately!
The Food
When it comes to dining in Black Spire Outpost, you have a few options!
Docking Bay 7: This is a quick service restaurant that is super tasty! I highly recommend going here for either lunch or dinner during your day. My favorite thing to get is the Felucian Kefta and Hummus Garden Spread, which is vegetarian and very filling and delicious.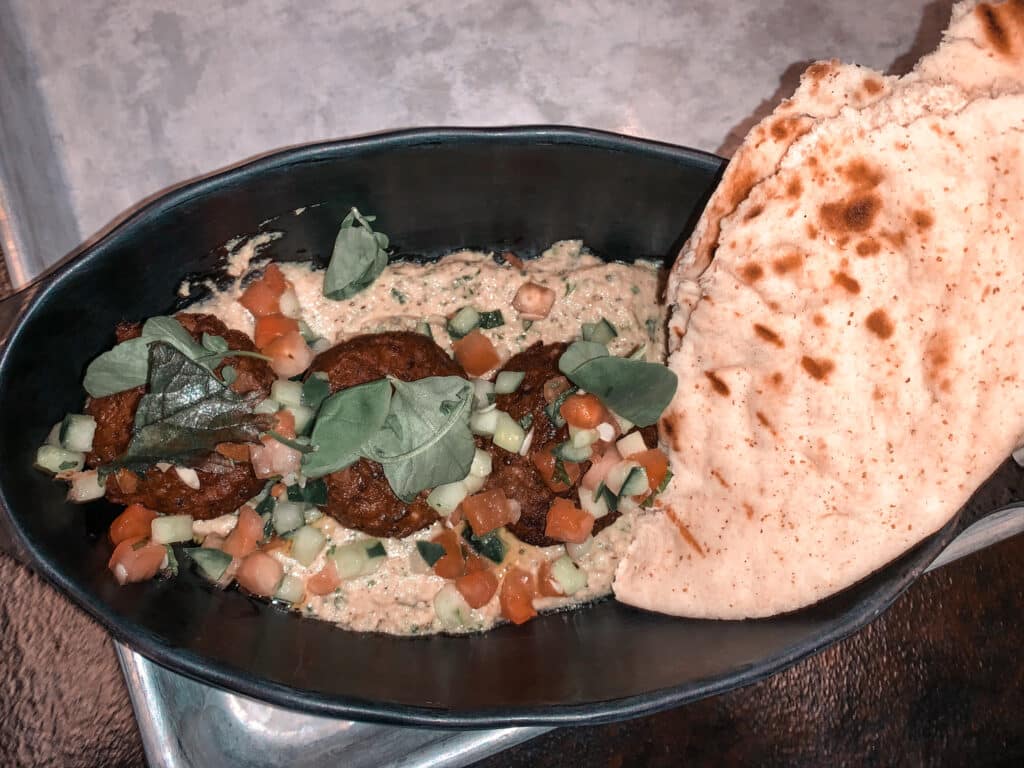 Oga's Cantina: Oga's Cantina is a bar/lounge. You will need to make an Advanced Dining Reservation here up to 90 days in advance. You can make reservations on the My Disney Experience app. Fun fact: Oga's Cantina is one of two places that serve alcoholic beverages inside Disney theme parks.
Milk Stand: This is a MUST DO at Star Wars: Galaxy's Edge. You can finally sample the blue milk that Luke Skywalker drank, and it is delicious! There are two different flavors available (blue milk and green milk) and it's hard to describe the taste… you'll just have to try them for yourself!
Ronto Roasters: For a quick bite to eat, Ronto Roasters is a good place to stop. This is a food stand with outdoor seating where you can grab a Ronto Wrap and a beverage. Ronto is also one of the best places to eat breakfast at Disney World.
Kat Saka's Stand: This is just a stand selling flavored popcorn, but another good place to stop by if you want to grab a quick snack to munch on while walking around Black Spire Outpost.
Coca-Cola Carts: There are various refreshment carts throughout the land selling novelty Star Wars-themed Coca-Cola products. They're so unique and the bottle makes for a really fun souvenir.
The Experiences
Star Wars: Galaxy's Edge has two unique experiences that are very popular: building your own lightsaber and building your own droid.
These are both pretty pricey, but can be a great experience for a Star Wars fan:
Savi's Workshop: This one-of-a-kind experience allows you to go inside a secret workshop and design and build your own lightsaber. It costs $249.99 (plus tax) per lightsaber.
Droid Depot: This is another fun hands-on experience that allows you to build your own customized droid unit inside the Droid Depot. The cost is $119 (plus tax) per astromech droid unit.
If you are going to choose only one, I would HIGHLY recommend Savi's Workshop. I have not built my own lightsaber here (yet) but my brother did, and he brought me along as his one allotted guest.
It's an incredibly cool experience from start to finish, from having to find the hidden workshop entrance to the process of actually creating the lightsaber.
The Droid Depot, on the other hand, is a less intimate and personalized experience. The workshop space is located in a semi-public area (inside a gift shop) and doesn't have the same "wow" factor as Savi's Workshop. It is the more affordable option of the two, though.
However, I think building a lightsaber of your own is definitely worth the splurge!
For both, you will need to make advanced reservations through the My Disney Experience app.
Beyond Star Wars Rides: More Things to Do
Hollywood Studios has plenty of other Star Wars experiences sprinkled throughout the park, even outside of Star Wars: Galaxy's Edge. You shouldn't miss…
Star Tours: While not located inside the Star Wars: Galaxy's Edge land, this is the original Star Wars simulator ride that has been at Hollywood Studios for decades. Absolutely a must do!
Star Wars Launch Bay: Located on the opposite side of the park from Star Wars: Galaxy's Edge, this is a space for meet-and-greets with various characters, from Darth Vader to Chewbacca.
Jedi Training Academy: This is an incredibly fun and free experience that children between the ages of 4 and 12 years old can participate in! They get to "train" as Jedi Padawans and then participate in a live performance. It's filled on a first-come, first-served basis and the children can register at the Indiana Jones Adventure Outpost inside the park.
Star Wars: A Galactic Spectacular: The Star Wars-themed nighttime fireworks and projection show! Get a spot in front of Grauman's Chinese Theatre for the best viewing of this show.
Tips for Visiting Star Wars: Galaxy's Edge
Show up early to get a boarding pass for Rise of the Resistance. Make sure you get to Hollywood Studios right when it opens (I actually always arrive ten to fifteen minutes early to be cautious) in order to secure a boarding pass for Rise of the Resistance.
Download the My Disney Experience app. You will need this app to reserve a boarding pass for Rise of the Resistance. Make sure you already have it downloaded and know how it works before your trip to prevent any unfortunate surprises once you get to the park. This app is also super helpful because it lets you see ride wait times, mobile order food, and more!
Walk around Black Spire Outpost at night. I definitely think this land is best viewed at night. Even if you do most of the rides/attractions here during the day, I recommend strolling back through Star Wars: Galaxy's Edge at night to soak in the ambiance.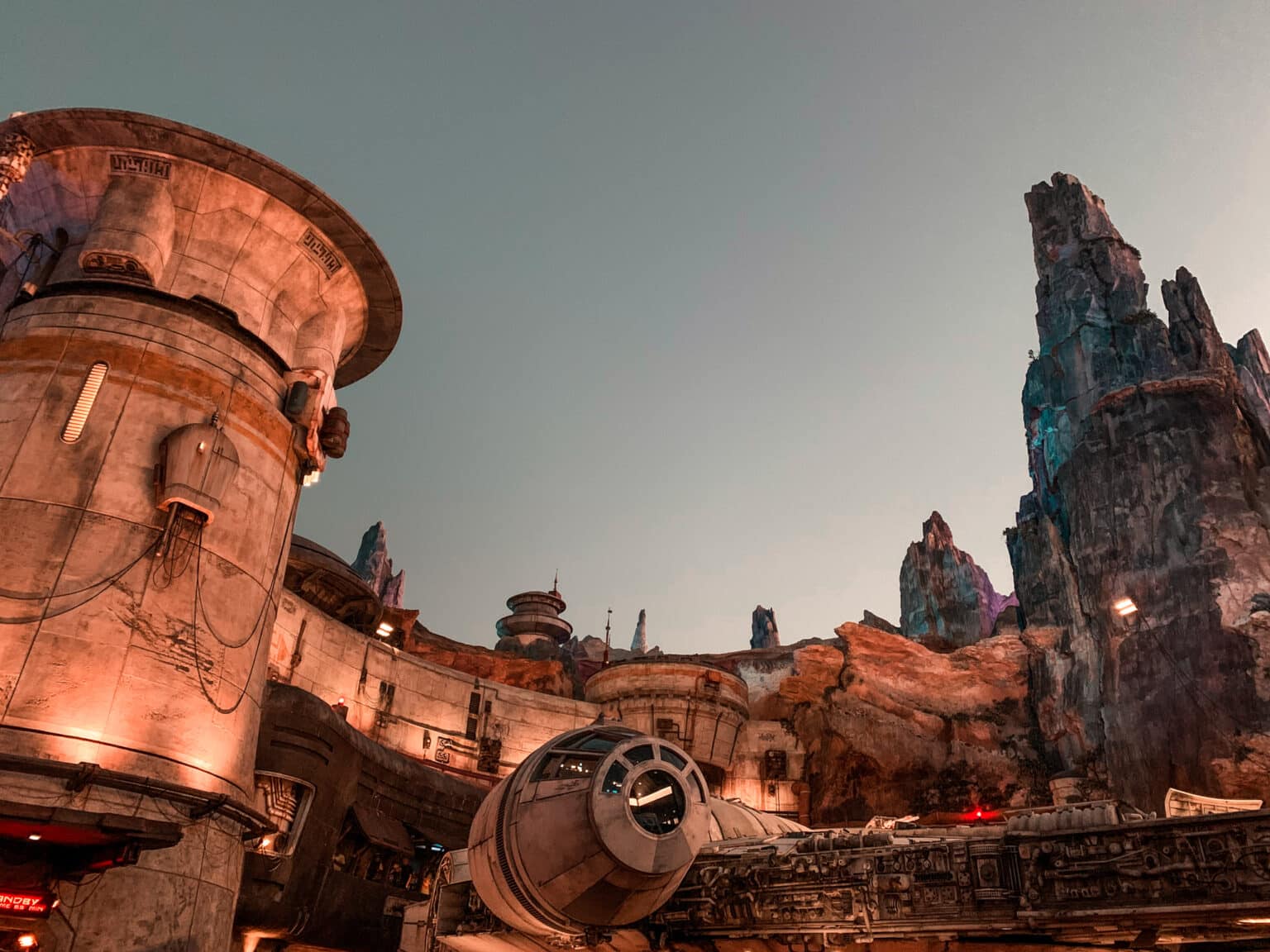 Make advanced reservations for activities. If you want to visit Oga's Cantina, build a lightsaber at Savi's Workshop, or build a droid at Droid Depot, you'll need a reservation through the My Disney Experience app. You can make reservations 90 to 180 days in advance. There are also a limited number of same-day reservations that open up for some of these activities but don't leave it up to chance—book ahead!
Keep an eye out for characters. Plenty of characters roam around Black Spire Outpost. While there are no official meet-and-greets (those are only at Star Wars Launch Bay) you might catch Kylo Ren, Rey, Chewbacca, or a group of Stormtroopers around the land. The Stormtroopers seem to be the most common and they're a lot of fun to interact with!
Where to Stay
Unfortunately, Disney announced that they're closing Star Wars: Galactic Starcruiser Adventure, their Star Wars-themes hotel, in September 2023. As of this blog's latest update, they're already not accepting reservations.
So if you're looking for alternatives of where to stay, I highly recommend the Walt Disney World Swan Reserve, the Four Seasons Resort Orlando at Walt Disney World Resort, and my new favorite place to stay in Orlando, the Ette Hotel.
🔥Need help booking your Disney hotels? Schedule a call with me and get exclusive perks like hotel credit, free breakfast, and room upgrades!
Don't Forget Your Star Wars Swag
It's no secret that buying merch at Disney is super expensive. So here are a few of my favorite items to buy ahead and bring to the park to get your Star Wars on:
More Disney World Resources
I have a ton of resources on my blog to help you plan your trip to Disney World!
Here are just a few more posts you may be interested in reading…
Enjoy your trip to Disney World and have a magical time!
Save it to Pinterest: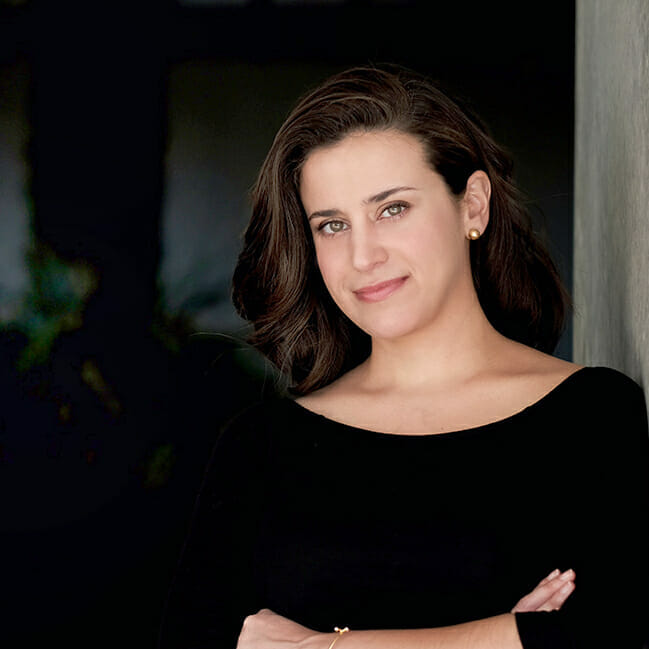 About Denise Cruz
Denise is a marketing executive who escaped corporate to travel the world… twice. A Brazilian native living in the U.S., she's lived in 4 countries and visited 35+ others. After side-hustling her way to financial independence, she curates solo destination guides, slow travel tips, and travel blogging advice on Wander Her Way. When she's not on the road, you can find her in Miami with her dog Finnegan.