What is Club 33 Disneyland?
Club 33 Disneyland is one of the world's most exclusive dining experiences. The "secret" private club is a top bucket list item for the most enthusiastic Disney fanatics. But, unfortunately, it is so exclusive that even if you have the means ($$$) for purchasing a membership, you'll still have to wait years for a chance to get one. So keep reading to learn all about Club 33 and the secrets hiding in plain view of unsuspecting guests that visit Disney theme parks.
In this article I'll cover:
Club 33 Disneyland origins and location
Membership perks, cost, and waitlist
Peek of the restaurant and menu
Other Club 33 locations around the world
Frequently asked questions
Disney's Worst Kept Secret
Club 33 is an exclusive restaurant and lounge inside the Disneyland park in Anaheim, California. It's the worst-kept-secret in the Magic Kingdom because, like hidden Mickeys, it is in plain sight of guests. But finding its secret entrance is only half the fun: going inside is something only the private members, celebrities, VIPs, Disney executives, and their guests can enjoy.
The original Club 33 in Disneyland opened in 1967 and it was such a success that Disney expanded its locations across other Disney parks. In 2012, Disneyland California Adventure (the other park in the Anaheim resort area) opened the 1901 Lounge above the Carthay Circle Restaurant.
In addition, Tokyo Disneyland in Japan and Shanghai Disneyland in China each have their own Club 33 locations. Walt Disney World in Orlando, Florida has a Lounge in each of its parks.
But more on that later…
Origins
What makes Club 33 so unique, besides its exclusiveness, is that it is part of Disney history, and there is nothing in the parks quite like it. Walt Disney himself came up with the idea for the club after noticing how many VIP executive lounges existed at the New York World's Fair. At Disneyland, Walt also needed to have a special area to host VIPs and corporate sponsors. Initially, they met at the Red Wagon Inn, but soon the group was too big. As he concluded planning for building New Orleans Square of the theme park, he included plans for the lounge area. Club 33 opened after he died, and at that time, it started offering private memberships.
One of Club 33's unique draws used to be that it was the only place that served alcoholic beverages inside the Disneyland park. But as of 2019, this is not true anymore. Today, you can also get a drink at Oga's Cantina in Galaxy's Edge, the new Star Wars area of the park. (Bonus: You don't need to know a Jedi to enter this club!)
Why it's Called Club 33?
There are many rumors about how Club 33 got its name. Some say the exclusive club was named after its original 33 investors. Another theory says that it's because 33 looks like "WW" when flipped on its side. And you can find many other interesting myths trying to add more whimsy to Disney's club. In reality, Club 33 name is due to its address: 33 Royal Street. You see, the restaurant needed a liquor license to serve alcohol, and for that, it required an address different than Disneyland's. But if you have your own theories, I'd love to hear them!
Club 33 Disneyland Secret Door
Club 33's official address, 33 Royal Street, is right in the heart of Disneyland's New Orleans Square and the club sits above the Blue Bayou Restaurant. You can see its balconies and windows from the Pirates of the Caribbean ride. Stroll through Royal Street and look for the "33" glass sign in one of the doors, and you will find Club 33's secret door.
You might also like: 15 Disneyland Tips You Need to Know
Other Locations
Although Club 33 Disneyland is the original location, other exclusive dining spots are sprinkled throughout the parks.
You can find an exclusive lounge with a different name just "across the street" from Disneyland at the Disney California Adventure park. The 1901 Lounge, named after the year Walt Disney was born, sits above the Carthay Circle Restaurant.
Similar Club 33 lounges exist in Tokyo Disneyland Resort and Shanghai Disney.
Walt Disney World in Florida have taken Club 33 a step further and members have access to one lounge in each of the theme parks:
Captain Quarters lounge, right by the Adventure Land entrance at Magic Kingdom

Spotlight Lounge located above the Brown Derby restaurant at Hollywood Studios

Constellation Lounge, inside the American Adventure Pavillion at Epcot

Finally, the newest clue Harambe House is in the Animal Kingdom
Most of the lounges at Walt Disney World are hidden, except for Harambe House, which you can spot right by the Festival of the Lion King show area.
Membership and Benefits
Club 33 members get perks that most Disney fans can only dream of. In addition to unlimited access to the exclusive club, individual memberships include:
Annual Pass

50 single-day admissions

5 private VIP tours per year

Access to all exclusive lounges and restaurants

Access to purchase exclusive merchandise

Invite up to 3 non-members guests
Note: As of August 2021, Disneyland and Disney World have changed their annual passes but I don't know if any of those changes affect Club 33 members.
How to Join
New memberships for Club 33 are hard to come by as Disney limits the number of members to maintain the club's exclusive status. For a chance to join the club, an existing member will likely have to send you an invitation but you can also submit a letter to the address below. There is an extensive review process, and as memberships become available, a representative contacts those on the waitlist.
Club 33 Disneyland: To apply for the waitlist, you'll have to go old-school and mail a letter to Club 33 Member Services, 1600 S. Disneyland Drive, Anaheim, CA 92802. Calling to ask about membership will very likely ruin your chances of getting one…).
Club 33 at Disney Word: To join Club 33 at Walt Disney World, you have to email [email protected].
Membership Costs
Club 33 is one of the most exclusive personal experiences on Earth—and that comes with a hefty price tag.
While official costs are not published anywhere, you can expect to pay around a $25,000 initiation fee and ~$10,000 annual membership fee for Disneyland's Club 33.
Disney World's membership is rumored to be much higher, with a $35,000 initiation fee and $15,000 in annual dues.
Club 33 also offers corporate memberships that have a $50,000 initiation fee and a $25,000 annual fee. Corporate memberships can have up to 9 associate members.
I should note that the membership does not include any food, drink, or merchandise members and their guest consume. So if you're lucky enough to get a membership or get invited to dine at the exclusive restaurant, you'll have to pay for the meal and anything you purchase at the gift shop.
Save to Pinterest:
Waiting List
The Walt Disney Company limits the number of Club 33 memberships to maintain its exclusivity. There are only 500 Club 33 Disneyland members at any one time (other locations have separate wailing lists). So even if you can afford the initiation fee and annual dues, you can expect to wait years for a chance to join. The word on Main Street is that it can take more than a decade for a membership slot to open—and if one does, you'd better be ready to pay the initiation fee!
Famous Members
Elton John, Tom Hanks with his wife Rita Wilson, and Christina Aguilera are known members. According to Cast Members, many other celebrities have dined at Club 33.
Reservations
Reservations are required and if you're a member, all you have to do is call. But scoring an invitation to a one-time visit to Club 33 is all about who you know, networking, and connections. Club 33 members can bring guests or personally make a reservation for non-members. I've seen Disney fans successfully using social media in very creative ways to score a reservation or invitation. Can't hurt to try!
Inside Club 33 Disneyland
As I mentioned, there are many Club 33 VIP lounges spread across Disney parks. Let me take you on a tour of the original Club 33, though, Disneyland's.
You arrive at the not-so-secret address at 33 Royal Street. The Club's secret door has a "33" plaque next to it and a buzzer you press to talk to a host. After ascertaining that you and your party have a valid reservation, the host will buzz you in and meet you at the entrance at Court of Angels. Before the Club's remodel in 2014, any guest could access and enjoy the Court of Angels. Since 2017, it is no longer open to the general public.
Club 33's dining area is split into two sections: Le Grand Salon (the main dining room of the original Club) and Le Salon Nouveau, a new lounge since the remodel.
Animatronics and Memorabilia
Disney has removed the Lobby and Trophy room during a remodel. The Trophy Room was the smallest dining room and where the animatronic vulture (a failed Walt invention… he wanted the vulture to be able to talk to guests, but it didn't work how he expected) used to be. The vulture is still there, just in a new spot by the door. During the remodel, they removed other details that Disney fans loved and also replaced all original memorabilia with exact replicas, including the ornate walnut table used in the movie Mary Poppins. Additionally, an 1880s French lift was converted from a functional elevator to a dining booth for one.
After eating, many members enjoy hanging out at the Club's New Orleans-style balconies where you can observe other park guests walking from one attraction to the next.
Dress Code
Club 33 Disneyland is not your typical theme park restaurant, and you'll need to dress appropriately. The dress code is business wear (not business casual). Guest wearing sweatpants, tank tops, crop tops, flip flops, and other casual park wear can't come in the restaurant.
Menu at Club 33 Disneyland
Club 33 has three distinct menus: a Children's menu, a Lunch, and a Dinner menu. Selections are seasonal and change often. Chef Andrew Sutton is in charge of Club 33's menu.
There are two options for dining, a seasonal Prix Fixe meal or a la carte appetizer and entrée menu. The Prix Fixe option consists of a five- or six-course meal, and the cost for this selection was $120 in 2017. Add the wine pairings for an extra $50-60. For lunch, you have three- or four-course meal options instead.
Sample S
ix-Course Prix Fixe Menu
First Course
Sauteed Diver Scallop, Artichoke Ragout, Caper Lemon Conserve

Citrus Hamachi "Crudo," Avocado, Teardrop Peppers, Orange Vinaigrette

Carpaccio of Filet Mignon and Veal, Blistered Blueberries, Petit Arugula

Eggplant Roulade, Sun Gold Essence, Basil Pistou
Second Course (Soup and Salad)
Delta Summer Corn Soup, Toy Box Tomatoes, Neuske's Ham, Corn Bread

Signature "Lafayette" Garden Salad, Shaved Radish, Cucumbers, Vinaigrette Maison

Apricot and Baked Brie Salad, Baby Greens, Almonds, Apricot Velvet
Third Course
Sustainable Fish of the Day, Zucchini Minestrone, Roasted Tomato Broth

Skuna Bay Salmon a la Planche, Stone Fruit Gazpacho, Avocado, Basil Glacage

Pan-Seared Duck Breast, Date Cous Cous, Mint, Cucumber Yogurt

Hand-Cut Pappardelle Pasta, Fava Beans, Spring Onion, Zucchini Blossom Nage
Fourth Course (Entree)
Roasted Saddle of Colorado Lamb, Coastal Mushrooms, and Green Chick Pea Velvet

Grilled Veal Scaloppini, Warm Lobster and Potato Salad, Lemon-Tarragon Remoulade

Oven-Baked Roman Gnocchi, Wild Mushroom, and San Marzano Tomato Bolognese

Grilled Penne New York, Green Garlic Puree, Roasted Baby Roots
Fifth (and best, IMHO) Course (Cheese)
Chevre panna cotta and artisanal cheeses with wine-poached figs, fig velvet, quince paste, and pistachio butter on toasted brioche
Sixth Course (Dessert):
Meyer Lemon Bar, Fresh Citrus, Chantilly Cream

Manjari Chocolate Cream Bar, Cherry, Coconut, Toasted Almonds

Peach Upside-Down Cake, Pecan Brittle, House Churned Vanilla Ice Cream

Orange Poppy Seed Cake, Vanilla Bean Custard, Strawberry Sorbet

Selected Cheeses, Roasted Medjool Date, and Pistachio Short Sablee
You can also order appetizers and entrees a la carte, with prices around $40-50, and options such as New York Strip Loin, Wild King Salmon, Mahi Mahi, Veal Medallions, etc. Additionally, you could also choose to order the Signature Golden Osetra Caviar for $175, which comes with fingerling potatoes, and the caviar is sourced sustainably.
Alcoholic Beverages
Generally speaking, Disney does not allow alcohol in its parks to stay true to its family-oriented values. When Club 33 first opened in 1967 it was the exception. For a long time, it was the first place to serve alcohol inside the park (Oga's Cantina in the Star Wars Galaxy's Edge also serves alcohol now). So you can be sure Club 33's alcoholic beverages game is strong.
The club keeps a wine cellar stocked with a large selection of fine wines in addition to premium spirits, cocktails, and beer. The cocktail menu showcases classic drinks, such as a Martini, a Manhattan, or even a Mai Tai. I'll have an Old Fashioned, thanks.
Exclusive Merchandise
A visit to the club is never complete without taking home some souvenirs of this unique experience. At the small cabinet in the lounge, you can pick a new pair of Club 33 Ears, a Club 33 Mug, or even fancy glassware etched with the Club's logo. While you don't have to be a member of the secret club to purchase these items, you can only buy them inside.
Conclusion
Club 33 is one of my favorite Disney experiences. From the secret door to the memorabilia to the food, Club 33 leaves nothing to desire. The cost of the exclusive membership is prohibitive to most Disney fans and, if they're lucky to get an invitation to join, new club members can spend over a decade on the waitlist. But if you are lucky enough to snag a membership or get an invitation to dine at the club, you're certainly in for some really special memories.
PS: Thank you to my friend Anita Boeira for providing Disney insider info and helping write this post.
Related: 15 Disneyland Tips You Need to Know
Frequently Asked Questions
Is the Club 33 membership worth it?
If you're a Disney fanatic, are passionate about its history, value the opportunity to be a member of one of the most exclusive clubs in the world, and can afford it, then a Club 33 membership is absolutely worth it. For most Disney fans, a simple visit to Club 33 would be a very special experience. However, if you are just looking for an exceptional dining experience… then no, a Club 33 membership is not worth it. Don't get me wrong, you will get an excellent meal at Club 33. But both Disneyland and Disney World resorts have many other restaurants where you can get a fantastic experience and delicious food for half the cost.
Can you take pictures inside Club 33?
Yes and no. You will have free reign of picture opportunities in a few areas, such as the entrance door, the balconies, and the Court of Angels. However, you should refrain from taking pictures or videos inside the restaurant. The critical thing to remember is: if you are lucky to score an invite from a member to the Club, they will let you know if you can take pictures and share them on social media. Club hosts will also inform you and your party of Club rules before taking you to your table.
Can Disney cast members get in?
As a Disney Member, you can get into Club 33 two ways: with an invitation by a member to dine as a guest, or if Club 33 is hiring, you can try your luck that way! Bottom line is, it's a members-only club and anyone, even Cast Members, need an invitation.
Hungry? Check out the best places to eat breakfast at Disney World. Or read get more Disney travel tips here.
Save to Pinterest: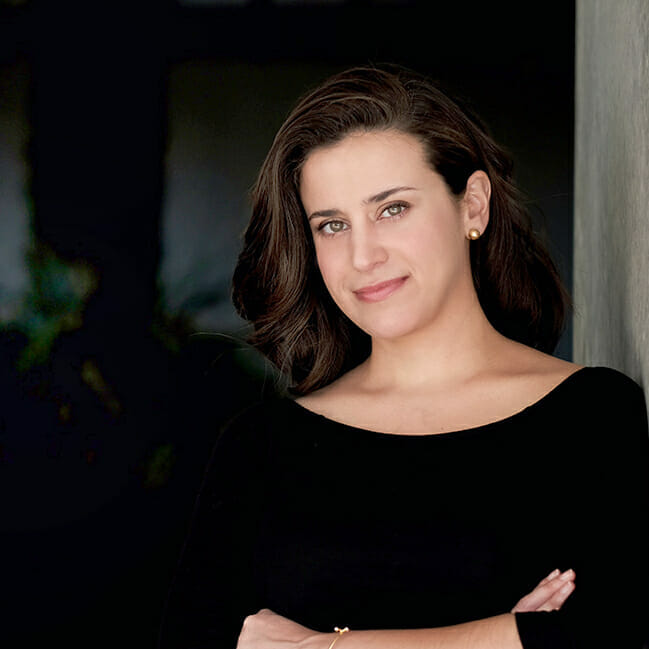 About Denise Cruz
Denise is a marketing executive who escaped corporate to travel the world… twice. A Brazilian native living in the U.S., she's lived in 4 countries and visited 35+ others. After side-hustling her way to financial independence, she curates solo destination guides, slow travel tips, and travel blogging advice on Wander Her Way. When she's not on the road, you can find her in Miami with her dog Finnegan.