The Best Bookstores in NYC
This post is all about the best independent bookstores in NYC.
I have always loved reading and visiting bookstores. I could spend hours in bookstores when I was younger! During quarantine, I started reading a lot more since I couldn't travel or go anywhere.
My reading hobby grew and grew and I couldn't wait to be able to visit bookstores again. Once things started to reopen again, I decided to check out all the best bookstores around New York.
Below are 12 of the best bookstores in NYC every book lover should visit — and you're not going to find these on just any travel guide about New York! 
1. Shakespeare & Co.
Although it shares a name with the iconic Shakespeare & Company bookstore in Paris, this New York bookseller has no connection with the Parisian literary landmark.
Shakespeare & Co. is located on the Upper East Side just across the street from Hunter College. (It actually serves as the university's official bookstore.)
One of the most unique things about this bookstore is that if they don't have the book you want in stock, they can print it and bind it on demand for you! It hardly takes any time at all, and you can grab a cup of coffee from their coffee shop while you wait.
Website: Shakespeare & Co.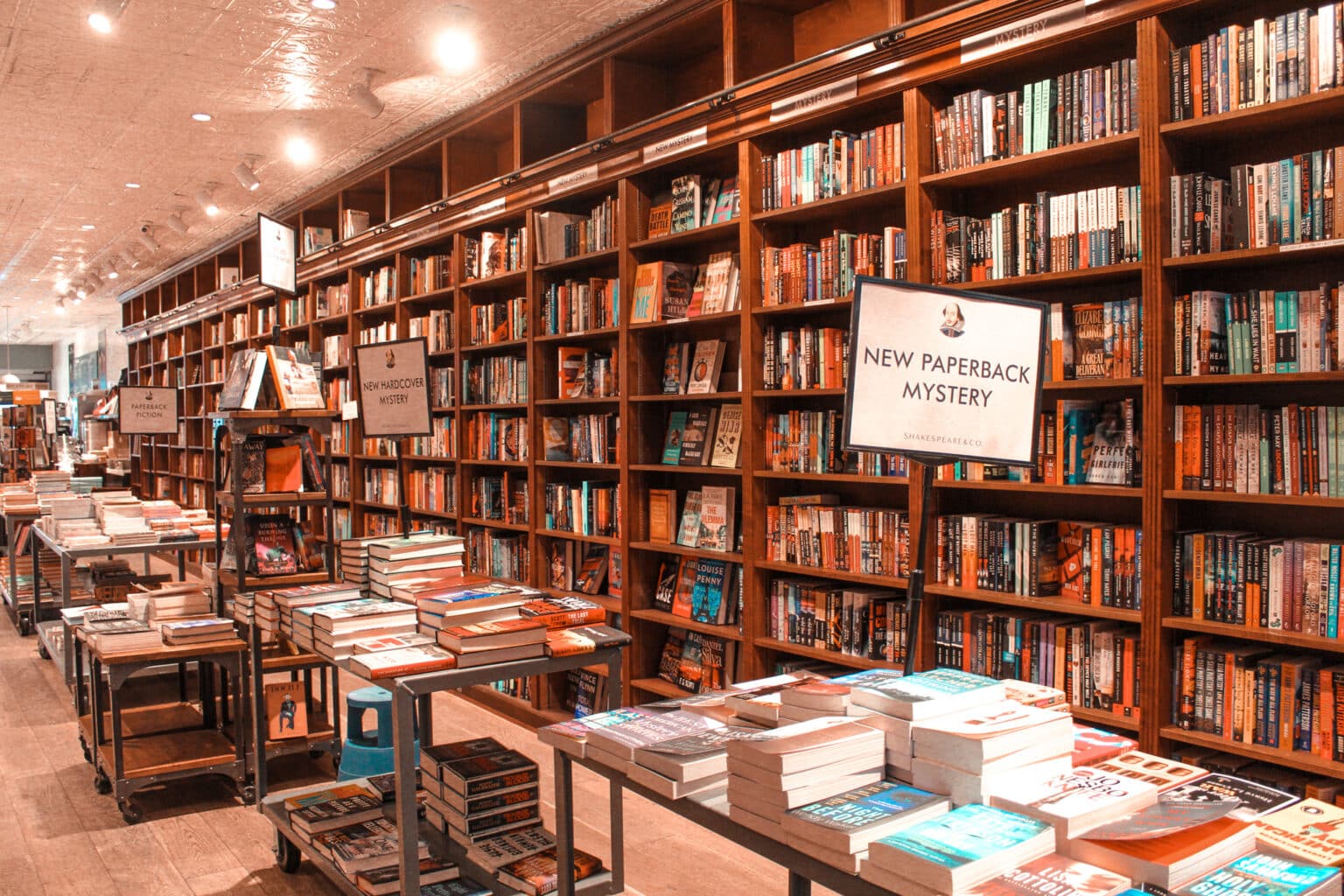 2. Albertine
Probably my favorite bookstore in all of New York is Albertine!
Also located on the Upper East Side, Albertine sits right across the street from Central Park and just a couple blocks from the Metropolitan Museum of Art in a stunning building. This Francophone bookstore shares the building with the Cultural Services offices of the French Embassy.
With one of the most beautiful bookstore interiors in the world (also one of the most Instagram-worthy spots in New York), Albertine is a must-visit.
Website: Albertine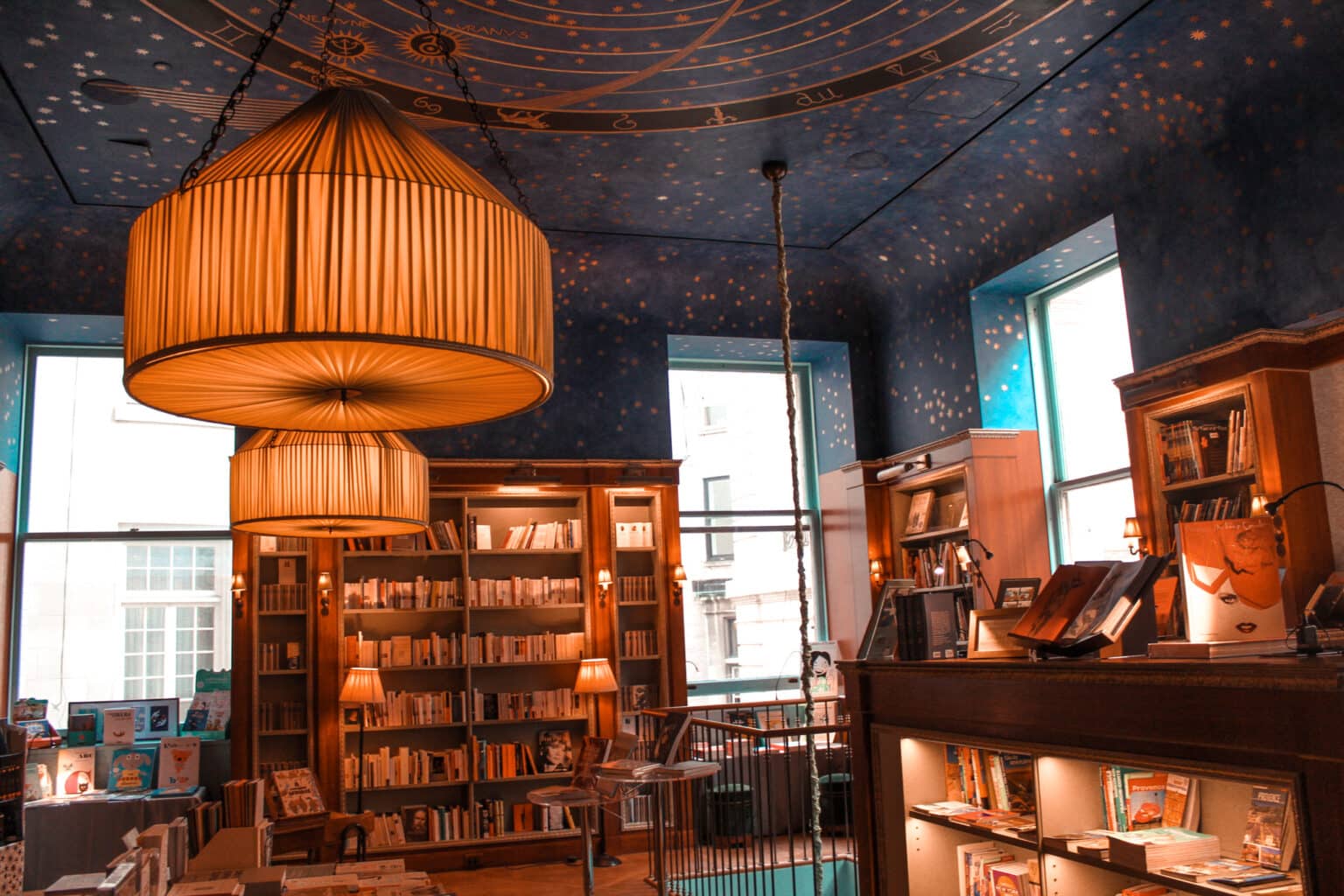 3. The Strand
If you're looking for an iconic literary landmark in New York, the Strand is it.
The Strand has been in operation for more than 90 years and is the last surviving bookstore of New York's "Book Row" which once housed nearly 50 bookstores on Fourth Avenue.
Now, this massive bookstore near Union Square is all that's left of the historic bookstores. The Strand boasts more than "eighteen miles of books" if you laid them all side by side.
While the Union Square location is the original, there is a smaller, newer location that has opened on the Upper West Side, which is also worth checking out.
Website: The Strand
4. McNally Jackson Books
McNally Jackson is an independent bookstore founded by Sarah McNally, a former book editor. The first location opened in the downtown neighborhood of Nolita in 2004.
Since then, three more locations have opened: South Street Seaport, Williamsburg, and Downtown Brooklyn. McNally Jackson is known for its unique book organization system, with literature from around the world organized on shelves by country.
Website: McNally Jackson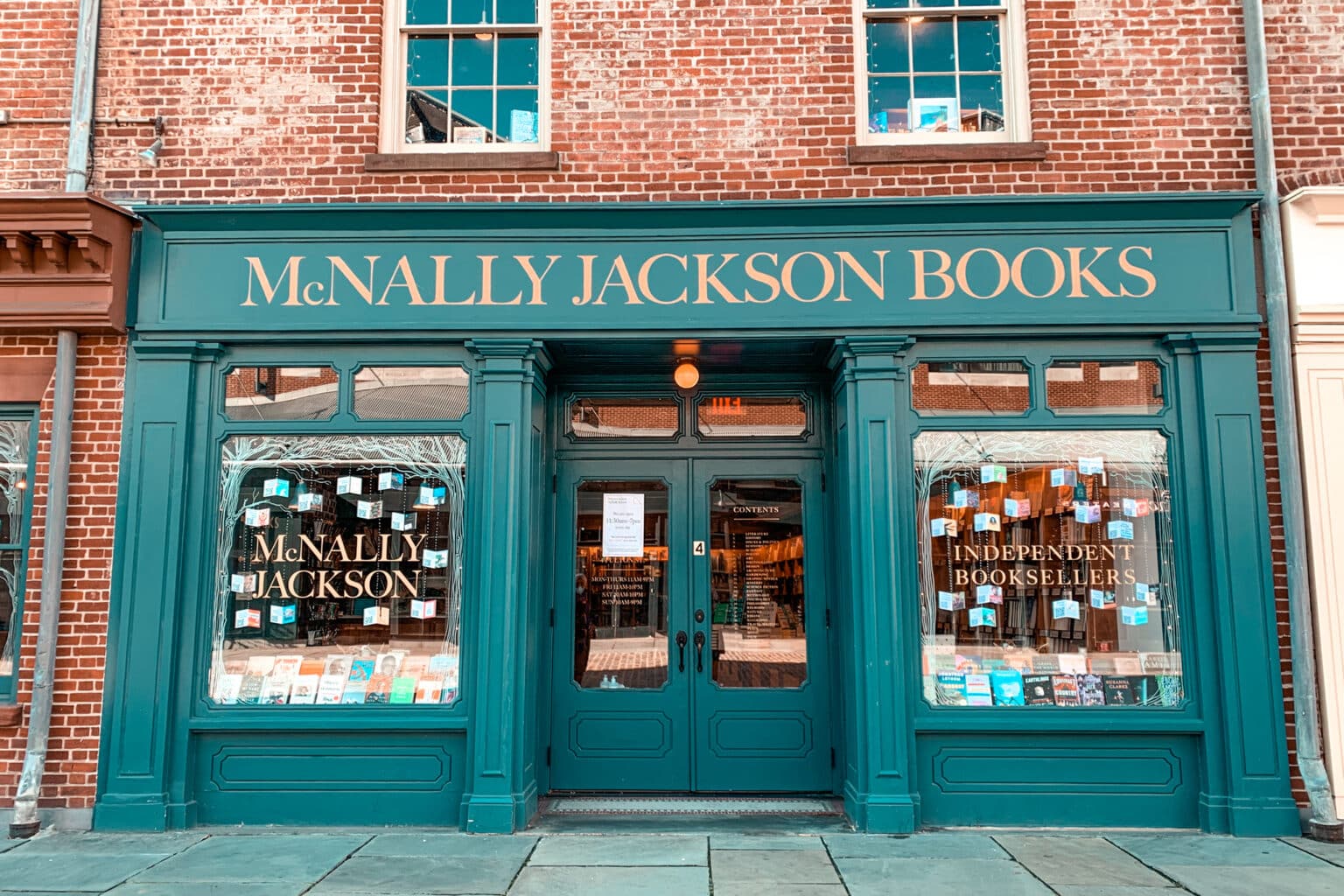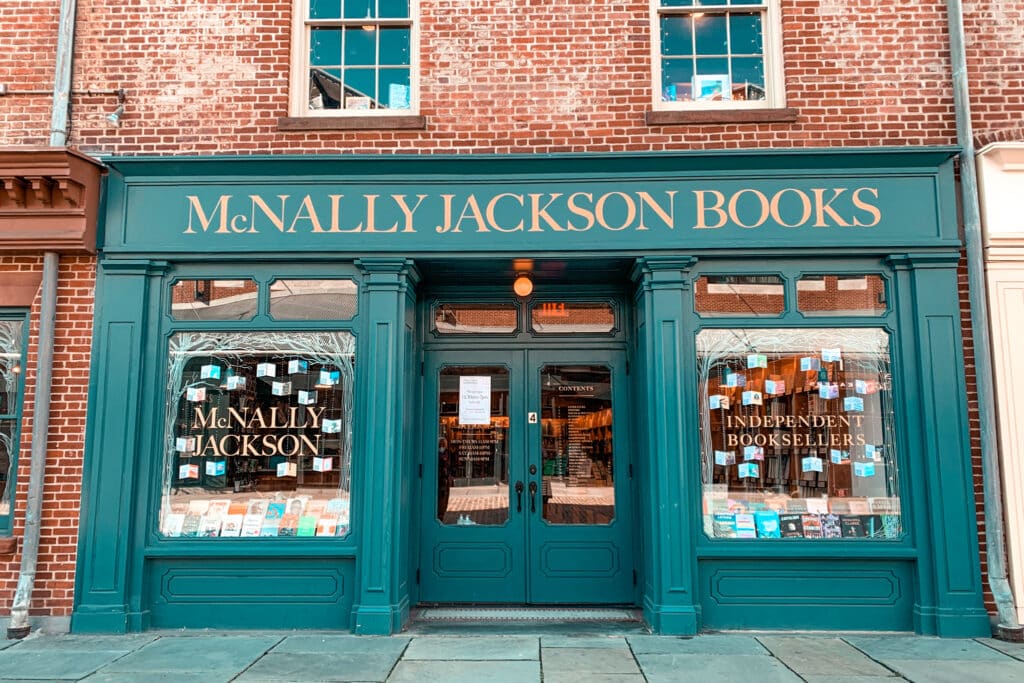 5. Corner Bookstore
Heading back to the Upper East Side, you'll find Corner Bookstore on the corner of Madison Avenue and 93rd Street. This petite bookstore has occupied the same corner since 1978.
Although it's small, this beautiful bookstore has a wide variety of titles and a nice neighborhood feel.
Website: Corner Bookstore
6. Three Lives & Company
Three Lives & Company has been a staple in Greenwich Village since 1968. Tucked away on Waverly Place, this small bookstore is a must-visit if you're in the neighborhood.
The interior is small and cozy, with creaky wooden floors and little nooks filled with books. Though it's a small space, the shelves are packed with wall-to-wall books.
Website: Three Lives & Company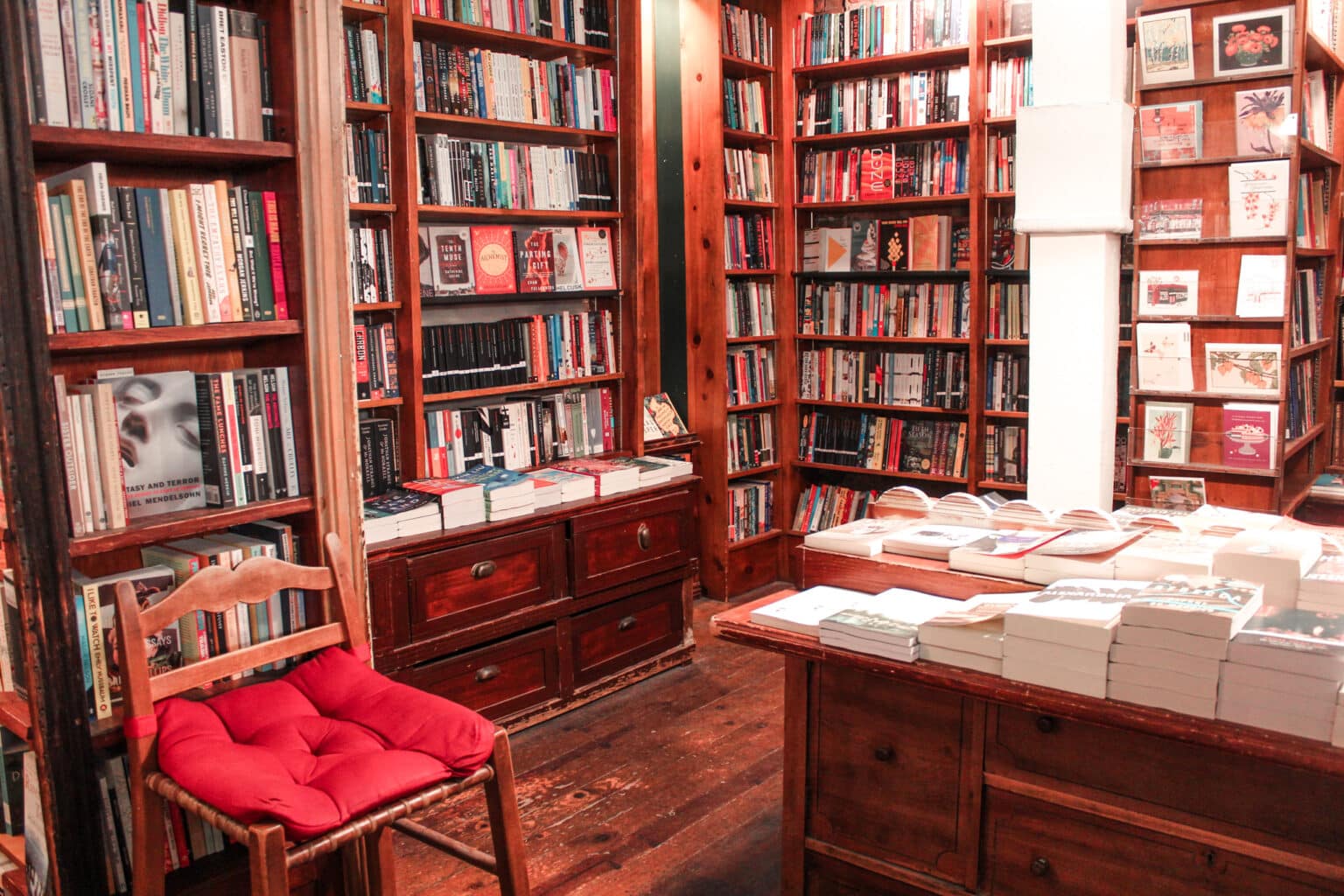 7. Rizzoli Bookstore
If you're looking for stunning coffee table books, look no further than Rizzoli.
This Italian-owned bookstore is located on Broadway close to the Flatiron Building. When you walk inside, the black-and-white tiled floors, painted walls, dark wood shelves, and chandeliers immediately give this bookstore an Old World feel.
It's one one of the best bookstores in NYC in terms of art, design, fashion, architecture, food, photography, interiors, and more, offering gorgeous illustrated coffee tables on a wide variety of subjects.
Website: Rizzoli
8. Book Culture
The last bookstore on this list is located in Morningside Heights near Columbia University. There are actually two locations located within two blocks of each other, one on 112th Street and one on 114th Street. You might as well visit them both since they're so close!
Book Culture on 112th is the larger store, covering two floors. The upstairs is mainly textbooks for Columbia University students. Book Culture on 114th is the newer and smaller location of the two.
Website: Book Culture
9. Molasses Books
Molasses Books is a quaint used bookstore and bar/coffee shop in Brooklyn. It has an amazing selection of books, great music, and an inspiring atmosphere that feels like an old art gallery mixed with a Parisian Cafe. It's a great place to grab a drink and have interesting conversations with strangers.
Website: Molasses Books
10. Housing Works Bookstore
Housing Works Bookstore is a bookstore with a cause. All books are donated and 100% of the profits help fund social HIV/AIDS and homelessness programs of the non-profit of the same name. Located in downtown, it's a great place to peruse when you don't have a specific book in mind—I always find some gems in there.
Website: Housing Works Bookstore
11. Argosy Book Store
Argosy is the oldest independent bookstore in New York City. It is housed in a six-story building and it's like walking into another dimension. The store specialized in old, out-of-print books and has an exceptional selection of vintage books, manuscripts, and maps. The manually-operated elevator is a special treat that I highly recommend you try.
Website: Argosy Bookstore
12. Kitchen Arts & Letters
This one was a suggestion by one of my readers and it deserved to be added to the list! Kitchen Arts & Letters is located on Lexington in the Upper East Side and if the name didn't give it away, they specialize in cookbooks. They have an incredible selection of books from all sorts of cuisines and cultures and the staff is super knowledgable! It is truly a gem for foodies and recipe book lovers!
Website: Kitchen Arts & Letters
Best Bookstores in NYC
These are some of the best bookstores in New York that every book-lover needs to visit!
Although it may seem as though big chain stores have taken over, there are still plenty of independent bookstores left in New York that are just waiting for you to find them!
📚 Read also the 12 Coolest Bookstores Around the World
More Bookish Inspiration
For more posts about books and reading, be sure to check out…
You may also enjoy… The Ultimate NYC Bucket List: 75+ Things to Do in New York City
Save it to Pinterest: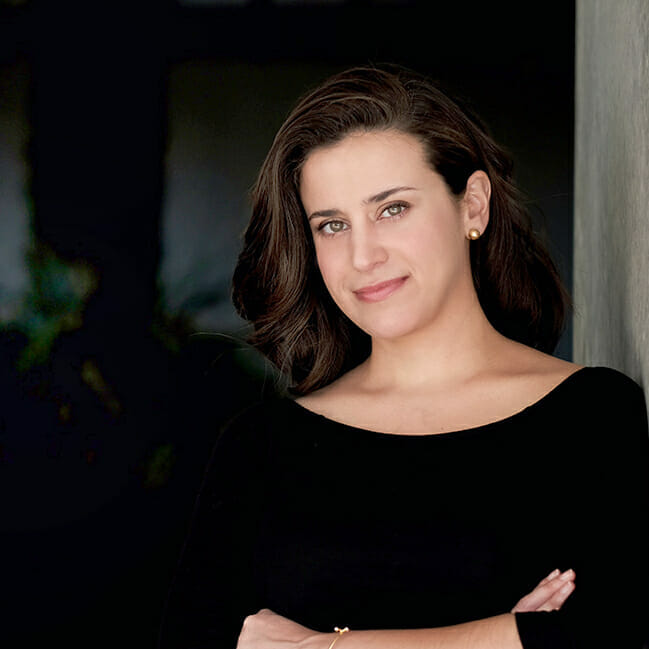 About Denise Cruz
Denise is a marketing executive who escaped corporate to travel the world… twice. A Brazilian native living in the U.S., she's lived in 4 countries and visited 35+ others. After side-hustling her way to financial independence, she curates solo destination guides, slow travel tips, and travel blogging advice on Wander Her Way. When she's not on the road, you can find her in Miami with her dog Finnegan.