35 Most Instagrammable Places In NYC (With Map)
If you buy something through the links on this page, you're helping me pay for my next adventure—thank you for clicking! Learn more.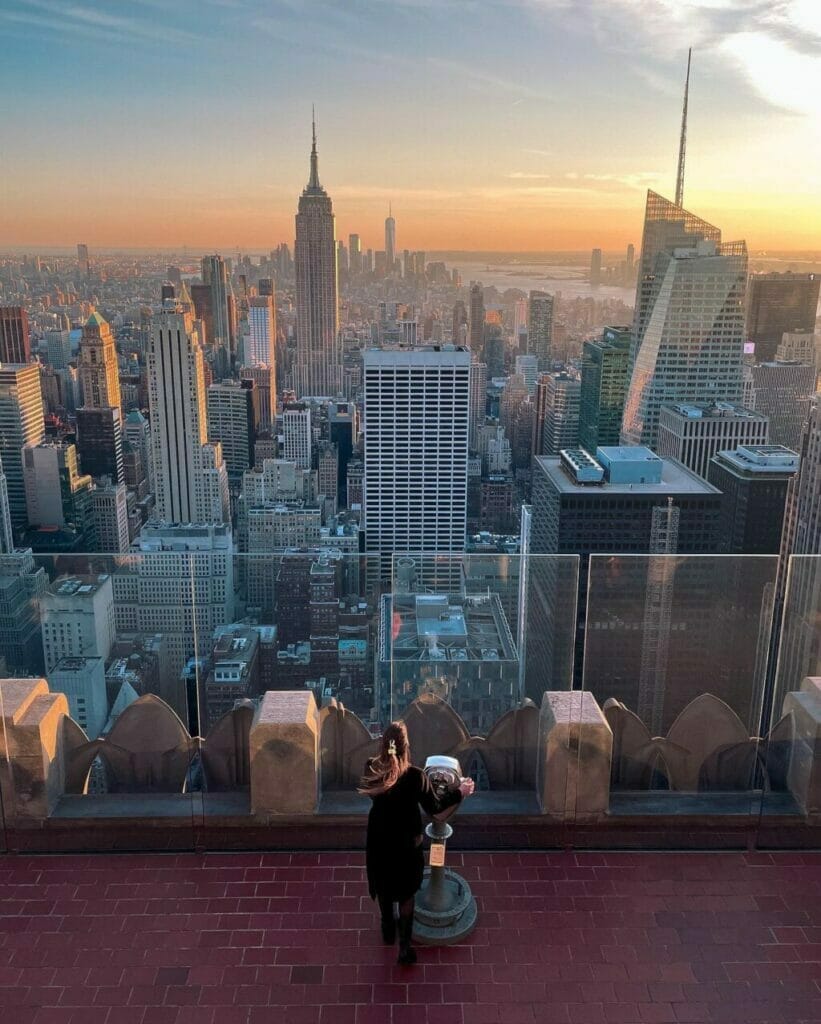 The Most Instagrammable Places in NYC (and epic examples of pictures you can take)
Heading to the Big Apple and looking for the most Instagrammable places in NYC? Well, get your camera ready!
New York is the gift that keeps on giving—it's got the food, the culture, the atmosphere, the architecture, and now, the Instagrammability.
There is something magical about New York, and you can make any street corner or sandwich store in the city look incredible in your photos.
In this article, I will walk you through the best spots to take photos in New York through the eyes of other Instagrammers themselves. I also included a map to make it easy for you to find each location.
So get your camera ready, and let's go!
35 Best Instragram Spots in New York
But here are my top picks for the most Instagrammable places in NYC.
1. Top of the Rock
For the most amazing views of the New York skyline, Central Park, and the Empire State Building, head to Top of the Rock, the rooftop observatory at the Rockefeller Center.
The outside terrace is enclosed by glass, so you can get some incredible views of the city's iconic skyline. Top of the Rock is also the best place to get shots of the Empire Estate Building!
2. The Oculus
The Oculus is the transit hub at the World Trade Center. The building's unique structure with tall white beams and long glass windows makes for some interesting compositions.
The $4 billion project is a masterpiece designed by renowned Spanish architect Santiago Calatrava, so any picture you take anywhere at the Oculus will certainly capture the attention of your followers.
While the interior of The Oculus seems to be more popular on social media, the exterior of the building is just as Instagram-worthy.
While you're in the area, take some time to reflect at the 9/11 Memorial and visit Ground Zero Museum.
3. Albertine Bookstore
If you love books and bookstores, there are stunning bookstores you can visit in New York.
One of my favorites is Albertine in the Upper East Side, across the street from Central Park. The interior of the store is something out of Harry Potter books and it's worth a photo (or thirty).
4. Grand Central Terminal
Grand Central Terminal is one of the city's most recognizable landmarks and has been featured on countless movies and TV shows—it makes such regular appearances on Law & Order: SVU that they should include it in the cast!
The terminal has been in operation since 1913 and was originally designed by the architectural firm McKim, Mead and White. Today, it is one of the busiest transportation hubs in the world, with over 120 million passengers passing through it each year—so you'll have to get creative if you want photos without a crowd of people on the background!
5. Times Square
You knew Times Square was gonna be on my list, didn't you? Okay, so it might be a bit predictable, but no trip to New York is complete without a visit to Times Square!
The hundreds of colorful screens, the dozens of yellow taxis beeping at you, and the endless swarm of people are all perfect ingredients for a classic New York City shot.
This is a perfect place if you want to capture the authentic hustle and bustle of NYC in a picture during the day or at night.
6. The Crown at Hotel 50 Bowery
Head to The Crown at Hotel 50 Bowery to get delicious drinks with a rooftop view to match.
This rooftop bar is especially Instagram-worthy at night but I recommend arriving in time for the sunset (you can thank me later).
Much like at Top of the Rock, this terrace is surrounded by glass walls, so that you can see everything around you.
If you can't make it to The Crown, there are plenty of awesome rooftop bars in NYC that you can check out instead.
7. DUMBO (Down Under the Manhattan Bridge Overpass)
DUMBO refers to the area "Down Under the Manhattan Bridge Overpass" where there are a number of great photo spots.
If you follow any NYC-based influencers, you are guaranteed to have seen DUMBO locations pop up in your feed.
However, hoards of tourists flock to a little street of the Brooklyn neighborhood to take pictures with a magnificent view of the Manhattan Bridge.
If you visit it on a clear day, you can even see the Empire State Building peeking through a section of the bridge!
How more iconic can a New York photo get?
8. The Flatiron Building
This is another of the city's most famous examples of architecture. This abnormally narrow building set between two streets is one of New York's most sought-after photo backdrops.
If you go at certain points in the day, you can even have the sun coming out from behind the building to help you get a really special shot.
Plus, if you are an architecture buff, you can soak up some amazing architecture while you are there to pose.
9. Vinegar Hill
Also a hot spot for those interested in New York's architectural history, this place is home to some of the city's most beautiful 19th-century buildings.
It is an urban area with a feel quite different from that of the rest of the city. If you want to get some pictures of the lesser-known parts of NYC, this might be a good option.
Vinegar Hill also has some great little restaurants, shops and cafes that you can check out on your visit.
If you visit Vinegar Hill in the Fall, you might be lucky enough to capture some shots of perfectly orange leaves on the trees and sidewalks.
10. Coney Island
Coney Island holds a special place in the most Instagrammable places in NYC list: it has everything a photographer would want: a never-ending boardwalk, colorful rides, and interesting people.
There's always something happening at Coney Island – from huge amusement park rides to concerts in the summer – so it's never too dull an experience!
11. Chinatown
That's right; not only is Chinatown the perfect place to hit up if you are craving some amazing Chinese food AND it is an ideal location for one of your photoshoots.
As well as the hundreds of deliciously-smelling food stalls and restaurants, Chinatown is also packed with photogenic neon lights and signs and brightly colored shop fronts.
Loads of the buildings in the area are also adorned with classic New York fire escapes, which can be a great addition to your photos.
If you do go, make sure you try some of the food there as well as utilize the place's aesthetic – you could even snap a pic of you enjoying a delicious box of noodles!
It would make a great urban pic.

12. Bethesda Terrace And Bethesda Fountain
Located in a beautiful part of Central Park is a stunning fountain that has been featured in countless films and TV shows.
The fountain, itself, is an amazing spot to stop at and take some photos, but what is often overlooked is the terrace nearby.
Bethesda Terrace is one of the most photogenic spots in the whole city.
It consists of delicate arches that lead to a dimly lit underground terrace, with the fountain at one end and a large staircase at the other.
This is a great location if you want to experiment with the light coming into the terrace or play around with the beautiful arches.
A simple photo of the terrace alone would be a great Instagram shot, but if you get one of you between the arches I can guarantee that you will love the results.
If you want the arches to yourself, head to Bethesda early in the morning, so that you can get your perfect shot without being interrupted by crowds and street performers.
13. Bow Bridge
The Bow Bridge is also located in Central Park and gets its name because of its shape, which resembles an archer's bow.
It is a popular spot for proposals and first dates and certainly a popular Instagrammable spot. It is nestled beautifully between trees, rose bushes, and the lake of Central Park and works well as a standalone picture or as the backdrop to a portrait shot.
The bridge itself is beautiful with its Victorian design but it's also one of the best spots to photograph the Fifth Avenue skyline.
14. Central Park Lake
You can take pictures along the edge of Central Park Lake or rent a row boat.
If you choose the rowboat, you'll get a whole new perspective of the New York City's best buildings and the Bow Bridge. Plus, a shot of you rowing on the water is bound to look amazing, especially thanks to all the natural light that you will have here.
Be careful when posing for your photos—you won't want to end up in the lake!
15. Morgan Library
If you are like me, and you love the scene in the library from Beauty and the Beast, you won't want to skip this location.
Release your inner Belle and pose in front of the thousands of books that line the wood-clad walls of this amazing little library.
If you can, take your pictures at an angle that allows you to have some of the ceilings in them; it is beautifully pained and would make a beautiful feature in your pictures.
If you are into your history, this place can be so much more than a photo location.
The Morgan Library houses a collection of amazing manuscripts and historical artifacts that are so interesting to look into.
Plus, the building itself is part of the city's rich architectural history.
16. Brooklyn Bridge
This amazing structural feat that joins the city to Brooklyn is quite a sight to behold.
It gives you views of both Brooklyn and New York City, so that each place you stand on the bridge can give you a unique backdrop for your photo.
For a more typical Brooklyn Bridge shot, stand in front of one of the sets of arches on the bridge, or swing off one of the thick ropes that keeps it all together!
If you want to enjoy taking photos at Brooklyn Bridge, try to get there when it is quiet.
Cyclists and pedestrians crossing the bridge are often in a rush and have places to be, so they aren't very patient when it comes to tourists taking photos who get in their way.
Try to head to the bridge early in the morning to make the most of your photoshoot.
17. Brooklyn Bridge Park
If you can muster the energy to cross the bridge all the way into Brooklyn, you have got to visit Brooklyn Bridge Park. The park offers amazing views of the city across the water, as well as of the bridge itself.
If you get near the water, you can get some great shots of yourself with both the bridge and the Manhattan skyline behind you.
Equally, the Brooklyn side of the bridge is just as photogenic. If you wait until nighttime to come to the park, loads of the buildings will be lit up, and will provide you with the perfect evening backdrop for your photos.
18. Pietro Nolita
This cute little Italian restaurant is a great place to stop for a bite to eat, or to grab an authentic Italian coffee.
The thing about Pietro Nolita that makes it so popular, though, is its entirely pink exterior!
Pink is one of the most up-and-coming Instagram colors, so it is no surprise that tourists head to this spot by the hundreds to get pictures with the pretty pink background.
Stand in front of one of the building's pink walls, or relax on one of the little pink benches, and snap a pic that will look amazing on your Instagram feed.
If you want to be extra Gen-Z, buy a coffee to go before you take your photos, so that you have that classic takeaway coffee-girl vibe as well as the fabulous pink background.
19. Washington Square Park
Located in the heart of Greenwich Village, this park is bursting with life. Visit this place to get a real vibe of life in the Village and immerse yourself in the community of artists and students that gather there.
The most popular photo spot in the park is in front of the Washington Square Arch, which was built in the late 1800s. Not only is it an amazing historical and architectural landmark, but it also provides a perfect backdrop for photoshoots.
If you visit the park on a clear day, you might be able to get a few shots with the Empire State Building peeking through the archway. Is it visible from every NYC spot? It's almost like it teleports!
20. The Vessel At Hudson Yards
This building – comprising office spaces as well as residential blocks, and a mall and arts center – is fairly new to the Manhattan skyline, having only been opened in 2019.
Despite its short life, though, it has already become one of the city's most loved spots for photoshoots.
Little hexagonal segments combine to make the shape of this building, which resembles that of a beehive.
Each hexagon is clear and either a window or a lit-up storefront, making the building light and bright during the day, and somewhat mysterious at night.
If you climb the staircase to the top of the vessel, you will be rewarded with views of the river below.
If you can't be bothered to make the trek, though, it does not matter – the building is equally spectacular from the lower floors and even from ground level.
Here you can take artistic portraits, moody architectural shots, and everything in between.
21. One World Observatory
The One World Trade Center was built where the twin towers used to stand. In addition to the beautiful memorial and 9/11 museum, you can also visit the observatory deck on at the top of the Freedom Tower.
The Freedom Tower is the highest building in New York, so you can see across all five boroughs of New York City, as well as New Jersey.
You can have hundreds of different backgrounds from up here, meaning that you can take unique photos from every vantage point.
This is perfect for when you want photos with an urban background of large parts of the city's skyline.
22. L'Appartment Sézane Window
You know by now that I love all things Paris so I could not resist adding this one.
L'Appartment Sézane is a little women's clothing boutique…
23. Empire State Building
The Empire State Building may not be the tallest or flashier building in New York City, but it is certainly the most iconic. This legendary building is the perfect background for any type of photo.
Also, if you pay to go up to the observation deck, you will be treated to mesmerizing views of New York City's skyline.
The only downside is you can't see the Empire State Building from the top of the Empire State Building…
24. The High Line
The High Line is an incredibly elevated pathway that winds its way around the city; it's kind of like a very long and narrow park that is lifted above the streets.
The best thing about the High Line is that it is free, meaning that you can enjoy some of the city's best views without having to pay a dime.
Every step on the High Line brings you a different view, and a different space. There are art features, as well as bits of nature dotted around.
There are hundreds of photogenic spots all the way along the skyline, so there will be something for everyone and every type of photo.
25. Stuyvesant Street
This little gem is not as famous as spots like Times Square or Madison Square, but it can give you photos that are just as eye-catching.
Head to this location if you want photos with urban backgrounds of red brick houses covered in ivy, as well as the typical New York fire escapes.
This area is bound to be more quiet than a lot of the other photo spots, so you will likely have more time to get the perfect shot, and have less of an audience.
26. Whitney Museum's Outdoor Gallery
The Whitney Museum of American Art is home to the art of hundreds of photographers, so is the perfect place to head to if you need some inspiration for your photos.
The most Instagrammable part of the museum, though, is its outdoor gallery.
The cold gray exterior serves as a great backdrop for portrait shots and OOTD pics.
If you want a view of the city in your photos, the gallery also has great skyline views that can feature in your backgrounds.
Because it is an art gallery, it has loads of art pieces and sculptures in the outside area, which can make quirky artistic features in your pictures.
27. The Steps Of The Metropolitan Museum Of Art
The steps leading up to the Metropolitan Museum of Art, otherwise known as The Met, are wide and grand.
The steps act as a layered but neutral background for your outfit pictures and portraits, and the museum itself is perfect for architecture shots.
28. Domino Park
Domino Park in Williamsburg is a less-known gem in that you should definitely be on your list! Once a sugar refinery, the space has been transformed into a beautiful public park with some of the most breathtaking (and Instagram-worthy) views of Manhattan and the Williamsburg Bridge.
Although Domino Park opened in 2018, it managed to remain pretty off the beaten path. But trust me, it's worth the visit!
29. The Roof Garden At The Metropolitan Museum Of Art
The Met is also home to another of the city's most Instagrammable spots in New York: its roof garden.
From the roof, you can see loads of the city skyline, as well as great views of Central Park, both of which could feature in your pictures.
My favorite thing about the Met's rooftop garden is that it features artwork that sprawls from the inside of the museum out to the rooftop.
It includes the work of multiple artists, and these pieces of art can make your photos super interesting and colorful.
30. The Edge
If you are up for a bit of an adrenaline rush, head to the Edge building to get some jaw-dropping shots.
The building's observation deck has a platform suspended about 100 stories above the ground, which you can stand on to take amazing shots of the city whilst in mid-air!
The building is located really near the Empire State Building, meaning that you can get shots of the best parts of the New York City skyline from its platform.
If you want to feel like you are flying while you pose for your pictures, The Edge will provide you with an amazing experience and even better photos.
31. The Guggenheim Museum
The interior of the Guggenheim Museum is bright, white, and airy. The main lobby is spacious, and its ceiling reaches the entire height of the building.
The floors of the museum sit on an ever-inclining (or declining, depending on which way you are going!) spiral, which is partly what makes this building so photogenic.
If you want tons of natural light and bright white backgrounds, the Guggenheim will not let you down.
For more interesting shots, head to the highest floor of the museum and take a shot looking down at the multiple layers of the building and the wide-open lobby, which is usually filled with tourists.
32. The Museum Of Ice Cream
If you want a colorful backdrop that will make your Instagram feed pop, and the simple pink of Pietro Nolita didn't quench your thirst for saturation, the Museum of Ice Cream should be on your hit list!
Every single room is colorful, and each one features a unique art installation that celebrates the wonder that is ice cream.
Some of the best spots to take photos include the ball pit that has giant sprinkles instead of balls and a pink slide going into it, and the pink subway car.
Every part of this place feels like it was designed for Gen-Z Instagram users, and you should definitely visit it if you want some modern, colorful backdrops for your selfies!
33. 1 Hotel Brooklyn Bridge
If you can afford to stay at this gorgeous modern hotel, it offers you the same views as the Brooklyn Bridge Park, except here you can take photos from the comfort of your own living space.
Floor-to-ceiling glass walls allow you unobstructed views of both the bridge and of the two riverside skylines.
Instead of standing outside in the cold late at night, you can get amazing shots of the bridge, the river, and of New York City while you are in your pajamas and all cozy!
Aside from its insane views, this hotel also has high-quality service, luxurious modern rooms, an amazing rooftop pool, as well as a rooftop lounge called Harriet's.
At this rooftop lounge, you can also get great snaps of the views below.
34. Lobby of 1 Hotel Brooklyn Bridge
If you can't afford to stay at the 1 Hotel Brooklyn Bridge, stop by one of their restaurants for a delicious breakfast, lunch or dinner (the rooftop is pretty awesome) — all of them are very Instagramable, but the lobby is particularly fun to take pictures in.
35. The Brooklyn Botanic Garden
If you are looking for more natural scenery than urban ones, mix up your New York tour with a trip to Brooklyn's Botanic Garden.
Here, there are fifty-two acres of flowers and greenery, most of which pay homage to the native plants of the New York area.
The flowers are pretty enough to be worthy of being the main subject in your photos but can also be great background features in portrait and fashion shots.
So, this location is perfect for any type of photography, ranging from landscape photography to portrait photography, even to influencer photography.
The best time to visit the Botanic Garden in Brooklyn is in Spring, when all the flowers are in full bloom and there are hundreds of beautiful colors to line your selfies with.
Map of Instagram Spots in NYC
Where to Next?
Pretty much every square inch of New York City can be an incredible backdrop for your photos. Every street has something unique to offer and around every corner there is something new to add to your pictures.
The locations listed above are just some of the city's most Instagrammable places but I am sure that if you visit, you will find many more spots to capture on camera.
📸 Now that you know where to take the best shots, here are some New York quotes and Instagram captions for you to use! Or check out my NYC travel guide.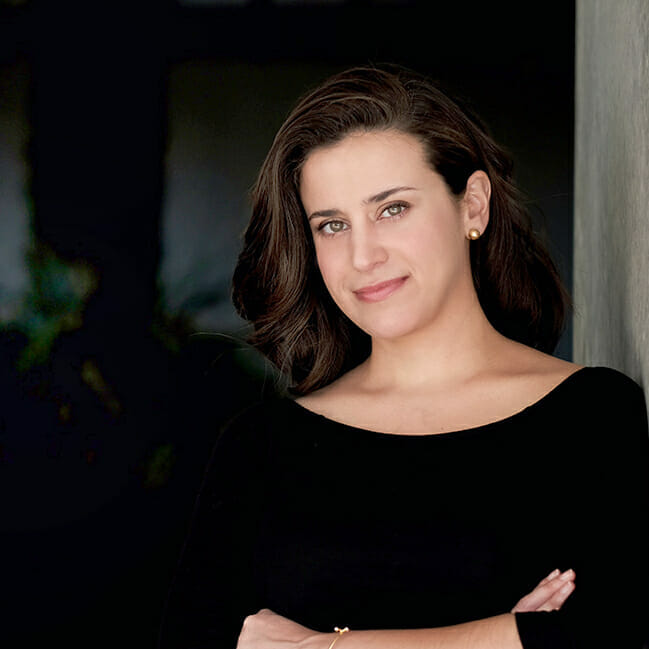 About Denise Cruz
Denise is a marketing executive who escaped corporate to travel the world… twice. A Brazilian native living in the U.S., she's lived in 4 countries and visited 35+ others. After side-hustling her way to financial independence, she curates solo destination guides, slow travel tips, and travel blogging advice on Wander Her Way. When she's not on the road, you can find her in Miami with her dog Finnegan.