Top 15 Best Things to Do in Dubrovnik, Croatia
If you buy something through the links on this page, you're helping me pay for my next adventure—thank you for clicking! Learn more.

Best Things to Do in Dubrovnik, Croatia
This post is all about the best things to do in Dubrovnik.
Dubrovnik is known as the Jewel of the Adriatic, and it's not hard to see why. This town at the southern end of Croatia is picture-perfect, with its fortified, red-roofed Old Town jutting out into the sea. In recent years, Dubrovnik has become extremely popular, especially with cruise ship tourists.
I visited Dubrovnik for one day on a cruise in 2018, and remember being impressed by it, but overwhelmed due to the sheer number of tourists. However, I later revisited Dubrovnik for nine days in 2021 while things were still relatively quiet due to the pandemic.
After spending so much time in Dubrovnik, I can now say it's one of my favorite places in Croatia. This is a destination I think everyone should experience, and it will not let you down!
Here are some of the best things you can't miss doing on your trip to Dubrovnik.
1. Take a free walking tour.
Free walking tours are one of my favorite ways to get acquainted with a new city.
This is the free walking tour I took in Dubrovnik, and it covered Dubrovnik's ancient history, more recent history from the war in the 1990s, and Dubrovnik in the modern day.
Although the walking tour is free, be sure to tip your guide afterwards! This is a great activity to do on your first morning in Dubrovnik to familiarize yourself with the city.
2. Walk the City Walls.
Walking the Old Town's medieval City Walls is an activity you can't miss in Dubrovnik!
Unfortunately, this activity doesn't come cheap at 200 kuna (around $32) but in my opinion it's worth putting down the cash for this iconic experience in Dubrovnik.
The City Walls offer stunning views of the Old Town and the sea. Go early in the morning or later in the evening to avoid the heat and crowds, and plan 1.5 to 2 hours for walking.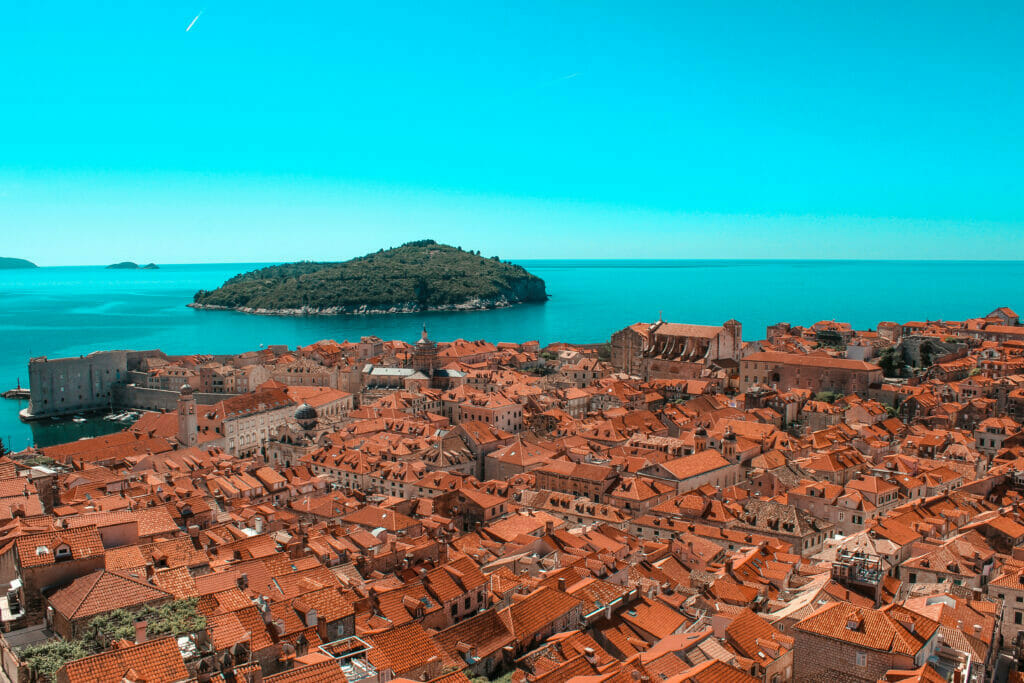 3. Visit Lovrijenac Fortress.
Your ticket for the City Walls also includes admission to nearby Lovrijenac Fortress. You can visit it anytime within three days of purchasing your City Walls ticket.
Located just outside the Old Town, about ten minutes from the Pile Gate, this stone fortress offers impressive views of the Old Town and surrounding area.
4. Take the cable car up to Mount Srd.
Mount Srd is the large hill looming over Dubrovnik. There are four ways to get to the top: by car, by bus, by foot, or by cable car! The cable car is by far the most scenic way.
This is another pricy activity, with round-trip tickets costing 150 kuna and one-way tickets costing 85 kuna. My suggestion would be to take the cable car up, and then take the footpath down if you want to save some money. (The footpath takes about 45 minutes coming down.)
If you want to catch an incredible sunset, Mount Srd is a great place to go!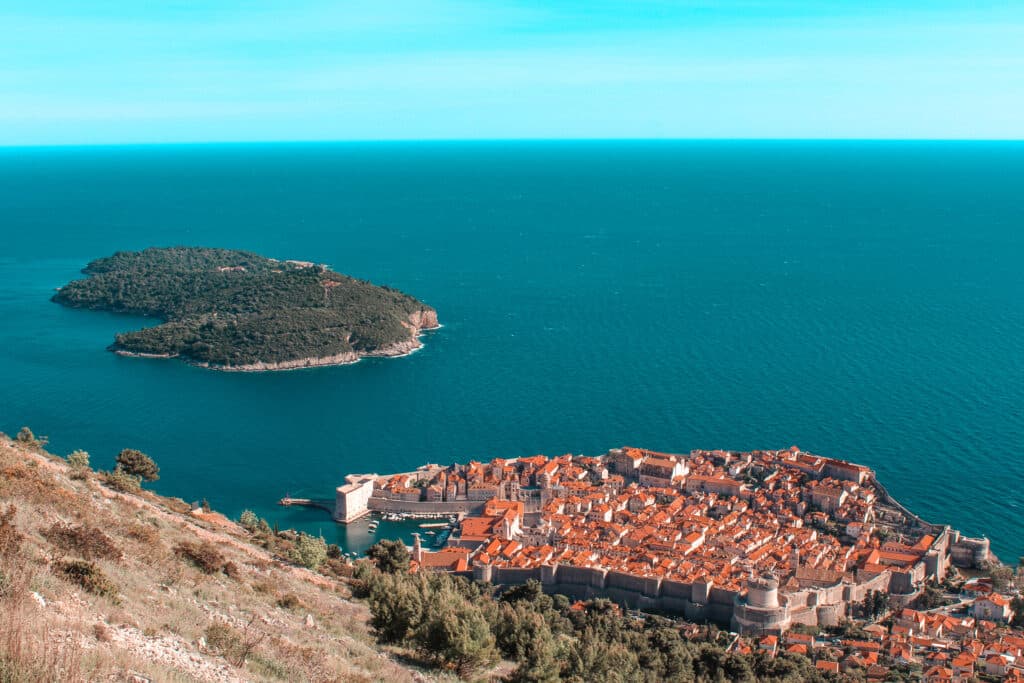 5. Go kayaking.
Dubrovnik is perched on the Adriatic Sea, making it fun to explore by water.
You can rent a kayak and take it around the outside of the Old Town, or head to nearby Lokrum Island (more on that below.) Guided kayak tours are also available.
The price for renting a kayak varies, but you can expect to pay around 150 kuna for one hour, with each subsequent hour that you rent it costing less.
6. Visit Lokrum Island.
Just a ten-minute ferry ride from the Dubrovnik Old Town port is Lokrum Island. The ferry ride and admission to Lokrum Island cost 120 kuna total. You can also access the island by kayak or private boat. In this case, admission to the island is 96 kuna.
On the small island, which is uninhabited, there is plenty of explore. There are walking trails, an ancient Benedictine monastery, botanical gardens, and a couple restaurants. You can also sit on the original Iron Throne from Game of Thrones in the visitor's center.
7. Cool down at Buza Bar.
Buza Bar is very unique in that it's quite literally a "hole in the wall" bar.
This outdoor restaurant and bar is located through a hole in the City Walls, overlooking the Adriatic Sea. You can sit there and enjoy a snack or a drink overlooking the water, or if you're feeling adventurous, you can walk down and jump off the rocks and cliffs into the sea!
I did this and it's a lot of fun, although prepare for the water to be super cold!
8. Take a Game of Thrones tour.
This list would not be complete without mentioning Game of Thrones.
For better or for worse, the filming of Game of Thrones in Dubrovnik has caused a huge surge in tourism from fans of the hit TV show over the last few years.
There are literally hundreds of Game of Thrones tours offered in Dubrovnik to meet this demand. If you're a fan of the show, it's worth taking a specialized tour to visit filming locations and learn more about the production of the show and its impact on Dubrovnik.
Also, don't miss sitting in the original Iron Throne in the visitor's center on Lokrum Island!
9. Dine outside in the Old Town.
The Old Town of Dubrovnik has a great atmosphere, especially in the evening when the golden sunlight hits the polished white stone streets and illuminates the old stone buildings.
One thing you need to do in Dubrovnik is have dinner outside at one of the restaurants and simply enjoy the ambience. This is a great thing to do on your last evening in Dubrovnik.
10. Hit the beach.
There are several beaches close to Dubrovnik's Old Town. One of the best ones to go to is Banje Beach, which is just a short ten-minute walk from the Old Town. Like most beaches in Croatia, it's a pebble beach, and it offers great views of the Old Town and Lokrum Island.
A little further down the road, about a thirty-minute walk from the Old Town, is the more secluded Sveti Jakov Beach. This beach is tucked away in a sandy cove away from the crowds.
11. Take a day trip to Mostar.
If you have more time in Dubrovnik, you might consider taking some day trips. The first day trip I would suggest from Dubrovnik is Mostar, a small town in Bosnia & Herzegovina.
While I was unfortunately unable to do this day trip due to the borders being closed, it's still on my bucket list! About 2.5 hours from Dubrovnik by car, Mostar is a beautiful historic town.
12. Take a day trip to Kotor.
Even closer than Mostar is Kotor, Montenegro. Located less than 2 hours from Dubrovnik by car, this lovely town is located on the breathtaking Bay of Kotor.
Kotor has its own charming Old Town to explore, and nearby Perast should not be missed either. (Take a boat to the tiny Our Lady of the Rocks church in the middle of the bay!)
13. Take a day trip to the Elaphite Islands.
Last day trip suggestion: Soak in the beauty of the Elaphite Islands. These are the Croatian islands located closest to Dubrovnik, and make for the best islands day trip from Dubrovnik.
The more popular islands like Hvar and Vis are too far north to do in a day trip, and are better visited from Split. However, the Elaphite Islands are stunning in their own right, and less developed than some of the more popular islands. This is the day trip that I did, which visits three islands.
14. Stroll the Stradun at sunset.
The Stradun is the main street in Dubrovnik's Old Town, and it's the place to be at sunset. Sit down at a cafe to do some people-watching, or take a stroll down the street with a gelato.
The atmosphere on the Stradun at sunset is extremely vibrant, with people outside chatting, children playing in the street, and church bells ringing on the hour.
15. Visit the Rector's Palace.
The Rector Palace is an impressive Gothic palace situated in Dubrovnik's Old Town. Back in the days of the Dubrovnik Republic, it was the seat of power for the Rector, who headed the council.
Nowadays, the palace is the site of the Cultural Historic Museum of Dubrovnik.
Tip: If you want to visit this museum, get the Dubrovnik Card. It's 225 kuna and includes entrance to the City Walls (which are 200 kuna on their own) and eight other attractions, including the Rector's Palace (which is 110 kuna on its own.) So you'll save quite a bit of money!
Where to Stay in Dubrovnik
Where you should stay on your trip to Dubrovnik? I personally spent half my time inside the Old Town, and half my time about twenty minutes outside the Old Town.
If you only have a few days in Dubrovnik, I would recommend staying in the Old Town, or just outside it. You'll want to be right in the middle of the action and close to everything!
Just remember that no cars can enter the Old Town, and there are lots of steep alleyways with dozens of stairs to climb! So if you're staying inside the Old Town, be prepared to carry your luggage from one of the entrances of the Old Town to your accommodation.
You can also find lots of great options on Airbnb. (This is how I found the second place I stayed in Dubrovnik, which was an apartment with an incredible balcony overlooking the Old Town!)
You can get $40 off your first Airbnb booking when you sign up here.
Top Things to Do in Dubrovnik, Croatia
These are the best things to do in Dubrovnik that you should not miss!
For even more Croatia travel tips, check out the following posts…
Save it to Pinterest: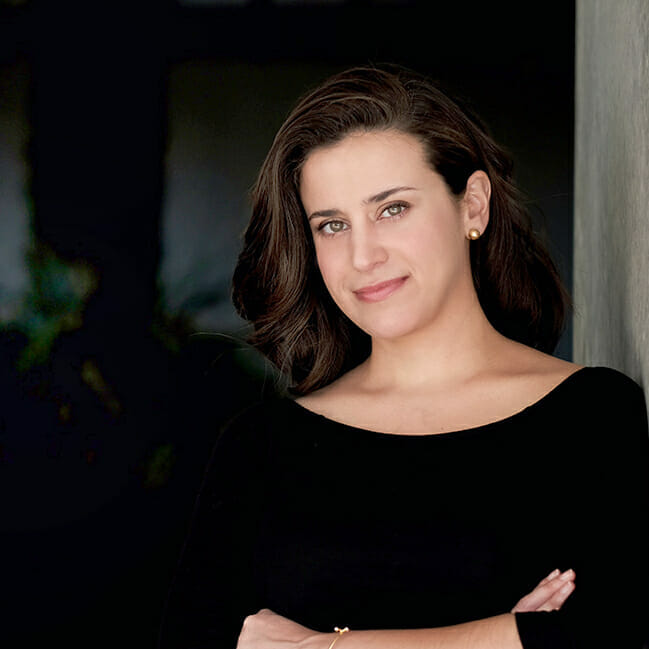 About Denise Cruz
Denise is a marketing executive who escaped corporate to travel the world… twice. A Brazilian native living in the U.S., she's lived in 4 countries and visited 35+ others. After side-hustling her way to financial independence, she curates solo destination guides, slow travel tips, and travel blogging advice on Wander Her Way. When she's not on the road, you can find her in Miami with her dog Finnegan.