How to Spend One Day in Kotor, Montenegro
Here's how to spend one day in Kotor, Montenegro!
Whether you are here for one day on a day trip from Croatia, or as a stop on a cruise or a sailing trip, this guide will show you how to spend the day in one of Montenegro's prettiest towns.
Kotor has been gaining tons of popularity in recent years. It's seen a massive increase in tourists from cruise ships, who often stop at Kotor between Croatia and Greece. It's also easily doable as a day trip from the more popular Dubrovnik, Croatia which is just a couple hours away.
Where is Montenegro? Montenegro is a small country just south of Croatia on the Balkan Peninsula. Croatia and Montenegro have a very similar language, and both were part of former Yugoslavia.
Nowadays, Montenegro is becoming a tourist hotspot due to its beautiful Adriatic coastline, the dramatic Bay of Kotor, and the stunning national parks in the northern part of the country. It's still overshadowed by neighboring Croatia, but I think that will change soon.
Montenegro is a fantastic destination and one that is definitely worth visiting.
I came to Montenegro for just one day back in summer 2018 as a stop on a cruise. Three years later, I revisited Montenegro for four days this time and explored more of the country.
I based myself in Kotor, so I got to know the area pretty well. If you only have one day in Kotor, such as on a day trip from Dubrovnik or as a stop on a cruise, here's how to spend it!
Getting to Kotor, Montenegro
The closest airport to Kotor is Tivat International Airport about twenty minutes away, but it's tiny and you're not going to find many flights in and out of there.
Instead, the most common way to get to Kotor is from Dubrovnik. Dubrovnik is just over two hours away by car, and Dubrovnik has a much larger international airport.
From Dubrovnik, you can get a rental car and drive yourself, hire a private transfer, or take the bus. You can also book an organized day tour through GetYourGuide.
Keep in mind that while driving, it only takes about two hours but you can get held up at the border. When I crossed the border, there was no one there and it took about five minutes, but I've heard that in the busy summer months, it can take up to an hour to get through the border.
Kotor is also accessible by cruise ship, sailboat, or yacht, and you will often see many vessels (from massive cruise liners to small private boats) docked there during the summer months.
Quick Info About Montenegro
Here are some quick facts about Montenegro to know before you go:
Year Founded: 2006 (previously it had been in a union with Serbia since 1992)
Capital: Podgorica
Population: 621,000
Language: Montenegrin (almost identical to Croatian and Serbian, and English is widely spoken in the more touristy areas like Kotor)
Currency: Euro (although it is not part of the EU)
High Season: June through September
And here's my recommended itinerary for spending one day in Kotor, Montenegro:
1. Take a walking tour.
Kotor has a beautifully preserved walled Old Town that is like a smaller version of Dubrovnik's popular Old Town. I recommend starting off your day with a walking tour of the Old Town.
I did this free walking tour which I would highly recommend. It's only an hour long, but gives a great overview of Kotor, including its history and little hidden corners you might otherwise miss. (And remember that although it's a free walking tour, you should always tip your guide!)
2. Walk the City Walls.
After your morning walking tour, stroll along the Kotor's City Walls.
These ancient walls encircle the Old Town and were built for defensive purposes starting as early as the 9th century. There are several entrances to the walls around the Old Town, and you can start from any of them. Allot for 1.5 to 2 hours to walk the complete loop.
I have seen conflicting information about the admission price online, stating that it is anywhere from €3 to €8. When I visited in May 2021, it was free and there was no one around. I have also read online that the City Walls are always free before 8 AM or after 8 PM.
So, be prepared to pay just in case! It's definitely worth it and you'll get some amazing views of the Old Town and the Bay of Kotor as you walk along the walls.
3. Climb to the Kotor Fortress.
This is an optional activity if you're in the mood for a very steep walk!
From within the City Walls, towards the back of the Old Town, you can follow a winding path all the way up to an old fortress known as the Kotor Fortress, St. John Fortress, or San Giovanni Fortress.
The fortress offers an amazing viewpoint. This is definitely where you can get "the shot" of Kotor and the bay. I personally did not make it all the way up, because the path was steep and I was already hot, but apparently it takes between 45 minutes and one hour to make it up the path (which is mainly uneven stone steps.) It's much easier and faster coming down.
If you're up for it, this is a great way to take in a stunning view of the area.
4. Stop for lunch.
At this point, you should probably be pretty hungry from all that walking!
Now is a great time in the day to stop for lunch somewhere. There are plenty of restaurants dotted throughout the squares of the Old Town, although some of them are overpriced and touristy.
One place I heard recommended time and time again by locals was BBQ Tanjga. Located just outside the Old Town, this is apparently THE place to go in Kotor if you're looking for meat. As a vegetarian, I did not try it myself, but I heard it was an excellent and affordably priced place to eat.
5. Explore Perast and take a boat.
The final thing I recommend doing in one day in Kotor is visiting the nearby town of Perast. This tiny town is about a fifteen-minute drive from Kotor. If you are on a day trip from Dubrovnik, it's also in the direction returning to Croatia, making it a good final stop.
To get to Perast from Kotor, you can either drive, take the Blue Lines bus that cost 1€, take a taxi, or hire a boat from the Bay of Kotor (prices negotiable.)
Perast is a small but cute littletown also located on the Bay of Kotor.
One of the best things you can do here is take a boat out to Our Lady of the Rocks, a tiny island in the middle of the bay with nothing but a bright blue-domed church on it… located right across from ANOTHER tiny island with nothing but a small church on it.
You can get a boat from Perast and it should be about 5€ round trip.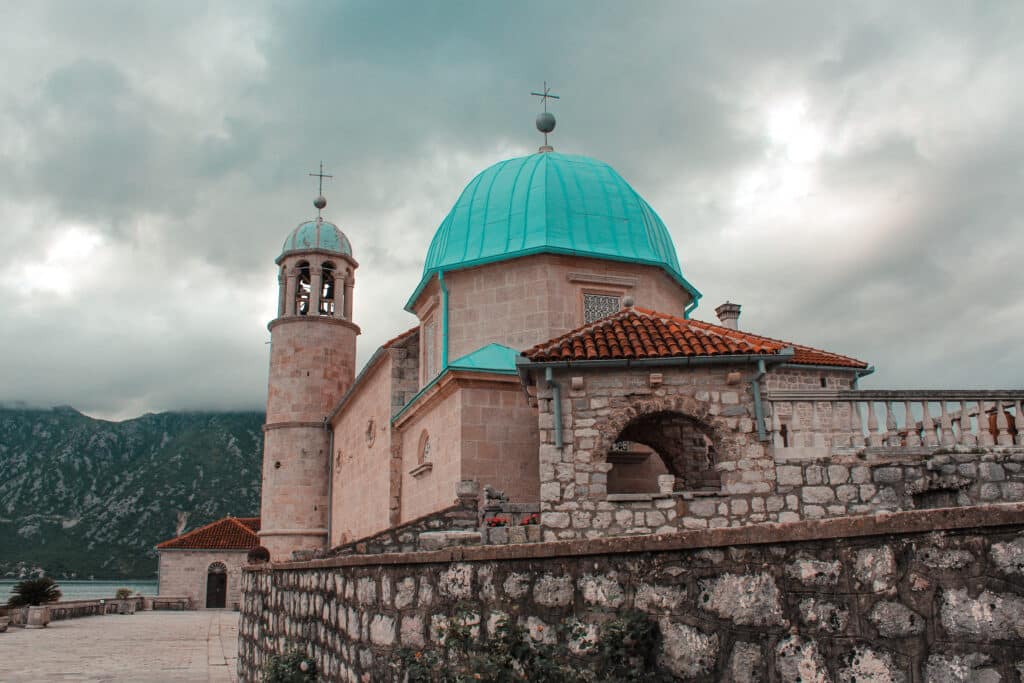 6. Have dinner in Perast.
There are lots of nice waterfront restaurants in Perast, and while the prices are not going to be as cheap as you'll find in other parts of Montenegro, they're still less than in Kotor.
Perast is a great spot to have dinner before departing. Or just grab an ice cream and stroll along the town's waterfront promenade enjoying the view before you go!
Where to Stay in Kotor, Montenegro
If you have some additional time and want to stay overnight in Kotor, here are the best places to stay. If you can spare one or two nights, I highly recommend spending more time in Kotor!
Hotel Villa Duomo: For a really unique experience in Kotor, stay in this boutique luxury hotel that is located in a historic family villa within the walls of the Old Town.
Apartments Residence Portofino: This is where I stayed in Kotor and I loved it. It's about a thirty-minute walk from the Old Town, but you're right on the bay and there's a pool, free bikes, etc. This is a great option if you want a whole apartment at an affordable price.
Old Town Hostel: If you're on a budget, you can't go wrong with the popular Old Town Hostel. This affordable hostel with dorm beds is located within the City Walls of Kotor.
One Day in Kotor, Montenegro Itinerary
This itinerary showed you how to spend one day in Kotor, Montenegro!
Kotor is a great destination with a lot to offer. While it's definitely becoming more popular, it still remains underrated and now is definitely a good time to visit this Balkan gem.
Save it to Pinterest: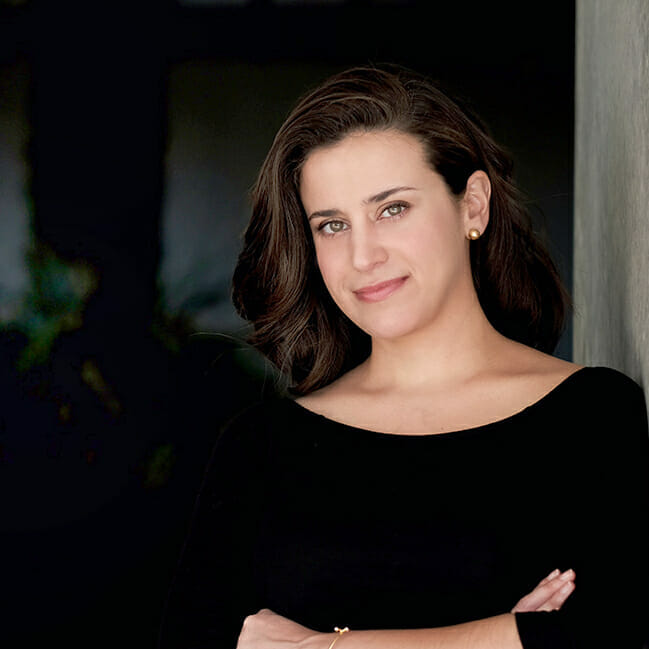 About Denise Cruz
Denise is a marketing executive who escaped corporate to travel the world… twice. A Brazilian native living in the U.S., she's lived in 4 countries and visited 35+ others. After side-hustling her way to financial independence, she curates solo destination guides, slow travel tips, and travel blogging advice on Wander Her Way. When she's not on the road, you can find her in Miami with her dog Finnegan.