Ultimate One Week in Croatia Itinerary
Looking for the ultimate one week in Croatia itinerary? If you only have a week to spare, this itinerary will take you through all the highlights of Croatia in just seven days.
Croatia has tons to offer (I spent over two weeks there and still didn't see it all) but the good thing about it is that it's fairly compact and you can get a lot done with just one week.
Related: 12 Reasons You Should Visit Croatia
Here's the perfect one week in Croatia itinerary for your trip!
Notes on Where to Stay
For each destination on this itinerary, I have recommended hostels and hotels for where to stay, with options for budget, mid-range, and luxury travelers.
During my two weeks in Split, I stayed in a mixture of hotels and Airbnbs.
I found there to be a GREAT selection of Airbnbs in Croatia, many with incredible views and balconies, and often for much cheaper than what a hotel would cost.
So be sure to look into Airbnb as an accommodation option too.
And if you've never used Airbnb before, you can sign up here.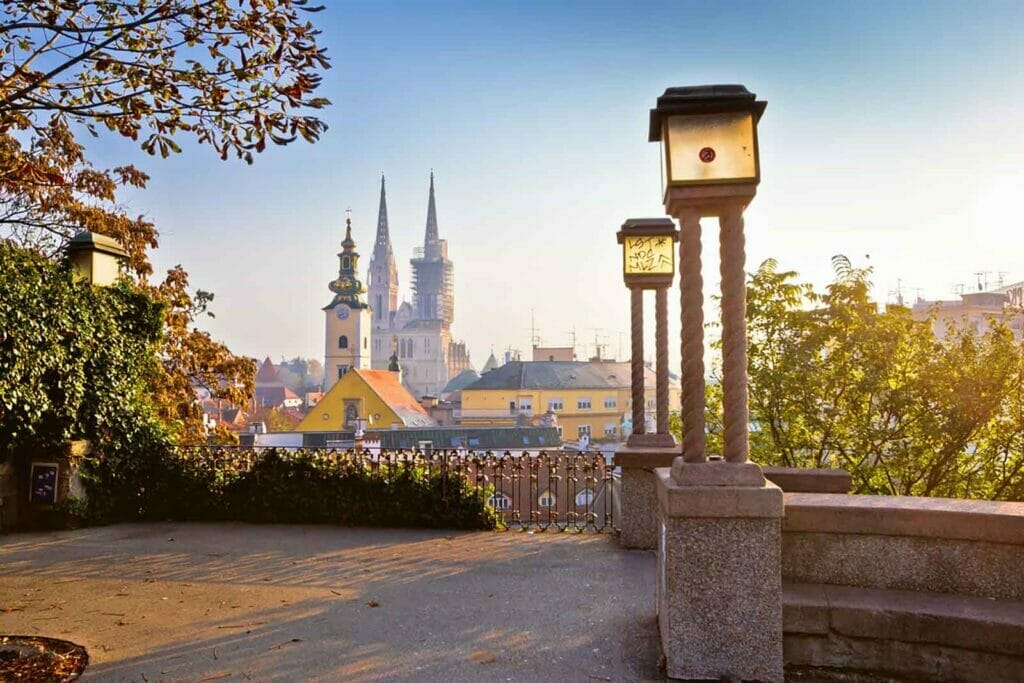 Day 1: Zagreb
Zagreb is the capital city of Croatia and the main flight hub. If you're traveling from the US, you'll probably arrive in Zagreb in the morning after an overnight flight.
Zagreb is a pleasant European capital city that doesn't get nearly as much attention as places like Prague, Vienna, or Budapest. However, it's definitely worth spending a day there to explore!
Once you get settled into your hotel and maybe take a short nap, push through that jet lag to spend the afternoon and evening exploring the city Zagreb.
I recommend doing a free walking tour of the city, which will take you through the historic Upper Town. (Remember to tip your guide!) Then take a stroll around Zagreb's "Green Horseshoe" which is a series of pretty parks forming a U-shape just below the Upper Town.
The center of Zagreb is very compact and you can easily explore it all by foot in just a few hours.
Don't miss eating at La Struk, which serves strukli, a cheesy dish that's a specialty of northern Croatia. You probably won't find it anywhere outside of Zagreb and its surroundings!
Where to Stay in Zagreb: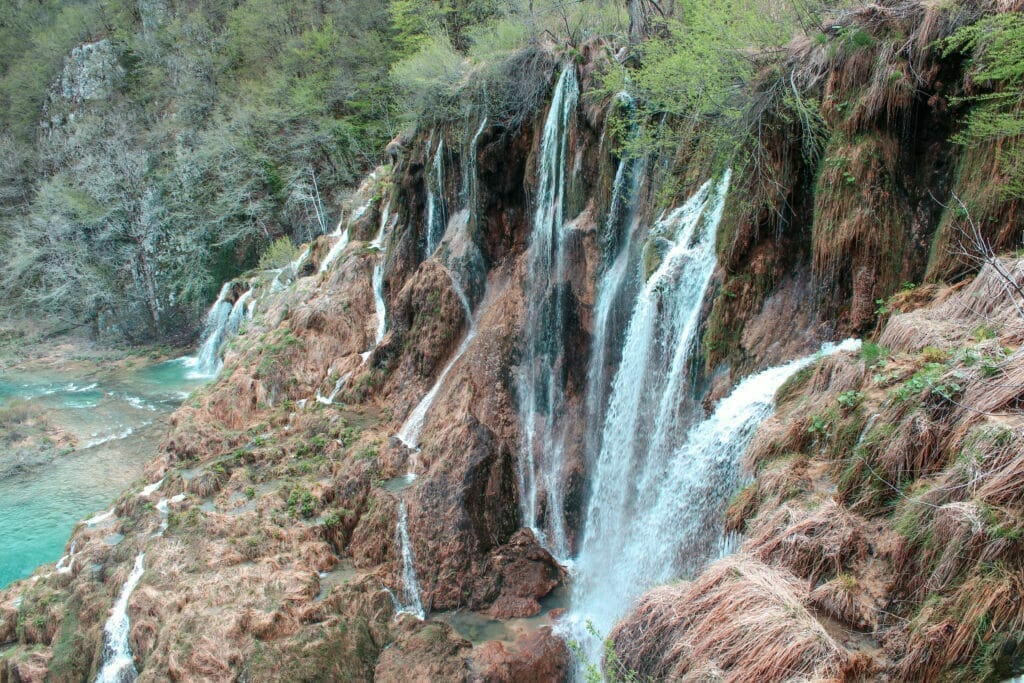 Day 2: Plitvice Lakes National Park
On Day 2, you will leave Zagreb and head to Plitvice Lakes National Park, about two hours away.
I highly recommend renting a car, at least for the next three days of your trip, because it will make visiting the national parks so much easier and it's faster and more flexible than the bus.
Spend the day exploring the stunning Plitvice Lakes National Park, which is made up of 16 interconnecting turquoise lakes and dozens of breathtaking waterfalls.
Related: 9 Tips for Visiting Plitvice Lakes National Park
If you do come by bus, there is luggage storage available at the entrance of the national park.
Once you're finished at the national park, continue on to the coastal city of Split, Croatia's second-largest city and the gateway to Dalmatia. It's about 2.5 hours from Plitvice Lakes by car.
Where to Stay in Split: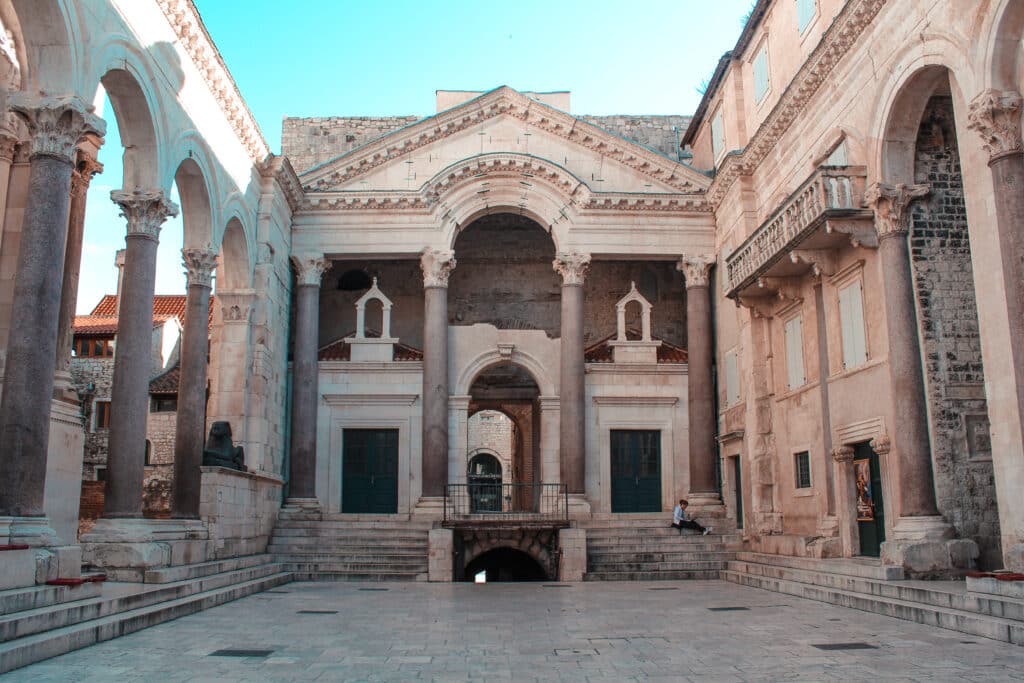 Day 3: Split
Today is a full day in Split, Croatia's second-largest city.
You'll base yourself here for the next few days and do some day trips.
Spend this morning exploring Diocletian's Palace, which was built as an opulent sort of retirement home for the Roman emperor Diocletian back in the fourth century AD.
This massive palace complex makes up the heart of Split's Old Town and you'll find many shops and restaurants nearby, and within the walls of the original palace too.
If you feel like getting some exercise, climb to the top of Marjan Hill for a view over Split. Or if you would prefer beach time instead, head to Bacvice Beach, the most popular city beach in Split.
Later in the day, enjoy people-watching and dinner along one of the many restaurants on the Riva, which is Split's bustling waterfront promenade in front of the harbor.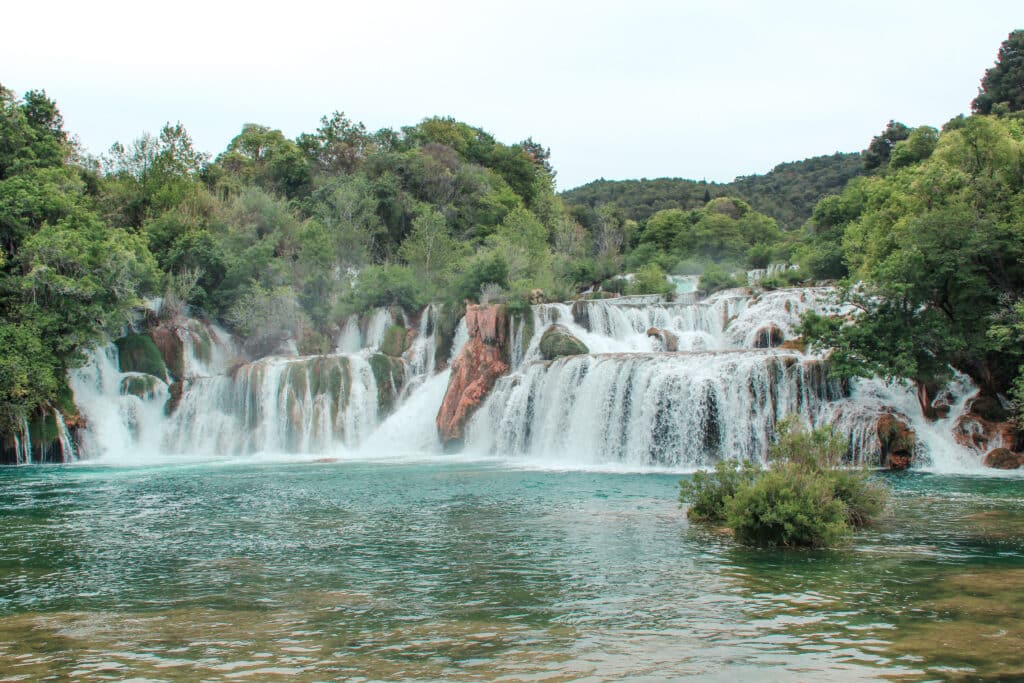 Day 4: Krka National Park
Today is another national park day! Krka National Park is located a little over an hour from Split by car. Like Plitvice Lakes, it's full of more breathtaking waterfalls.
Once again, I recommend having a rental car for this. You can also take the bus from Split to Skradin. The Skradin entrance of Krka National Park is where I recommend entering, because you get a 25-minute boat ride included with your entry ticket, which takes you down the river to the national park.
Krka is smaller than Plitvice Lakes, so you'll easily be able to see it all in a day.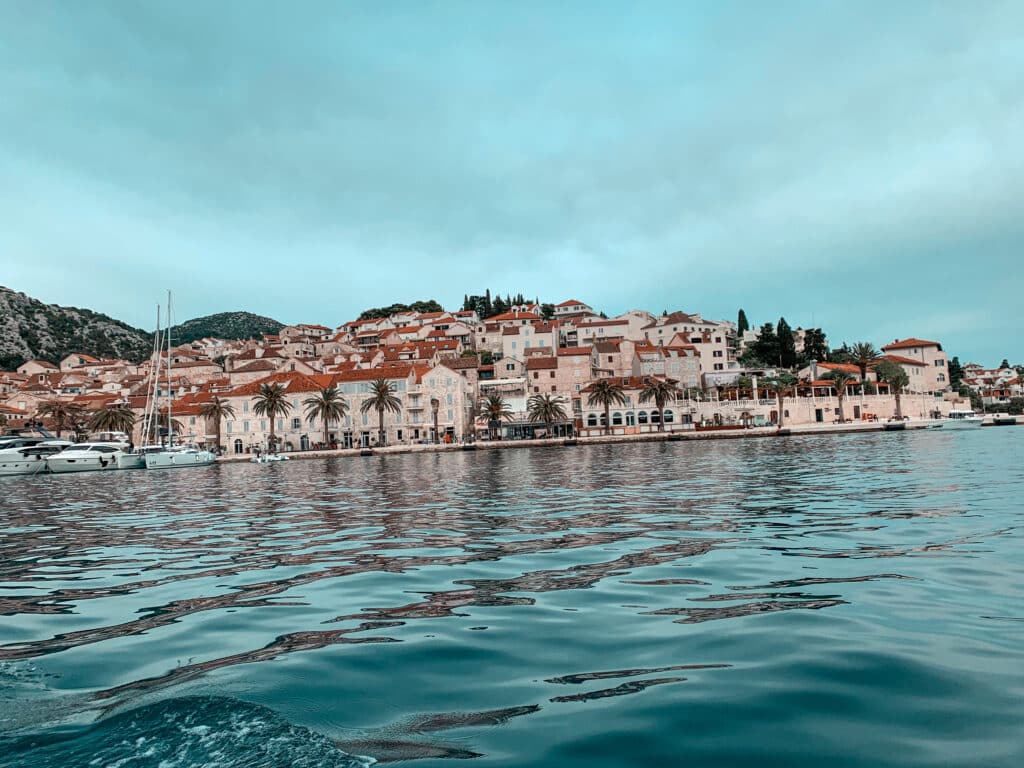 Day 5: Islands
Today it's time for another day trip from Split. Split is the gateway to many of the most famous islands along Croatia's Dalmatian Coast, such as Hvar and Vis.
The best way to get a taste of these islands is to take an organized tour. You can take the ferry on your own, but you will probably only be able to visit one island.
I took this Five Islands and Blue Cave speedboat tour which I highly recommend. You'll get to stop at several different towns and beaches across the islands, as well as visit the famous Blue Cave.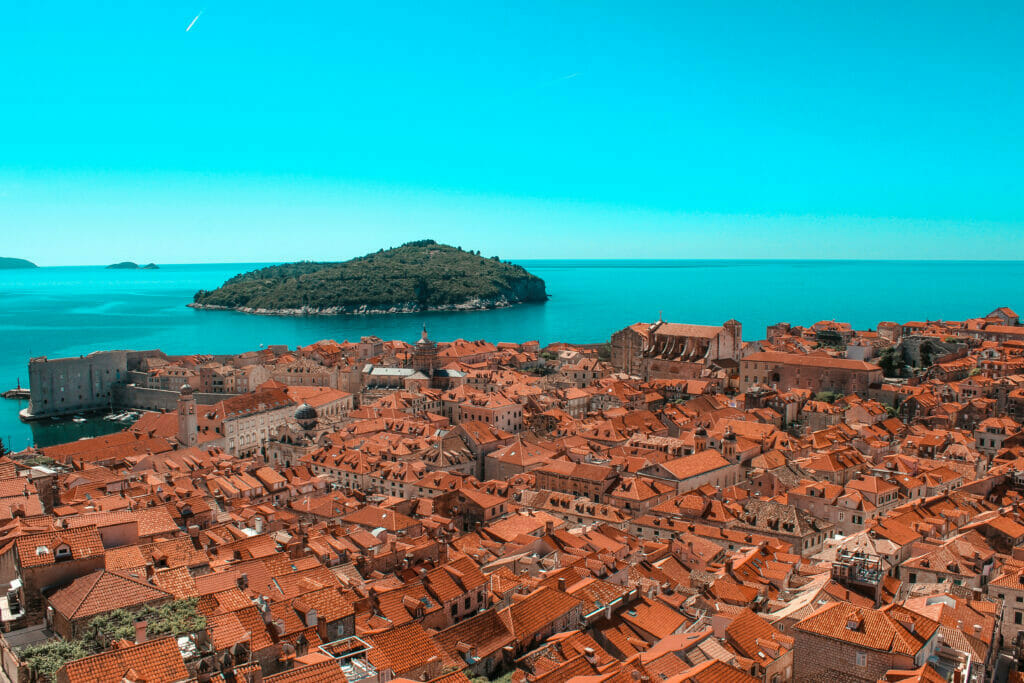 Day 6: Dubrovnik
In the morning, depart Split and head further south to Dubrovnik.
If you have a rental car, you can drive, or you can take the bus. It should only be about 3.5 hours driving, but the bus can take much longer. Be aware that you briefly cross the border with Bosnia and Herzegovina, then go back into Croatia, so you might have to wait a bit at the border crossings.
In Dubrovnik, spend some time strolling around the Old Town. Dubrovnik is another great place to do a free walking tour if you'd like to learn more about the city's fascinating history.
Later in the day, walk Dubrovnik's City Walls, which surround the entire Old Town. This is one of the most popular activities in Dubrovnik, and for good reason. You'll get incredible views over the city and its surroundings. This is an activity that's good to do in the evening once it cools off a bit.
Be sure to hang onto your City Walls ticket for tomorrow!
Where to Stay in Dubrovnik: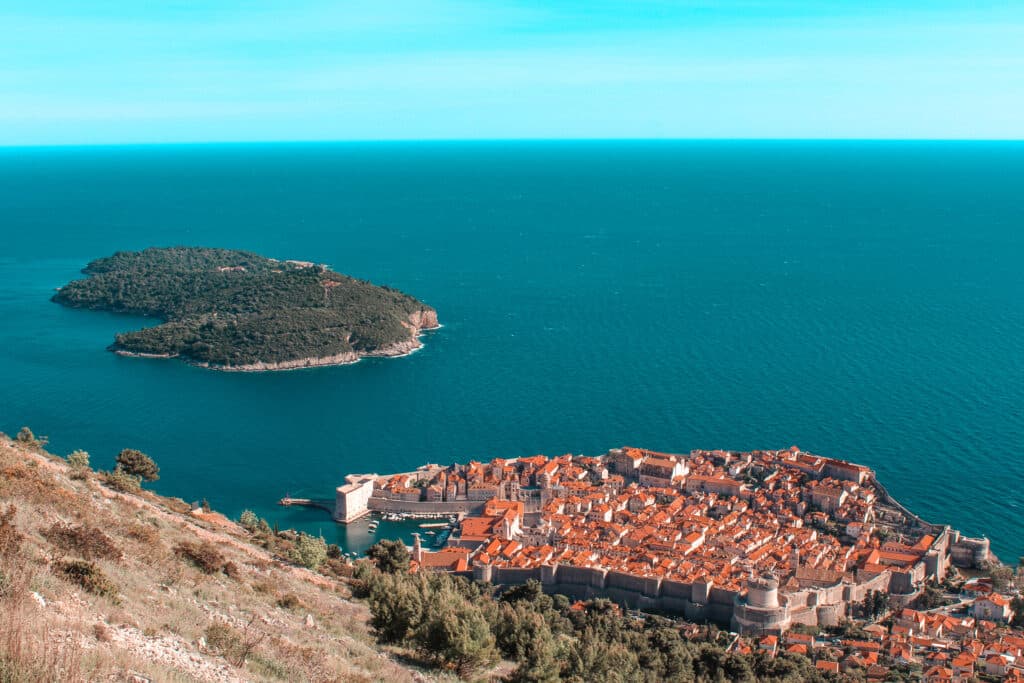 Day 7: Dubrovnik
On your final day, wake up bright and early and take the ferry over to Lokrum Island, which is just ten minutes away from Dubrovnik's Old Town. This is a beautiful, natural island with lots of walking trails and a medieval monastery. It's also where the actual Iron Throne is located, for Game of Thrones fans. (Much of the series was filmed in Dubrovnik.)
After spending a couple hours on Lokrum Island, come back to Dubrovnik for lunch. Your City Walls ticket from yesterday will get you into Lovrijenac Fortress, just outside the Old Town.
Next, take a break to cool off at Banje Beach, the popular city beach just outside the Old Town walls. Or go to Buza Bar, a literal "hole in the wall" bar in the Old Town carved out of the City Walls, where you can walk down some stairs and swim or jump off the rocks.
Finally, take the cable car up to Mount Srd for incredible sunset views over the city.
Day 8: Leave
Depart in the morning from Dubrovnik. It's just a short one-hour flight back to Zagreb.
And that's a wrap on your one week in Croatia!
Other Important Things to Know
Here are a few more tips and things to know for planning your trip to Croatia:
Best One Week in Croatia Itinerary
This post showed you the best one week in Croatia itinerary!
Although you could easily spend weeks exploring Croatia and still not see it all, you can actually get a lot done and cover a lot of ground in just one week too.
In fact, I think Croatia is one of the best destinations in Europe for a one week vacation!
I hope you enjoy your time in Croatia and have a memorable experience there.
Save it to Pinterest: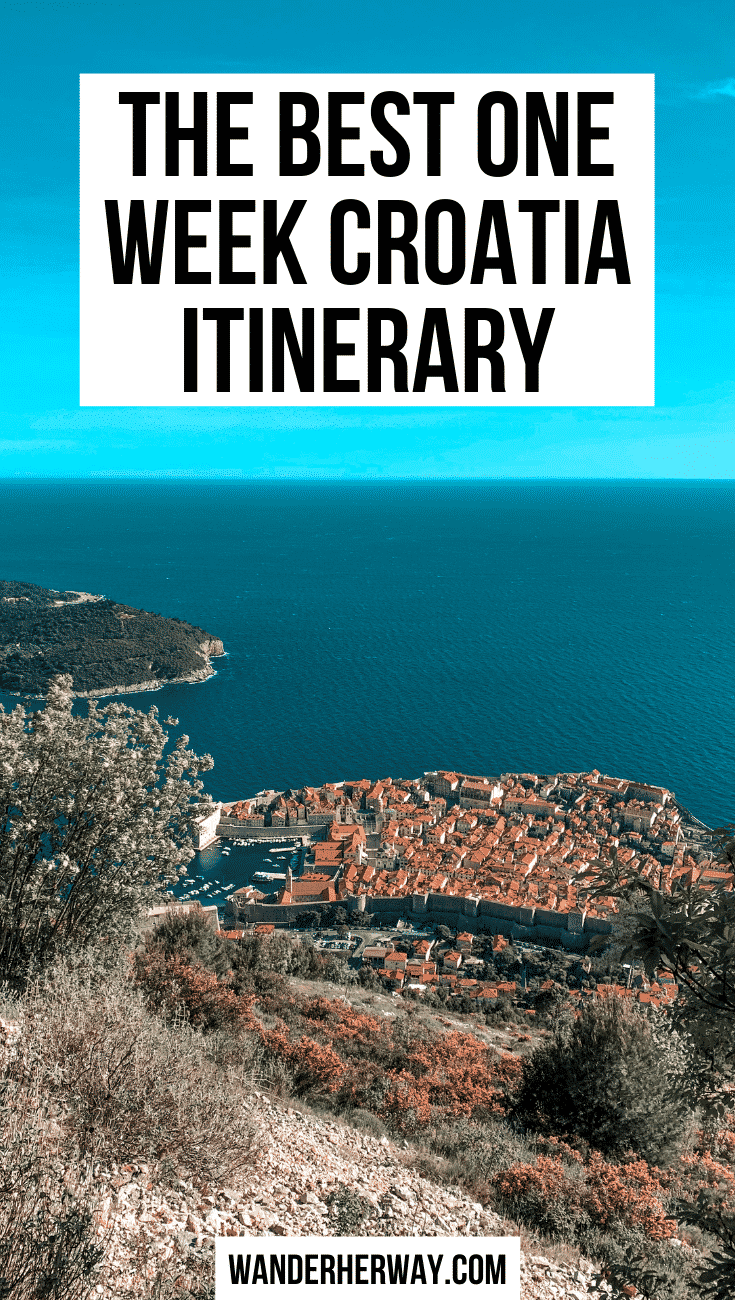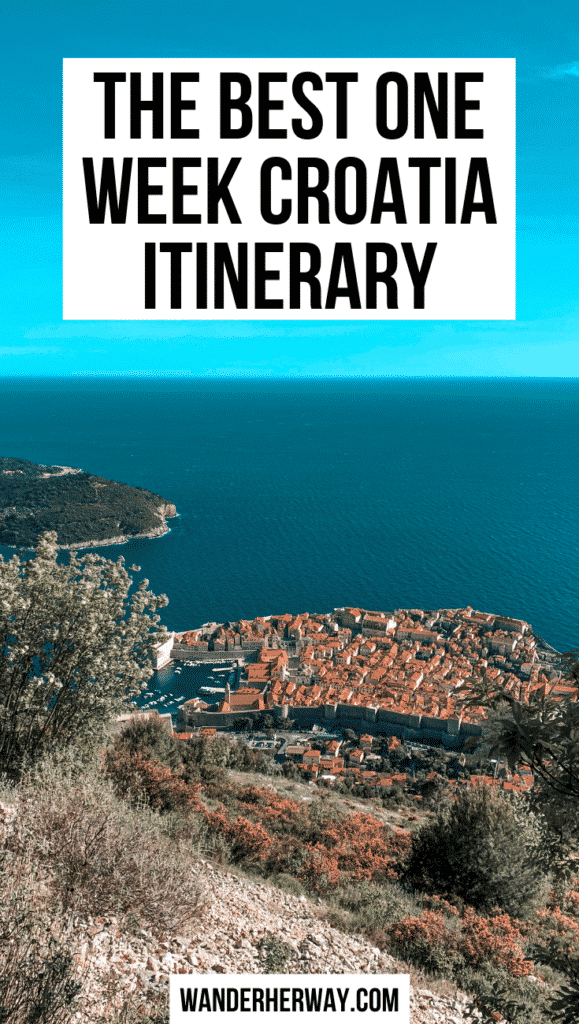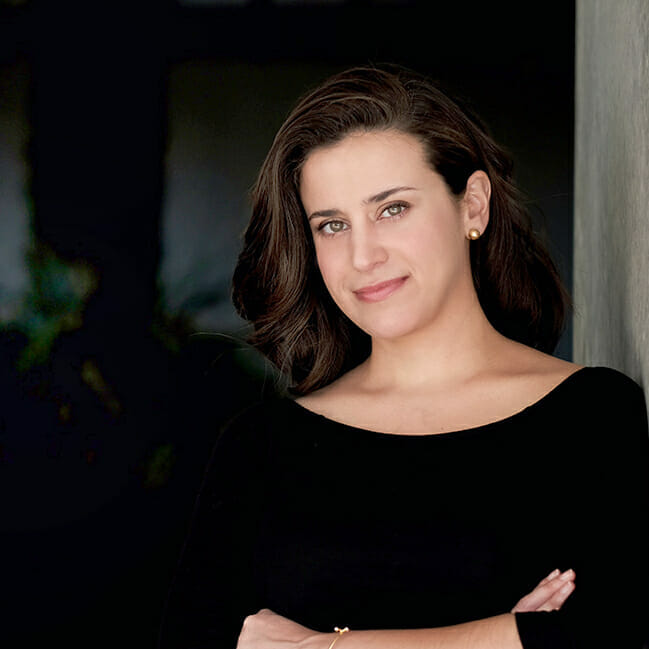 About Denise Cruz
Denise is a marketing executive who escaped corporate to travel the world… twice. A Brazilian native living in the U.S., she's lived in 4 countries and visited 35+ others. After side-hustling her way to financial independence, she curates solo destination guides, slow travel tips, and travel blogging advice on Wander Her Way. When she's not on the road, you can find her in Miami with her dog Finnegan.