Ultimate Guide to Copan, Honduras
Copan, Honduras (full name Copan Ruinas) is a nice small town located in the western part of Honduras, just ten minutes from the border with Guatemala.
It's most famous for its namesake, the Copan Ruinas, which are an impressive collection of ruins from an ancient Mayan city. However, there are plenty of other things to do in Copan. Although it's small, you will never be bored when visiting this scenic Honduran town.
Here's everything you need to know to plan to perfect trip to Copan.
Getting There
There are several ways to get to Copan, Honduras.
The closest international airport is San Pedro Sula. Although San Pedro has a notorious reputation, it's perfectly safe to transit through. You can take two different buses from the San Pedro bus terminal (the only one of its kind in Central America – it's quite organized and easy to navigate!)
Hedman Alas: This is the luxury bus with AC, snacks, comfortable seats, and no stops. You'll get from San Pedro Sula to Copan in around four hours, for the price of 445 lempiras (about $22.)
Casasoles: This is a less fancy bus with no AC and that is more cramped, but it only costs 140 lempiras (about $6.) It takes around five hours because you might make several stops.
Casasoles has more departures each day, while Hedman Alas only has one or two, so depending on when you arrive in San Pedro Sula, Casasoles might be your best option.
It's also possible to reach Copan by chicken bus, but it will take way longer and you'll have to change buses. For the few dollars, it would save, I would skip the hassle and just take Casasoles instead.
If you are traveling from the coast or the Bay Islands of Honduras (Roatan and Utila) then you will need to transit through San Pedro Sula to get to Copan.
If you are traveling around Guatemala then Copan is a common first stop in Honduras. You can get a direct shuttle from Antigua to Copan for around $30, and the drive takes about seven hours.
Is Copan Safe?
Copan, like any other touristy area in Honduras, is quite safe.
Honduras gets a reputation for being dangerous, and while it's true that the country as a whole suffers from some very bad problems like gang violence and femicide, you are unlikely to see any of that as a tourist in Honduras, especially in a place like Copan.
It's safe to walk around the whole town and outside of town (to the ruins or the bird sanctuary, for example.) As with anywhere, you should always be vigilant, but the worst thing you have to worry about in Copan would be pickpocketing and even that is highly unlikely.
I would also recommend not walking around alone at night, but other than that, there are no particular safety precautions you need to take when visiting Copan.
The people are very friendly, and proud of Copan's development as a cultural destination.
Read also: Is it Safe to Travel to Central America?
Things to Do in Copan
Although Copan itself is quite small, there is a lot to do around the town. You can easily spend a few days in Copan and not run out of things to do while you're there.
Here are some of the best activities that you shouldn't miss:
1. Explore the Mayan ruins.
One of the highlights of Copan is its impressive Mayan ruins.
Located a twenty-minute walk outside of town, there is a nice pedestrian walking path along the main road that you can take to get to the entrance of the ruins. You can also get a tuk-tuk from Parque Central, which should not cost more than 20 lempiras ($0.80.)
To visit the main site of the ruins, you'll have to pay $15 or 360 lempiras. There are additional sites/museums that cost extra. I found the entry price pretty steep, so I didn't do anything else. The main site is relatively small (compared to Tikal in Guatemala) and you can see it all in 1-2 hours.
2. Try local chocolate.
Copan is located in a very fertile area of Honduras with many farms around.
One of the common crops grown is cacao, used to make chocolate. The best place to try locally-made chocolate is at Lugar de Té y Chocolate ("Place of Tea and Chocolate.") As its name suggests, you'll find tea and chocolate here. While I can't speak for the tea, the chocolate is delicious!
They have free chocolate samples that you can try (no sales pitch or pressure to buy) and you can also learn about their sustainable production practices. You can order a variety of tea and chocolate drinks, as well as some small snacks like brownies, to eat inside or outside on their beautiful terrace with several hammocks and cozy seating areas overlooking the mountains.
I had the chocolate frio which was sort of like a frozen hot chocolate. Literally the best drink I've ever had and it was perfect for sipping on a hot day in the shade of the terrace!
3. Go horseback riding.
One popular activity in Copan is horseback riding.
The surrounding countryside is very scenic and popular for exploring on horseback. You can spend a couple hours on a horseback tour for $15, which any hotel can arrange for you.
One place to go is La Pintada, a small Mayan village outside of Copan. Another option is the Paseo de los Girasoles, a beautiful sunflower field in the countryside outside of town.
4. Visit the sunflower field.
The Paseo de los Girasoles ("Sunflower Walk") is a lovely field of sunflowers located in a valley a few miles outside of town. The sunflowers are incredibly picturesque and have become a popular tourist attraction. You can get there by tuk-tuk from town, or on a horseback tour which I did.
Entrance to the sunflower field is 25 lempiras ($1.)
5. Wander around the bird sanctuary.
Macaw Mountain is a bird sanctuary outside of Copan that rescues, rehabilitates, and releases birds back into the wild. It's a beautiful property in a forest-like setting, with shady walking trails going past the bird enclosures. There are also some birds who are unable to live in the wild because they were raised from captivity that you can get up close and personal with.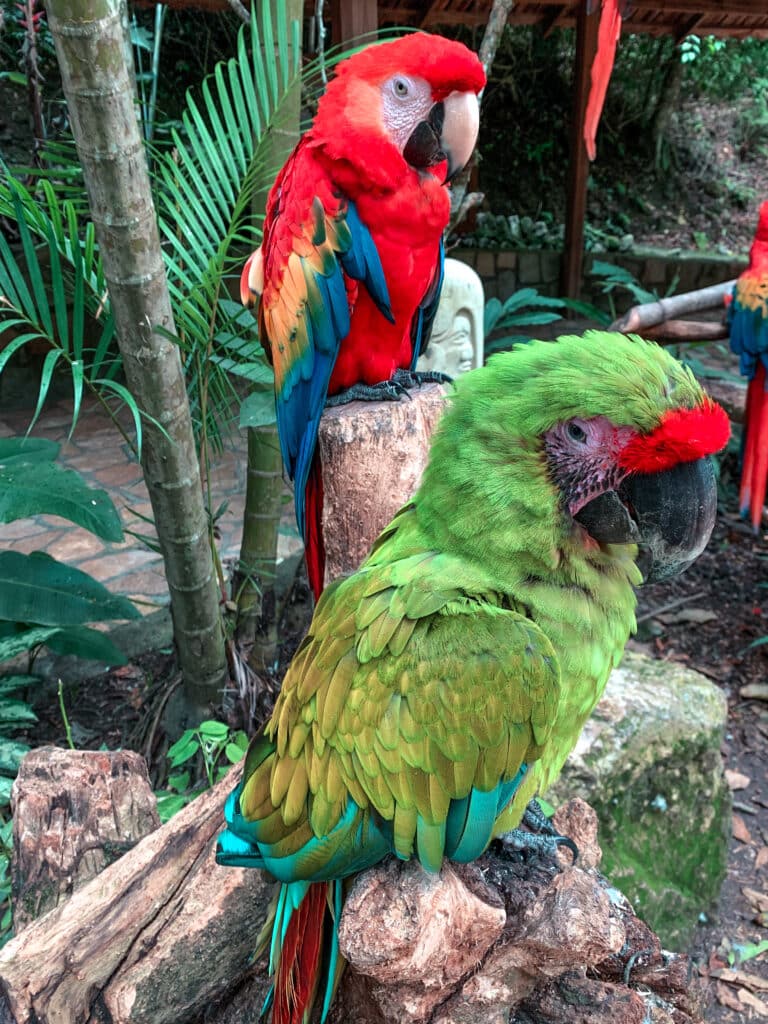 The best way to get to Macaw Mountain is by tuk-tuk, which costs 30 lempiras ($1.10.) Entrance to the bird sanctuary is $10 or 240 lempiras, which was well worth it in my opinion.
6. Take Spanish classes.
One of my favorite things to do in Guatemala was taking Spanish classes. You can learn Spanish one-on-one for a very cheap price there, and the same is true in Copan.
I decided to take a week of Spanish classes with Copan Spanish School and really enjoyed it. For $150 a week you get 20 hours of one-on-one Spanish lessons tailored to your level and interests.
7. Visit the butterfly garden.
One other thing to do in Copan is visit the Mariposario, or butterfly garden, at the Mayan Hills Hotel.
Although it's not very big, there are tons of butterflies inside, and some species that I had never seen before. I especially loved the bright blue butterflies flitting around.
The Mayan Hills Hotel is on the edge of town (about a fifteen-minute walk from the center) and entrance to the butterfly garden costs 100 lempiras ($4.) Although I found this price a bit high for how small the butterfly garden is, it was still a nice activity, and the hotel has a pool which you can use. (Not sure if it's officially allowed for non-guests, but some people were using it.)
How Long Do I Need?
At minimum, I would recommend spending three days in Copan.
There is plenty to see and do in this small town! If you have more time, you could easily spend several weeks in Copan taking Spanish classes or doing volunteer work.
Since Copan is not particularly close to any other destinations and you'll be looking at four to eight hours in a bus/shuttle for anywhere you want to go next, it's worth spending at least a few days here!
Where to Stay
Since Copan is a very tourist-centric town, there are tons of accommodation options to choose from.
You can find options for any budget. Luxury hotels range from $100-120 per night, while mid-range hotels costs around $30-50 a night, and budget hostels have dorm beds for as low as $8 a night.
Here are some of the best options for every budget in Copan:
It's also possible to do a homestay with a local family, which is $15-20 a day and includes all meals. This can be arranged through Copan Spanish School.
Visiting Copan, Honduras
Copan is a beautiful, safe, and intriguing destination in Honduras.
Although it is touristy, it's not as touristy (or expensive) as the Bay Islands of Roatan and Utila. Although many people who visit Honduras only come for the islands, beaches, and scuba diving, it's well worth your time to go inland and explore Copan too.
This town has so much to offer and is a must-see when you're in Central America!
For more Central America travel tips, be sure to read…
Save it to Pinterest: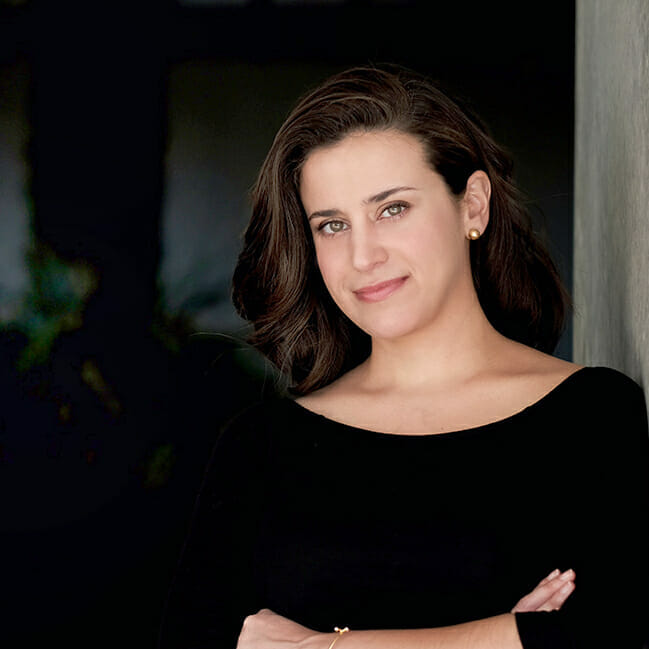 About Denise Cruz
Denise is a marketing executive who escaped corporate to travel the world… twice. A Brazilian native living in the U.S., she's lived in 4 countries and visited 35+ others. After side-hustling her way to financial independence, she curates solo destination guides, slow travel tips, and travel blogging advice on Wander Her Way. When she's not on the road, you can find her in Miami with her dog Finnegan.