Top 10 Things to Do in Havana, Cuba
If you buy something through the links on this page, you're helping me pay for my next adventure—thank you for clicking! Learn more.

Top 10 Things to Do in Havana, Cuba
Note: This post was first published on Darling Escapes as a guest post.
Havana is an incredible, vibrant city that is now more accessible than ever to tourists. There is so much to do in this fascinating city filled with an abundance of history and culture. Dale Persons visited Havana for the first time last summer and can't wait to go back. She has put up a list of activities not to be missed when visiting this beautiful Cuban capital.
Here are the top 10 things you must do on your trip to Havana!
1. Cruise down the Malecón at sunset
The Malecón is one of the most famous streets in Havana, running along the ocean from one end of the city to the other. The best time to see it is on a weekend evening, when locals and tourists alike come out to stroll along the promenade, play music and dance, or sit on the seawall with their friends and family to watch the sunset.
There is nothing quite like cruising down the Malecón at sunset in a vintage convertible with the wind in your hair and the smell of the ocean in the air.
2. Ride in a vintage 1950s American car
Havana is famous for the colorful, classic American cars you see turning down almost every street. Why are there so many vintage American cars in Cuba? It's because in 1959, Fidel Castro rose to power and banned the import of foreign cars (along with many other things.) So, for decades it's almost as if Cuba has been frozen in time.
While some of these cars belong to the locals, many of the classic cars you'll see in Havana are taxis and it's absolutely worth it to pay for a ride in one of them! For a short ride across the city in one of these vintage cars, you can expect to pay anywhere from $10 to $20. To rent a car with a driver for a few hours, you can expect to pay $100 or so.
3. Wander around La Habana Vieja
La Habana Vieja, or Old Havana, is the neighborhood most popular with tourists and also the heart of the city. There is so much to see and do in this neighborhood. You can easily spend an afternoon just wandering around and taking photos of all the old, colorful buildings and classic cars you see on the street.
One of the most impressive buildings in La Habana Vieja is El Capitolio, the Cuban capital building which bears a striking resemblance to the United States Capitol. Directly across from El Capitolio are some brightly colored buildings which make the perfect photo op!
In La Habana Vieja you'll also find Parque Central, which is one of the main squares and tourist hubs in the city. Walking north from the park along the Paseo del Prado, you'll find many amazing street artists, musicians, dancers, and more.
4. Have a daiquiri at La Floridita
Ernest Hemingway lived in Havana during the later years of his life in the 1940s and '50s and one of his favorite places to go was La Floridita for a daiquiri. They are supposedly the best daiquiris in the world (according to Hemingway, anyway.) I didn't personally go here on my trip to Havana, but if you want to try one of these famous daiquiris for yourself, make sure to get there early because La Floridita gets extremely crowded!
You may also like: Best Cuban Coffees in Miami
5. See a Tropicana show
The Tropicana is a famous nightclub and cabaret in Havana with a long and fascinating history involving major celebrities and American Mafia bosses. Although the glamorous golden days of The Tropicana are long gone, the club stayed in operation throughout the Cuban Revolution and is still open today!
While it's mainly just tourists who visit now, it's still worth going to see one of the nightly cabaret shows at The Tropicana. So little has changed that you can easily imagine you're back in the club's glory days of the 1940s and '50s.
6. Take salsa lessons
Salsa is one of the most popular dances in Cuba and what better way to get involved than to take some dance lessons while you're there? There are plenty of dance studios all over the city that offer drop-in classes in salsa, as well as other popular Cuban dances like son, rumba, and mambo.
7. Wander around the streets of Vedado
While La Habana Vieja is most popular with tourists, Vedado is another neighborhood that is absolutely worth checking out. It's a short taxi ride away from La Habana Vieja
I stayed in Vedado on my trip to Havana and liked that it had a much more residential feel. You will find streets lined with mansions (some crumbling, some beautifully maintained) and local paladares (privately-owned restaurants) run out of someone's home or front yard.
8. Visit Plaza de la Revolución
The Plaza de la Revolución is a really interesting square in Havana. It was built in 1959, the year that Fidel Castro rose to power. During the revolutionary period, the square was home to many political rallies and speeches from Cuban Revolution leaders.
Dominating the square is a massive memorial to José Martí, a national hero from the fight for Cuban independence from Spain. There are also two government buildings with facades memorializing some of the most influential figures of the Cuban Revolution: Che Guevara and Camilo Cienfuegos.
9. Eat at a local paladar
A lot of the restaurants in Havana are government-owned and frankly not that good. However, the government has been slowly loosening restrictions on private businesses, so more and more privately-owned restaurants (known as paladares) are popping up throughout the city. Many paladares are literally in someone's home or yard, and they are a great way to get a taste of the local culture. Some of the best paladares are in the Vedado and Chinatown neighborhoods.
Eating at a paladar is a great way to support local small businesses and enjoy a delicious meal.
10. Hang out at Hotel Nacional
The Hotel Nacional is another Havana landmark that experienced its heyday in the 1940s and '50s when it was frequented by everyone from celebrities to mobsters. This beautiful hotel can be seen from many places around the city and it's located between La Habana Vieja and Vedado right across from the Malecón.
While I don't recommend staying there (it's very expensive and a little dated – you're much better staying in a casa particular, or private homestay) I do recommend visiting the Hotel Nacional on your trip to Havana! It's the perfect place to pass an afternoon or evening sitting in the back garden, where you admire the views of the ocean and enjoy some live music.
Havana is an incredible city with so much to offer, and you could easily spend a few weeks there and never get bored. However, if you only have a few days in Havana like I did, then I highly recommend checking out these top 10 things to do!
More blog posts to help you plan your trip to Havana:
Save it to Pinterest: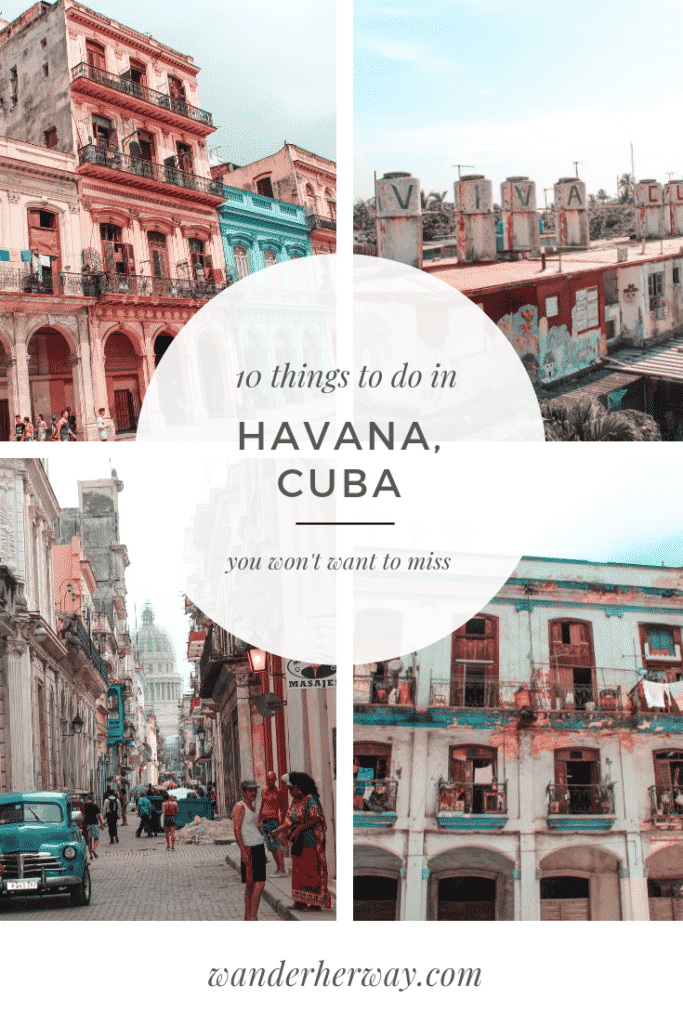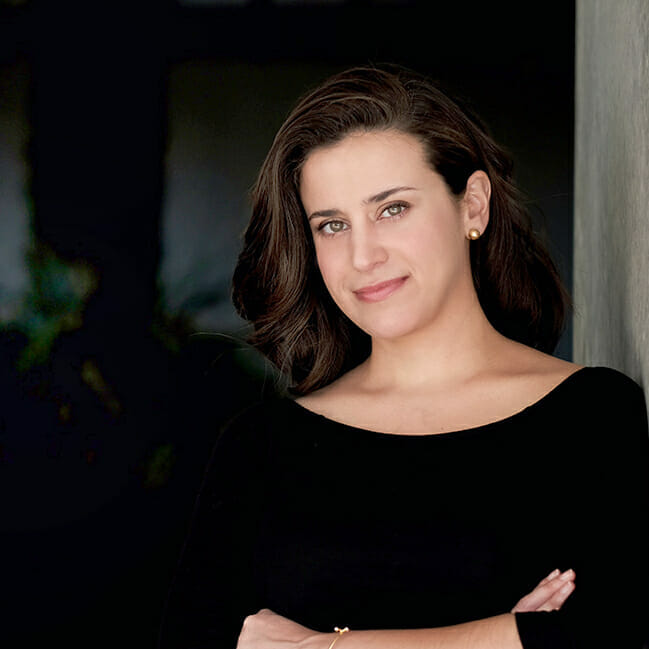 About Denise Cruz
Denise is a marketing executive who escaped corporate to travel the world… twice. A Brazilian native living in the U.S., she's lived in 4 countries and visited 35+ others. After side-hustling her way to financial independence, she curates solo destination guides, slow travel tips, and travel blogging advice on Wander Her Way. When she's not on the road, you can find her in Miami with her dog Finnegan.