How to Visit Cuba as an American in 2019
It's now easier than ever to visit Cuba as an American and this guide will show you how to do it!
For almost 50 years, Americans had to apply for a special license and jump through hoops to visit Cuba, or fly there illegally via Canada or Mexico. In 2014, that all changed when Obama expanded the categories for American travel to Cuba.
In 2017, Trump made a few changes to the Cuba travel policy, most notably removing the broad "people-to-people" category that many travelers were claiming, and prohibiting Americans from patronizing military-owned business – here's the list. (It's mainly hotels and tourism companies you wouldn't want to use anyway. More on that later.)
Even with these changes it's still very easy to visit Cuba as an American. I traveled to Cuba during summer 2017 right before these changes went into place, but this guide has been updated for 2019.
Here's how you can visit Cuba as an American in 2019!
Categories of Authorized Travel to Cuba for Americans
Visiting Cuba strictly for tourism is still prohibited, so the reason for your visit will need to fall under one of the twelve categories for authorized travel to Cuba, as defined by the State Department. These twelve categories are:
Family visits
Official business of the U.S. government, foreign governments, and certain intergovernmental organizations
Journalistic activity
Professional research and professional meetings
Educational activities
Religious activities
Public performances, clinics, workshops, athletic and other competitions, and exhibitions
Support for the Cuban people
Humanitarian projects
Activities of private foundations or research or educational institutes
Exportation, importation, or transmission of information or information materials
Certain export transactions that may be considered for authorization under existing regulations and guidelines
The category that most travelers can cite for their visit is support for the Cuban people although it is unlikely that you'll need to "prove" this at any point. However, you can technically be questioned about the details of your trip by the U.S. government for up to 5 years after you return. (Again, unlikely, but still important to note.)
Keep reading to find out how you can actually support the Cuban people on your trip!
Cuba Tourist Card
You don't need a special license from the U.S. anymore to visit Cuba (you will just self-declare your authorized travel category) but you DO need a Cuba Tourist Card.
A Cuba Tourist Card is not a visa. There are Cuban visas, but only visitors from certain countries need to apply for one. Visitors from North America, South America, and Europe only need a Cuba Tourist Card.
The Cuba Tourist Card gives you the ability to stay in Cuba for up to 30 days. They are really easy to obtain as the airline you're flying with from the U.S. will provide them for you. Here are the current costs for Cuba Tourist Cards based on airline, along how to buy your card:
Delta: $50, buy at gate
Southwest: $50, buy online and pick up at gate
JetBlue: $50, buy at gate
United: $75, buy at gate
American: $85, buy online and receive via mail
Frontier: $110, buy online and receive via mail
Delta and JetBlue are the cheapest and least hassle because you just show up at the airport and buy them. I flew with Delta and was able to pay for my Cuba Tourist Card when I checked in for my flight and then pick it up when I got to the gate.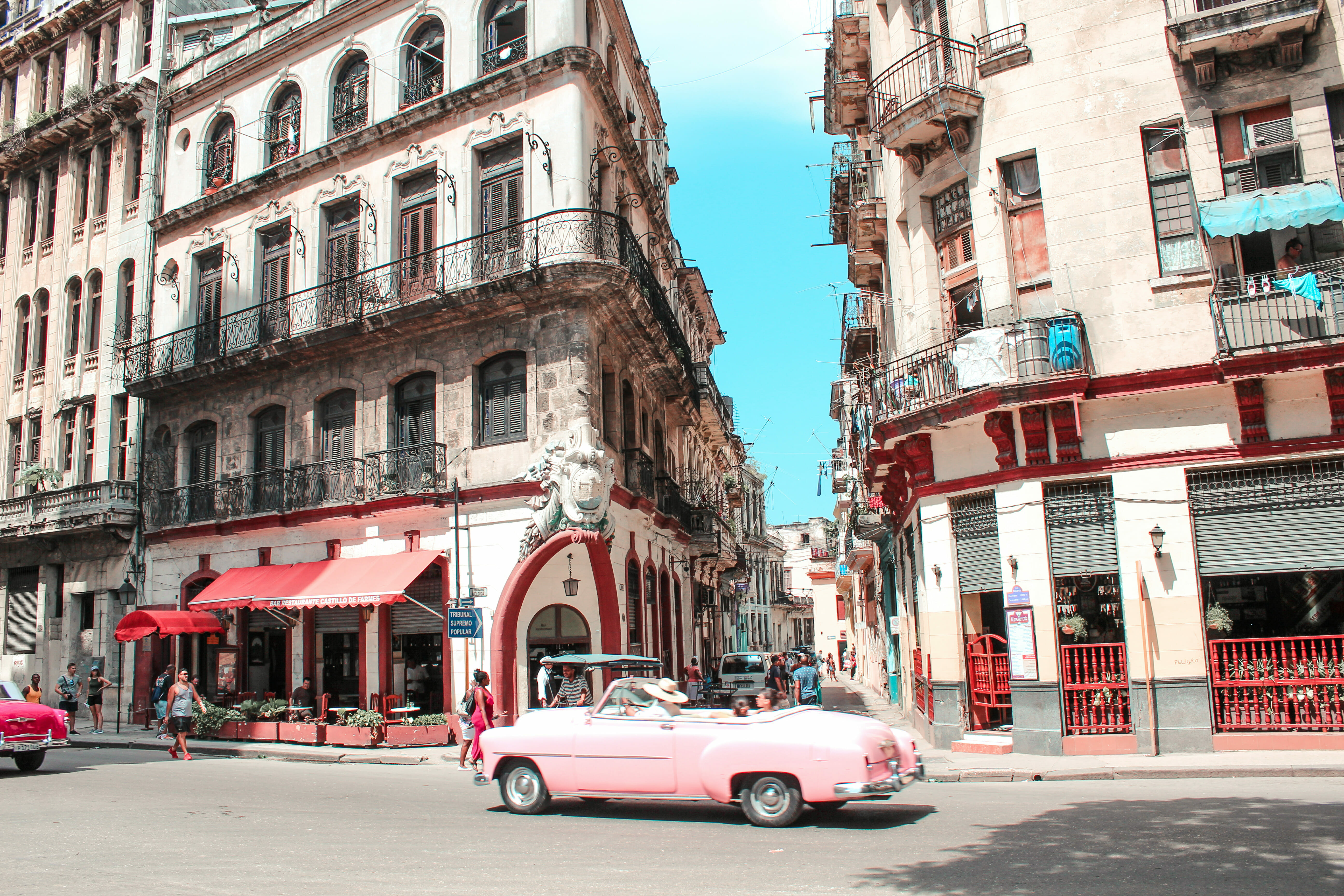 Travel Insurance in Cuba
One of the biggest mistakes you can make on ANY trip is not getting travel insurance.
Travel insurance gives you protection in case of any type of travel disaster: medical issues, stolen passport, lost luggage, cancelled trip, and so on.
For this reason, I recommend that everyone gets travel insurance. It's a small price to pay for peace of mind when you travel.
The number one travel insurance provider is Allianz. Click here to get a free quote to see how much coverage would be on your trip to Cuba.
Money in Cuba
There are two currencies in Cuba: the CUC (Cuban convertible peso) and the CUP (Cuban peso.) The CUC is pegged to the U.S. dollar ($1 for $1) and it's the currency that tourists use, while the Cuban peso is what locals use in their day-to-day life.
You can't buy CUC before arriving in Cuba, so you will need to change money once you get there. When changing USD you will get hit with a special 10% fee, so if you're American you are better off bringing any other currency like Euros, Canadian dollars, or British pounds to change instead.
Bring LOTS of cash, because there is a 99% chance that your American debit card or credit card will not work or be accepted in Cuba. This means you won't be able to use local ATMs, so if you run out of money, you're out of luck.
Where to Stay
I highly recommend staying at a casa particular in Cuba. These are basically like homestays and they are amazing! You get to stay in a private residence and interact with your hosts in their home. At my casa particular in Havana, our host prepared a delicious breakfast for us every mornin—by far the best food I ate in Cuba!
Staying in a casa particular is much better than staying in a hotel. In Cuba, most of the hotels are military-owned or military-controlled (even the big chain hotels) and extremely expensive. (In Havana, upwards of $300+ a night.) You aren't paying for quality though, because many of the hotels look like they haven't been updated since the 1970s.
Casa particulares, on the other hand, are inexpensive and allow you to support the Cuban people. Most Cubans work for the government and only earn around $30 a month, so they have to supplement their income with side businesses like running a casa particular.
You can find a lot of casa particulares on Airbnb.
Getting Around
Cuba is a large country, so if you are going to visit multiple destinations on your trip, you will need to either fly or drive.
Car Rental: Renting a car in Cuba is not cheap and can set you back $70 to $100 a day!
Vintage Car with Driver: If you want to ride around in style in a vintage American car with a driver, you can find one for around $100 to $150 a day.
Public Buses: There is a public bus system called Viazul that links most of the country, but you can't make bookings online. You will need to buy tickets in person at the station.
I only stayed in Havana during my trip, so here are some Havana-specific transportation tips:
Vintage Taxi: Colorful vintage American cars are by far the most fun way to get around the city. Hopping in one of these for a ride across Havana will cost around $10 to $15.
Collectivo: If you want to save some money then hopping in a collectivo (shared car) will only set you back less than $1. I wasn't bold enough to try one myself in Havana, but if you want to get a ride in one then just look around on main streets for cars stopping to pick up locals and it's probably a collectivo.
Walking: Havana is very large and not all of it is super walkable, but most areas are. It was too far to walk from Vedado (where I stayed) to Habana Vieja (the main tourist area) but within the neighborhoods it was very walkable.
Internet in Cuba
There is no private Internet in Cuba. You will only be able to get online through the government-owned telecom company ETESCA. They have WiFi spots all around Cuba that you can use in public places like parks, plazas, etc. or at hotels. As a tourist you can expect to pay between $1.50 and $3 CUC for an hour of WiFi.
You can purchase WiFi cards at ETESCA stores, the airport, and many hotels. In Havana hotels are the best place to access the Internet because you can relax in the lobby while you get online.
The Internet in Cuba is censored by the government and you won't be able to access some apps (Snapchat is blocked) and news websites.
How to Support the Cuban People
While there is no way to visit Cuba without supporting the Cuban government/military in some small way, there are many things you can do as an American to support the Cuban people instead on your trip. Here are some ideas:
Stay at a casa particular instead of a hotel
Eat at paladares (privately-owned restaurants)
Buy your souvenirs from a local artisan
Take an independent tour (I did the Free Walking Tour Havana) and make sure to tip your guide
Visit independent museums
Support local musicians and artists
Take a dance lesson (salsa and rumba are popular in Cuba)
Discuss Cuba life and society with a local
These are just a few ways you can show support for the Cuban people on your trip!
So that's everything you need to know about visiting Cuba as an American in 2019. Cuba is a wonderful destination and absolutely worthwhile to visit.
If you are headed to Havana, make sure to check out these posts:
Save it to Pinterest: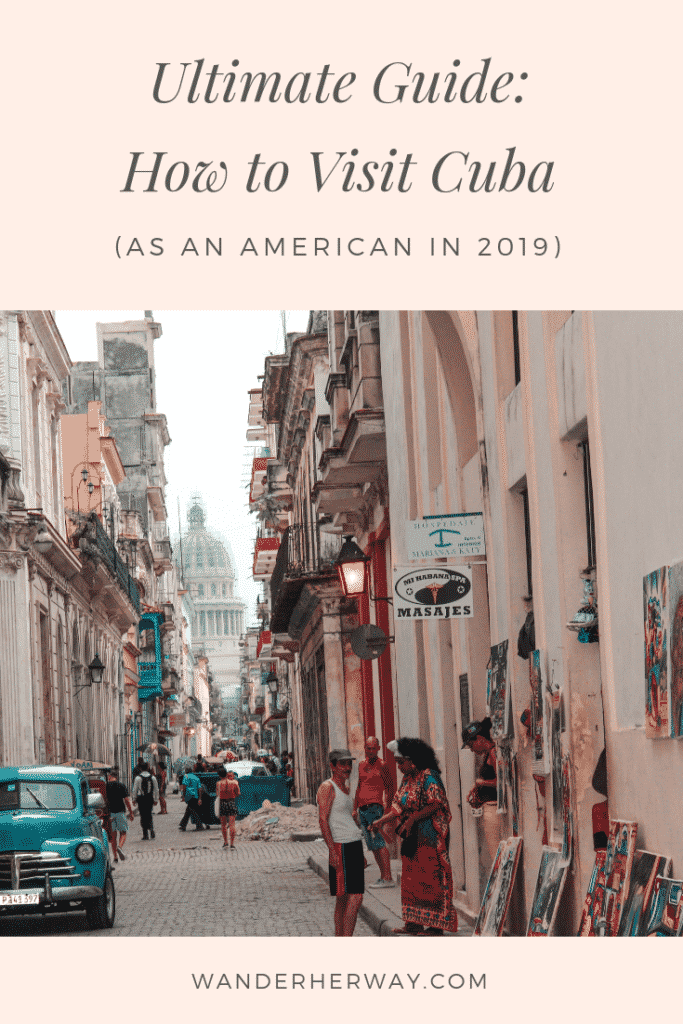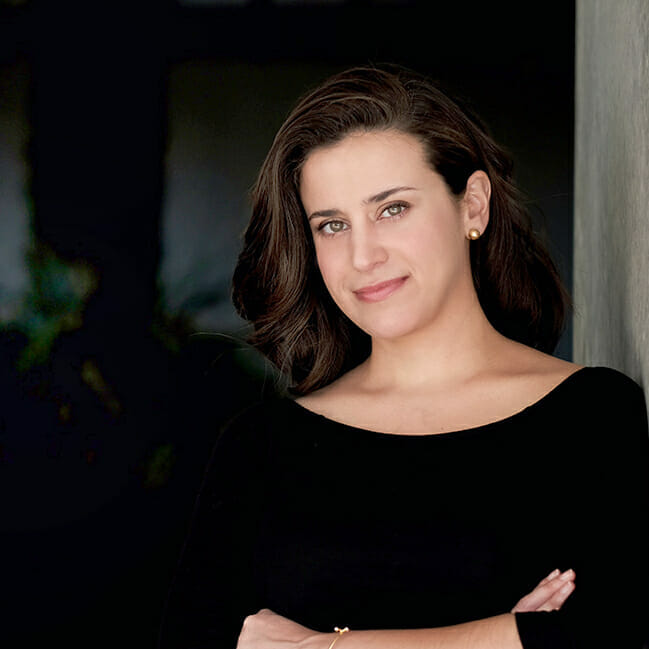 About Denise Cruz
Denise is a marketing executive who escaped corporate to travel the world… twice. A Brazilian native living in the U.S., she's lived in 4 countries and visited 35+ others. After side-hustling her way to financial independence, she curates solo destination guides, slow travel tips, and travel blogging advice on Wander Her Way. When she's not on the road, you can find her in Miami with her dog Finnegan.