12 Reasons to Visit Croatia
This post is all about the top reasons to visit Croatia.
Croatia is a country I first visited in the summer of 2018 on a cruise.
We stopped for one day in Dubrovnik, and my only impressions were: hot, crowded, pretty.
Like all the destinations I visited on this cruise, I vowed to come back one day so I could do Croatia justice. Because let's face it, spending just one day (really only half a day) in a destination on a cruise simply does not allow you to really experience that place.
However, the glimpse of Croatia I caught was tantalizing. I knew I would return one day.
In May 2021, Croatia was one of the few European countries open to Americans, so it seemed like the perfect opportunity to go back. Before COVID happened, I had already been planning to go to Europe in the spring of 2021 as part of my year-long trip.
I ended up spending over two weeks in Croatia this time, and saw much more of the country.
Related: The Best One Week in Croatia Itinerary
It quickly became one of my favorite countries, and one I could return to again and again.
Croatia is what I would consider the ultimate travel destination. Although it's hardly an "under the radar" destination anymore, especially with Europeans, it's still not as popular as nearby Italy or Greece. And many people who DO visit Croatia only do so as part of a cruise, where they only catch a brief glimpse of what this country truly has to offer.
So why should you go to Croatia? Here are 12 reasons to visit this amazing country:
1. It's beautiful.
Let's get one of the biggest reasons to visit Croatia out of the way first: it's one of the most stunning countries in the world. With both natural and man-made wonders, Croatia is full of beauty.
From the turquoise waterfalls and lakes of the national parks, to the lovely red-roofed towns of the coast and the islands, to the dramatic coastline and crystal-clear waters of the Adriatic Sea, Croatia is packed with beautiful sights from one end of the country to the other.
Whether you want to see Roman ruins or wild, unspoiled nature, you can find it in Croatia.
2. Easy to reach and get around.
Croatia is at the crossroads of Central Europe and Southeastern Europe and it's very easy to reach. There are plenty of international flights to the capital of Zagreb, and even some direct international flights to the smaller coastal cities of Split and Dubrovnik.
Once you're in the country, it's also very easy to get around. Croatia is relatively small and compact, and it's easy to follow a route that shows you the country's top highlights.
3. The beaches.
If you're a fan of beaches, you will love Croatia. There is no shortage of incredible beaches here. While most of the beaches are rocky or pebbled, you will find a few white-sand beaches too.
The water is the clear aqua blue of the Adriatic Sea. You'll also often find interesting scenery, like dramatic cliffs and rocky outcroppings that make these beaches postcard-perfect.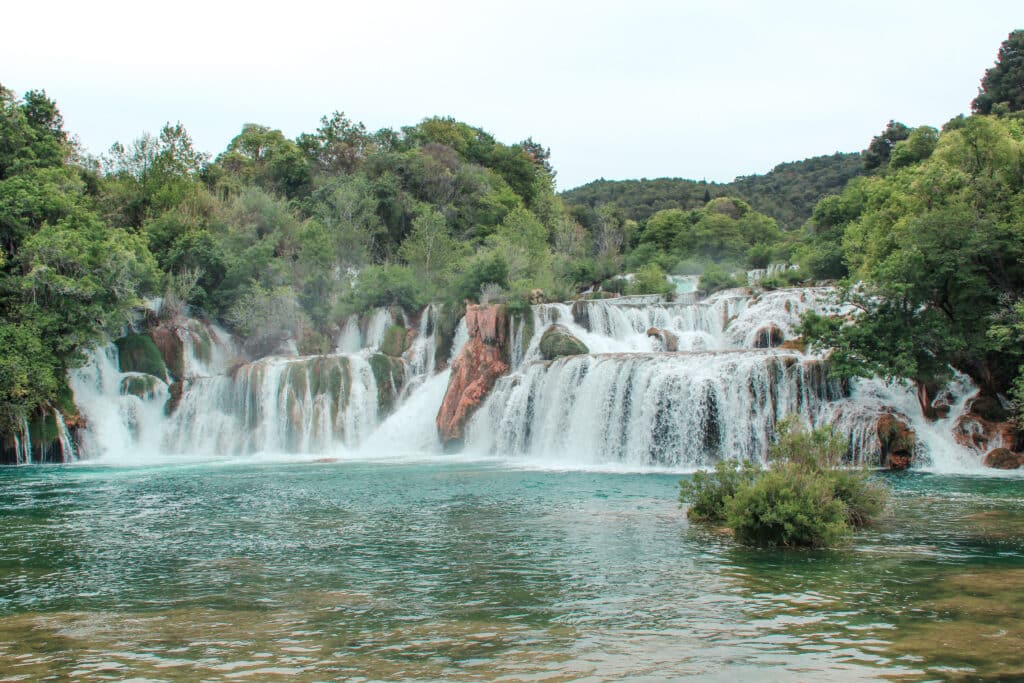 4. The national parks.
Another area where Croatia excels is national parks.
The two most popular are Plitvice Lakes National Park and Krka National Park. Both of these national parks boast stunning turquoise waterfalls and lakes, miles of scenic wooden boardwalks, and dramatic scenery that will take your breath away.
There's also Mljet National Park, located on an island with jaw-dropping scenery.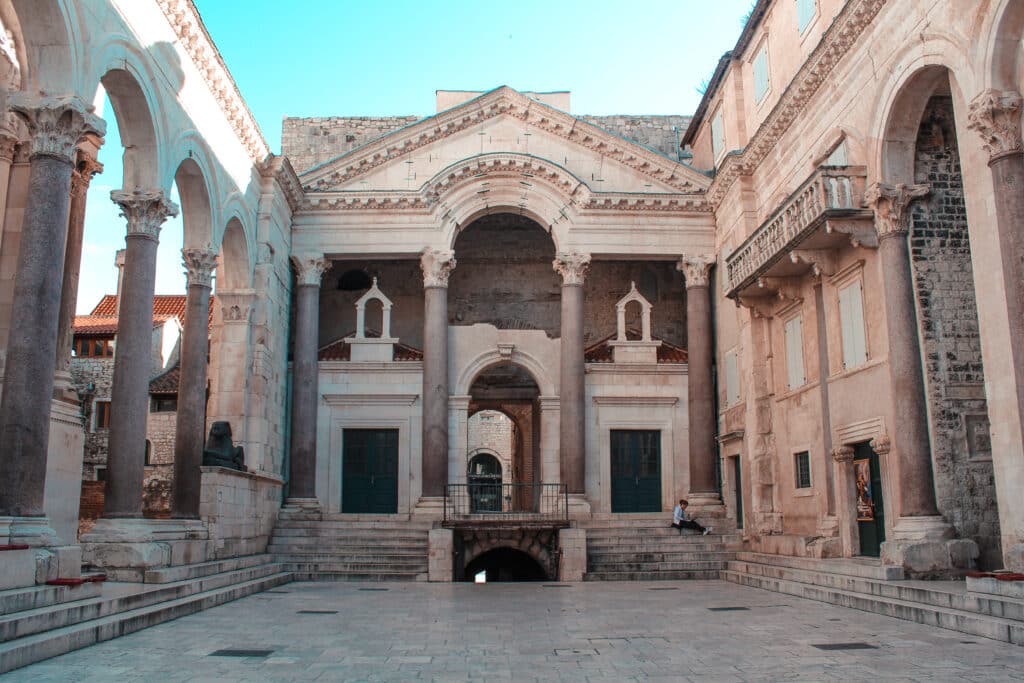 5. History and ruins.
If you want perfectly-preserved ruins and tons of history, you will find it in Croatia.
There are famous Roman ruins like Diocletian's Palace in Split or the Pula Arena, which have been incredibly maintained and will take you back in time nearly 2,000 years.
One of the most famous historic sites in Croatia are the City Walls of Dubrovnik, which were built in the 1300s to fortify the city from invaders. Walking the City Walls is a can't-miss activity in Croatia.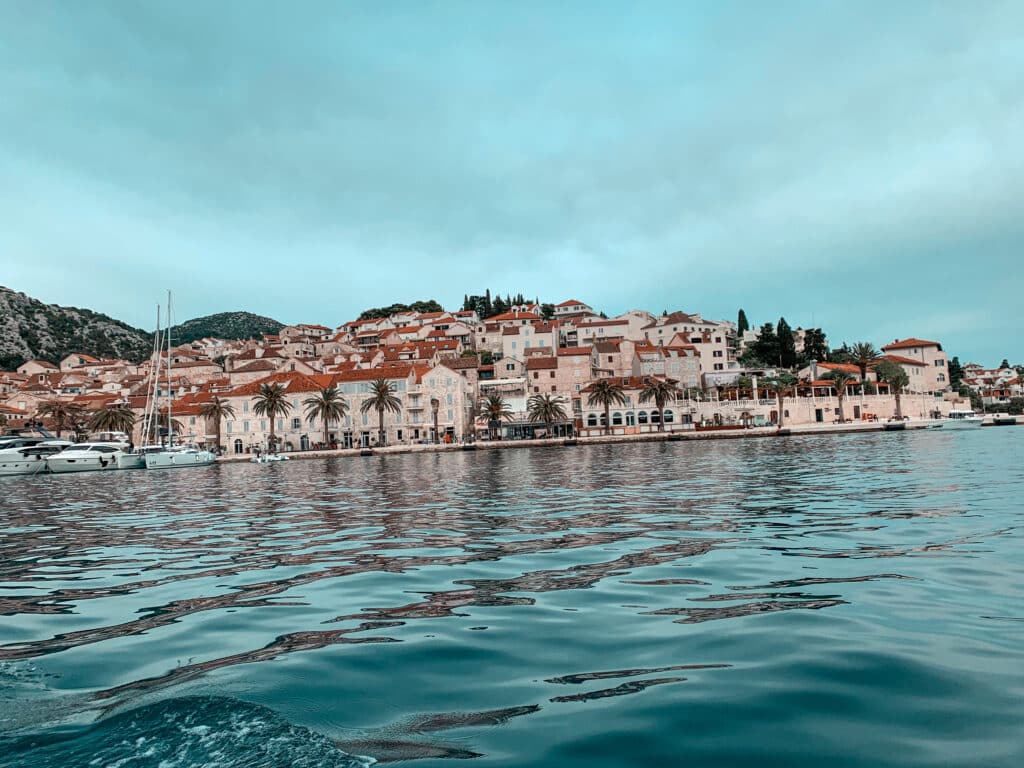 6. It's great for sailing.
While I have never been sailing in Croatia (yet!) it is known for being one of the best destinations in the world for it. You'll see countless sailboats and yachts along the coast in Split, Vis, and Hvar.
If you're new to sailing, you can join a group tour through a company like G Adventures that will take you all along the coast in your own private sailboat. Or you can grab a group of friends and participate in the famous Yacht Week (which really happens every week of the summer.)
7. Easier on the wallet.
Before I came to Croatia, I had been traveling in Central America for over three months, and I was expecting to have sticker shock. I thought Croatia was going to be much more expensive.
But… it wasn't.
After its rise in popularity in the last few years, Croatia has become pricier, that's for sure. But I was expecting prices more in line with places like Italy, and that simply wasn't the case.
I was pleasantly surprised by how affordable everything was, including food, transportation, accommodation, and activities. It also helped that I was visiting in the shoulder season (May) as opposed to the peak season of June through September, when everything is more expensive.
Although I will say don't expect to find many deals Dubrovnik, because it's quite pricy!
8. Music festivals and parties.
If you're looking to have a good time, Croatia is the place to be in the summer months.
There are several music festivals, including Ultra and Hideout, that happen every summer in Croatia. The coastal city Split and island of Hvar are both known for their summer parties.
You'll find most of these events happening in June, July, and August.
9. Great for beginners.
Croatia is a good destination for beginner travelers, or if you want something a little more off the beaten path than Western Europe. It's easy to travel around Croatia independently.
Tourism and hospitality make up 20% of Croatia's GDP, so it's no surprise that the infrastructure for tourists is robust. You'll have no trouble getting around Croatia.
It's a great destination to rent a car in, due to its smaller size, well-kept roads, and good drivers. You can also get around easily by train, bus, ferry, or domestic flights.
Almost everyone in Croatia speaks English (it's estimated over 80% of the population speaks at least some English) so there's no language barrier and you will have no problem communicating. (Although you should learn a couple Croatian words like hello and thank you to be polite!)
10. Friendly people.
As a whole, Croatians are friendly, polite, and helpful. Most of them are very proud of their country, and they are happy to see foreigners visiting and appreciating it.
I was also amazed by the hospitality and helpfulness of Croatians. In one situation, I found myself stranded at a bus stop outside Krka National Park, in a tiny town where everything was closing for the night, waiting on a bus that was almost an hour late.
Two young Croatians ended up stopping, asking if I needed help, and then giving me a lift to the closest city, Sibenik. There, they helped me buy a bus ticket back to Split and then waited with me until the bus came! And the whole time refused to accept the bit of money I tried to give them.
11. Delicious food.
I have to admit, I didn't try TOO much traditional Croatian food, mainly because I am a vegetarian, but I have heard it's all delicious. Especially seafood along the coast! Probably the most famous seafood dish you can try is black risotto, which is made with squid.
I did try štrukli, a delicious savory pastry dish popular in northern Croatia, and I can vouch that it's delicious (pictured above.) Also burek, a type of flaky pastry that you find in lots of bakeries around Croatia, is tasty too. (Stuffed with spinach and cheese is the best!)
And while I mainly stuck to eating takeaway food and random snacks as opposed to actual restaurants, I found the prices for food in Croatia to be surprisingly inexpensive.
12. It's a bucket list destination.
Finally, Croatia is just one of those special bucket list destinations.
No doubt you've seen plenty of photos of Croatia's stunning waterfalls, islands, and coastline all over Pinterest already. And if you watched Game of Thrones you probably know that many of the otherworldly landscapes in the show are actually Croatia.
Croatia is one of those places that truly has it all. And yet it's often overshadowed by more popular European destinations, like Italy, France, or Spain.
But make time for Croatia, and you are guaranteed to have an incredible time.
Why You Should Go to Croatia
Croatia is out there waiting for you!
As I write this in May 2021, Croatia is fully reopened for tourism and has been for a while now. If you're looking for the ultimate summer adventure in Europe, Croatia is the place to go.
These are the top reasons I think everyone should plan a trip to Croatia.
What do you think? Is Croatia a place you want to go?
You may also like: 10 Amazing Things to Do in Athens, Greece
Save it to Pinterest: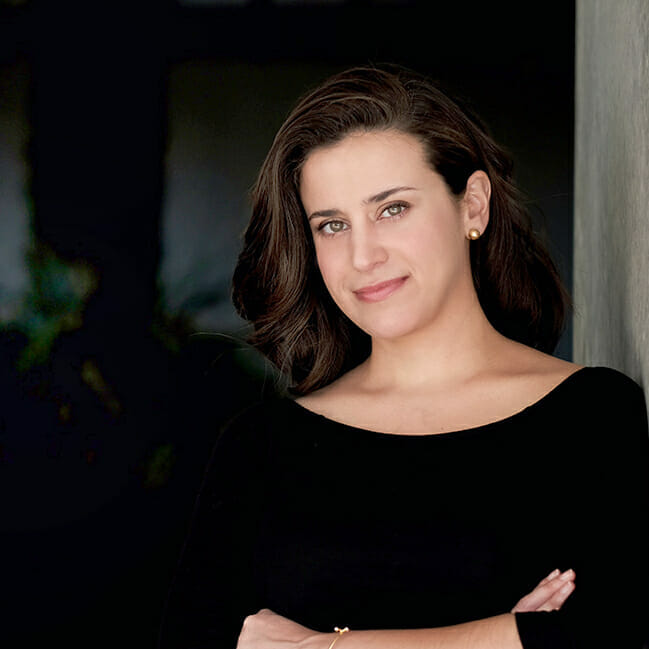 About Denise Cruz
Denise is a marketing executive who escaped corporate to travel the world… twice. A Brazilian native living in the U.S., she's lived in 4 countries and visited 35+ others. After side-hustling her way to financial independence, she curates solo destination guides, slow travel tips, and travel blogging advice on Wander Her Way. When she's not on the road, you can find her in Miami with her dog Finnegan.