22 Best Cuban Coffees in Miami (What is a Colada?)
If you buy something through the links on this page, you're helping me pay for my next adventure—thank you for clicking! Learn more.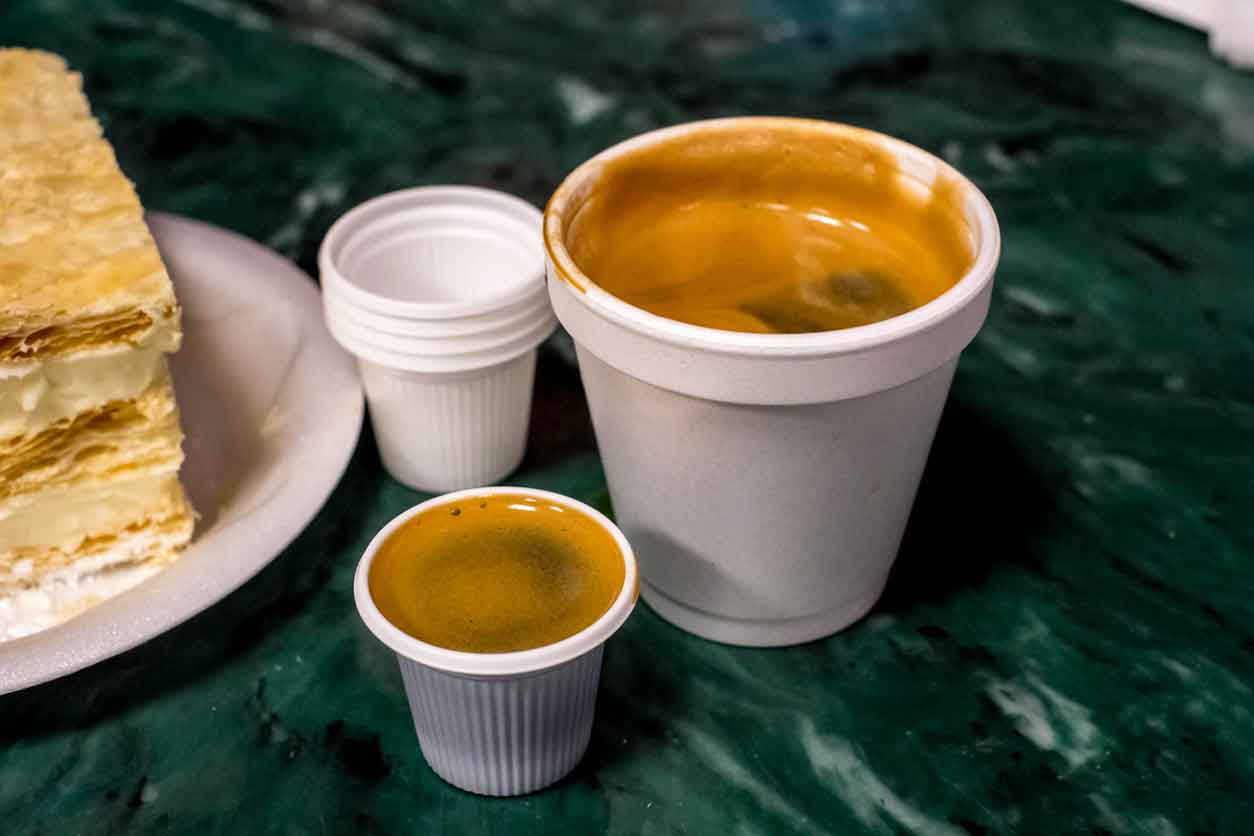 Best Cuban Coffees in Miami: Cafecito, Colada, Cortadito, and Café con Leche.
Looking for the best Cuban coffee in Miami?
Coffee is certainly the go-to drink for many when looking for that caffeine boost. Cuban coffee, however, is not your average cup of Joe – it's got a rich taste with a palpable sweetness to it.
But what is a colada coffee? If you've been to Miami, you probably found yourself pondering that question when you tried to get your caffeine fix.
Cuban coffee (or cafe Cubano in Spanish) is one of Miami's most popular coffee drinks. It can be found at restaurants, cafeterias, and "ventanitas" all over the city.
In this article, you'll learn all about this Miami staple, how to order and enjoy Cuban coffee, and where to find the best Cuban coffees in Miami.
Cuban Coffee (aka Cafe Cubano)
Cuban coffee, or cafe Cubano, is made by combining espresso with hot water and sugar. The end result is a highly concentrated espresso coffee with a syrupy, caramelized body. This recipe for cafe Cubano can be customized to the taste of its consumer by adding more or less sugar. Some variations include milk or evaporated milk (which I recommend you try).
Compared to American coffee, Cafe Cubano is a really strong coffee because of its dark roast coffee and unique production methods. In addition, Cubans have their own techniques for brewing and preparing coffee.
Cuban coffee is essentially an espresso. But while Italians like it black and slightly bitter, Cubans go all out on the sugar. There are four types of Cuban coffee: cafecito, colada, cortadito, and café con leche.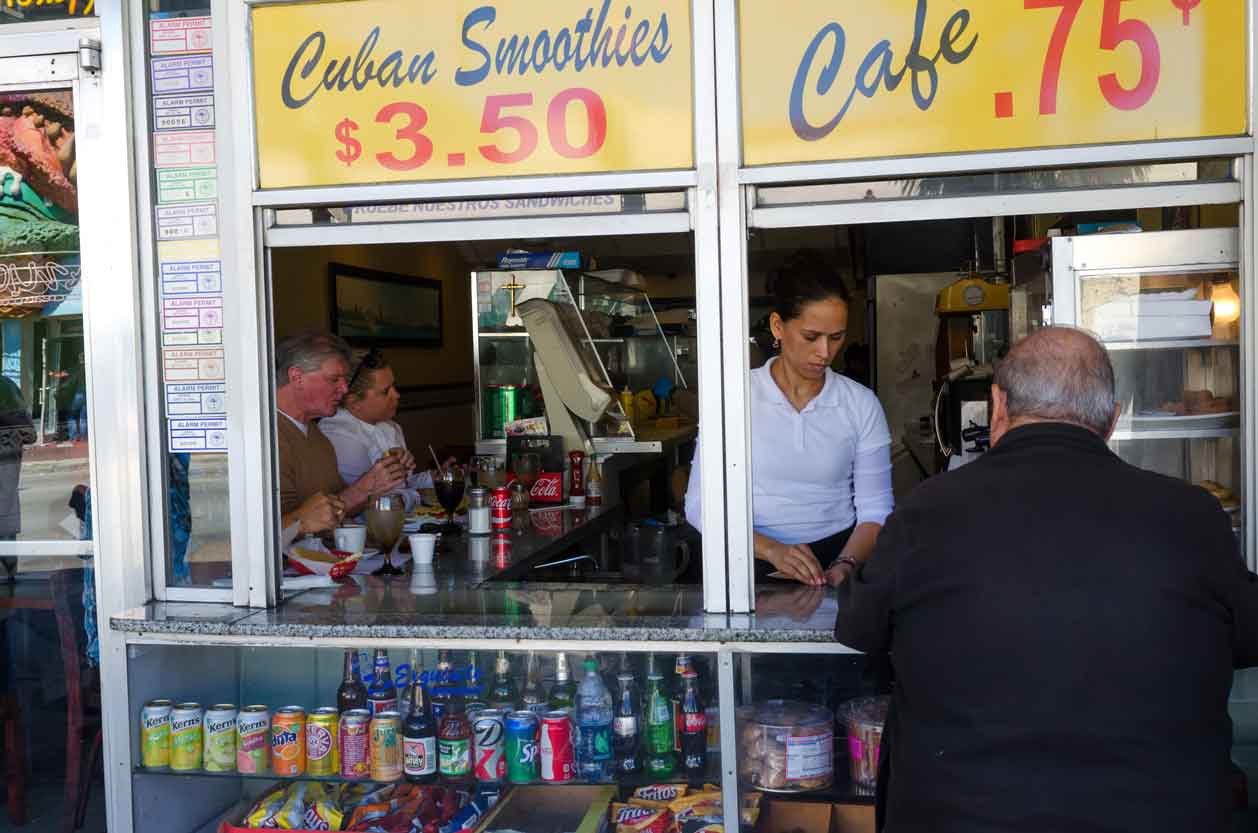 Cuban Coffee Names
Cuban coffee is a popular drink that is widely available in the Magic City. But if you need help (and a dictionary) to order the correct beverage, look no further.
Here's a quick glossary to help you navigate Miami's Cuban coffee scene:
Cafecito
The cafecito is a single serving of Cuban espresso, brewed on a cafetera instead of the traditional espresso machine and topped with espumita.
Colada
A colada is a full 4-once styrofoam cup of straight-up Cuban espresso loaded with sugar. It's meant sharing so spread the coffee love in the tiny little cups it comes with!
Cortadito
A cortadito is half Cuban espresso, half steamed milk. But if you have a super sweet tooth, try the cafe Cubano with evaporated milk.
Café con Leche
Cafe con Leche translates to coffee with milk (you can call it the Cuban version of a cafe latte). So it's steamed milk with a shot or two of Cuban coffee. Note that sugar is already added!
Cafetera
Cafetera is the Cuban coffee-maker. In reality, it's a stove-top Italian percolator espresso maker, known as Moka pot (but don't tell Cubans that!). Nowadays, the electric version of the cafetera is more common.
Espumita
The thick foamy layer you see at the top of the colada is called espumita. It's pure white or demerara sugar whipped to perfection with the first drip of a fresh batch of coffee.
Ventanita
Ventanita means "little window" in Spanish, and it's where you can quickly get your cafecito to go. It's common to see people standing by or leaning at the walk-up window outside restaurants, coffee shops, and even gas stations in Miami. Even some Starbucks stores have ventanitas in Miami!
Demerara Sugar
Demerara sugar is the traditional sugar used in cafe Cubano. It's that crunchy brown sugar that comes in crystals.
Tiny Plastic Cup
Finally, these 3/4-ounce tiny plastic cups are probably the most important thing in Cuban coffee. They make the colada-sharing experience a social activity.
You might also like: Festive Things to Do in Miami at Christmas
What is a Colada?
The colada is Cuban-style coffee comes in a 4-ounce Styrofoam cup with a few smaller cups for sharing with others. The colada is typically served while still very hot in a bell creamer or small styrofoam cup, along with tiny plastic cups to share among 3 to 6 people. While some variations of Cuban coffee with milk or evaporated milk exist, the colada traditionally comes with sugar only.
Tip: Unless you're looking for a caffeine rush followed by a severe sugar crash, I do not recommend drinking a whole colada yourself!
Cuban Coffee Culture in Miami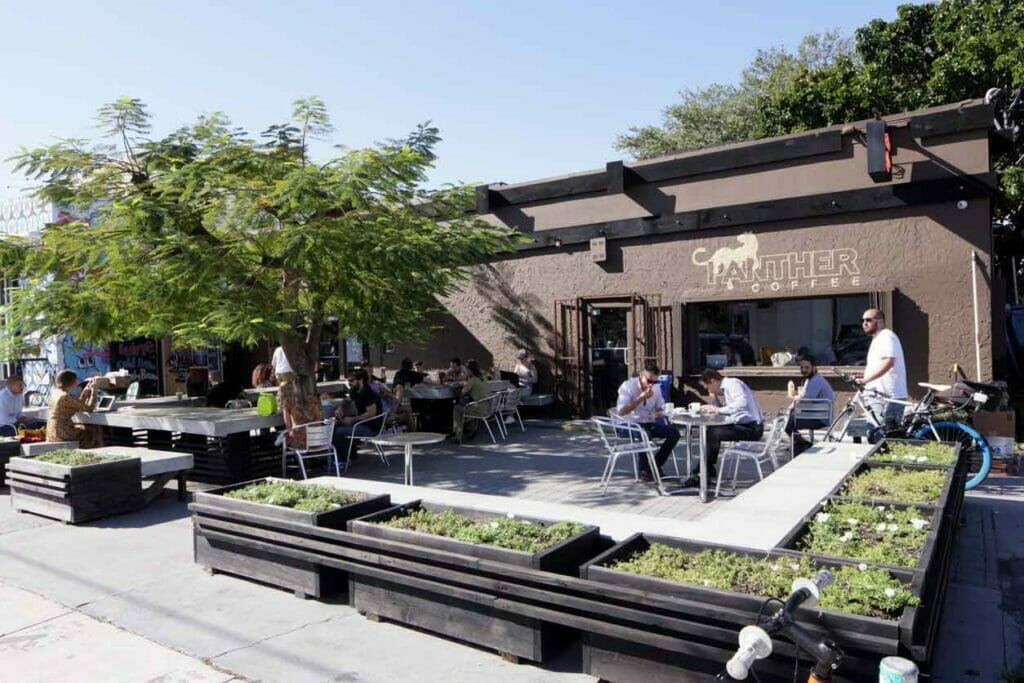 With the influence of so many Latin and European cultures, coffee is very much ingrained in the Miami culture.
You can find several boutique coffee shops and roasters. A few of my favorite coffee places in Miami are:
But Cuban coffee has a special place in Miami.
So much so that the mayor of the City of Miami proclaimed 3:05 p.m. the official cafecito time.
The idea was first introduced by Cafecito305, a local social media group that promotes events and reminds Miami residents to get their coffee fix at 3:05 p.m every day.
The 3:05 p.m. time is a reference to Miami's 305 area code.
Later, Miami-Dade County declared March 5 (3-05) the official "Miami 305 Day," and you can find cafecito-related events and references all over town.
You may also like: Top 10 Things to do in Havana, Cuba
Where to Find the Best Cuban Coffees in Miami
Cuban coffee is globally recognized for its distinctive taste and rich history. However, if you're looking for authentic Cuban coffee in Miami, here are some places you can't miss:
1 – Versailles Restaurant in Little Havana (and Various Locations)
Versailles has been around since 1971 and was a meeting place and gathering spot for Miami's Cuban exiles. Versailles is one of the best Cuban restaurants in Miami and, certainly, the place to try real Cuban coffee in town. If you don't want a full meal, stop by "La Ventanita" at Versaille's and get an authentic cafe Cubano.
Located in Miami's historic Little Havana neighborhood, Old's Havana Cuban Bar and Cocina have some of the best Cuban dishes in town… and one of the best cafecitos, too!
Mas Cuba Cafe in Miami Beach truly embodies the spirit of 1950s Cuba. Stop by to try their cafecito and enjoy live music on weekends.
Cortadito Coffee House is a small coffee shop in Miami Beach that offers delicious Cuban coffee and espresso drinks like lattes and cappuccinos. It's the perfect place to grab a quick drink or a healthy snack before taking a stroll on the beach.
Puerto Sagua is another traditional Cuban restaurant in Miami Beach and it has been around since 1968! The restaurant takes its Cuban roots to another level. They're open for breakfast, lunch, and dinner – and you can have a delicious cortadito at any time!
Tinta y Cafe, located in Coral Gables, is a Bohemian spot where you can sit to eat lunch or enjoy their various coffees with a good book.
One of the oddest sights of Miami, this old-school cafe in the Wynwood District stands out in the middle of luxury buildings. Enriqueta's delicious food and perfectly brewed cafecito attract residents, tourists, and a steady crowd of construction workers.
Islas Canaria is a Cuban & Spanish restaurant with a family-friendly atmosphere. It opened in 1977 and the recipes have been in the family for generations. If you are not in for a full meal, they also have a bakery where you can enjoy a traditional Cafe Cubano and a tostada.
Named after the chef's grandmother, Amelia 1931 is "not your Abuela's Cuban diner" (not your grandmother's Cuban diner), according to their Instagram page. This is a Latin-Asian fusion diner with Cuban origins. They offer counter service, craft beers, deliciously creative menu options, and Cuban cafecitos, of course.
10 – Triggo Cafe Tapas Wine in Hialeah
Don't let the name fool you — Triggo Cafe has some of the best Cuban coffes in Miami ortherwise it wouldn't be on this list! This cozy little cafe is family-owned and serves excellent breakfast and lunch. If you can manage to find this little hidden gem, expect it to be a bit crowded… as all great places should be!
David's Cafe Cafecito is a Cuban restaurant on Collins Avenue. With its Island-inspired decor, friendly staff, and delicious food, David's is the perfect place to grab a cup of Cuban. If you're hungry, the food at David's Cafe Cafecito is simple but well-executed enough to please even the pickiest eaters. They're open for breakfast, lunch, and dinner. There's also a snazzy David's Cafecito inside the Shelborne hotel in South Beach but if you're looking for authentic Cuban coffee, visit the Collins location.
It's no wonder they're call themselves "The House of Cuban Coffee". As you walk past La Colada Gourmet, you'll be instantly captivated by the coffee aroma. They have a huge variety of coffees to choose from and serve them in in super stylish glass cups. It does get quite busy on the weekends, especially late mornings.
17 – La Carreta (Various Locations)
This casual little restaurant is tucked away in an office building and is a popular breakfast and lunch choice for people who work in the area. For someone who worked a few floors above, I can personally say their cafe con leche and tostada (Cuban toast) are the best I've had.
Tip: ask for a little extra butter (emphasis on "a little"!) on the toast and dip in the cafe con leche.
Cachito is a small, family-owned coffee shop and bakery in Miami Beach. They offer delicious coffees that are specially roasted and made fresh on site. Their atmosphere is super cozy and their Cuban-inspired menu includes everything from cortaditos and iced coffee to breakfast and lunch sandwiches.
22 – Chug's Diner in Coconut Grove
If you consider a Cafecito a good reason to stay in Coconut Grove, Chugs Diner won't disappoint. You can grab-and-go a Colada, Cafe con Leche, and one (or ten!) croquetas, or sit the shaded courtyard for enjoy incredible Cuban classics with a diner twist.
Best Cuban Coffee Places that Have Closed:
Estefan's Kitchen in the Design District
Conclusion
Cubans have their own techniques for preparing coffee. The traditional Cuban coffee is a delicious combination of espresso and plenty of sugar (like, a lot!). In Cuban culture, drinking coffee is a social event. The colada has become a symbol of friendship and a staple of local culture.
You can find Cuban coffee at restaurants, cafeterias, and "ventanitas" all over Miami. It's definitely something you need to try! Ay, que rico!
Before you go, I should mention that some of the best places to get cafecito in Miami may not be the safest areas of town. So be sure to check out my guide on how to stay safe in Miami during your trip.
Save to Pinterest: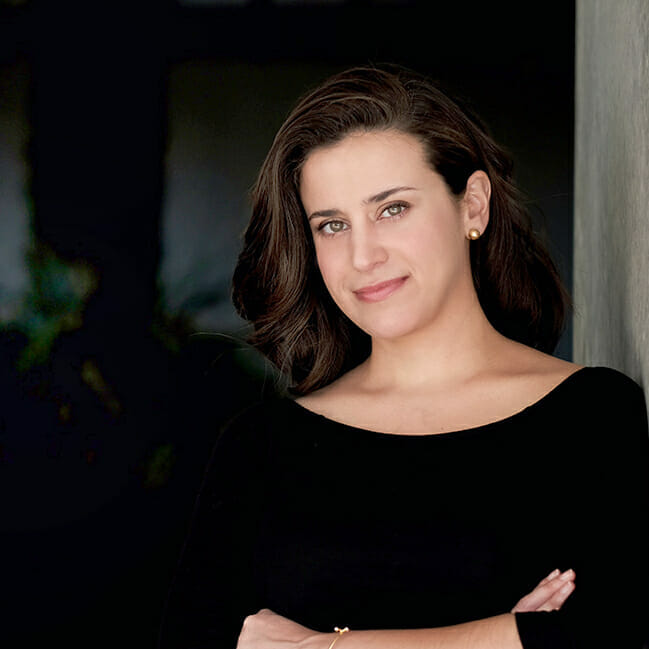 About Denise Cruz
Denise is a marketing executive who escaped corporate to travel the world… twice. A Brazilian native living in the U.S., she's lived in 4 countries and visited 35+ others. After side-hustling her way to financial independence, she curates solo destination guides, slow travel tips, and travel blogging advice on Wander Her Way. When she's not on the road, you can find her in Miami with her dog Finnegan.