Day Trips from Seville, Spain
This post is all about the best day trips from Seville, Spain.
Seville is the fourth-largest city in Spain, and my personal favorite place in the country!
Located in the Andalusia region of southern Spain, Seville is well-located for taking many day trips around the region. You don't even need a car for the majority of these day trips, because with a few exceptions, these day trip destinations are all easily accessible by train.
There are so many options for day trips. You can explore scenic towns, historic landmarks, beautiful beaches, and even other countries all in a day from Seville!
Check out the best day trips from Seville, Spain.
1. Córdoba
Beautiful Córdoba is one of the top-rated day trips from Seville. This historic city famous for its Mezquita, a mosque later turned cathedral, is just a one-hour train ride from Seville.
Aside from the Mezquita, you can enjoy getting lost in the picturesque cobblestone streets of the Jewish Quarter, strolling across the Roman Bridge (used as a filming location in Game of Thrones), and wandering through the thirteen gardens of the Palacio de Viana.
Read More: How to Spend One Day in Cordoba, Spain
2. Granada
Granada is another must-do day trip from Seville. The highlight of this historic Andalusian city is the Alhambra, a massive palace and fortress that you can easily spend half a day exploring. Next, you can explore the Moorish Quarter outside the palace walls, with its pretty white-washed buildings.
This is a day trip you'll want to get an early start on, because Granada is a solid 2.5 hours from Seville by train. It's also possible to book a guided day trip that includes a tour of the Alhambra.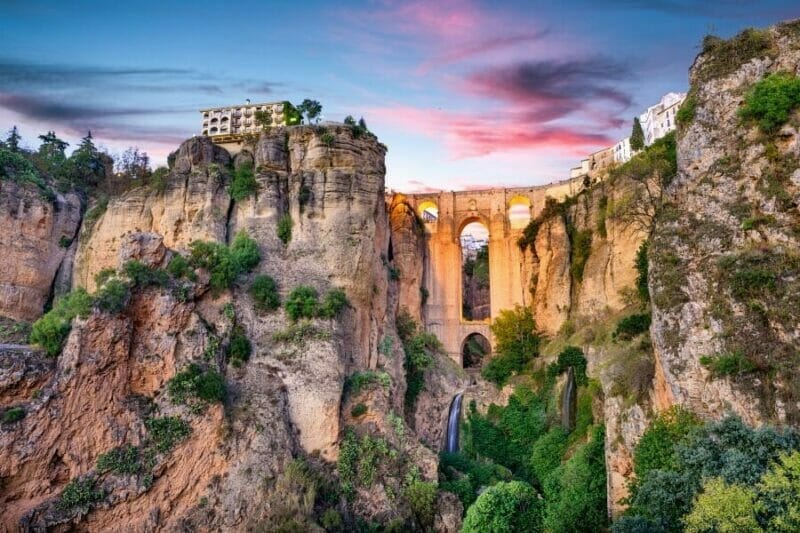 3. Ronda
Perhaps the most famous of the Pueblos Blancos (White Villages) in southern Spain is Ronda. This white-washed town is set atop a cliff over a mountain gorge, leading to dramatic and breathtaking views. The best views can be found at the Casa del Rey Moro gardens.
You also can't miss the Puente Nuevo bridge connecting the town across the gorge. Ronda is accessible by train from Seville, with the journey taking just under 2.5 hours.
4. Cadiz
Want to hit the beach? One of the great things about Seville's location in southern Spain is that you are not far at all from some of the best beaches the country has to offer.
One popular beach destination is Cadiz. This seaside town is known for its beautiful white-washed old town, as well as its many beaches. Cadiz is just one hour and 45 minutes from Seville by train.
5. Málaga
Another coastal destination that makes an easy day trip from Seville is Málaga. It's just under two hours from Seville by train, making it a great day getaway. While this town on Spain's famous Costa del Sol is mainly known for its beaches, it also has a lot more than just that!
Málaga is home to many historic landmarks, including well-preserved ruins of the ancient Roman Theatre. There are also several Moorish landmarks including the Alcazaba fortress and palace located on a hilltop above the city. And finally, Málaga is home to the Picasso Museum, containing many works from the famous Spanish artist who was actually born in Málaga!
6. Tangier
This is by far the most ambitious day trip on this list, but also one of the most unique. It's possible to visit Tangier, Morocco in a day from Seville. You will need to book an organized tour but it's the best way to visit a whole other country (and continent!) in just one day.
Tangier is just across the Strait of Gibraltar from Spain. You'll take a ferry from the Spanish side at Tarifa, and then arrive in Tangier, Morocco. If you want to catch a glimpse of Moroccan culture and explore one of its most famous cities, but you're short on time, a day trip is a good choice for you.
7. Marbella
For another beach day trip from Seville, head to the coastal town of Marbella. It's known for being a luxurious resort town on the Costa del Sol, located not too far from Málaga.
This is one day trip where having a car is best, because it's a 2.5 hour drive. However, there are no direct buses or train trains so it can take over four hours to arrive via public transportation.
8. Carmona
The pretty medieval town of Carmona is packed with history and culture. This scenic town is filled with many landmarks from different times in history, including the Moorish Alcazar and the Roman Necropolis. You can easily spend a day exploring this charming town.
And you don't have to go far to enjoy Carmona. It's extremely easy to visit as a day trip from Seville, because it is just a short thirty-minute train ride away
9. Gibraltar
Gibraltar is a very unique day trip from Seville. Although it's located on the mainland of Spain, Gibraltar is actually a British Overseas Territory, making it very culturally different.
As for what there is to do in Gibraltar, the most famous thing to do is hike to theRock of Gibraltar and enjoy the many walking trails along the coastline. (You can glimpse Africa in the distance!) Unless you have your own car, Gibraltar is best visited through an organized day tour. It's about a 2.5 hour drive from Seville, but is not well-connected by bus or train.
10. Jerez
One final day trip from Seville is Jerez de la Frontera, usually known as just Jerez. This historic town is close to Cadiz, meaning you can easily combine it with a day trip to the beach as well.
Jerez is famous for its sherry, and in fact it is one of only three towns in southern Spain where sherry is exclusively produced worldwide. You can sample sherry at bodegas around the city. Another popular activity in Jerez is watching traditional horse-dancing shows at the Andalusian School of Equestrian Arts. Jerez is located just one hour from Seville by train.
Day Trips from Seville, Spain
Seville is a great city in southern Spain, and its location and train connections means it is also an excellent base for exploring more of Andalusia and beyond.
These are some of the best day trips from Seville that will allow you to explore more of Spain.
For more Spain day trips, you may be interested in:
Save it to Pinterest: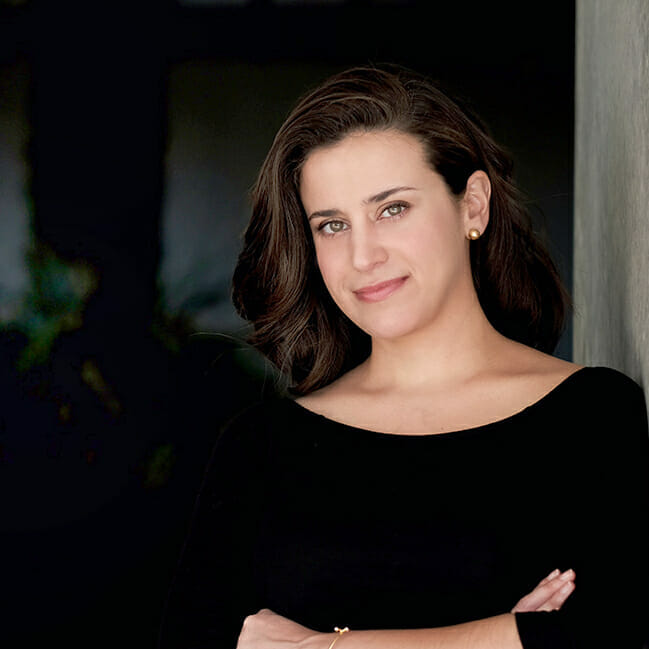 About Denise Cruz
Denise is a marketing executive who escaped corporate to travel the world… twice. A Brazilian native living in the U.S., she's lived in 4 countries and visited 35+ others. After side-hustling her way to financial independence, she curates solo destination guides, slow travel tips, and travel blogging advice on Wander Her Way. When she's not on the road, you can find her in Miami with her dog Finnegan.