How to Take a Day Trip from Barcelona to Montserrat
If you buy something through the links on this page, you're helping me pay for my next adventure—thank you for clicking! Learn more.
How to Take a Day Trip from Barcelona to Montserrat
This post is all about how to take a day trip from Barcelona to Montserrat.
Visiting the monastery at Montserrat is a very popular and easy day trip from Barcelona. It's a great way to get out of the city and see some stunning mountains and views over the Catalan countryside.
But figuring out the logistics of how to actually get from Barcelona to Montserrat can be a little tricky, which is why I put together this guide.
Here is everything you need to know to have a great day trip to Montserrat:
What Is Montserrat?
Montserrat is actually the name of a mountain range in Catalonia, Spain. The name translates to "serrated mountain" in Catalan, due to the jagged, saw-like appearance of the peaks.
The popular Montserrat day trip from Barcelona typically consists of visiting the Santa Maria de Montserrat, a Benedictine monastery perched high up on one of the peaks.
The monastery was founded during the 11th century and is still active today, with more than 70 monks residing there. Located inside the monastery is the famous statue of the Virgin of Montserrat, unique for depicting a Black Madonna.
In addition to the monastery, there are many hiking trails and scenic viewpoints nearby.
How to Get There
You have a few different options for getting to Monserrat from Barcelona:
Train and Cable Car
One of the easiest and most scenic ways to reach Montserrat is by taking the train.
From Plaça Espanya in Barcelona, you will take the R5 line to the Aeri de Montserrat stop. This takes about one hour and costs €5.25 each way. (€10.50 round trip.)
From there, you can take the cable car all the way up to the monastery. Be prepared for awesome views! The cable car costs €7.50 one way or €11.50 for a round trip ticket. It runs every 5-15 minutes.
You can buy a combined round trip ticket for the train and cable car from Plaça Espanya for €22.
Train and Rack Railway
Your other option is taking the train then rack railway to the monastery.
For this option, you will take the R5 line from Plaça Espanya in Barcelona to Monistrol de Montserrat (one stop past Aeri de Montserrat.) Then you will change to the green train called the Cremallara, which is the rack railway train.
The rack railway train is not as scenic as the cable car, but it's more comfortable and a good option for anyone who is scared of heights.
This costs €7.20 one-way or €12.00 for a return ticket.
You can buy a combined round trip ticket for the train and rack railway from Plaça Espanya for €22.
Guided Tour
A guided tour is what I did simply because it's the best way to visit Montserrat before the crowds arrive. It's also the simplest, least hassle option.
The majority of people visiting Montserrat on a day trip arrive by train, and the earliest train doesn't get into Montserrat until after 9:30 AM.
However, this tour I took departs Barcelona at 7:30 AM and gets you to Montserrat at about 8:30 AM, giving you a full hour to explore the monastery while it's still nearly empty.
At $33, this tour includes round trip transportation by bus, a guide, and admission to the Museu de Montserrat. The tour lasts five hours, giving you plenty of time to explore but still getting you back to Barcelona in the early afternoon.
Tot Montserrat Ticket
The Tot Montserrat ticket is a combination ticket that includes all transportation (and more) for taking a day trip from Barcelona to Montserrat.
For €52.90, here is what you get with this ticket:
Round trip metro ticket to and from Plaça Espanya
Round trip train ticket from Plaça Espanya to Monistrol de Montserrat
Round trip ticket on the cable car or rack railways to Montserrat
Unlimited use of the Sant Joan funicular
Entrance to the audiovisual exhibit "Montserrat Behind Closed Doors"
Admission to the Museu de Montserrat
One meal in the self-service restaurant at Montserrat
You can read more about or purchase the Tot Montserrat ticket here.
Bus
Most people opt to take the train since it is more scenic, faster, and pretty affordable, but it is also possible to go from Barcelona to Montserrat by bus. (The bus is slightly cheaper than the train.)
The bus company is called Autocares Julià and buses depart from the Sants Coach Station in Barcelona and arrive at the monastery in Montserrat.
The journey takes about 1.5 hours and tickets are €5.10 each way.
Private Transportation
One other way to get from Barcelona to Montserrat is through private transportation, such as hiring a driver or taxi (although this is the priciest option.)
You can expect to pay €90-€100 for private transportation.
What to Do at Montserrat
Here are some of the best things to do on your visit to Montserrat:
Admire the views
The views from the monastery looking out over the Catalan countryside are spectacular.
See the Black Madonna
Montserrat is famous for it statue of the Virgin of Montserrat, one of the few Black Madonnas in Europe. The statue is housed inside the basilica, which is free to enter.
The line to enter the basilica can get pretty long, so I recommend going first thing in the morning.
Visit the Museu de Montserrat
If you are doing the guided tour I did then museum tickets are included in your tour.
Otherwise, they cost €8 for adults and €6.50 for students.
I was pleasantly surprised by this museum, which contained a really impressive collection of art from artists spanning many different styles, including El Greco, Monet, Degas, Dali, and Picasso.
Ride the Sant Joan Funicular
The funicular takes you even further up the mountain from the monastery, where you can find some incredible views. It's also the starting point for the Sant Jeroni hike.
Tickets for the funicular are €9.10 one-way or €14.00 for a return ticket, and must be purchased at the funicular station in Montserrat.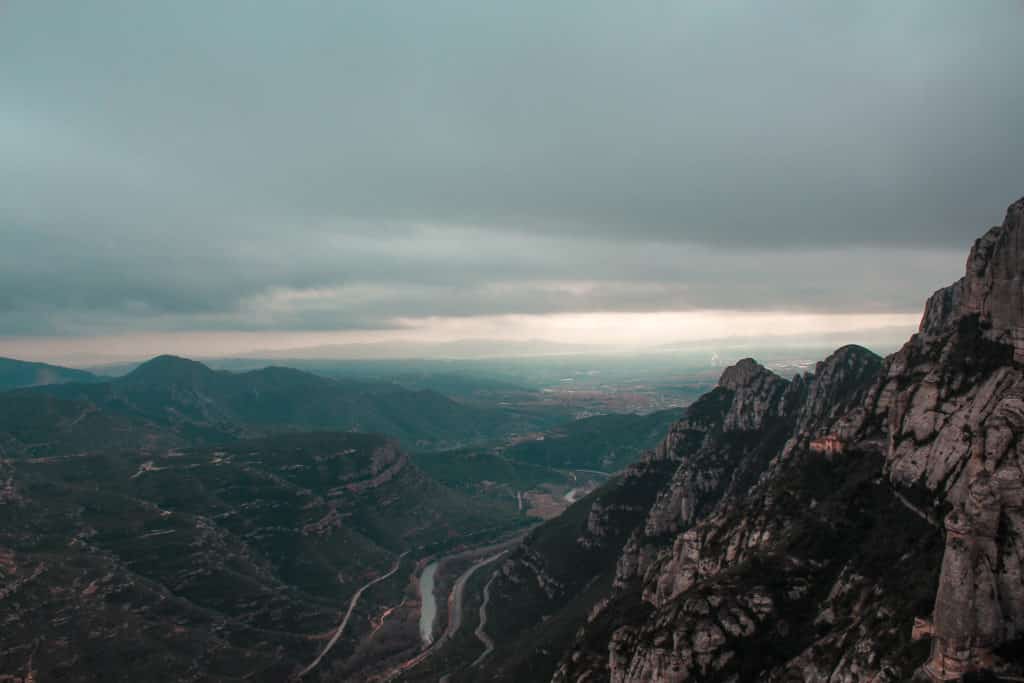 Where to Eat at Montserrat
There are a few different options for dining at Montserrat, which are:
Sit-down restaurants: There are two sit-down restaurants, Restaurant Montserrat and Restaurant Abal Cisneros. These are on the expensive side for lunch.
Casual restaurants: There are also two cafeteria-style casual restaurants, La Cafeteria and Self-Service Restaurant. Both offer cold and hot food and reasonable prices.
Picnic lunch: Packing a picnic is a great option for lunch at Montserrat. There are plenty of picnic tables with scenic views where you can enjoy your food!
I personally recommend packing a picnic lunch. I ate at La Cafeteria, and while the food was okay and the prices weren't too bad, it wasn't anything remarkable.
How Long Do You Need at Montserrat?
You can easily experience the highlights of Montserrat in a half day visit.
I would allot three hours total for transportation time if you're going by train, and then at least two or three hours to explore Montserrat.
If you want to do any walks or hiking while you're there, I would allot a few more hours for that and plan to make a full day out of your visit to Montserrat.
Should You Take a Day Trip from Barcelona to Montserrat?
I highly recommend taking a day trip to Montserrat.
It's one of the most popular day trips from Barcelona, and for good reason.
The monastery on top of the mountain is just stunning, and so are the views of the surrounding countryside. I really enjoyed my visit, especially the early morning guided tour I took.
More Day Trips in Spain
For more day trip ideas in Spain, you may be interested in:
Save it to Pinterest: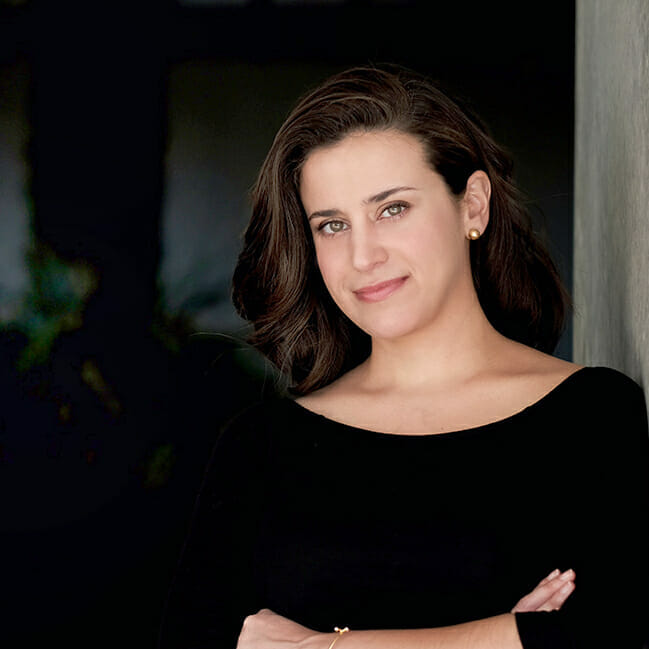 About Denise Cruz
Denise is a marketing executive who escaped corporate to travel the world… twice. A Brazilian native living in the U.S., she's lived in 4 countries and visited 35+ others. After side-hustling her way to financial independence, she curates solo destination guides, slow travel tips, and travel blogging advice on Wander Her Way. When she's not on the road, you can find her in Miami with her dog Finnegan.