How to Spend One Day in Cordoba, Spain
Wondering how to make the most out of one day in Cordoba, Spain?
Here's how to have the perfect day trip to this beautiful city!
Cordoba is one of the most stunning places in Spain. Located in the Andalusia region of southern Spain, Cordoba is an easy and popular day trip from Seville or other nearby cities.
What makes Cordoba unique is its interesting blend of cultures and history. It was once a Roman town, later an Islamic capital, and finally a Christian city.
Here's how to spend one great day in Cordoba, Spain!
Getting There
Cordoba is easily accessible by train from Seville, Granada, and Malaga.
From Seville or Malaga, the journey takes under an hour on the fast train. From Granada, it takes about 1.5 hours. Round-trip train tickets can cost between $20 and $40.
Driving is significantly slower, and can take between 1.5 and two hours. You can also take the bus, but with the train being faster and a comparable price, it's best to just take the train.
There are quite a few trains to and from Cordoba each day. It's easy to catch a train to Cordoba any time in the morning, and return in the late afternoon or evening.
The train station in Cordoba is located within walking distance from the historic center and tourist attractions (about twenty minutes walking) or a short cab/Uber ride.
Click here to buy train tickets.
What to Do in Cordoba
Cordoba is a pretty compact city and many of its highlights can be seen in a day. Here are the best things you cannot miss on your day trip to Cordoba.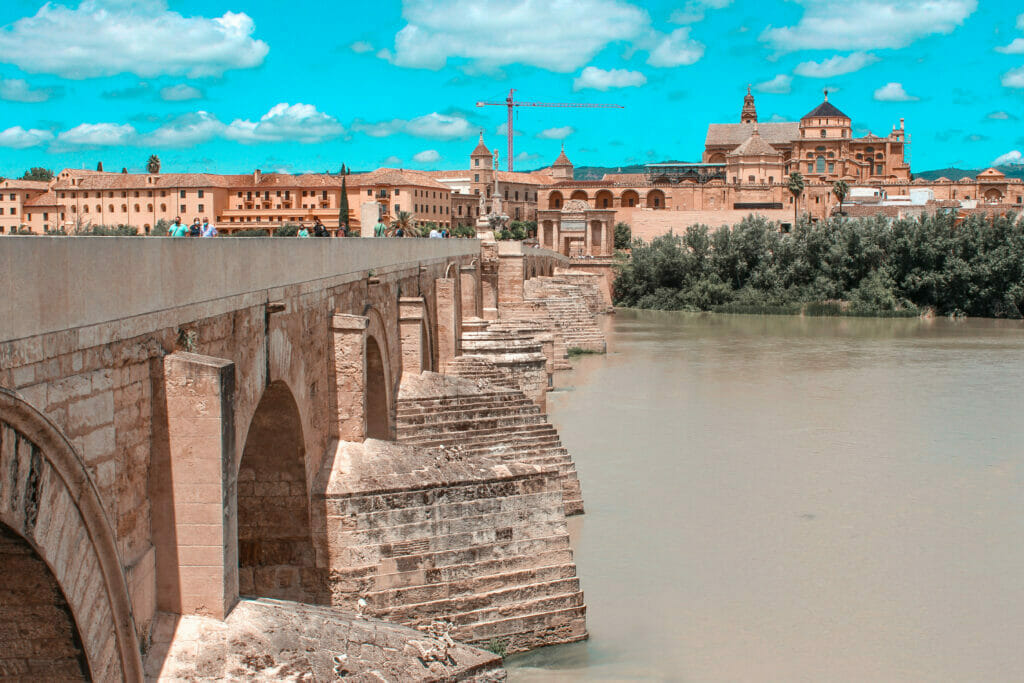 1. Stroll across the Roman Bridge
One of the most iconic pieces of architecture in Cordoba is the Roman Bridge.
Originally built in the 1st century BC, this bridge exemplifies the Roman influence on the city. It's nice just to stroll across the bridge, take in the views, and listen to the musical performers that are always playing. Fans of Game of Thrones might recognize this bridge as a filming location too!
The city's medieval gate, the Torre de Calahorra, is located at the end of the bridge, and you can climb up to the top to get some great views of the city.
2. Visit the Mezquita Catedral
Literally meaning "mosque cathedral" it was an Islamic mosque for hundreds of years, but later turned into a Catholic church in 1236. The conversion resulted in a fascinating blend of Islamic and Christian architecture, making this one of the most unique cathedrals in the world.
This is one of the most famous things to do in Cordoba and should not be missed! While you can walk around the courtyard of the Mezquita for free, you have to pay to enter the cathedral.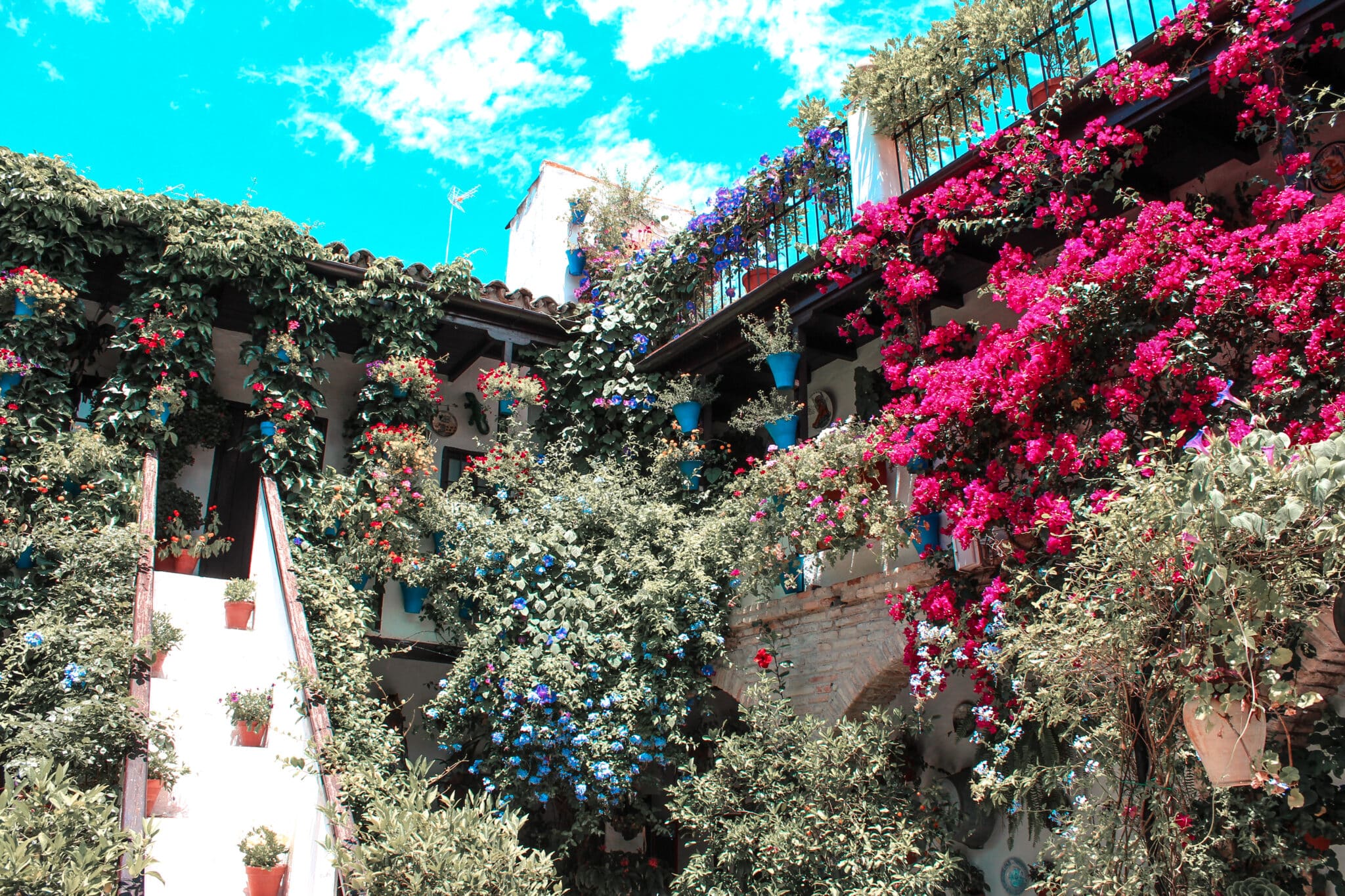 3. Explore Cordoba's patios.
Cordoba gets extremely hot in the summer months, so all of the houses in the city center were built with breezy interior patios and courtyards. It became a tradition to make your patio beautiful with lush plants and flowers, and now every May, there's a Festival of Patios where you can visit some of the best patios in the city as private homes are opened to the public.
Even if you aren't visiting Cordoba in May, you can still catch a glimpse of the famed patios. "Patios Cordobeses" is a stunning patio that is open year-round.
4. Wander the Palacio de Viana.
One of the highlights of my day in Cordoba was visiting the Palacio de Viana.
This Renaissance palace in the middle of the city has more than a dozen themed patios, all of which are extremely beautiful. You can easily spend over an hour exploring them.
You can either take a self-guided tour which includes the gardens and outdoor spaces, or a guided tour which goes through the interior of the palace too. I only did the self-guided tour because of the timing when I was there, but I would have loved to have seen the interior of the palace too.
5. Visit the Alcazar
Cordoba's Alcazar is a historic palace that was originally used by the Caliphate of Cordoba and later, by the Christian kings, leading to its current full name, the Alcazar de los Reyes Cristianos.
I unfortunately did not get the visit the Alcazar during my day in Cordoba, but it looks beautiful.
Where to Stay
Want to make your day trip to Cordoba into an overnight trip?
Here are some affordable boutique hotels in Cordoba if you want to spend the night there…
Cordoba makes a great weekend trip too if you want to spend a little more time in this beautiful city!
Save it to Pinterest: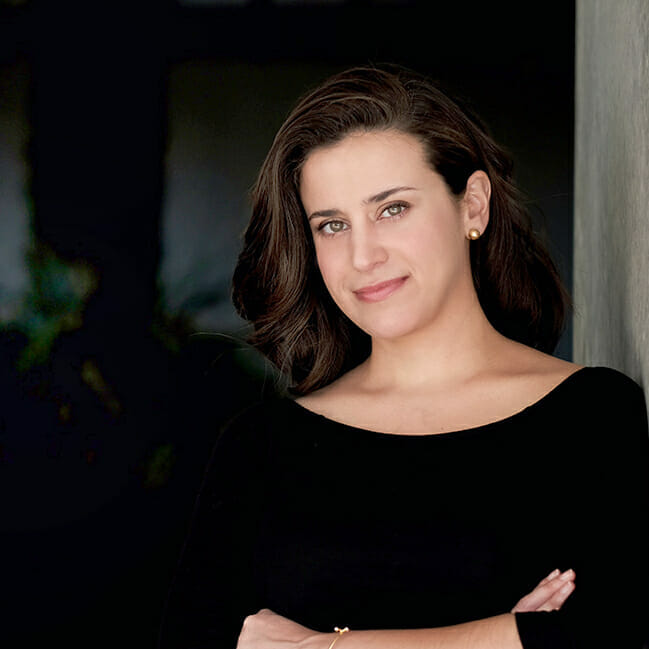 About Denise Cruz
Denise is a marketing executive who escaped corporate to travel the world… twice. A Brazilian native living in the U.S., she's lived in 4 countries and visited 35+ others. After side-hustling her way to financial independence, she curates solo destination guides, slow travel tips, and travel blogging advice on Wander Her Way. When she's not on the road, you can find her in Miami with her dog Finnegan.