10 Best Camera Bags For Women Who Travel (2023)
If you buy something through the links on this page, you're helping me pay for my next adventure—thank you for clicking! Learn more.
Best Camera Bags for Women Who Travel – Every Style and Budget.
Are you on the lookout for some of the best camera bags for women? Check out my favorite camera backpacks, tote bags, leather bags, and more!
If you are a professional traveler, blogger, videographer, or you just love taking photos when out and about, a great camera bag can be a hugely satisfying and beneficial purchase!
You haven't spent all the money on your ideal camera equipment (or your precious old school camera still holding on for dear life), only for it to smash at the first opportunity due to a weak bag and lack of protection!
It's totally worth investing in a good quality camera bag that is jam-packed with functionality and practicality—especially if you are traveling.
How to Choose the Right Camera Bag
If you're like me and like to carry just one bag, it can be hard to balance the cushioning and bulk needed to support a camera with the everyday needs of going out and about.
Sometimes it's helpful to think across the board rather than think about yourself personally, that way you can be a little more pragmatic about what you'll need to incorporate into your camera bag buying decision!
Here are some things to consider before investing in a camera bag:
Shape & Size
The first step in choosing the best camera bag is to think about how much gear you plan to bring with you. Unless you're carrying around all your gear and extra lenses, you may want to consider buying a compact camera bag that fits into the bottom of your handbag or backpack. This will help prevent scratches and dings to expensive gear.
But if you're planning to bring a laptop, multiple lenses, and lots of accessories, a backpack might be more appropriate.
Finally, make sure that your bag is comfortable, even when it's filled to capacity with camera equipment. I used to have a gorgeous messenger camera bag that felt like it weighed a ton on my shoulder and it was so big that made it difficult for me to carry it around.
So keep size, shape, and your upper body strength in that in mind when trying to find the best camera bag for you!
Protection
A camera bag should protect your gear from damage during transportation. The most important thing to look for in a camera bag is a padded interior compartment to place your camera and lens safely.
Also, look for durable exterior materials such as canvas, nylon, or leather.
Budget
Many women don't mind spending a little extra on a high-quality camera bag because they know it will last them years. However, there are many budget-friendly options available.
For example, a simple black messenger-style bag will work perfectly fine if you don't plan on carrying much weight inside. It won't offer any padding but it will keep your gear safe.
On the other end of the spectrum, you can splurge on a designer leather camera bag, which will provide a lot of comfort and protection. Not to mention that you'll look great!
Style
As a woman who loves photography, I am sure you will appreciate having a unique camera bag that matches your personal style. A few years ago it was hard to find companies that made DSLR camera bags stylish unless you were willing to dish out several hundred dollars on designer camera bags.
Thankfully today, there's no shortage of fairly affordable stylish camera bags for every taste. Do you people prefer a minimalist or a rustic look? Or perhaps you enjoy a pop of color on your bag?
Whatever your style is, I can guarantee there are a number of cute camera bags that are perfect for you!
Functionality
You want a camera bag that will give you the functionality you need and has room for your camera and anything else you want to bring with you. Like extra lenses, external flash, batteries, and accessories.
You should also choose a bag that offers easy access to your camera—you don't want to be fumbling with your bag and miss an amazing shot because you couldn't get your camera out quickly enough!
Read also: Incredibly Useful Business Travel Tips from a Frequent Traveler
You might also like: 10 Photos That Will Inspire You to Visit Havana, Cuba
Different Camera Bag Categories
I've broken down the top bags into different categories so you can skip straight to whatever style works best for you!
But if you're not too sure yet, have a peek at my handy guide for what to look out for in each of these bag categories and what they are best suited for!
Camera Backpacks
These are great when you know you want your arms free at all times and want to carry extra gear!
I love camera backpacks because they often come with the comfiest straps and the weight of your camera and equipment is not all sitting on one shoulder.
The only downside is some backpacks don't make it easy to grab your camera when you want to take the perfect shot at a moment's notice!
The good news is there are plenty of brands out there that have fixed this problem by adding lateral openings. That way you can easily swing the backpack around one shoulder and access your camera through the side.
Shoulder Camera Bags
Whether it's a messenger bag, a duffle bag, or a practical cross-body bag for your camera, shoulder bags can be really handy when you're out and about.
They give you a great range of motion and leave you hands-free. It's the perfect combination of both style and function!
These bags are definitely better suited to small cameras, click and shoots, and maybe one or two accessories or attachments. A backpack would be better to carry heavy equipment as you might struggle with a cross-body or shoulder bag that is putting all that pressure on one of your shoulders.
Shoulder camera bags also have the benefit of being a little bit more secure when you're out and about since you can keep an eye on them. That's harder to do with a backpack behind you.
Camera Holdalls
If you're looking to find a camera bag that fits in absolutely everything and more, the camera holdall is where it's at. A holdall is a multipurpose bag that is perfect if you need to carry if you've got multiple cameras, a heck of a lot of equipment, and loads of places to be.
Some will have multiple compartments but the best kind of camera holdalls is the one where you can take out the padded inserts and turn them into an awesome bag for traveling around.
Camera Waist Pack
Camera waist packs—belt bag, fanny pack, or bum bag as they're often referred to—are not the most stylish but they are great for making sure your equipment is always with you (or should I say, on you?). They're incredibly handy for picking up your camera at a moment's notice ready to take that perfect shot.
The biggest downside is, of course, its size. There's only so much you can fit in there without it weighing you down. But you'd be surprised with how much you can actually fit inside these. The good ones have clever pockets and handy features like hooks. Some may even accommodate an extra lens or charger!
Fashion Camera Bags
Fashion camera bags are exactly what it sounds like. These are small camera bags that don't look like camera bags. Camera purses if you will.
Although they tend to be smaller, they can fit quite a lot of stuff in addition to your DSRL. The great thing about fashion camera bags is that you don't have to sacrifice your style or your ability to take great pictures!
Camera Holsters
Okay, so camera holders don't really count as a bag but they can be so handy that I didn't want to leave them out! A camera holster is essentially a more functional camera strap. It can be a great option if you want something that's light compact and isn't going to get in your way too much during the day.
They give you immediate access to your camera but offer little protection to your gear. The cool thing is if you don't need to carry a lot of gear, I can almost guarantee there is a strap or holsters for your favorite activity—including hiking, climbing, and cycling.
You might also like: 11 Travel Gift Ideas for Women
Best Camera Bags for Women Who Travel
Based on all the factors above, here is my list of the best camera bags for women who like to travel, stay active, and are always on the go:
Peak Design is one of my favorite camera accessory brands. And their Everyday Tote Bag is undoubtedly one of the best camera bags for women on the market. It has a gorgeous roll-top backpack with a very clean look that is perfect for any occasion. It is expandable and has super comfy padded straps and handles so it's easy to carry even when packed to capacity. The Everyday Tote can hold a 15-inch laptop in addition to your camera, a couple of lenses, and all your accessories (or snacks). And since it's waterproof, you won't have to worry about any of your gear getting wet. Peak Design gives you a lifetime guarantee so you can buy with confidence you're getting an outstanding product!
The Collins 3.0 – Best Camera Backpack for Women Over $200
All Kelly Moore camera bags are absolutely gorgeous! But the Collins 3.0 Canvas + Leather Backpack Tote is as practical as it looks stunning. While it doesn't look like a camera bag, the Collins comes with a padded removable insert that keeps your photo gear organized and protected and still has room for a 15″ laptop. The water-resistant canvas, leather shell, and brass accents give this bag an elegant rugged look that is Intagrammable on its own. You can carry it over your shoulders, wear it as a backpack, or convert it into a cross-body bag with the comfy shoulder pad included.
This classic-looking black Bellbrook Backpack from Johansen Bags is ideal for carrying your electronic goods wherever you need to go. Its stylish black outer with multi-pocketed inner makes it the perfect solution for storing all of your most precious cargo. This bag is made from water-resistant material, waxed canvas, and has a high-quality black leather trim that adds to the expensive and modern look without the super expensive price tag.
JAEP Camera Backpack – Best Camera Backpack for Women under $100
Designed specifically with photographers in mind, the JAEP camera backpack is a beautifully designed bag that has all the features you could ask for when it comes to a camera bag! It has a side pocket for super speedy access, a large capacity for fitting in everything you could need, and easily removable padded dividers to keep everything safe and secure when you are on the road. You can fit a DSLR with a lens attached, 2 additional cameras, 4 lenses and there's still space to slide in a 15.6" laptop and your chargers and batteries in the side pockets. This stunning vintage-looking design is made with waxed canvas and crazy horse leather which is water-resistant, super durable, and sturdy. And at just under $100, it certainly is one of the best camera bags for women out there!
If you're looking for a camera back that doesn't scream "camera bag," this adorable one from Bagsmart is perfect for you. Available in pink, black, and brown, it comes with adjustable padded inserts, an adjustable luggage strap, and a pocket that stretches to fit a tripod (or water bottle). The exterior is made with water-resistant canvas and vegan leather and it comes with a rain cover just in case. This little backpack can accommodate a DSLR with a lens attached, up to four more lenses, and accessories. It also comes with a compartment for a 13.3″ laptop and pockets for your mouse, headphones, etc. Oh, and did I mention you can buy it for under $35 on Amazon? No wonder this little backpack is one of the best camera bags for women!
The Wyndham Street Weekender from Johansen Bags is a great-looking option to comfortably carry your camera, a couple of lenses, and anything else you'd have in your purse. It's made with a stylish faux suede material that is water-resistant and pretty sturdy. The interior has a padded removable insert that you can customize to fit your gear or remove it completely and use the Wyndham as a travel bag. Versatility is what makes the Wyndham one of the best camera bags for women, especially those who travel.
The Rofozzi Icon Leather Camera Bag is a great bag for carrying a camera and some accessories and even a tablet. The bag is well-made and stylish, and it has plenty of room for everything. You can adjust the strap to wear it over your shoulder or as a crossbody. The Icon is made of hand-processed leather which gives it a unique vintage look that really stands out making it one of my choices for best camera bags for women.
The Bellroy Venture Sling 10L – Camera Edition is a convenient and compact bag with adjustable padded dividers to fit a variety of camera setups. Despite its size, the Venture Sling has the capacity to carry quite a lot. Its design is very thoughtful with places dedicated to storing extra batteries, accessories, and your lens cap. The Venture Sling comes with a detachable, ambidextrous padded strap so you can switch sides when your shoulder needs a break, which is one of my favorite features of this bag!
Technically, the Everyday Sling by Peak Design is a sling camera bag but the smaller sizes are designed to be converted into a waist pack, which adds to the versatility of this camera bag. The Everyday Sling comes in 3L, 6L, and 10L sizes that can fit a wide range of camera setups—from your camera and lenses all the way to a laptop! It is very easy to access your gear by adjusting the padded cross-body strap. This sleek-looking bag is perfect if you enjoy hiking and biking and it will keep your gear secure while you're being active. It's the perfect on-the-go choice for the best camera bags for women!
I love this bag! The Meadow Double Zip Camera bag by Leatherology is the perfect travel companion! This stylish bag is generous in size without being big. It can fit all your travel essentials (passport, phone, wallet, lip balm, etc) along with your camera. The strap is very comfortable and you can wear it over your shoulder or as a crossbody bag for a more casual look. One of the many reasons I chose the Meadow as one of the best camera bags for women is the bag is simply gorgeous. The leather is rich and soft and you can personalize it with a monogram that will make the bag all the more special. The Meadow comes in a variety of vibrant leather colors but Leatherology also designed a beautiful canvas camera bag version of the Meadow if you prefer leather-free products.
Final Thoughts
If you're looking for the best camera bags for women who like to travel in style, then you'll want one that is durable, spacious, and looks great.
Today, there is no shortage of camera bags specifically designed for women on the market. Your decision will come down to the type of traveler and photographer you are, your budget, and your personal taste.
You may find that you need to have a couple of bags for different occasions but if you choose carefully, one good all-around bag will work 90% of the time—and that is worth the investment.
And if you end up splurging on your new camera bag, here's what you can do to save some money before your next trip!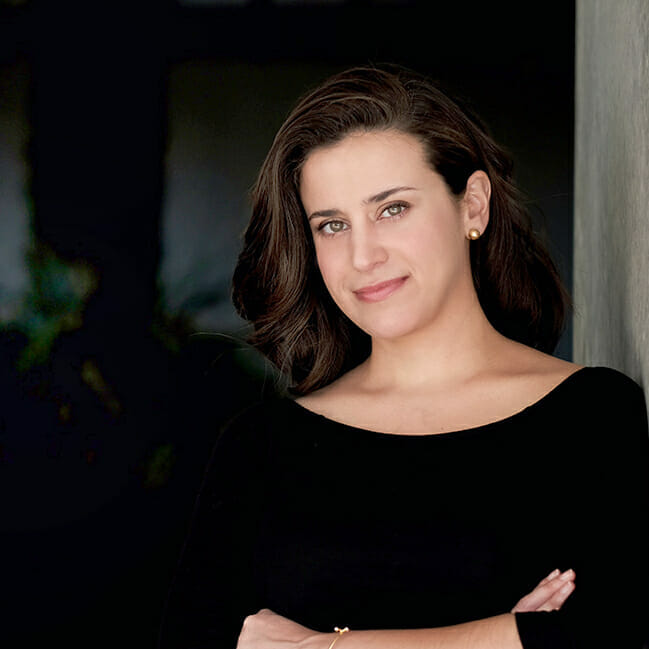 About Denise Cruz
Denise is a marketing executive who escaped corporate to travel the world… twice. A Brazilian native living in the U.S., she's lived in 4 countries and visited 35+ others. After side-hustling her way to financial independence, she curates solo destination guides, slow travel tips, and travel blogging advice on Wander Her Way. When she's not on the road, you can find her in Miami with her dog Finnegan.