Where to Stay in Copenhagen, Denmark
If you buy something through the links on this page, you're helping me pay for my next adventure—thank you for clicking! Learn more.
Where to Stay in Copenhagen, Denmark
This post is all about where to stay in Copenhagen, Denmark, with options for every budget.
Copenhagen is not a cheap place (like any Scandinavian city) but there are plenty of affordable options out there, from moderately priced luxury hotels to stylish yet cheap hostels.
Related: Top 10 Things to Do in Copenhagen, Denmark
Neighborhoods of Copenhagen
Here are the most popular neighborhoods in Copenhagen for visitors to stay in:
Indre By: Indre By is the historic center of Copenhagen and one of the most popular areas for tourist sights and activities. Indre By is home to the famous Nyhavn canal, along with Rosenborg Palace, Christiansborg Palace, The Little Mermaid statue, and plenty of shopping and dining.
Latin Quarter: Just outside Indre By is the Latin Quarter. This historic neighborhood home to the University of Copenhagen is known for its colorful buildings, medieval streets, culture, and food.
Vesterbro: Once the meatpacking district of Copenhagen, Vesterbro has now been transformed into a cool, hip neighborhood with food halls and art galleries taking over old, empty warehouses.
Nørrebro: This is a diverse, multicultural neighborhood with great food and shopping. Although it's located a little further out from the historic district, it's a great neighborhood to stay in if you want to get away from the tourist crowds and live like a local.
Where to Stay: Luxury
Copenhagen has plenty of design-oriented boutique luxury hotels to choose from, and depending on the season some of them are actually quite affordable! Here are three of the best:
Located just off the Nyhavn canal in Indre By, this centrally located luxury hotel with rich, earthy tones makes the perfect base for your trip to Copenhagen. Hotel Sanders is just minutes away from the renowned Royal Danish Theater and Christiansborg Palace.
Skt Petri is an affordable luxury hotel centrally located in the Latin Quarter of Copenhagen, which is just adjacent to Indre By and the historic center. The Latin Quarter is a vibrant neighborhood that's home to colorful buildings, charming medieval streets, great food, and the University of Copenhagen.
Nobis Hotel is a chic, design-minded hotel housed in a stately Neoclassical building dating back to the turn of the twentieth century. This hotel is located right between the popular Indre By neighborhood and the hip Vesterbro neighborhood, only a five-minute walk from Tivoli Gardens.
Where to Stay: Mid-Range
If you are looking for affordable, mid-range hotels for your trip to Copenhagen, there are plenty of those too. Here are some of the best options around the city:
This chic mid-budget hotel is located in the Vesterbro neighborhood, less than ten minutes from Tivoli Gardens. It's the perfect cozy base for your trip to Copenhagen.
Set in the trendy and vibrant Latin Quarter, Hotel SP34 is close to many of Copenhagen's tourist attractions like the National Museum of Denmark and Tivoli Gardens. There are also lots of great shopping and dining options nearby in the Latin Quarter.
Wakeup Copenhagen is an affordable mid-range hotel in a great, centrally located spot. You are just a few minutes from the Nyhavn canal, Rosenborg Castle, and other popular tourist sites.
Where to Stay: Budget
Although Copenhagen, like any Scandinavian city, is quite expensive, you can still find some really nice budget accommodations. These are the best budget hostels in the city:
Generator Copenhagen is a stylish and modern hostel that's located right in the heart of the Indre By neighborhood. In this prime location you're just a ten-minute walk to the Nyhavn canal and centrally located to many other popular tourist sites.
Located in the hip Vesterbro neighborhood, Steel House Copenhagen is a luxury hostel with an industrial-chic vibe. From Steel House, you're just a ten-minute walk to Tivoli Gardens and central Copenhagen. The Vesterbro neighborhood itself has a lot of cool things to do, like exploring food halls and art galleries located in former warehouses.
If you're looking for the most affordable but still extremely nice hostel, a&o Nørrebro is your best bet. This modern and airy hostel is located in the Nørrebro neighborhood of Copenhagen. While slightly further away from the central part of the city, Nørrebro is a cool, diverse neighborhood that locals love due to its amazing food and shopping.
Airbnb in Copenhagen
Airbnb is also an option in Copenhagen if you are looking for an apartment instead of a hotel/hostel. I actually stayed in an Airbnb on my visit to Copenhagen and really enjoyed it!
This apartment was where I stayed. It's actually just a private room in the apartment, but the owners of the apartment were out of town the weekend I went so I had the place to myself.
This is a very cost-effective option in a great location in Copenhagen!
Related: Atelier September: The Best Cafe in Copenhagen

Save it to Pinterest: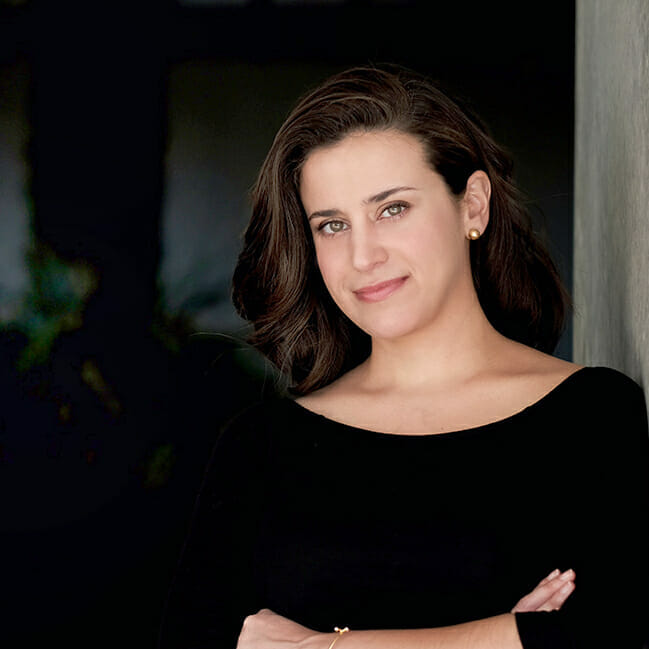 About Denise Cruz
Denise is a marketing executive who escaped corporate to travel the world… twice. A Brazilian native living in the U.S., she's lived in 4 countries and visited 35+ others. After side-hustling her way to financial independence, she curates solo destination guides, slow travel tips, and travel blogging advice on Wander Her Way. When she's not on the road, you can find her in Miami with her dog Finnegan.