Where to Stay in Cartagena, Colombia
This post is all about where to stay in Cartagena, including my top recommendations for every price range. Whether you are looking for luxury hotels or budget hostels or maybe something in between, Cartagena has it all when it comes to accommodations.
Cartagena is definitely one of my favorite places I've ever visited. Here are 9 reasons I think everyone should visit Cartagena. This city is so unique and beautiful, filled with history, culture, and color.
If you're planning a trip to Cartagena and wondering where to stay, here are my top picks!
Note: All of these links lead to Booking.com, who I ALWAYS use to book non-chain hotels. The reason for this is you can earn points and rewards through the Booking.com Genius loyalty program, which you would not otherwise get if booking through an independent hotel's website. You also get the highest discounts on bookings when you sign up for their loyalty program.
Layout of Cartagena
First of all, I wanted to briefly discuss the layout of Cartagena.
The most popular neighborhoods for tourists are the Old City, Getsemaní, and Bocagrande.
Old City: This is the most popular area for tourists to stay in Cartagena. It's also where most of the main tourist sites are. I highly recommend staying in the Old City because it's super pretty and convenient to most things you will want to do.
Getsemaní: Located just outside the walls of the Old City, Getsemaní is a laidback, authentic neighborhood in Cartagena. It's more affordable and less touristy than the Old City, and is popular for its up and coming arts scene.
Bocagrande: Bocagrande is located southwest of the Old City and Getsemaní. It's basically the Miami Beach of Cartagena, with high-rise hotels and condos along the sandy beach.
It's up to you to decide which neighborhood you want to stay in, but I personally recommend the Old City or Getsemaní Bocagrande is basically just a beach filled with high-rises and doesn't have any of the charm, great food, or historic sites that the other two neighborhoods have.
Related: 10 Amazing Things to Do in Cartagena, Colombia
Where to Stay: Luxury
Cartagena has an abundance of absolutely gorgeous luxury hotels, many built in old colonial houses.
If you want to splurge on your trip to Cartagena, here are the top luxury hotels I recommend.
The price range for most luxury hotels is $250 to $400 a night.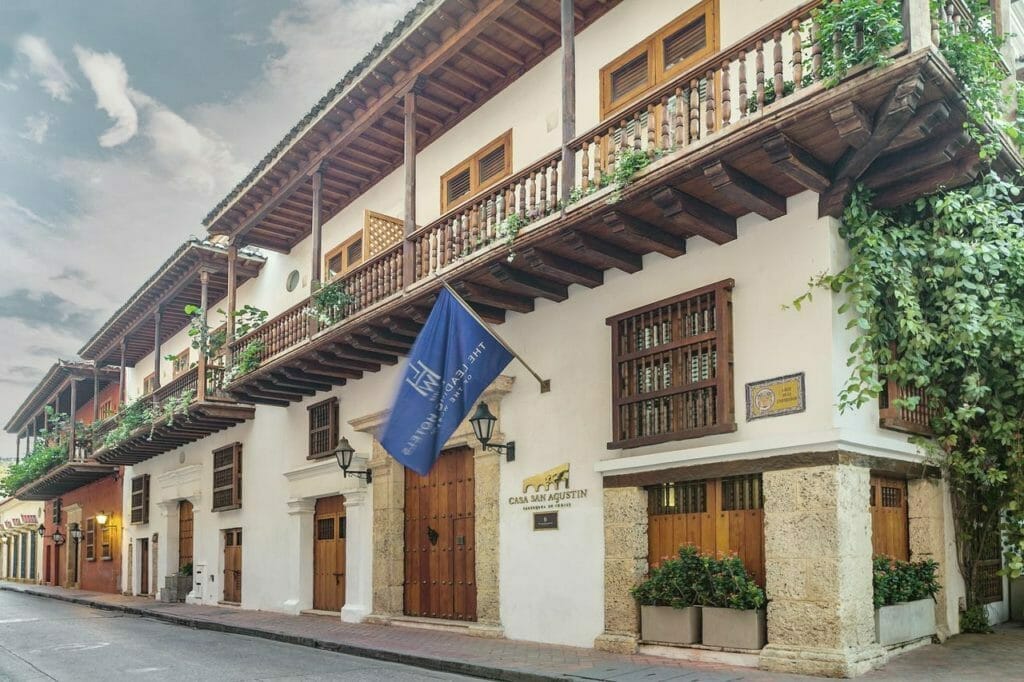 This luxury boutique hotel is built in three transformed colonial homes. This is definitely one of the prettiest and most luxurious hotels in Cartagena, with a gorgeous pool and highly rated restaurant.
This hotel is like a hidden oasis in the middle of Cartagena's Old City. It has a tranquil and beautiful pool in the courtyard, along with free WiFi and included breakfast.
Book Hotel Casa del Arzobispado.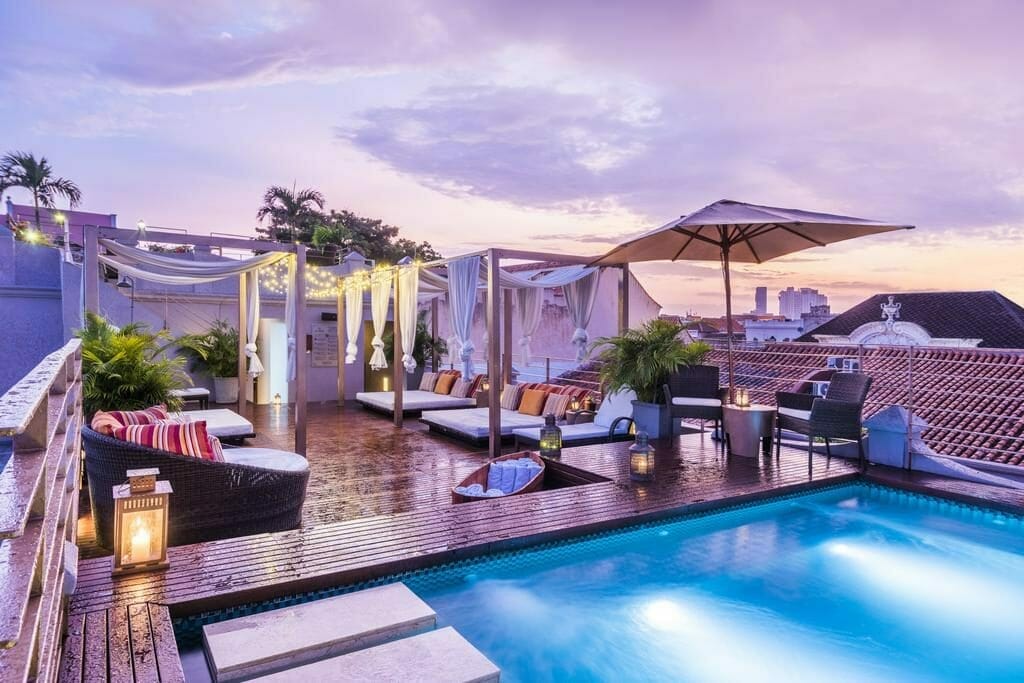 This luxury hotel inside the walled city offers amenities like a gorgeous rooftop pool and terrace, a spa, and free breakfast in the mornings. You can catch the sunset every evening from the rooftop.
Where to Stay: Mid-Range
If you want to save some money on accommodation but still stay somewhere nice, here are the best mid-range hotels in Cartagena.
The price range for these mid-range hotels is $100 to $200 a night.
This is where I stayed on my trip to Cartagena and I LOVED it! I highly recommend this hotel to anyone visiting Cartagena.
The rooms were huge and comfortable, the included breakfast was delicious, and the design and decor were so whimsical and amazing. There was even a pet toucan that roamed around the hotel!
This luxurious hotel is located slightly outside the Old City in the cool neighborhood of Getsemaní. The hotel has a pool, free WiFi, and free included breakfast.
Book Hotel Capellán de Getsemaní.
If you're looking for a hotel with a spa that's a little more budget-friendly, this hotel fits the bill. There's also a pool, free WiFi, and free breakfast.
Where to Stay: Budget
If you're on a budget, you're in luck, because Cartagena has a lot of awesome budget accommodations too. Your money will go far here!
Some of these hostels look so nice that I would definitely stay in one next time I'm back in Cartagena. Most hostels here are under $20 a night.
This stylish and pretty hostel in the Old City includes free breakfast and a swimming pool. There's also a rooftop terrace where you can enjoy the sunset over Cartagena.
Free WiFi and free breakfast are some of the main perks at this colorful hostel for backpackers. It's located right in the heart of Cartagena's Old City.
Book Viajero Cartagena Hostel.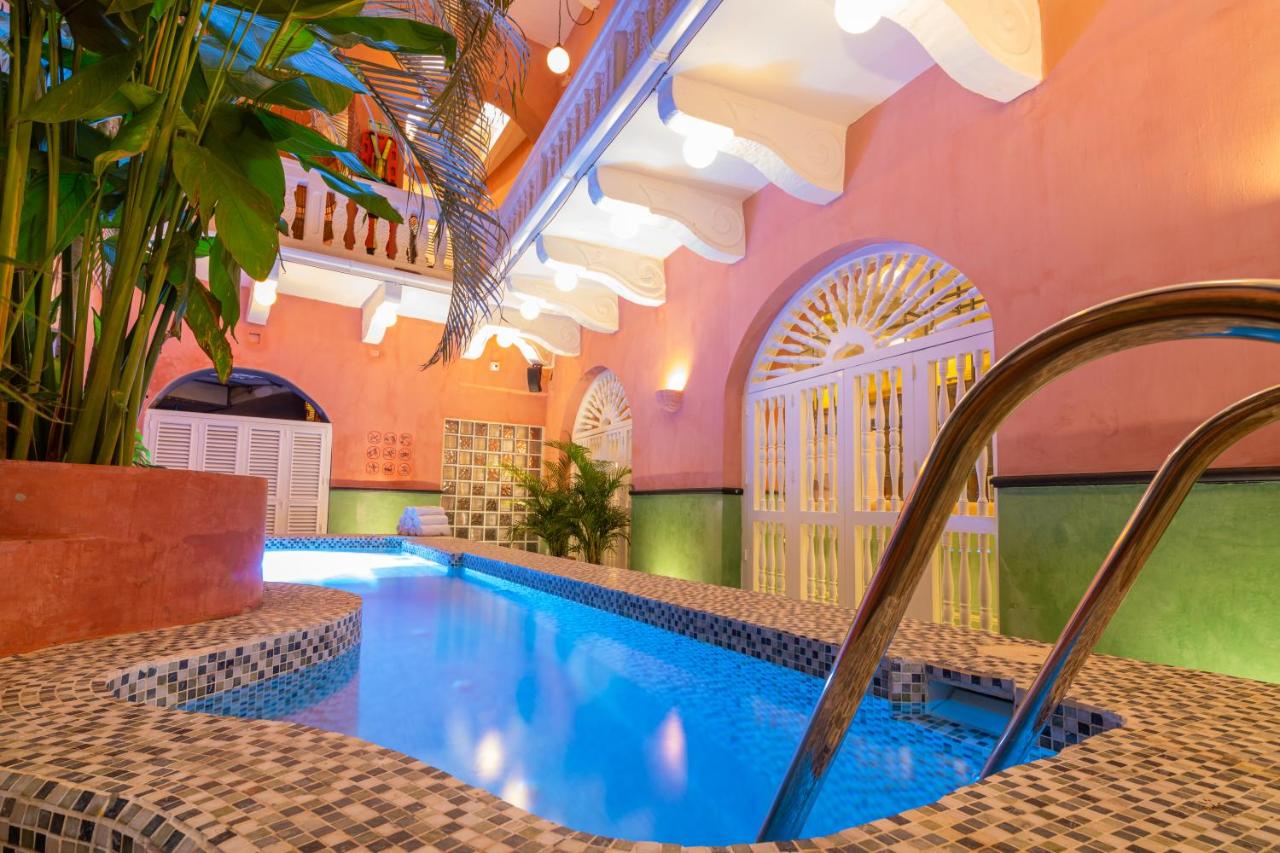 Casa Movida Hostel sits in the middle of San Diego district. The colorful hostel has a restaurant, bar, garden, and indoor pool! The property has WiFi throughout and rooms are spacious, air-conditioned, and some even have a kitchen! But don't worry, a continental breakfast is included, too.
Airbnb in Cartagena
Airbnb is also an option in Cartagena if you are looking for an apartment instead of a hotel/hostel. However, I found Airbnbs here to be on the pricy side (whereas in many cities they're considerably cheaper than hotels) which is why I just decided to stay at a hotel instead.
Who knows, you might find a great deal on Airbnb! It's also a good option if you want to stay in an apartment or house with a kitchen, as opposed to a hotel.
This post showed you the best places to stay in Cartagena. Have a great trip!
Save it to Pinterest: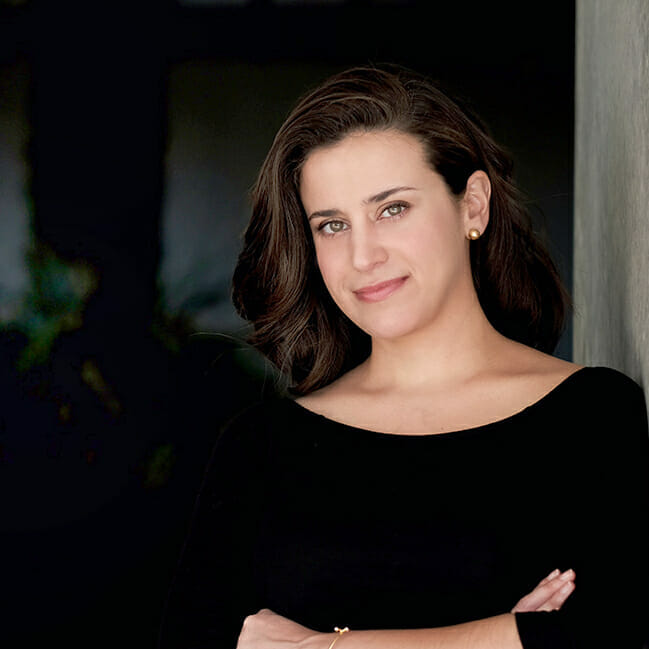 About Denise Cruz
Denise is a marketing executive who escaped corporate to travel the world… twice. A Brazilian native living in the U.S., she's lived in 4 countries and visited 35+ others. After side-hustling her way to financial independence, she curates solo destination guides, slow travel tips, and travel blogging advice on Wander Her Way. When she's not on the road, you can find her in Miami with her dog Finnegan.