11 Things to Do in Antwerp, Belgium
If you buy something through the links on this page, you're helping me pay for my next adventure—thank you for clicking! Learn more.
The Best Things to Do in Antwerp, Belgium
Antwerp is a unique, stylish city located in northern Belgium. Since medieval times, Antwerp has been an important center for commerce and trade due to its location as a port city on the Scheldt River.
The city is known for diamond dealers in its famous Diamond District, fashion designers like the celebrated Antwerp Six, and the legacy of Flemish Baroque artists like Peter Paul Rubens.
Antwerp is also known for its food, with Belgian delicacies like waffles, chocolates, fries, and beer!
Where to Stay in Antwerp:
If you're going to spend a few days in Antwerp, here are some of the best places to stay on your trip:
Cabosse Suites & Spa ($$$) — gorgeous boutique hotel in a renovated 1864 mansion is perfect for a more luxurious experience.
Hotel De Witte Lelie ($$) — super cute and thoughtfully decorated boutique hotel located just steps away from the Grote Markt square in the old town.
Boetik Hotel Rubenshof ($) — old house converted into a stunning budget-friendly hotel in a great location.
📌 Antwerp is a very walkable city so I recommend this 2-hour walking tour of Antwerp's highlights.
What to Do in Antwerp
If you are planning a visit to Belgium, here are the top 11 things do in Antwerp:
1. Eat a Belgian waffle
Belgium is famous for its waffles, so how could you come to Antwerp without trying one? Just don't call it a "Belgian waffle" when you're ordering – they are actually known as Liège waffles here!
I recommend stopping at Désiré de Lille for some of the best waffles in the city.
2. Do some shopping on the Meir
The most popular shopping street in Antwerp is the Meir. It's a long, pedestrian-only thoroughfare going through the middle of the city and it's filled with dozens of shops, from trendy boutiques to big chain stores like H&M.
3. Visit the Grote Markt
Grote Markt is the historic town square of Antwerp surrounded by lovely Flemish Renaissance buildings. During the holidays, it's transformed into a beautiful Christmas market.
There are other markets held here throughout the year so make sure to do some research before you go to see if there will be a market there during your visit!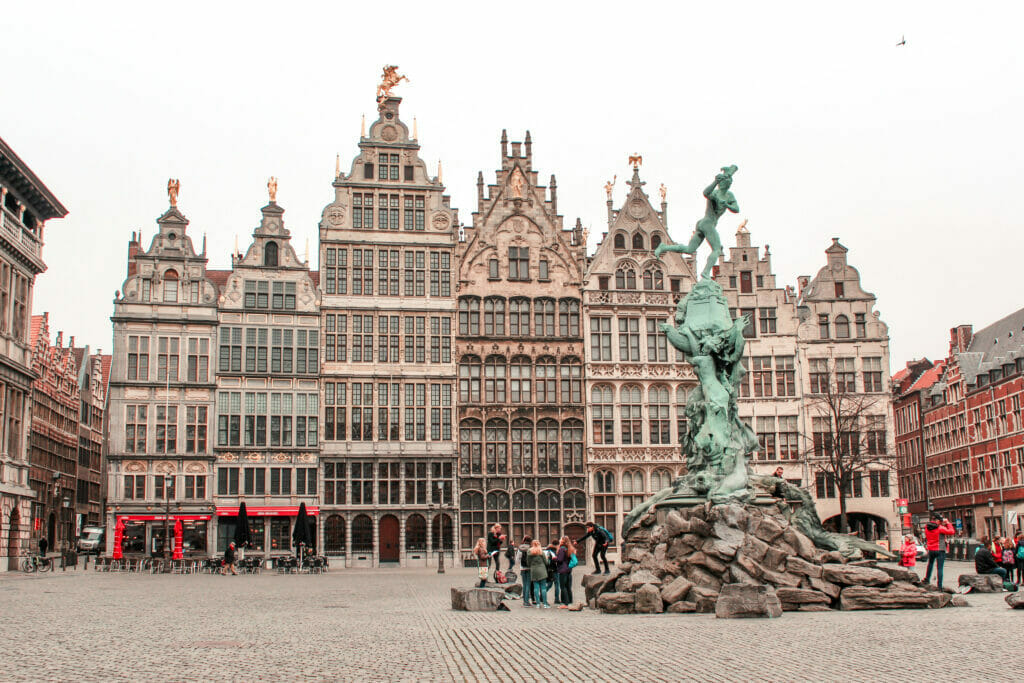 4. Admire the Cathedral of Our Lady
Just behind the Grote Markt is the iconic Cathedral of Our Lady. This church is the tallest building in Antwerp and is a World Heritage Site. It took 169 years to build and is unique because of the gilded clock on top of its belltower.
Admission to the church is €5 for adults and €3 for students. Inside you can see works of art by Peter Paul Rubens and other famous Flemish painters.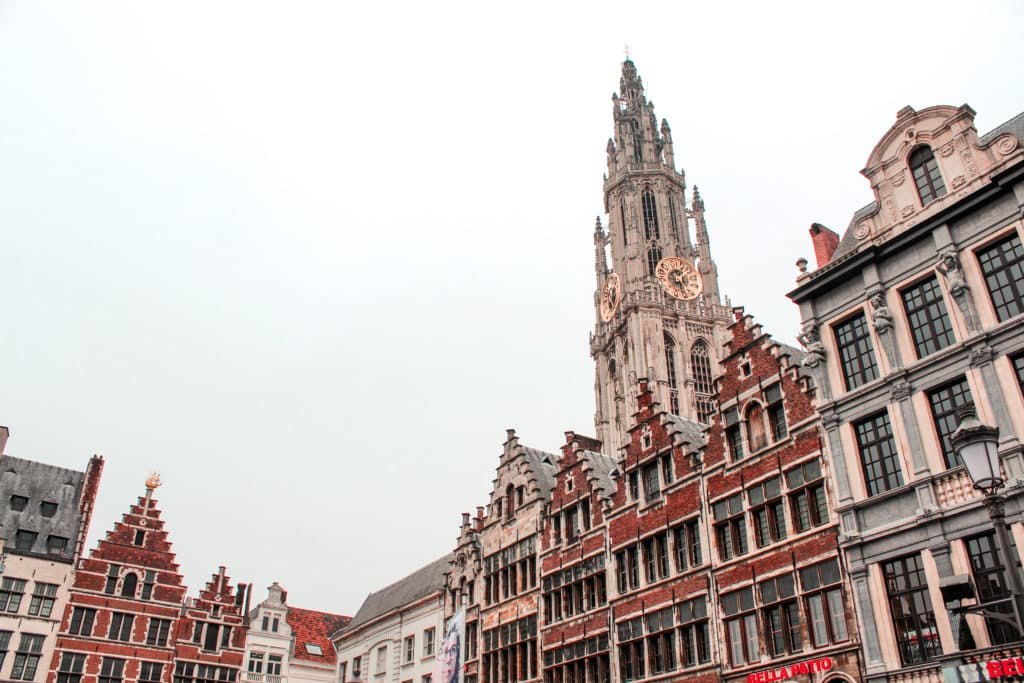 5. Go shopping at the stores of the Antwerp Six
The Antwerp Six are six famous designers who graduated from the Royal Academy of Fine Arts in Antwerp around the same time, including Ann Demeulemeester and Dries van Noten.
These designers put Antwerp on the map as a city for fashion and design. You can find most of their flagship stores around the city like the one below.
6. Visit the impressive Het Steen
Located a little ways away from the city center by the waterfront, Het Steen is an impressive medieval castle and fortress.
Built in the 13th century, Het Steen is the oldest building in Antwerp. Now it's home to the National Maritime Museum.
7. Eat a meal in the Groenplaats
Just steps away from the cathedral is Groenplaats, one of the most popular squares in Antwerp. This square is filled with outdoor cafes and restaurants and it's the perfect place to sit down for a meal after a day of exploring the city.
The Groenplaats is also a prime spot for people-watching if you grab a seat at one of the many sidewalk cafes!
8. Admire art at the Rubenshuis
The Rubenhuis is a museum housed in the former home of artist Peter Paul Rubens. This is one of the most impressive museums in the city, with a large collection of works from Rubens and his Flemish contemporaries.
May 2023 Update: The Reubenshuis museum is currently closed for renovations. I will do my best to keep this blog updated but make sure you check before you head over there.
9. Eat some Belgian fries
Another food that Belgium is known for is their fries! Although they're called French fries, fries were actually invented and perfected in Belgium.
You can get some delicious "gourmet" fries at Frites Atelier in Antwerp. These fancy fries come with six different dipping sauces. For some more basic and traditional fries, head to Fritkot Max in the Groenplaats square.
10. Step back in time in a secret alley
One of my favorite places in Antwerp is the historic Vlaeykensgang alley. Dating back to medieval times, the hidden alleyway winds between some of the main streets in the city center just steps away from the cathedral.
Once home to shoemakers and other tradesmen in Antwerp, the alley now houses art galleries and a chic French restaurant.
To enter to alley, go to 16 Oude Koornmarkt and you will see a little doorway. (It's very easy to miss!)
11. Learn about Antwerp at the MAS
The MAS (Museum aan de Stroom) is the largest museum in Antwerp. Most of the collection in the museum are all about Antwerp: history, culture, art, infrastructure, etc. This is one of the best museums in the city and it's definitely worth a visit!
However, if you don't want to pay admission to the museum, you can go to the roof of the MAS for free and take in a panoramic view of the city.
Recommended Antwerp Tours
Q&A: Antwerp, Belgium
What is Antwerp best known for?
Antwerp is famous for its architecture, designer fashion, and art but it's best known as the diamond capital of the world, with 80% of the all rough diamonds passing thought the city. The port of Antwerp is also one of the largest in Europe.
In Antwerp a walkable city?
Although Antwerp is the second largest city in Belgium, it is a very walkable city. Particularly the old town, which is one of the most walkable places I've ever been to.
Can you speak English in Antwerp?
While Dutch is the official language in Belgium, most people in Antwerp speak English well so you should not have any trouble communicating.
Where to next?
While Antwerp is fairly small compared to other cities in Europe, it packs quite a lot of things to see, do, and eat! It has such a rich history, architecture, fashion, and food culture that you'll easily to fall in love with Antwerp the same way I did.
So grab a waffle, put on your comfy shoes, and go check out these incredible things to do in Antwerp!
Short on time? Here are the top things to do in Antwerp in a day.
Save it to Pinterest: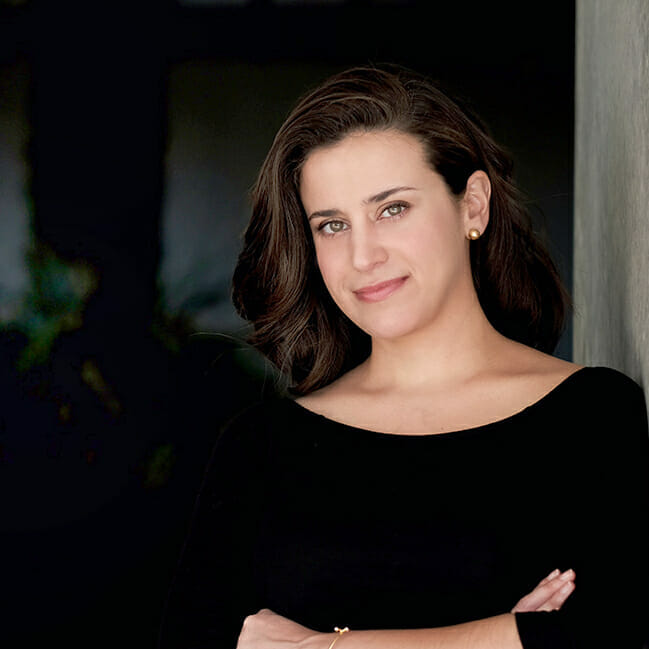 About Denise Cruz
Denise is a marketing executive who escaped corporate to travel the world… twice. A Brazilian native living in the U.S., she's lived in 4 countries and visited 35+ others. After side-hustling her way to financial independence, she curates solo destination guides, slow travel tips, and travel blogging advice on Wander Her Way. When she's not on the road, you can find her in Miami with her dog Finnegan.