What Is Matt's Flights?
This post is sponsored by Matt's Flights. All opinions, as always, are my own.
Recently I came across Matt's Flights, a subscription-based flight deals service that promises savings of up to 90% on domestic and international flights.
I was immediately intrigued, because I am ALWAYS looking for ways to save money on travel, especially flights which can really eat into your travel budget fast.
While these days I try to book most of my flights with points and miles, there are some scenarios where that isn't possible or it's actually a better deal just to pay with cash. And in those cases I'm always looking for ways to save money when booking my flight.
So what exactly is Matt's Flights and how can it help you save money?
Matt's Flights offers airfare deal alerts via email. These are hand-picked deals for both domestic and international flights departing from various airports in the US and Canada.
How Does It Work?
Matt and his team scour the Internet for the best airfare deals they can find.
Some of these deals are the result of "mistake fares" (when the airline erroneously prices a flight extremely low) while others are simply due to dropped prices from unsold seats. Some of the fares are last-minute deals, while others are for flights a few months out.
You can also get Matt and his team to run custom searches for exact destinations and dates.
How Much Does It Cost?
Matt's Flights is totally free if you just want to sign up for the regular airfare deal alerts. These will come directly to your inbox a few times a week once you join.
However, they also offer a Premium plan that costs $59.99 a year.
Matt's Flights Premium offers a ton of additional benefits including:
Flight deals based on your preferred departure airport/location
Exclusive mistake fares and Premium-only deals
Unlimited 1-on-1 flight and travel planning support from Matt
If you want to try out the Premium service, you can get a free 14 day trial here.
My Review of Matt's Flights
I've been testing out Matt's Flights Premium for about a week now, and so far I've been pretty impressed with the deals I've received.
I set my departure region to the Northeast, so I've been getting deals for flights departing from various cities around the region. Since I'm based in New York, that is the departure city of the most interest for me, although I have noticed some really good deals for flights departing from nearby cities like Philadelphia or Boston too.
Here's an example of a Premium email I received recently: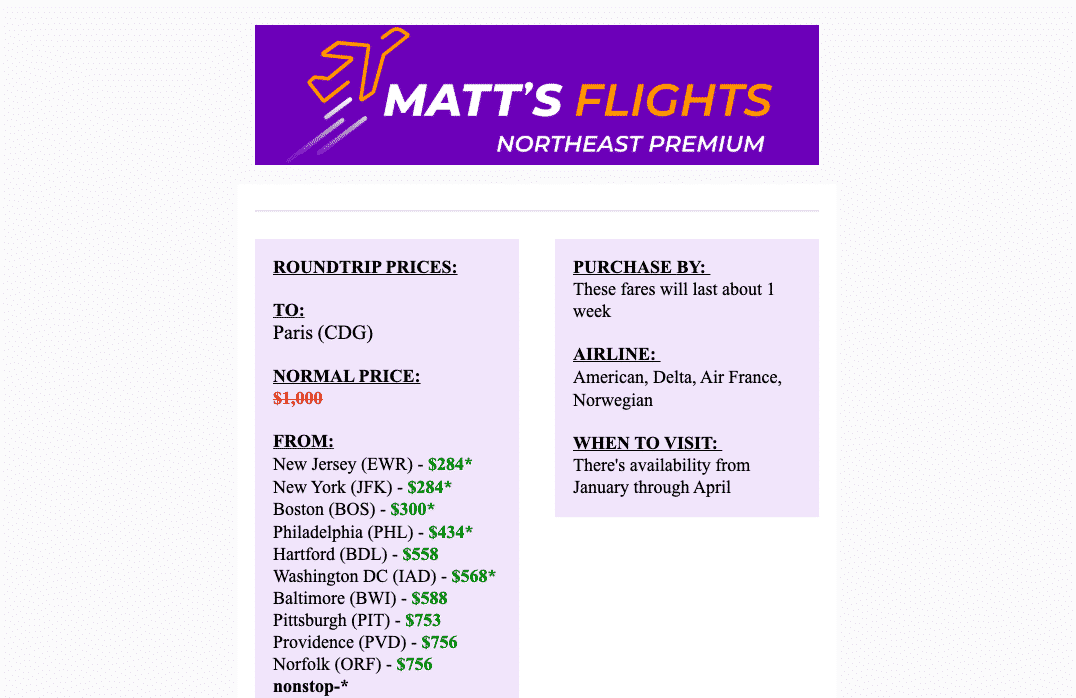 This came at the perfect time, because I was already tracking the price on a flight from New York to Paris for February using Google Flights! In fact, I had just received an alert from Google Flights over the past week saying the flight was now $341.
However, I checked out the deal that Matt's Flights sent me ($284 from JFK) and sure enough if I tweaked the dates slightly, I was able to find a flight for that exact price, which would save me $57.
From my experience, New York typically has cheaper international flights already, so I could imagine the savings potential to be even higher when departing from other cities in the US.
I also tried out the 1-on-1 trip planning services that Matt's Flight Premium offers.
I asked for options for a flight from New York to Tashkent in April (another trip I have been considering) and within two hours I'd received a response from Matt's Flights with a $784 round-trip airfare deal (which is definitely a good deal – normally this flight is at least $900!)
Is Matt's Flights Worth It?
Signing up for the free Matt's Flight service is 100% worth it – you never know what great deals might be sent your way, and as a subscriber you'll have access to exclusive giveaways where you can win free round-trip flights to popular destinations.
When it comes to Matt's Flights Premium, there are a few questions I would ask yourself before paying $59.99 a year for the service:
Do you plan to travel internationally one or more times this year?
Do you plan to travel domestically a few times this year?
Do you have some flexibility in the exact dates you can travel?
Do you want to save time when it comes to finding the cheapest fares?
If you answered yes to one or more of these questions, then I would say that Matt's Flights Premium is definitely a worthwhile investment for you.
Some customers have reported savings of $500+ on a single flight, which obviously makes the membership cost more than worth it!
I could also see how Matt's Flights Premium would be a GREAT option for families. Not only will it save you time, the savings on booking multiple tickets for the whole family will definitely add up.
Are you interested in trying out Matt's Flights for yourself? Sign up for a free trial here!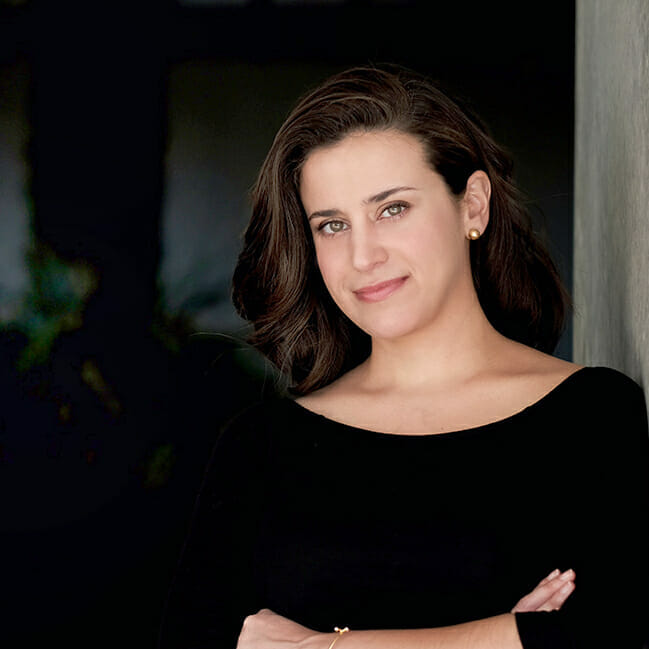 About Denise Cruz
Denise is a marketing executive who escaped corporate to travel the world… twice. A Brazilian native living in the U.S., she's lived in 4 countries and visited 35+ others. After side-hustling her way to financial independence, she curates solo destination guides, slow travel tips, and travel blogging advice on Wander Her Way. When she's not on the road, you can find her in Miami with her dog Finnegan.